Last Season's jacket- color is a forest green.  Finn approved condition, buy, try it. Don't like?  doesn't Fit? return it unused within a week and you pay the shipping.  This is a great cold weather jacket. Although not gor-tex, it windstopper so its basically H2O proof. Who needs true H20 proof on winter days? The fabric is much more of softshell and is soft with no noise!  High collar is sweet on snowy days. Fleece lining is very thin Like a micro-fleece) but good warmth ratio.  Goes great with any grey, black, yellow, tan or brown pants.
I'll get pics if you want.
$195 plus $10 flat shipping USA only. 
http://www.arcteryx.com/Product.aspx?Mens/Jackets/Fury-SV-Jacket#Softshell
http://www.backcountry.com/outdoorgear/Arcteryx-Fury-SV-Softshell-Jacket-Mens/ARC0718M.html?CMP_SKU=ARC0718&MER=0406&CMP_ID=SH_FRO001&mv_pc=r126&mr:trackingCode=168321DA-F061-DF11-9DA0-002219319097&mr:referralID=NA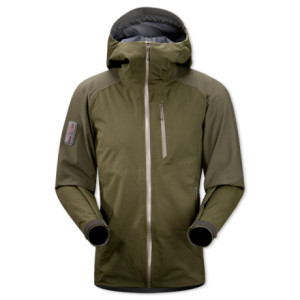 Edited by Finndog - 7/2/10 at 6:33am