SkiLogik Go-Girl 165cm 2009-2010
131-92-117 15m radius @ 165cm
3700 grams (165cm)


SkiLogik Rave 175cm 2009-2010
136-92-121 15m radius @ 175cm
140-92-125 15m radius @ 185cm
4200 grams (175cm)
4600 grams (185cm)


SkiLogik Ullr's Chariot 178cm 2009-2010
145-101-134 15m radius @ 178cm
4500 grams (178cm)

SkiLogik Go Girl 165cm (left), Rave 175cm and Rave 185cm (right)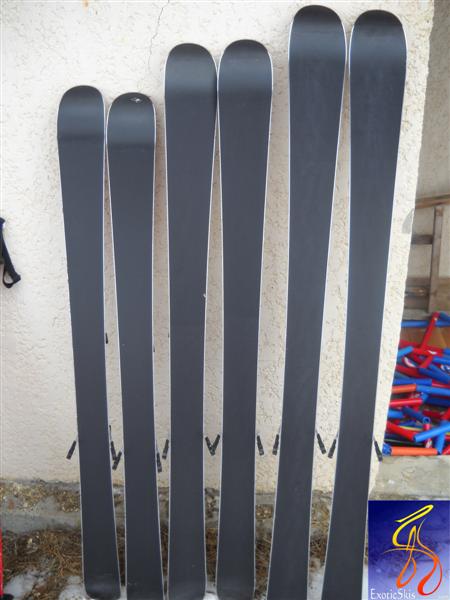 Base-views of Go Girl (left) and Raves in two lengths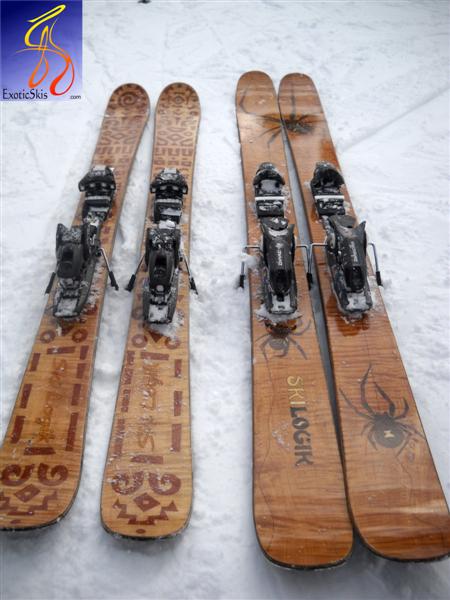 SkiLogik Ullr's Chariot 178cm (left), Howitzer 186cm (right)


Manufacturer Info:
Ski Logik LLC
P.O. Box 9480
Breckenridge, Colorado 80424
(970) 453-8000
http://www.SkiLogik.com
Suggested Retail Price (MSRP):
$ 750 (each model)


Usage Class:
All-mountain, all-terrain cambered skis.


Your Rating (with comments): (1="get me off these things"->10="I have to own a pair")
6-7 (due to stiff midbody flexes on these early-release models...Mazz acknowledges other reports of stiffness and claims to have adjustments in-the-works for further testing in March, 2010. We will report back if we can get on a pair. Others report they like the flexes just fine...to each their own...)


NOTE:
I am lumping these three models of SkiLogik's "Mountain Slayers - Maximum edge hold for all snow conditions" into one review since they have a very similar feel and geometry (15m radius - 92-101mm underfoot) for their respective lengths, being tailored to different types/weights of skiers...with differences being subtle and appropriate for each...up to the Ullr's Chariot which has the broadest forebody for deeper conditions...but you get the idea. The Rave model is stated to have a black locust woodcore, while the others utilize the paulownia wood cores..so the Rave is somewhat "harder" feeling and stronger for jibing moves and more park-like behavior.


Summary:
Strong, stable skis with excellent grip and torsional strength. Slightly heavy, but not heavy-handling. Beautiful wood graphics that grow on you. Definitely different. Definitely handsome and robust. Flex patterns on these early-release models may be somewhat stiff for some lighter or weaker skiers (flex reportedly being adjusted in future releases).


Ski Designer:
David Mazzarella ("Mazz") came from a background of being the business and production side of the original asymmetric Scotty Bob tele skis in the U.S.A.  After the purchase by K2 and subsequent movement of Scotty Bob production to China (Scotty Bob has since retrieved his brand from Chinese production and is making his skis by hand again in Colorado we hear), Mazz and Scotty Bob parted ways (see a Telemark Talk Post about their history) and David sought to build his own factory in China to his specifications and train his technicians to build his skis with care and artistry, not mass-production.  David has moved his family to Hainan Islan where they produce "about 5 pairs a day". Mazz says creating a workshop in China allowed him to create a ski where "price of materials and workmanship" was much, much lower to achieve the quality of ski he wanted to produce for the skiing public.  Using the same quality of materials and labor hours in other countries would have placed the ski above the price point he was trying to meet for his target market.
Mazz claims:
"I moved with my wife and kids half way across the globe and set up our own factory so that I could design and produce with the best methods possible. I brought in engineers who shared my vision. We designed machinery that didn't exist, hired craftspeople with better hands than ours, and taught them how to make great skis. And they taught me a lot. After working for two years to get the production center fully capable, I turned my focus to designing a new line of skis using better materials and more craftsmanship per pair.  Our production facility pays all workers above the market rate to attract and retain a quality team. Our turnover rate is low and new hires are often friends of existing employees. On work days, all employees eat a hearty lunch together provided by our company. After 3 months on the job, all employees receive the following benefits: Health insurance, retirement, unemployment, disability, workers' compensation, and 90 day maternity leave with 100% pay."


Technical Ski Data:
Paulownia hardood wood cores (stronger, more dense black locust core on the "Rave" model) with black locust sidewalls hosting quad-axial carbon fiber and fiberglass layers and rubber dampening edge layering.  Hand-made marquetry wood veneer topsheets.


Pre-Skiing Impression:
Beautiful, warm-looking handmade wood topsheet design. More "folksy" than "fine furniture" style marquetry.  Nice quality and finishing.  These pairs had about two months of demo / rental usage and showed some normal cuts and scrapes, but I got the immediate impression a quick touchup with abrasive paper and some linseed oil would have them looking great in no time. The hand-flex showed progressive tips and tails, with longish area of the midbody being strong and less curvacious. Impressive torsional strength (probably due to the black locust sidewalls combined with paulownia and black locust hardwood cores I think). Moderate sidecut. Slightly heavy, but nicely damp with a respectable rebound response and strong feel.


Test Conditions:
Boot-deep to shin-deep fresh powder over once-thawed-then-refrozen cut up powder (once you pressed down through the powder, the previous cut-up powder was noisy and hard underfoot..kind of like broken cinderblocks underfoot) with some small bumps. Packed-powder groomers ranging from softpack to relatively hardpack (not boilerplate). Some shrubs. Good variety of surface types. Moderate slopes to some moderate steeps in spots.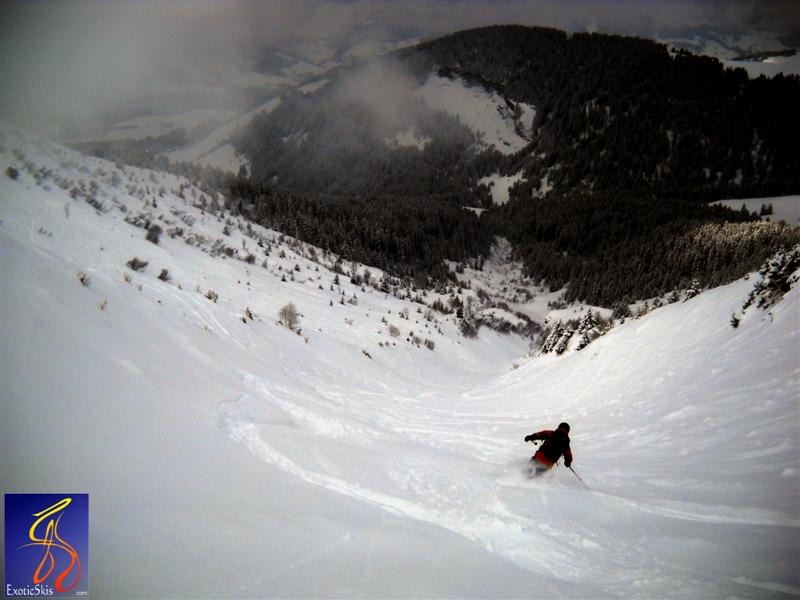 Test conditions in St. Gervais


Test Results:
I progressed downward through the lineup starting with the "Ullr's Chariot", then the "Rave" in two lengths, and finally the "Go Girl", all on the same trails and surfaces to get a consistent "frontside" experience (where these skis are intended to spend most of their time), but sneaking onto the sides and trees in spots to try the shallow powder response of each model. Each model was definitely able to hold a line across variable surface types without deflection due to their impressive torsional strength, and could support serious pressuring without giving-way like many all-mountain skis these days. The grip at all speeds was predictable and secure, as advertised. While I am not a lightweight (190 lbs / 86 kilos), each ski gave me the distinct impression of high-performance capable of supporting my weight and pressuring without complaint...perhaps too much for the intended skiers in the target market for the shorter sizes. Each model starts the turn nicely without much effort, which told me the forebody geometry and taper-to-waist was working nicely, and as the pressure transferred from tip to waist and then to the tail throughout the turn, I noticed each had an area of "resistance" in the midbody which urged me to concentrate on finishing the turn past apex. In other words, I found it was more successful to increase my pressure slightly mid-turn to get the ski to finish the sequence in the same arc as I began. Examining the flex pattern of each ski, I noticed each had a significant area in the middle of the ski which did not flex as readily as the tip and tails. All skis have this, and it's normal, but I think the length of this region was a little long...resulting in a ski with more race-like behavior (think of a ski with a raceplate and its effect on the the flex and you get the idea) than recreational behavior. I would personally like to see a little more rounded flex pattern on these skis and suggested it to Mazz (I make no claim to be the World's greatest ski tester or designer...I just tell people what the ski feels like to me compared to tons of other skis I have fun testing...everyone can make their own judgements!). He acknowleged some people felt some models were "stiff" (which means many things)...and he would try pressing some changes into another release possibly available to test in March, 2010..we will see). These skis fill their niches nicely and present an option for nearly any skier, which is good. The skis are definitely sturdy and well-made, and very cool looking. They can hold a secure turn on any surface and have no bad habits whatsoever. The versions I rode may require the skier to not be lazy in keeping pressure up throughout the turn, but make very nice arcs of various radii when asked. Each model can cut through crud unfazed, which is a good thing. They handle bumps without deflection, and can take a beating without any wimpers, but can feel somewhat stiff in bumps due to their hardwood cores and hardwood sidewalls. These models can transmit feedback from hard chop to the skier, which gives experts good feel of the surface underfoot, but may tire a recreational skier somewhat if conditions are bad. I found myself wanting just a bit more "zing" and pop out of the turns, since these skis are nicely damp and keep vibrations to a minimum. These skis reward a stronger skier looking for a strong, stable ride, not a fluffy noodle ride. The construction and materials would appear to mean these skis will last for many seasons, which is another good thing. Overall, I think SKiLogik's frontside lineup has a very positive future and appeal. I would just soften the midbody flex pattern slightly to get these skis to "automagically" follow the turn initiated at the forebody, add a bit of zing in the tail (which may result from increasing the midbody flex) and then you'd have a ski with a true mass appeal. Did I mention the graphics really, really grow on you? Distinctive, handsome, built by workers who get more benefits and pay than their counterparts in most ski manufacturing shops in China, sturdy, durable, priced reasonably and definitely fun to ride. Excellent for a first-year production ski. I look forward to re-testing these models after some flex adjustments are made.


Analogies: (this ski is like...)
All-mountain skis you might build for yourself after finding the mass-produced skis too wish-washy and short-lived. Stronger, more stable and definitely cooler than nearly any other off-the-rack skis out there.


Things You Would Change About This Ski:
Reduce the midbody stiffness slightly to make the pattern more rounded, and add a slightly more lively tail behavior to get some more zing at the end of turns.


Short Answer When Someone Asks "What Do You Think About This Ski?":
Good ski for a strong skier who wants a handmade, durable, distinctive ride to handle hard skiing all over the mountain except for deep powder (there are other models for that)


Advice To People Considering This Ski:
Demo a pair first to make sure you like the high-performance torsional strength and flex pattern they offer. Good luck picking a graphic choice...they are all very cool.


After Skiing These, I Want To...
Try a pair with more zing in the tail and softened midbody flex, then put my freinds on them and see what they think about switching brands.


Self-Description of Skiing Style, Ability, Experience, Preferences (be honest): 

5' 11", 190 lbs. Expert groomed-surface carver, "old-style" race inspired, "foot steerer" with fairly sensitive edging feel. Loves to hold long arcs with lots of pressure on the downhill ski (you know the type),  but also loves the feel of both skis on-edge leaving tiny railroad track edge tracks. Not an instructor, but 10 year coach for youth race team in New England (bulletproof is the norm).  Loves powder when available. No big air.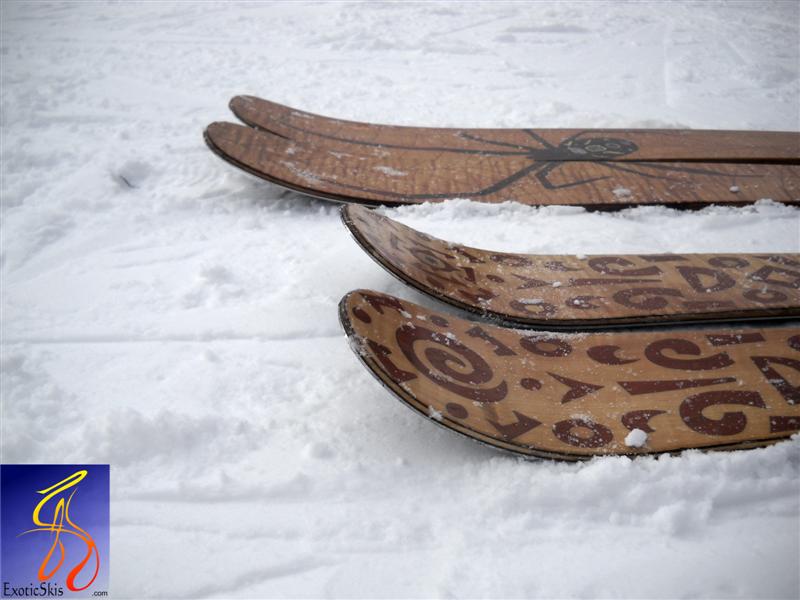 Tips of Ullr's Chariot (foreground) and Howitzers (background)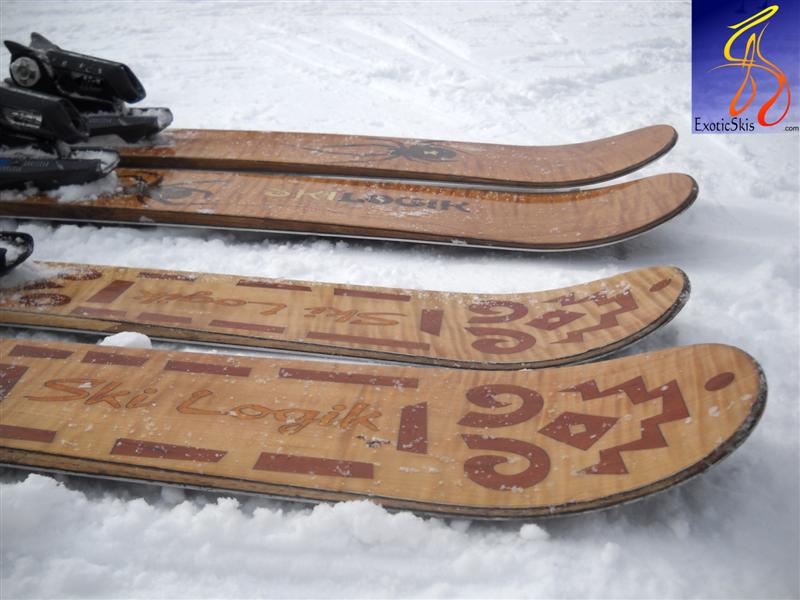 Tails of Ullr's Chariot (foreground) and Howitzer (background)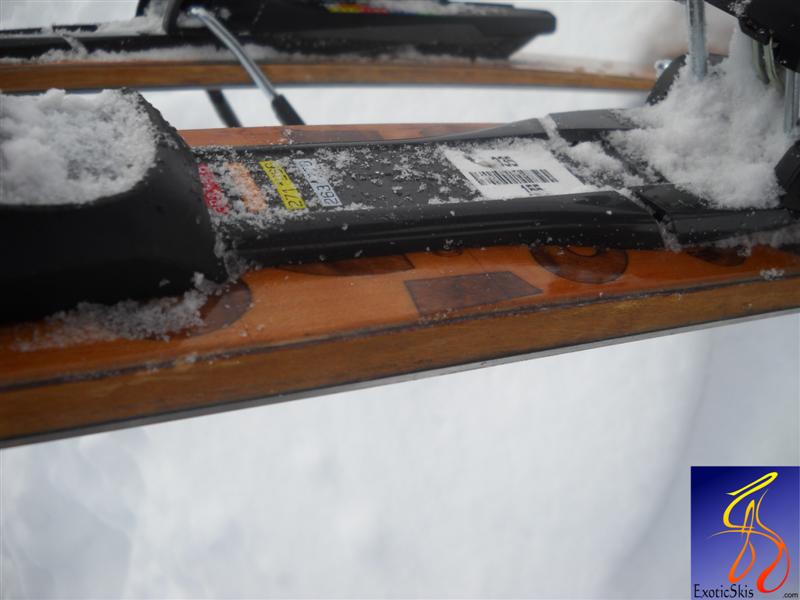 SkiLogik black locust sidewalls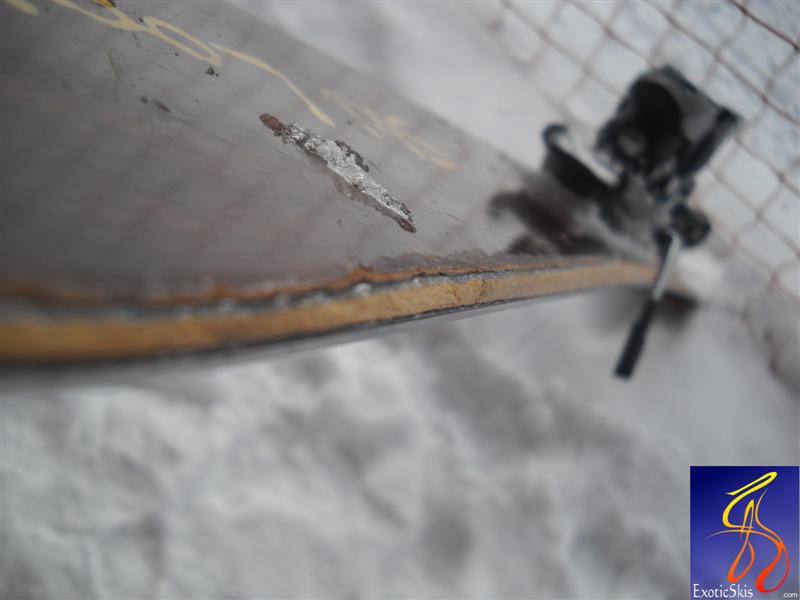 Sidewall top edge showing wear and tear from two months of rental / demo usage

(easily touched-up with abrasive paper and some linseed oil I think)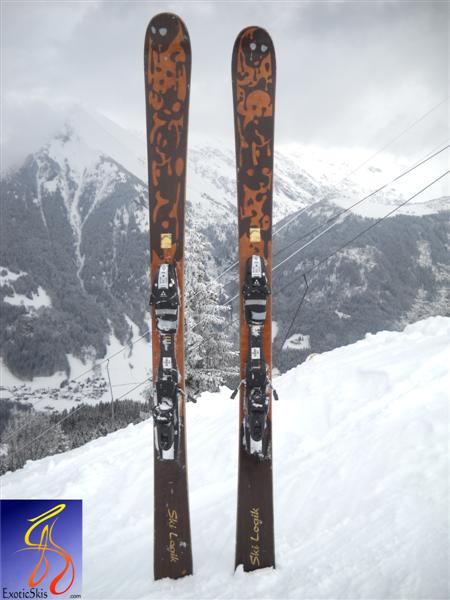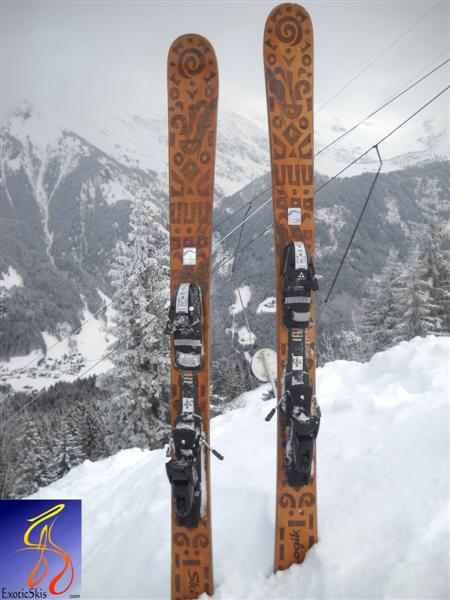 Raves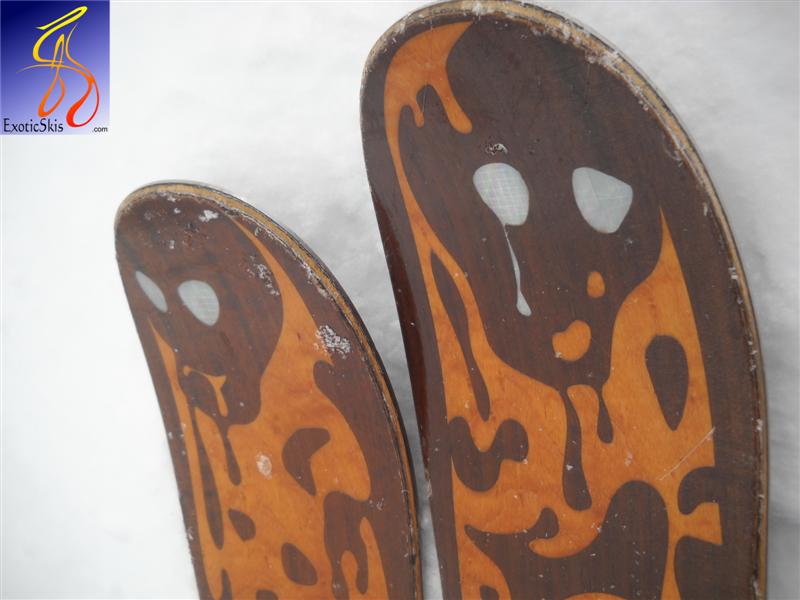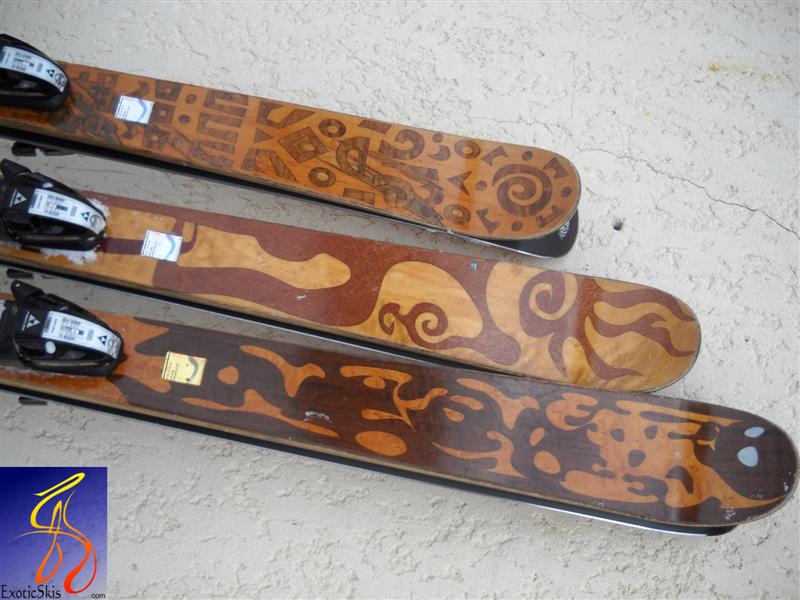 Tips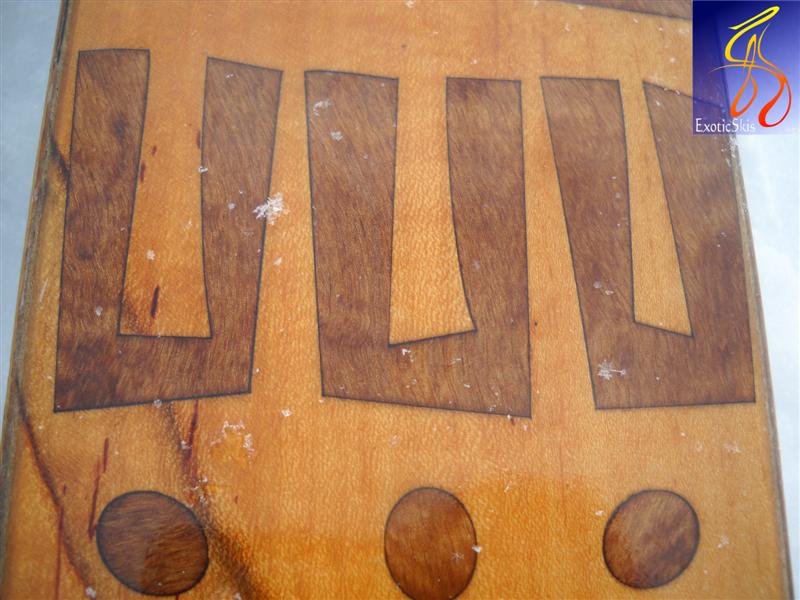 Closeup of SkiLogik "Tribal Spirits" Topsheet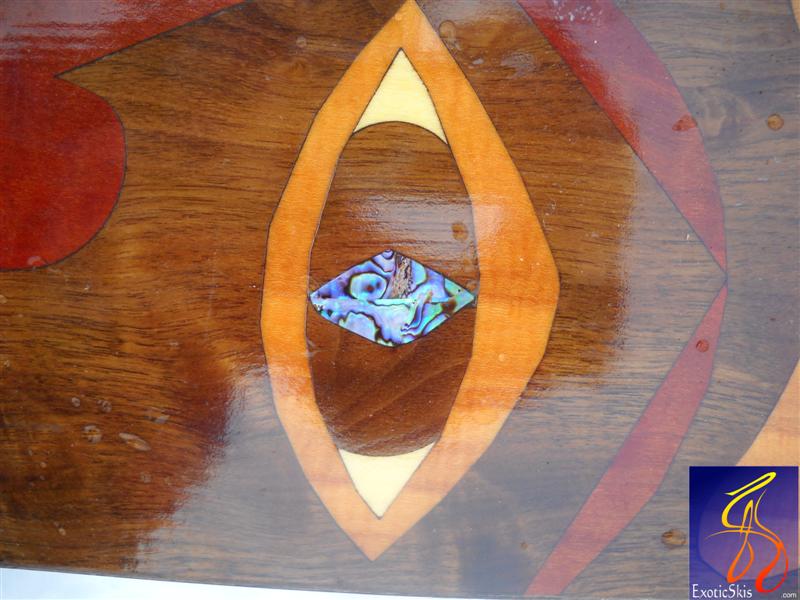 Closeup of SkiLogik "The Healer" Topsheet
---