SkiLogik Howitzer 186cm 2009-2010
137-110-131 22m radius @ 186cm
3900 grams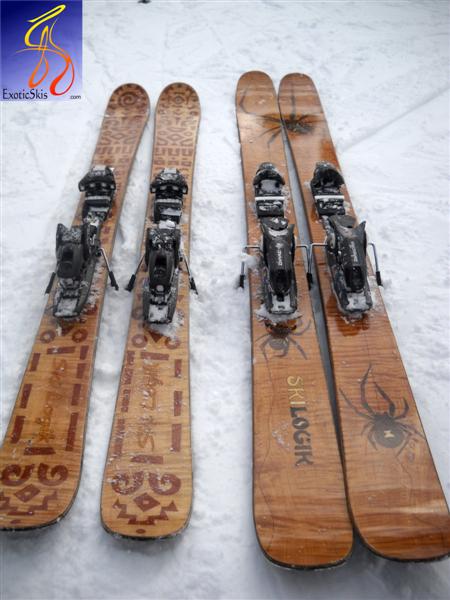 SkiLogik Ullr's Chariot (left) and Howitzer (right)
Manufacturer Info:
Ski Logik LLC
P.O. Box 9480
Breckenridge, Colorado 80424
(970) 453-8000
http://www.SkiLogik.com
 
Suggested Retail Price (MSRP):
$ 799


Usage Class:
All terrain rockered-tip, camber underfoot.


Your Rating (with comments): (1="get me off these things"->10="I have to own a pair")
8-9


Summary:
Surfy, fun fat ski with remarkably good edge grip on groomers due to torsional strength. Moderate "rocker" (more like "eary rise" if you ask some people), with very easy handling for a 110mm waisted ski. Very easy to ski, with no real learning curve.  Capable of going anywhere on the mountain without requiring the rider to be in top physical condition. Slightly heavy, but not heavy-handling. Beautiful wood graphics that grow on you. Definitely different. Definitely effective, handsome and fun.  Not for really hard-chargers since the tip is somewhat soft at warp speeds in junk, but never deflects. Very fun and surpisingly versatile.


Ski Designer:
David Mazzarella ("Mazz") came from a background of being the business-side of the original asymmetric Scotty Bob tele skis in the U.S.A.  After the purchase by K2 and subsequent movement of Scotty Bob production to China (Scotty Bob has since retrieved his brand from Chinese production and is making his skis by hand again in Colorado we hear), Mazz and Scotty Bob parted ways (see a Telemark Talk Post about their history) and David sought to build his own factory in China to his specifications and train his technicians to build his skis with care and artistry, not mass-production.  David has moved his family to Hainan Islan where they produce "about 5 pairs a day". Mazz says creating a workshop in China allowed him to create a ski where "price of materials and workmanship" was much, much lower to achieve the quality of ski he wanted to produce for the skiing public.  Using the same quality of materials and labor hours in other countries would have placed the ski above the price point he was trying to meet for his target market.
Mazz claims:


"I moved with my wife and kids half way across the globe and set up our own factory so that I could design and produce with the best methods possible. I brought in engineers who shared my vision. We designed machinery that didn't exist, hired craftspeople with better hands than ours, and taught them how to make great skis. And they taught me a lot. After working for two years to get the production center fully capable, I turned my focus to designing a new line of skis using better materials and more craftsmanship per pair.  Our production facility pays all workers above the market rate to attract and retain a quality team. Our turnover rate is low and new hires are often friends of existing employees. On work days, all employees eat a hearty lunch together provided by our company. After 3 months on the job, all employees receive the following benefits: Health insurance, retirement, unemployment, disability, workers' compensation, and 90 day maternity leave with 100% pay."


Technical Ski Data:
Paulownia hardood wood cores with black locust sidewalls hosting carbon fiber and fiberglass layers and rubber dampening edge layering.  Hand-made marquetry wood veneer topsheets.


Pre-Skiing Impression:
Beautiful, warm-looking handmade wood topsheet design. More "folksy" than "fine furniture" style marquetry.  Nice quality and finishing.  This pair had about two months of demo / rental usage and showed some normal cuts and scrapes, but I got the immediate impression a quick touchup with abrasive paper and some linseed oil would have them looking great in no time. The hand-flex was progressive, with impressive torsional strength (probably due to the black locust sidewalls combined with paulownia hardwood core I think). The "Rocker" on this ski is very moderate compared to many "clown shoe" skis you can find on the market in 2010. I would call it more of an "early rise tip" than full "rocker". Moderate camber underfoot, with a moderate sidecut. Slightly heavy, but nicely damp with a respectable rebound response. This ski peaks your interest after fondling it for a few minutes.


Test Conditions:
Boot-deep to shin-deep fresh powder over once-thawed-then-refrozen cut up powder (once you pressed down through the powder, the previous cut-up powder was noisy and hard underfoot..kind of like broken cinderblocks underfoot) with some small bumps. Packed-powder groomers ranging from softpack to relatively hardpack (not boilerplate). Some shrubs. Good variety of surface types. Moderate slopes to some moderate steeps in spots.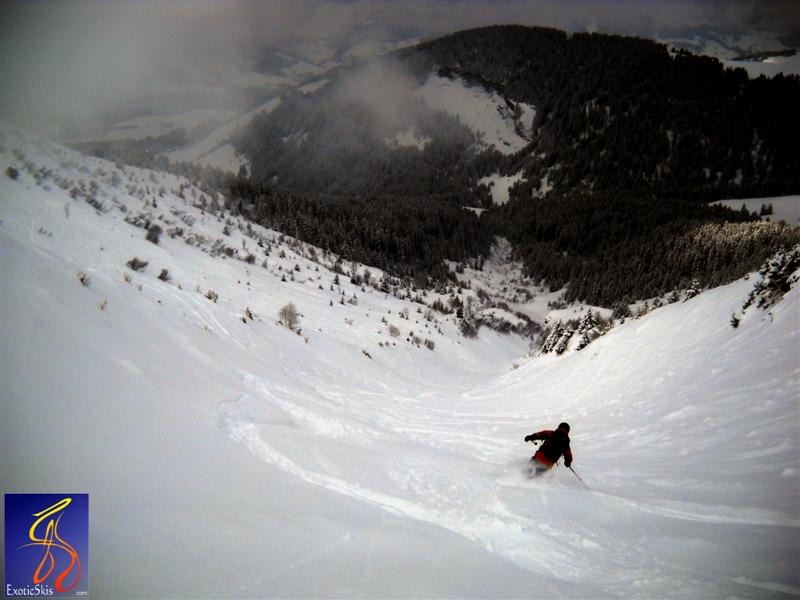 Test conditions in St. Gervais
 
Test Results:
My first run of the day was on the Howitzer, up at the top of Mount Joly in St. Gervais, which is basically a big open bowl with various faces and gullies available with different amounts of powder-covered surfaces. I took to the Howitzer (very difficult for the French to pronounce...it comes out like "Oyster"...but I digress...) without any learning time at all. It was friendly, easy to handle and went anywhere I pointed it without any real effort for a relatively large ski made with a hardwood core and hardwood sidewalls. It made short turns and long turns without complaint. I was impressed immediately and continually at how easy it was to ski, and yet had float and grip when needed. Stability was very good, even at higher speeds in chop and small bumps. At warp speeds, I felt a little tip-flap, but much less than some other skis this size, and definitely not a bother since this is not a high-speed charging-type ski. At no time was there any deflection, but when you got into some cruddy, bumpy undersurface below the powder, the torsional stiffness would send feedback to me more than some skis. This feedback is not a bad thing, but if you want a ski that absorbs and isolates you from the chop or firmer details underfoot, the SkiLogik Howitzer is not what you want. Experts will probably like the feedback and ability to know what kind of pressure and surface quality is happening along the ski's length. This feedback also promotes pretty impressive edge-to-edge directional changes for a 110mm-waisted ski. As a side-note, the Howitzer crushes brush pretty nicely without twisting on you...(sometimes a nice feature.)


The more I skied it, the more I liked it. I actually liked its behavior on groomed and packed surfaces a little better than the "frontside" skis ("Ullr's Chariot", "Rave", "Go Girl") in the SkiLogik lineup because of the general overly-stiff midbodies on those skis (this is already acknowledged by Mazz as an opinion mirrored by other testers and developers and he has begun adjustments to the flex of those skis...hopefully to be delivered and re-tested in March 2010....that's a responsive ski company!). Short turns on hardpack are possible, but not without some effort since it is a relatively big ski, but short turns in any snow 1cm or more in depth are surprisingly easy. Medium to long radius turns on any surface are simple, stable and predictable with very little input required from the rider. The one thing I was wishing for in the Howitzer was a little more snap or zing at the end of the turn from the tail. The Howitzer is nicely damp and definitely controlled, but lacks a bit of "pop" at the end of the turns which I tend to like in skis. The Howitzer will not send you into the backseat if you are off-balance or make a mistake...so that's a good thing. I was just hoping to have a little more "zing" if I loaded the tail and released it. Denis Cortella (3 time French paragliding champion) skied with me during the test day and said the same thing about the lack of tail-zing. I mentioned this to Mazz and if other testers give him the same feedback...I will bet the behavior will be adjusted ASAP. Denis has skied with and talked to many people who tried the Howitzers, and they all said the same thing...they wanted to keep the pair for their own and not give them back. I felt the same way.


Did I mention the graphics really, really grow on you? I think David Mazzarella has fired a shot across the bow of the bigger ski companies with his SkiLogik Howitzer. Distinctive, handsome, built by workers who get more benefits and pay than their counterparts in most ski manufacturing shops in China, sturdy, durable, priced reasonably and definitely fun to ride. Excellent for a first-year production ski. I look forward to trying the other rockered models in the lineup and re-testing the frontside models after some flex adjustments are made.


Analogies: (this ski is like...)
Flipper the friendly dolphin....always there when you want it, capable of pretty much anything, handsome and durable, reliable and fun.


Things You Would Change About This Ski:
Add a slightly more lively tail behavior to get some more zing at the end of turns.


Short Answer When Someone Asks "What Do You Think About This Ski?":
Great ski for someone looking for a 110mm-waisted, semi-rockered, distinctive and durable ride good all over the mountain.


Advice To People Considering This Ski:
Not a hard-charging ski for huge drops and warp speeds, but really fun for nearly all other conditions...definitely see a pair in person.


After Skiing These, I Want To...
Try a pair with more zing in the tail, then save my money to buy a pair.


Self-Description of Skiing Style, Ability, Experience, Preferences: 
5' 11", 190 lbs. Expert groomed-surface carver, "old-style" race inspired, "foot steerer" with fairly sensitive edging feel. Loves to hold long arcs with lots of pressure on the downhill ski (you know the type),  but also loves the feel of both skis on-edge leaving tiny railroad track edge tracks. Not an instructor, but 10 year coach for youth race team in New England (bulletproof is the norm).  Loves powder when available. No big air.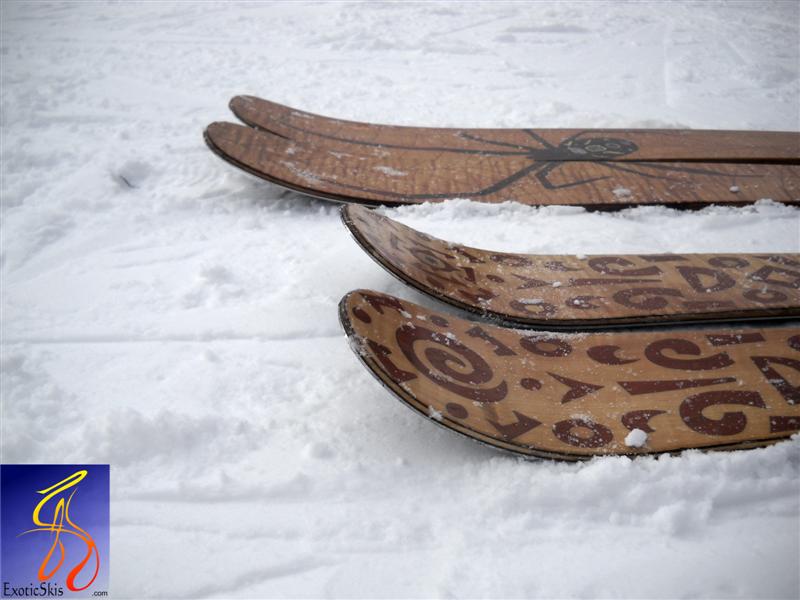 Tips of Ullr's Chariot (foreground) and Howitzers (background)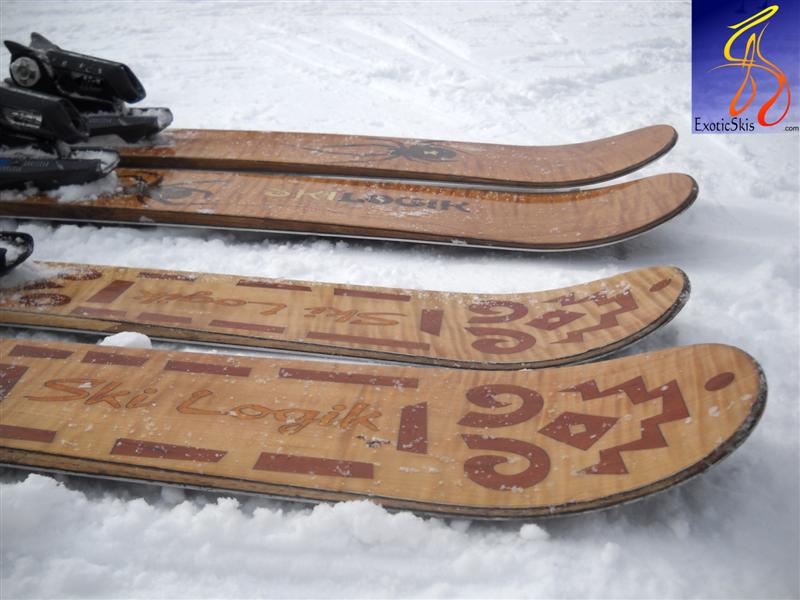 Tails of Ullr's Chariot (foreground) and Howitzer (background)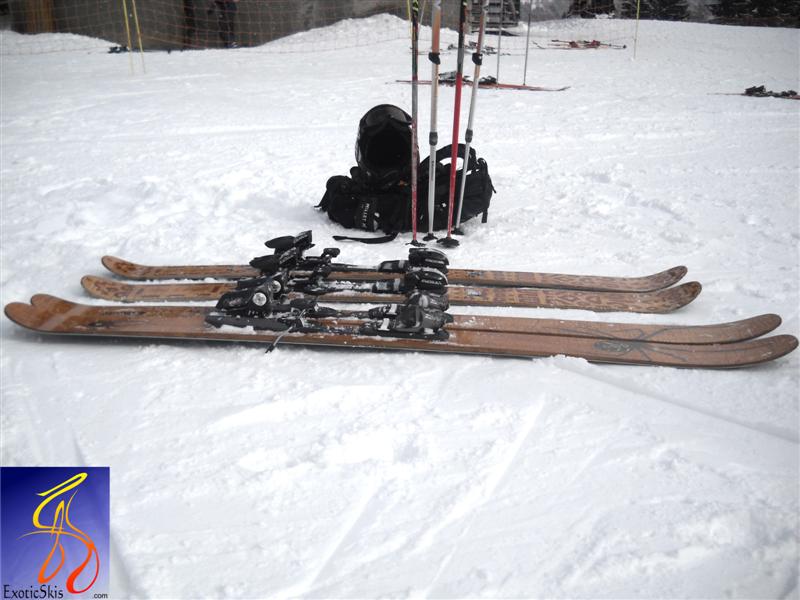 Side view of SkiLogik Howitzer (foreground)
 
Tips of Howitzers (foreground)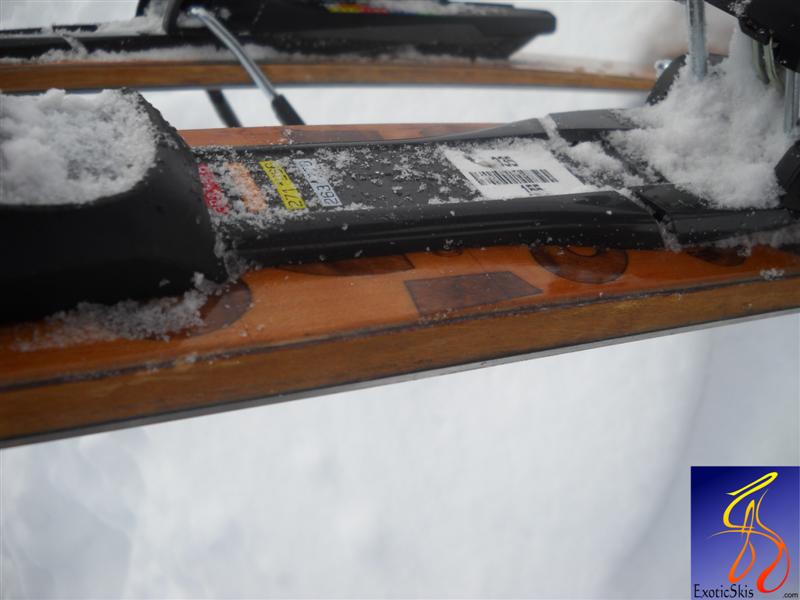 SkiLogik black locust sidewalls
(picture not  the Howitzer, but the same sidewall as the Howitzer)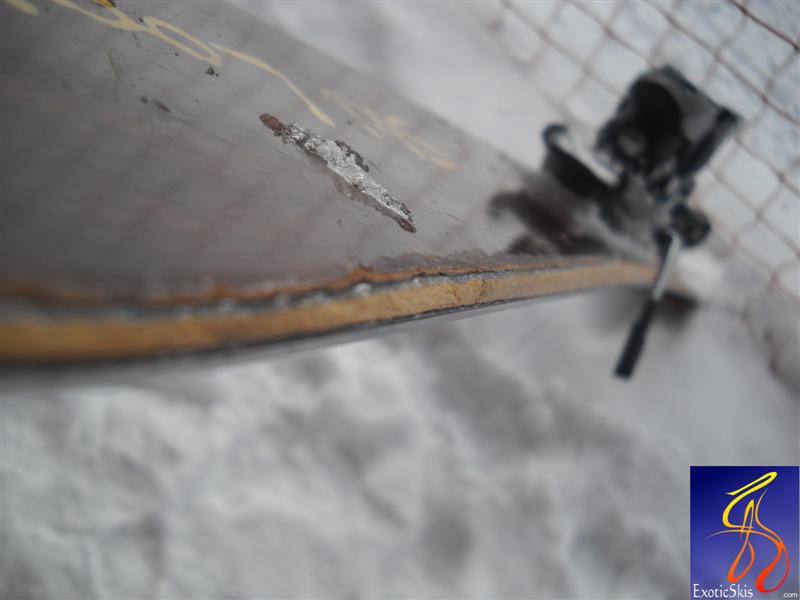 Sidewall top edge showing wear and tear from two months of rental / demo usage
(easily touched-up with abrasive paper and some linseed oil I think) .
(picture not of the Howitzer, but same relative condition as the Howitzer tested)