Rip'n Wud Freeride Carve (FRC) PRO Series
"Addiction Edition" - 2010
129-93-118 r=22m @ 188cm
1780 grams weight



FRC 188cm "Pro Series" on left (black walnut)

Manufacturer Info:

Rip'nWud Skis
Societe KC Enterprise SARL
Siege Social 38 Rue De Montreal
Zone Industrielle International
74100 Ville La Grand, FRANCE
+33 (0) 679 170 015 Phone
+33 (0) 450 373 136 Fax
http://www.Ripnwud.com

Suggested Retail Price (MSRP):

€ - see website

Usage Class:

Freeride 30% on-piste, 70% off-piste (manufacturer description)

Your Rating (with comments): (1="get me off these things"->10="I have to own a pair")

8-9 for heavy or agressive expert skiers.
Not recommended for intermediate or passive experts

Summary:

Serious, stiffened, reconfigured "big brother" to the standard freeride carve (FRC) model (see other ExoticSkis.com review of that model) intended for hard-charging, higher-speed agressive riding in tougher terrain and surface conditions.  Strong ski for strong skiers looking for a sub-100mm waisted ski for all over the mountain to enable GS-like carves when required and crud-busting float as needed. Suitable for a wide variety of surfaces encountered at the front and backside at most resorts if the rider has the skills and power necessary to drive this ski.  The ski likes to be driven, not ridden to get it to perform. The more you put in, the more you get out. No real similarity in behavior to the "standard" FRC having more flexibility and less demanding input requirements.

Ski Designer:

Kevan Beane, a transplanted hard-core skier, surfer from the U.S.A. (another American happily captured by a French woman and exported to France for marriage...there seems to be a pattern like this in other ski companies too [Peter from Rabbit On The Roof skis !]...) and former European ski derby competitor comes from a background of previously launching a European ski brand, helping launch "freeride" concepts for Salomon in the E.U., designing skis and producing action-lifestyle freeride sports film specials for Eurosport, MTV and various other media outlets through his "Worldride Productions" company.  Having lived in Chamonix for more than ten years, base jumping, parasailing and skiing extreme terrain and big mountain competition, Kevan knows skis and high-performance riding. Rip'nWud skis are assembled by hand in France in a small workshop, which Kevan says will never produce more than 800 pairs per year maximum (to maintain quality and not go into "mass production"). Rip'nWud concentrates on custom production for special corporate events and promotion, outfitting olympic officials, chalet vacation outfitters, competition staffing and one-off custom designs for clients and derby competitors and has only decided to release "stock" models in 2010 for general sale to the public through the website and showroom near Geneva.  Kevan prides himself with knowing his clients and supporting them after the sale, saying "no matter what concern the client has after purchasing my skis, I will make it right for them. My reputation is at stake here, and I want my customers to be absolutely happy and thrilled with their purchase and confidence in my products, now and for years to come."

Technical Ski Data:

Proprietary, multi-laminate Swiss white ash wood core specially constructed to provide a stiffer, more damp flex than the "standard" FRC, triax fiberglass, proprietary dampening layer between base and core, proprietary running base (claimed to be "...between pTex 2000 and 4000") with special structuring for coarse-grain European snow conditions. ABS vertical sidewalls. Kevan has developed a proprietary lamination technique using Swiss white ash cores in which the behavior of the core can be "tuned" by carefully altering the lamination characteristics and density along the core's length and depth, producing a ski with, as Kevan states, "...remarkable torsional and longitudinal behavior tuned to each model's specified purpose, without adding weight or metal layers to get the control and feel I build into each ski...".  Rip'nWud's philosophy is that simple, but highest quality white ash carefully laminated in proprietary and specific patterns, mixed with triax fiberglass and one or two "proprietary ingredients" produces a ski with superb flex behavior, vibration control and performance characteristics.  Kevan hand-selects his specially-sourced white ash and maintains design and construction control throughout the process with his carefully trained specialists crafting the special vertical and horizontal core laminations to his specifications.  As we have found in other skis, the quality of the ingredients does indeed make a difference in the final "feel" of the ski and its ability to retain its behavior over several seasons of usage.  Given the same specifications and structural arrangements in construction, the ski with high-quality (i.e. "expensive") materials behaves at a much higher level of performance than another ski having the same geometry built with lower-quality materials.  The wood, fiberglass, resins, dampening layers, bases, topsheets and all ingredients simply perform better, longer and under harsher conditions than cheaper versions.  Most new skis perform pretty well the first season, but the true test of quality comes after that first season.  Kevan Beane aims to have his skis perform at their original level of behavior for many seasons, not just one, and thus builds his skis with the best materials he has found over many years of testing. 

Pre-Skiing Impression:

Very clean, simple, handsome design using sandwich/sidewall construction, thin vertical profile from tip to tail showing very nice fit-and-finish.  Excellent transluscent, non-stick topsheet sealing surface.  Very nice quality North American black walnut topsheet grain on this model tested. Lightweigh for its size, with a strong even, progressive flex and moderate-to-strong rebound dampening response using "hand-gong" test.  Strong and balanced rebound feel. It gives the initial impression of a ski for high-speed, sustained-pressure situations, with a sidecut to carve big turns when required, but surface area to sustain flotation in 3D snow.  Geometry appears gradual and progressive.  Very nice quality, but not polished to the kind of gloss finish you want white gloves to handle like some artisinal-finished skis. Impressively understated graphic appeal..."handsome", not "flashy". Nice, uniform black walnut topsheet.

Test Conditions:

2cm to boot-deep, fresh, dry powder on regroomed, packed powder surfaces, some with gentle, rolling underbumps on the boot-deep sections.  Packed groomers and semi-fluff trail edges.  Cold, dry conditions. No ice or boilerplate. No steeps, crud or crust.

Test Results:

After skiing its little brother (the standard FRC 177cm), the FRC Pro Series 188cm immediately conveyed the message it wanted its speed increased 30-40% to enter its sweet-spot for performance.  Not only because of its increased length (177cm to 188cm), but the flex pattern and response behavior modifications created a ski that begs to be driven, not ridden.  Once set into an arc, the FRC Pro holds across surface changes without any flinch or deviation. Damp and secure along its whole length with no forebody flap at speed.  When you set the ski on edge on a firm surface, it "sets", but does not curve away until told to do so, despite its 22m radius (the stiffer forebody does not automatically pull you into the next turn, it "supports" your command to do so without waivering across surface changes in the slightest).  This ski is what I would call a "set-and-forget" machine that obeys the line upon which it is set and stays there until you tell it to do otherwise - a stable, reliable platform for traversing terrain at any speed. Not a richocet-rabbit, but a steady, powerful ride with more flexibility than a "big mountain" ski, but more stability than a typical all-terrain 93mm waisted ski.  Directional changes are more difficult to initiate (unless your speed is up into the sweet spot velocity) with the FRC Pro because it is torsionally stiffer, but if you take command of the ski and drive it, you can go anywhere at will and have the confidence it will not deviate from your chosen line.  The Pro Series modifications create a ski you ski along its entire length for maximum effect.  Think "GS" instead of "All Mountain" feel and you get the image. The FRC Pro is the kind of ski you will use when getting your ticket yanked by ski patrol for excessive speed.  You will have a secure, damp, unflappable ride, but to outsiders, you will be warping along at an impressive rate.  The ability to hold impressive GS arcs on packed and variable surfaces is complemented by its ability to sustain a civilized and progressive flotation in soft snow.  Very manouverable and friendly in the soft snow, as long as your speed is up into its preferred zone.  If you try to ski it slow in the soft snow, you will feel a 188cm ski begging to be sped-up. If you bring it up to cruising speed, it changes direction without protest and surfs a fun and responsive turn on demand.  Increase your speed in the soft snow, and it becomes a formidable multi-radii weapon for covering any chosen terrain.  "Balanced Power" comes to mind riding this ski. Junk and undulations in the surface don't really matter. The FRC Pro is an authoritative freeride ski. You should be in good physical condition to get the best result from this model tuned for higher strength situations and riders.  Think of it like a suspension upgrade on a sports car from civilian to pro circuit.  While being a strong ski, the FRC Pro displays an excellent "balance" of flex, dampening, torsional resistance, rebound power and sidecut geometry.  In some skis, one or more of the components of the ski or its behavior doesn't quite fit perfectly (you wish you could adjust one tiny parameter to get it "just right"). The Rip'nWud FRC Pro feels like a ski that has been tuned over many iterations to get the formula "just right" for agressive experts looking to go nearly anywhere with authority and confidence at speed.  The quality of materials and construction should mean this ski will hold up longer than many mass-produced skis under tough conditions and usage.  Skiers approaching expert skill levels or thinking they are better than they really are may be humbled by the FRC Pro Series.  Skiers looking for a hand-made, high performance ski to take them beyond civilian-level freeride status should try the FRC Pro and decide for themselves.

Analogies: (this ski is like...)

A BMW 5 or 7 series coupe with serious engine and suspension work tuned for the track and not the street.  The kind of car you drive with the proper gloves and shoes - closed course.  No license plates.  Civilians will quit after a few laps. Athletic drivers will drive it until dark.

Things You Would Change About This Ski:

Perhaps a slightly shorter length (172-177cm) for hard-charging women or shorter skiers who would find the 188cm length too much for their mass and structural stature.  Perhaps an ever-so-slightly softer forebody torsion in the first 1/3 of the spatula to ease initiation at slower speeds or tighter terrain, with a little more dampening in that 1/3 to keep vibration under control if torsionally relaxed at that spot (picky, picky....just ski it and shut up....[- editor]).

Short Answer When Someone Asks "What Do You Think About This Ski?":

Great freeride ski for the hard-charging expert looking to go anywhere without adjusting technique. Not for the average civilian skier or expert with an ego bigger than his/her true ability.  Derby competition-quality performance in a handsome, high-quality, handmade package priced accordingly.

Advice To People Considering This Ski:

If you don't compete or ride at competition-level, definitely demo this ski before buying it.  If you do compete, definitely demo this ski and try it.  Kevan can create a customized version if you want to fine-tune it to your style.

After Skiing These, I Want To...

Put some "I'm an expert skier" people I know on this ski, watch them go for a ride and then ask to change skis after a few runs.  Ask Kevan to make a 172-177cm version of this ski for smaller skiers and agressive women and watch them rip over any terrain.

Self-Description of Skiing Style, Ability, Experience, Preferences:

5' 11", 190 lbs. Expert groomed-surface carver, "old-style" race inspired, "foot steerer" with fairly sensitive edging feel. Loves to hold long arcs with lots of pressure on the downhill ski (you know the type),  but also loves the feel of both skis on-edge leaving tiny railroad track edge tracks.  Loves powder when it's not tracked out. 10 year coach for youth race team in New England (bulletproof is the norm).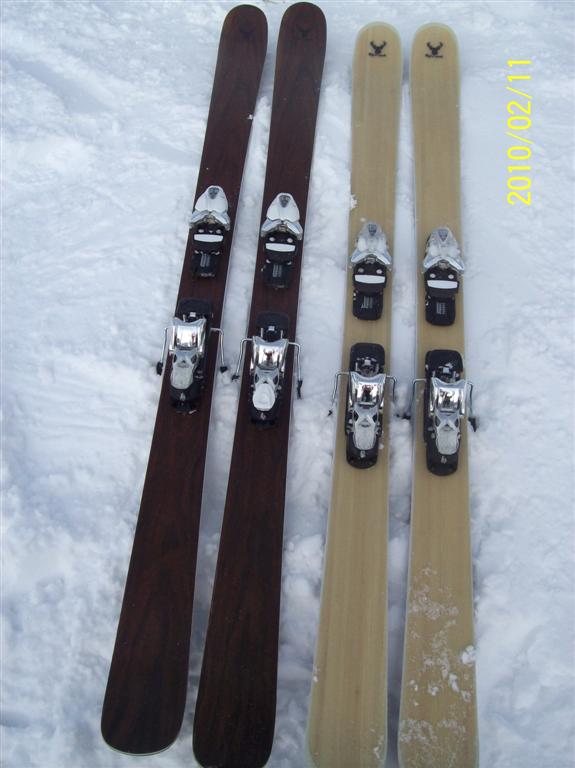 FRC 188 "Pro Series" on left in Black Walnut, FRC 177 in White Ash on right.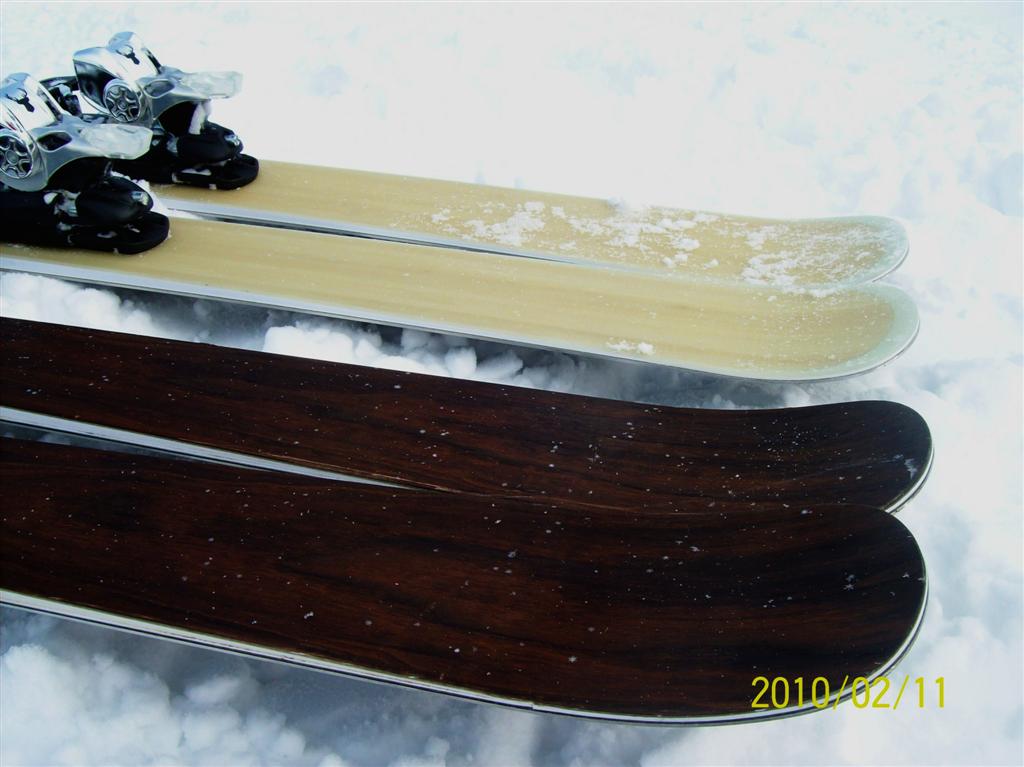 Tails of FRC 177cm (white ash) and FRC "Pro Series" 188cm (black walnut)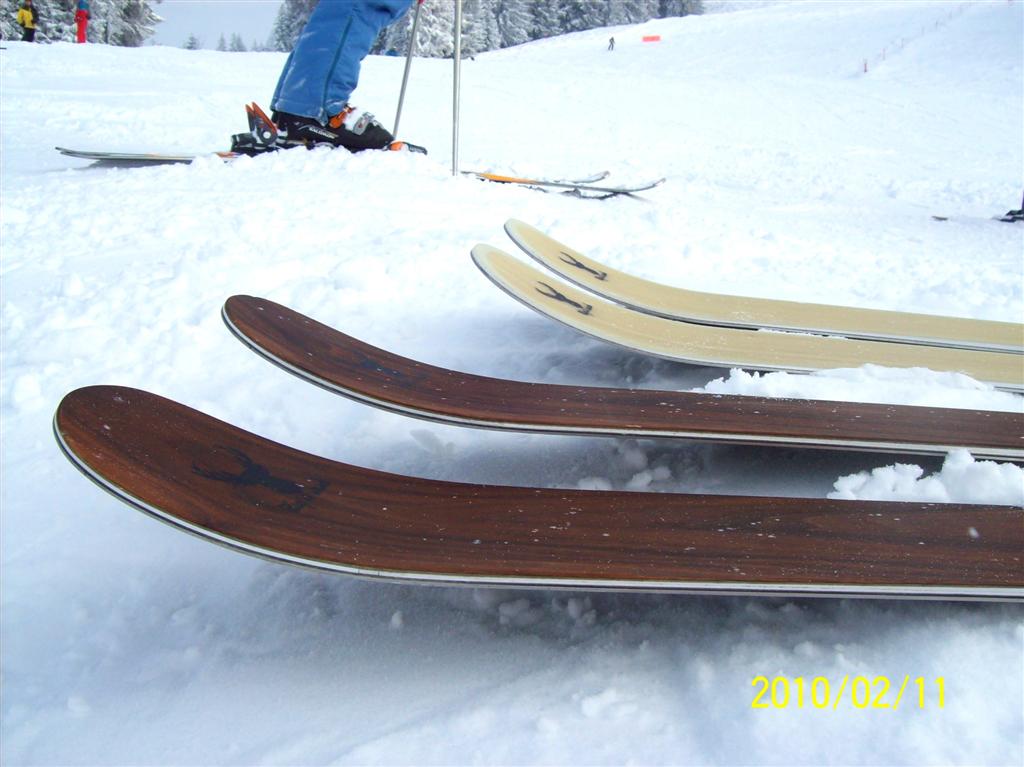 Tips of FRC 177cm (white ash) and FRC "Pro Series" 188cm (black walnut)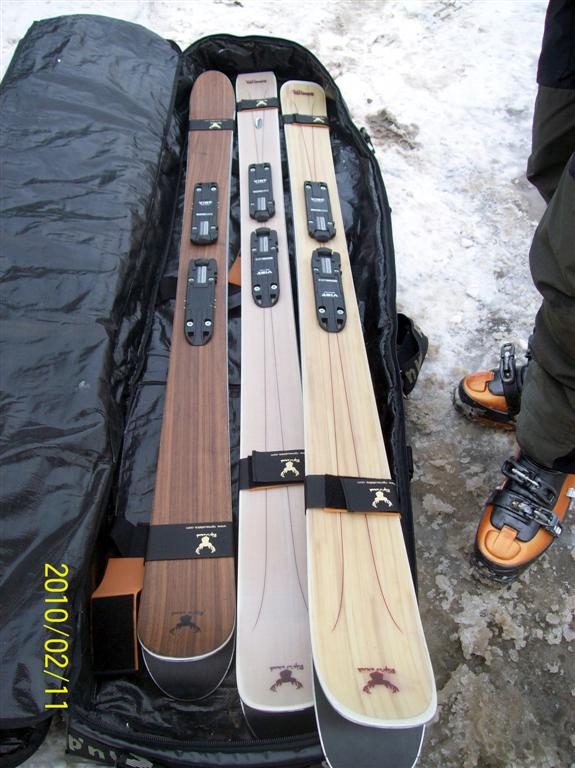 More Rip'nWud models...different finishes and designs (note the square tails on "Addiction Edition"
Pro-series skis with pinstripes)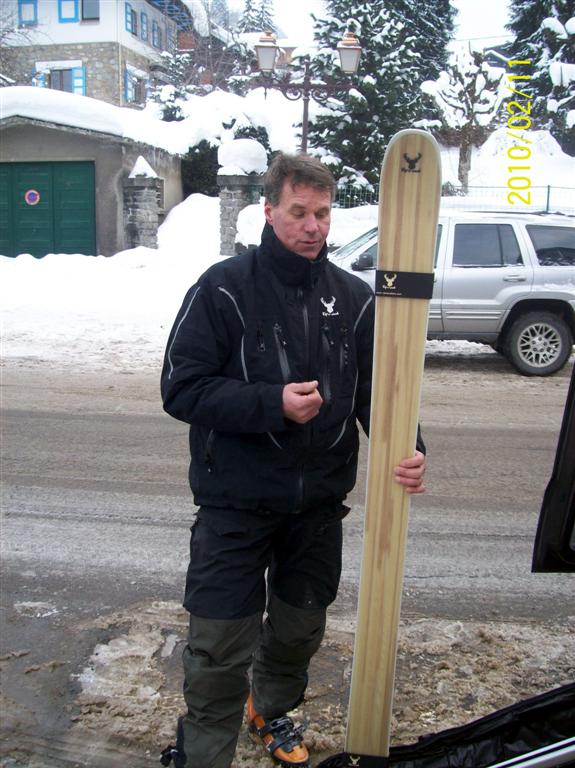 Kevan Beane with his "Powder Big Fat" model.
Edited by ExoticSkis - 3/21/10 at 4:42am