To quote Finndog: "
You know it's a bad year when the stoke factor is so high for 3-4"."
That's the theme for this TR.
Day 1: Vail 2/5/10
Vail was reporting 3 inches from overnight. We arrived and parked in the deck at the Lion's head base. After we got going, we dropped over into Morningside and started the trek out to Blue Sky Basin. Conditions were ankle deep fresh (deeper in some spots) over moderately hard bumps.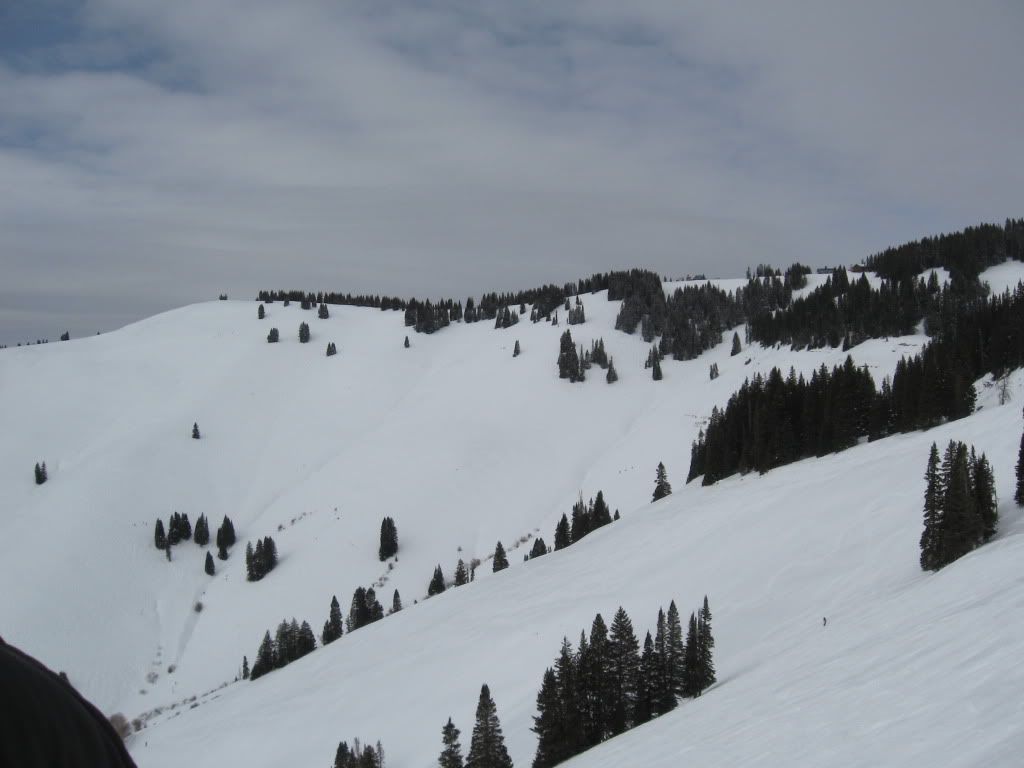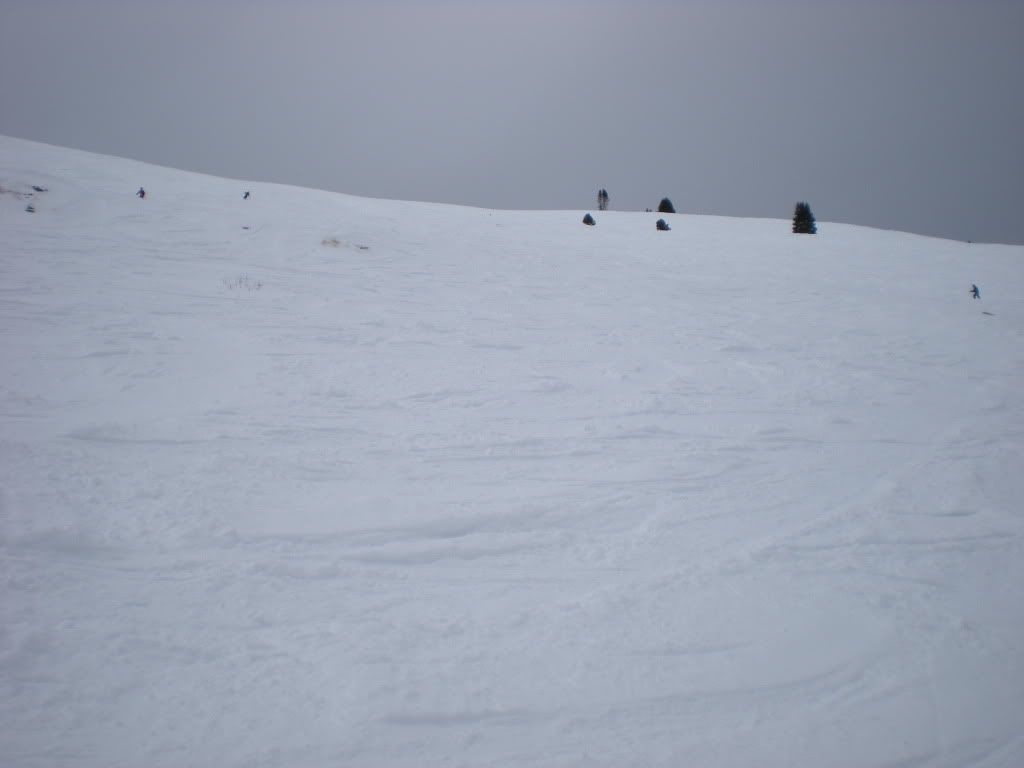 There was deep snow if you looked in the right places.
We did a couple of laps under Earl's Express before going to Belle's camp for lunch. Vail prices in full effect $9 for a sandwich and $5 for a bottle of Gatorade. This was our first time there, so we didn't know to pack marinated meat to throw on the grill there. Next time. 
Lunch time craziness…I call this "The Proposal" So, we sitting outside on at a picnic table eating when this guy approaches us and says, "In about 10 mins, I'm going to go over there an propose to my girlfriend. Would you mind spreading the word so there could be some applause?"
My buddy Jay was done eating so he tells everyone at the surrounding 4 – 5 tables what's about to happen. Then, we sit and watch and wait. Sure enough a few mins later, the guy and a girl walk away from the tables towards the boundary rope. 
At first, they're appear to be just standing there talking. Their backs are to us. Then, another couple comes over and asks them to take their picture…nothing like killing the mood or whatever momentum this guy may have had to pop the question.
Finally, it appears that the guy is getting to the question. He's reaching into his jacket for the ring and starting to go down on one knee. Then, it all starts to go wrong for the poor guy. The girl is shaking her head no, back and forth, and reaching down to pull the guy up before he gets all the way down on his knee. About 20 of us are stunned as we watch this. The scene wraps up with the two of them walking away together. The rest of us just look at each other thinking WTF? It was a dose of reality TV without the TV. Strange.
After lunch, our group split up a bit and we hit the trees off of Cloud 9. Nice soft runs in there. Around 2:30 it started to snow hard and we concluded our day with a couple of laps in the fresh stuff in China Bowl.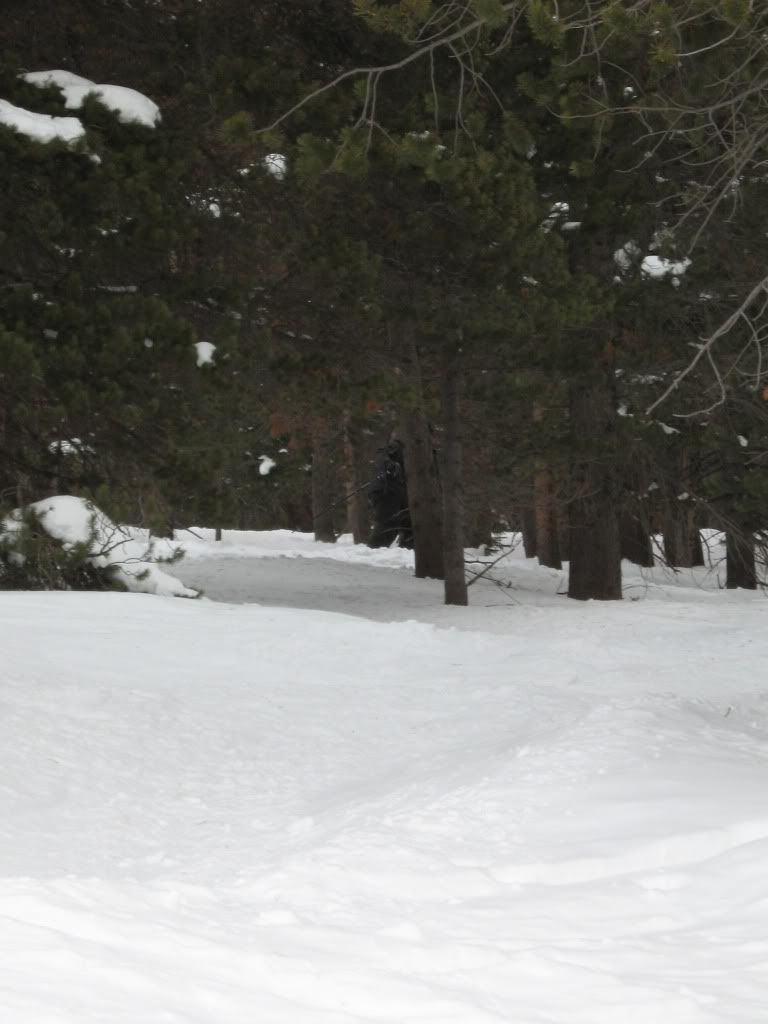 Day 2: Keystone 2/6/10
I think they were reporting 4 inches of fresh overnight snow. We wondered what that would mean for conditions in the north bowl and would the cats run. They did. 
We did two laps in the North Bowl. My first line was near Christmas tree and my 2nd line was further over in the tighter trees near The Corral. There were powder stashes in the trees where the snow was 4th buckle deep. 
The rest of the day, we just cruised and stayed late enough to do a couple of runs under the lights before calling it a day.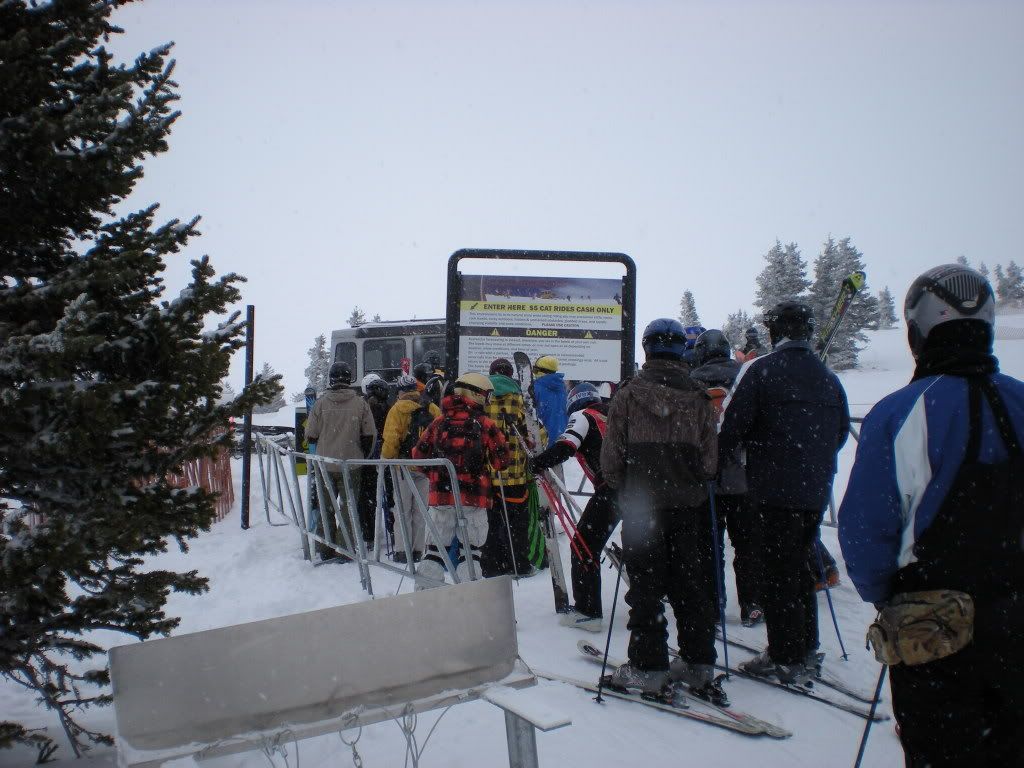 Me
North Bowl Conditions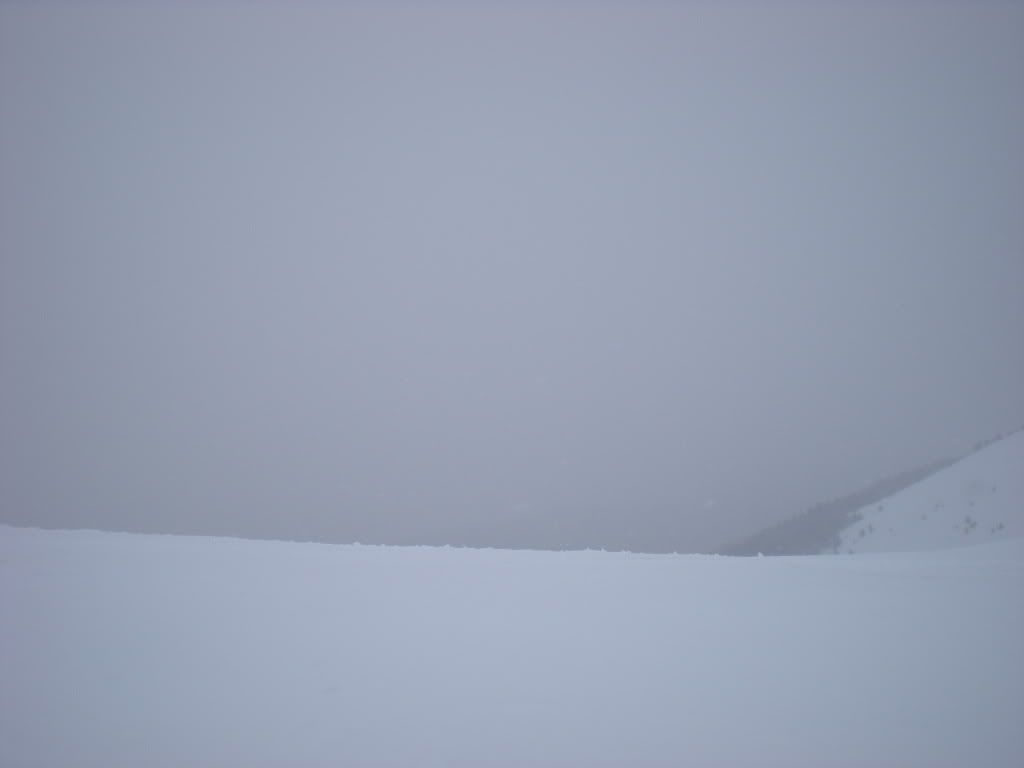 Our Crew
They reported 5 inches overnight. It was definitely more than that in Imperial Bowl. We headed up in the Colorado chair @ 8:35. When we got to Imperial, it wasn't opened yet. We decided to wait. 
I was 2nd chair up Imperial when it opened. Patrol only had one line open and we dropped into Imperial Bowl from underneath the lift. Conditions were 5 - 7 soft on top of hard bumps. Things got a bit better towards the bottom.
The line wasn't too long so we went back up on Imperial. A crowd was gathering at the rope waiting for Patrol to open the gate to George's thumb.
The guy standing next to me was joking that it was going to be like boarder cross from the x-games when the rope dropped. Then everyone started yelling to each other to just relax and not run over anyone.
I was the third person through the gate. I followed a couple of guys as we traversed across Whale's Tale to Y chute.
I went through on the lower right next to the pole and a few more skiers got by me as I merged up onto the higher traverse line. I counted probably 6 - 7 skiers in front of me on the traverse. It took all of the will power that I had to make the traverse and not just plunge straight down into the pow. I'm still pleased with the lines that I selected and I dropped then traversed when my quads were burning. By the time I got around to the far side, there was just me and maybe 3 - 4 others. At least 3 continued on the traverse. :) I was like a junkie and I needed first tracks.
I had to negotiate one rock field, but then I dropped in and got first tracks. On that side it was softer and very nice.
I was with 4 other guys from my trip party. Three of them were on boards, and I fully evoked 2 of the powder day rules when the rope dropped:
1. No friends on a powder day (I just took off)
2. no pictures. (my camera was dead anyway and I forgot to get new batteries.)
I had not time for either...it was game on and I was on a mission. That's one of the best runs of my short ski career. 
 
My third trip up Imperial was about 30 mins later. We hiked from the chair up a bit to in order to traverse over to Easy Street. We went down next to the barrier set up by patrol. It was much softer than our first run in Imperial bowl, but more cut up. By this time Wacky's, Zoot, and 9 Lives were open and looked like they were skiing pretty nice, but we didn't want to hike that much.
I do realize that a marginal 5 inch dump in a low snow year would be considered mediocre conditions by a Colorado local's standards, but I'm from Alabama. And, we missed the snow on three different trips west last year [Tahoe, Mammoth & Utah]. So skiing anything soft was really nice. 
I did get one more taste of the pow before the end of the day. My crew had all left to go get ready to watch the superbowl, I stayed until the very end, and made one more run off of the T-Bar into Cucumber bowl. Nice soft cut up snow. A great last run of the trip.