So super cold weather following warm weather + high west winds = LAKE EFFECT SNOW.
Thursday 1/28: west wind blowing @ a bazzillion mph and about 8 degrees. Probably about 16" in the past 48 hours. But the 16'' on the west side was blown onto the eastern treed stuff ( EBC, Outer Limits, eastern Haunted Valley ) making waistdeep in some of the more gully-shaped eastern stuff. Did I mention it was very cold? Got 2nd tracks down Black Hole which was the best run I've ever had there and stayed mostly in the eastern section of the EBC.
Here's Horseshit Chute in the EBC:
This is at about 1 pm. Notice the dim lighting and total lack of tracks. The sun doesn't shine up here in the winter. It's grim. It's also frostbitten.
Frontside lift was running and the small bus was too. The big green and purple bus had a blown tranny and the other short bus had blown break lines. Thankfully it was the usual non-crowd.
Drove by Skullcrusher Beach apres-ski to check out the surf:
Nice overhead sets comming in with nobody out. Probably because it was zero degrees.
Friday 1/29:  Only got about 4" overnight, but still plenty of wind-transport. Outer Limits was closed down do to lack of employees (a bunch of guys called in sick). I would never advocate anybody skiing closed runs. It's a bad idea - especially if you don't have skins. Apres-ski I got bored and went for a tour up Deathway Mtn.
Some poor sledneck's sled got attacked by NecroYetis: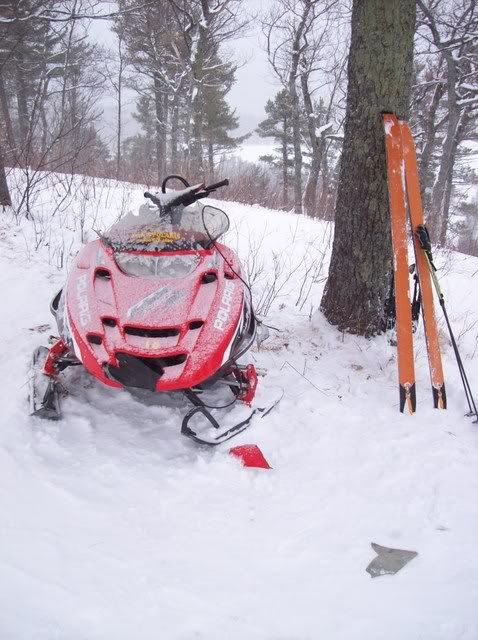 I assume he was eaten by said NecroYetis. Sure didn't want to hang around there - so I skied The Grave. The Grave ends up in - you guessed it - a spooky old graveyard:
..now you tell me that's not grim. And frostbitten! By the time I hiked back out there was an evil full moon behind all the stormclouds of holocaustwinds. BOO!
Saturday 1/30: about 6" overnight. I was thinking of touring up The Mountain Of Madness to ski The Chute That Should Not Be, but believe it or not I was actually concerned about the whole thing sliding. I know avalanches only happen Out West, but I'm a wimp. Plus I heard there's NecroBeavers back there! So's I went BACK TA BOHEMIA. Everything open again, both lifts running, the parking lot filled up - even fixed the brakes on the other short bus. Some dude was shooting his 9mm at the top of the big cliff. I actually waited in a lift line for 30 seconds. What is this? - The Ice Coast? No. Still plenty of powder shots to be had. Sorry - no photos, but I had to "get after it". Unfortunately I got after it with too much enthusiasm and ended up cracking my helmet after landing forward off a cliff drop, popping out of a ski and slamming into a nice full grown maple tree. Oh well - my last run was three runs ago anyway.