Seriously interesting skis and snowboards of French Walnut by Séb Perret (previously of
Bohême Skis
) built in collaboration with Bruno Florit of La Grave, France. The idea was to make a ski usable from a glacier conditions at the top, chutes and traverses usually seen in extreme mountains. Generally designed to have a flexible forebody, flexible tail with a firm waist underfoot.
A little costly....The "SX" is available as a wooden topsheet in 186 and 190cm lengths with dimensions of 125-93-115 r=20m. €850 price. The "All Black" is pure black for €1000, and is double-sandwich carbon and kevlar construction with 64/20 and 56/20 coated fiberglass between them. Isosport 7512 bases (I don't see 7512 listed at
ISOSPORT
..only 7215...might be a typo). You can also order customized versions, priced individually. You can get snowboards, splitboards and kiteboards too. Check out the splitboard...nice work. Rider/artisan builder. Nice looking.
Contact:
Atelier Phénix
La Grande Fabrique
Z.A. La Vallée
38140 RENAGE Isère / France
+33 06 31 04 31 47
http://www.phenix-snowboards.com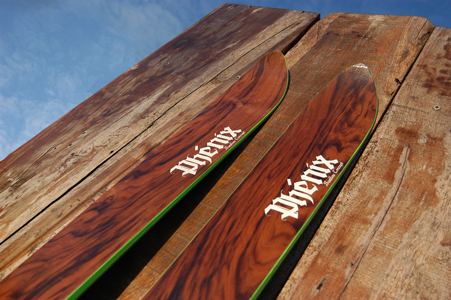 __________________