Make your own skis in a workshop! If you are a student of the AGEPOLY (
Association Generale des Etudiants de l Ecole Polytechnique Federale de Lausanne
), the General Association of Students (they take
donations
and you can get stickers!) can get you into a shop to build your own skis. You can make a backcountry ski (reverse or progressive camber in wood core with carbon fiber and graphite base and aluminum mounting pads [separate mounting pad for toe and heel..not a continuous mounting plate) or a pure-powder fat board (140mm waist at 191cm).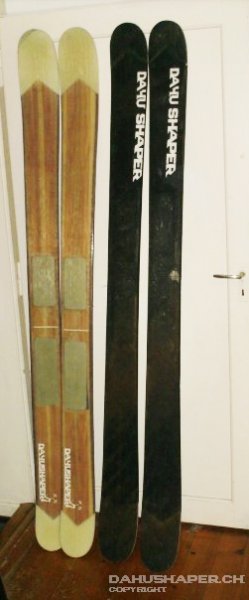 The cores are CNC machined for geometry and flex patterns. Apparently these guys are technical-types since they advertise they used the
Laboratory of Polymer and Composites in Lausanne
to choose and finalize their component choices from
Composite Solutions
in Switzerland and used the mechanical analyses from the
Institute for the Study of Snow and Avalanche Research
(SLF) in Davos to measure the deformation and vibration characteristics of their ski designs. Good photos of the workshop on the website.
Nidecker
is listed as a partner...so there is some serious interest from a serious board and ski company in this operation....keep your eye on these guys...
Priced at about 599 Swiss Francs (CHF) to 800 CHF per pair.
One of the best little stop-action homemade sii movies we've seen in a while:
http://www.youtube.com/watch?v=DynMmdG9Cs8
__________________
.