Yesterday was an absolutely beautiful fall day in Jackson Hole.  It was just the right kind of day for a long walk to a short ski in the mountains.
Ruthie and I went up the first tram and headed for the Sunglasses Snowfield - so named because it's a big snowfield that melts in the middle around this time of year, leaving something that sorta kinda looks like two lenses of a pair of sunglasses.  If you squint at it and use a lot of imagination, that is.  Here's the snowfield in a photo taken from across the valley about ten miles away: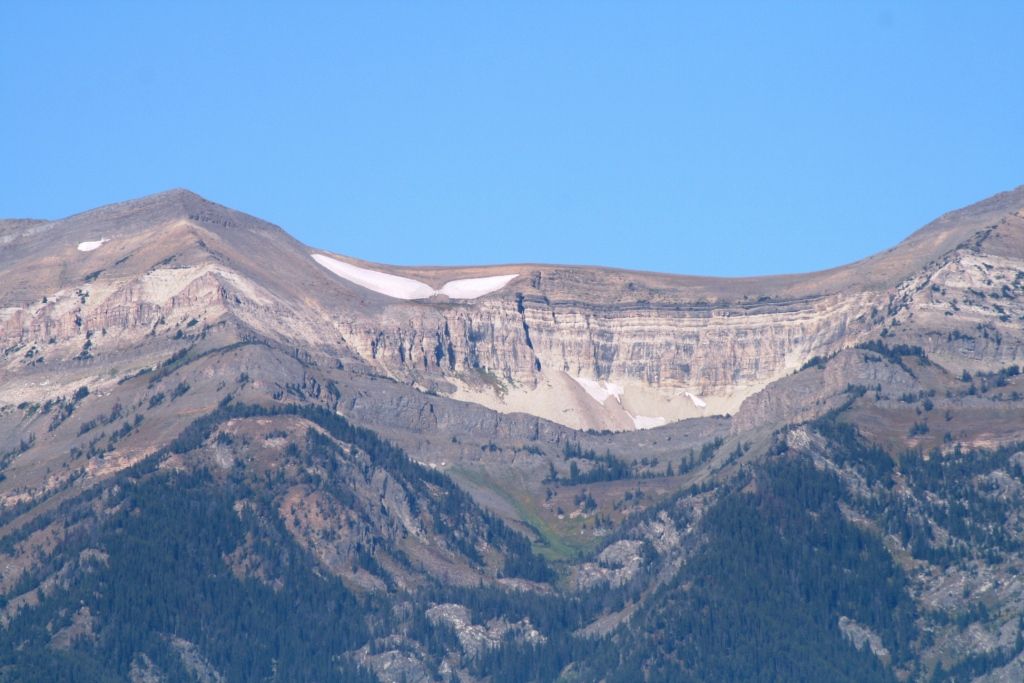 And here's that same snowfield viewed from the top of the tram.  It's the oval-shaped one below the summit of the left-most peak in the photo.  Going from right to left, the three main peaks in this photo are Cody Peak, No Name Peak, and North Rendezvous Peak:
It's a long walk to get to the snowfield.  You ride the tram at Teton Village, hike across Rock Springs Bowl and up Cody Peak.  This is me scrambling up the ridge to Cody: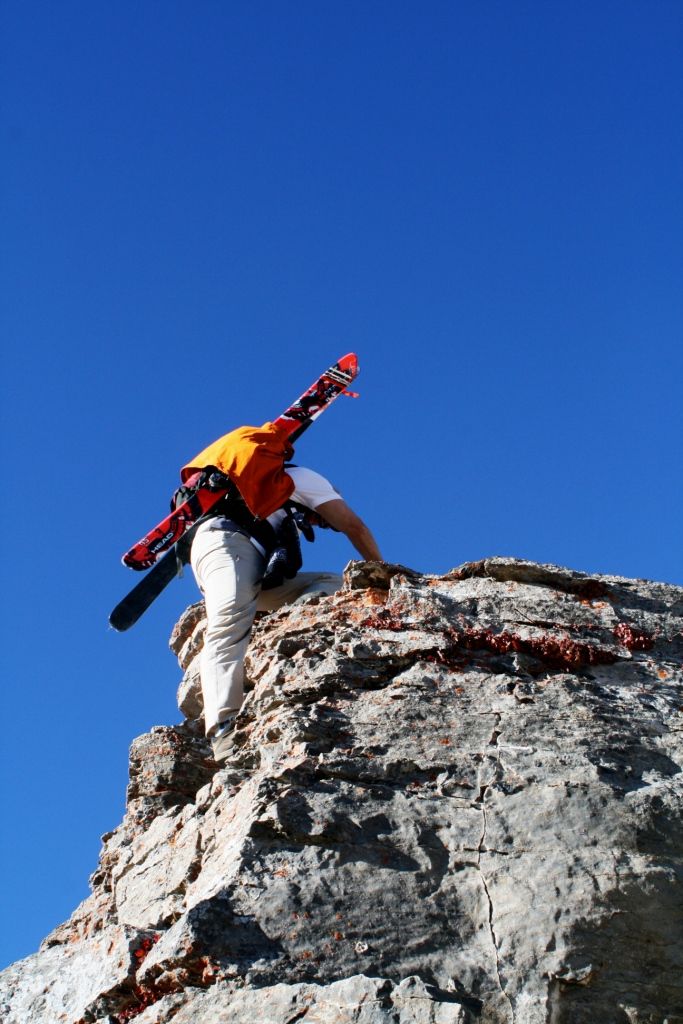 From Cody, you do a quite heinous drop off the west side of the peak through an endless scree field and down into a small, above-timberline basin behind No Name Peak.  That basin then leads to a broad, windswept saddle between No Name Peak and North Rendezvous Peak, and the snowfield is on the east flank of that saddle at about 10,000 feet in elevation.
Here's a photo taken from the saddle with me just reaching the very top of the snowfield.  I'm circled in red if you can pick that out: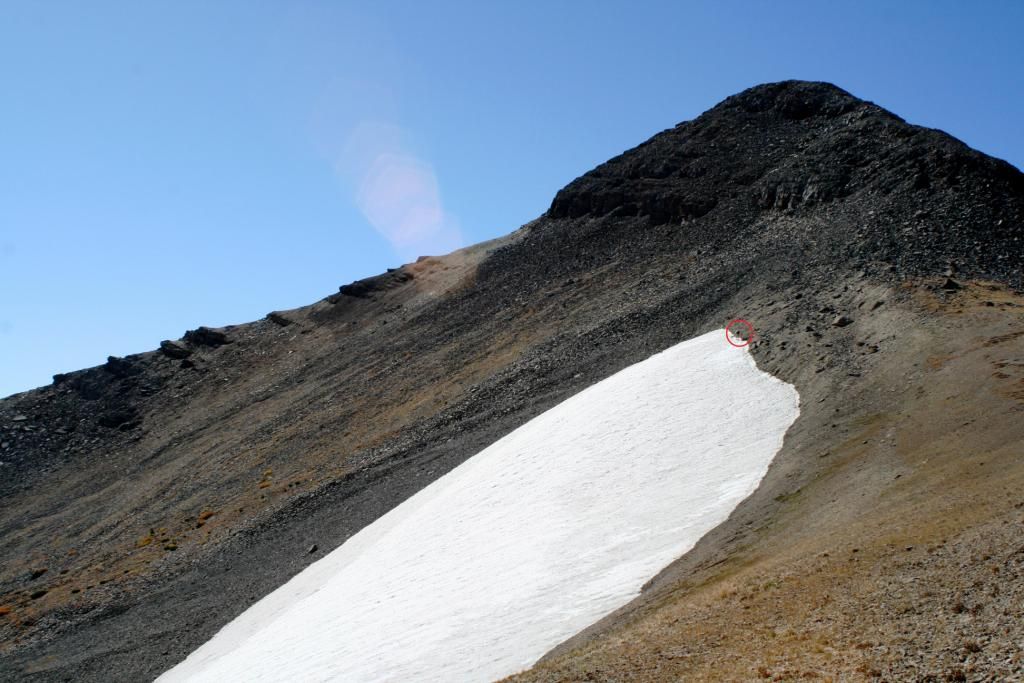 Here I am getting geared up at the top:
And skiing my first run down, which means that I've now skied month number 144 (or 12 years) in my ski-every-month saga:
Hiking back up for a second run: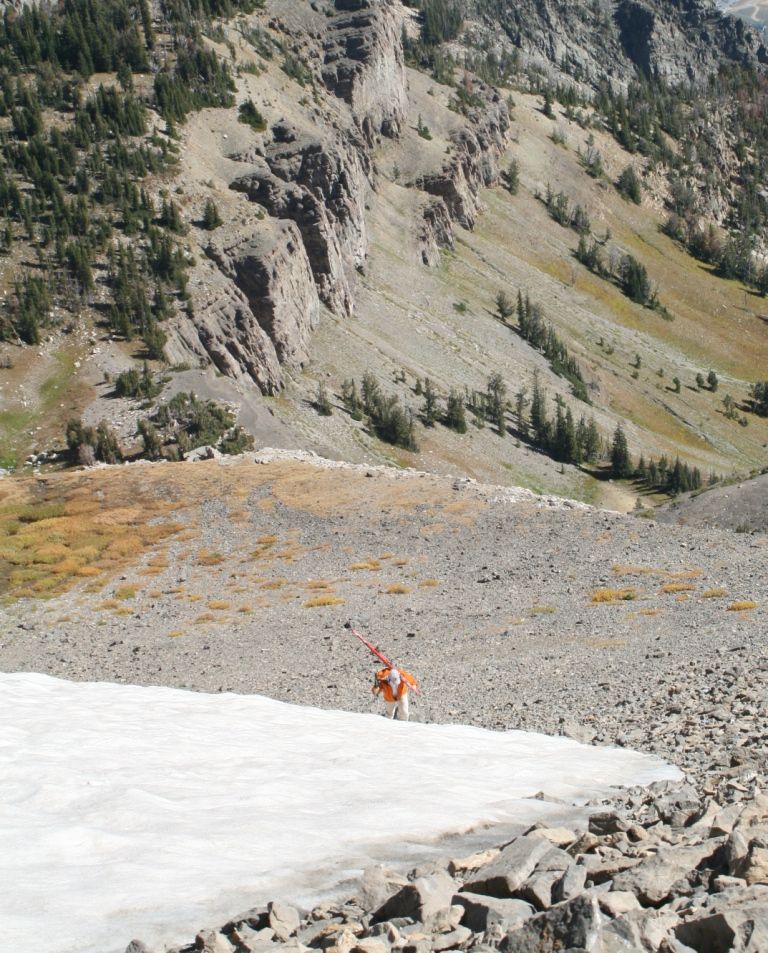 Second run:
Ruthie making some turns toward the "bridge" of the Sunglasses (in my boots and skis):
Then this is the kind of crap we had to walk through to get back.  Cody Peak is the summit directly above my ski tips and the scree slope is that ugly-looking shoulder far left of my skis: 
We eventually made it back to the tram and rode down.  Here's a couple of shots from the Teton Village parking lot of a forest fire across the valley on the east side of Jackson Hole:
And last but not least, here's a shot of what Cody, No Name, and North Rendezvous Peak look like in the winter.  The Sunglasses Snowfield is circled in red: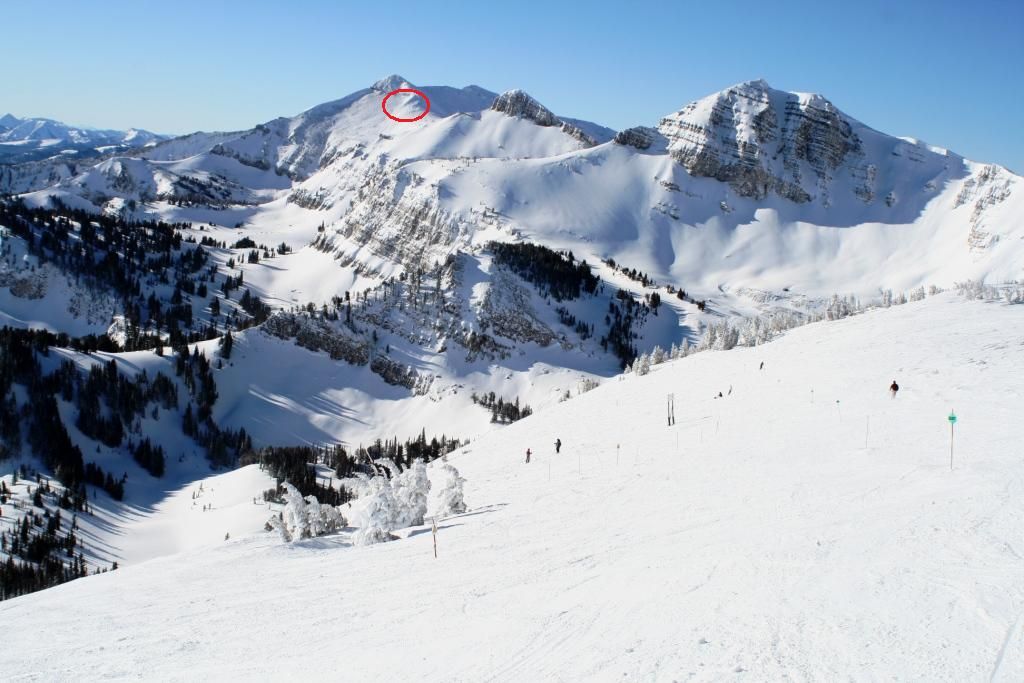 What a day!
Edited by Bob Peters - 9/25/09 at 11:38am