Ruthie and I did a leave-Jackson-Hole-for-the-Arizona/Utah-desert trip in May and had a really fun time.  It was just one more reminder of what a great place Utah is if you love outdoor recreation.  Arizona isn't bad, but there's just this endless variety of cool stuff to do in Utah.
We visited Zion National Park (hiked the
Angel's Landing trail
), Coral Pink Sand Dunes State Park, Lee's Ferry on the Colorado River, Scottsdale, Sedona, Oak Creek State Park, Monument Valley, Mexican Hat!, Natural Bridges National Monument, Hanksville,
Goblin Valley State Park
, and two of Utah's slot canyons. 
We did lots of hiking and sightseeing and had a great time.  The funny part was that after about two weeks in the sunshine in various deserts, I couldn't WAIT to get back to the cold and rain in Jackson Hole.  There's no doubt I'm a cold-weather person.
Anyway, here are some photos from the trip...
Here's me walking down a dune at Coral Pink Sand Dunes State Park.  This park is about 45 minutes east of Zion Park and a short distance from Kanab, Utah.  The dunes are very beautiful and I was definitely wishing I had skis: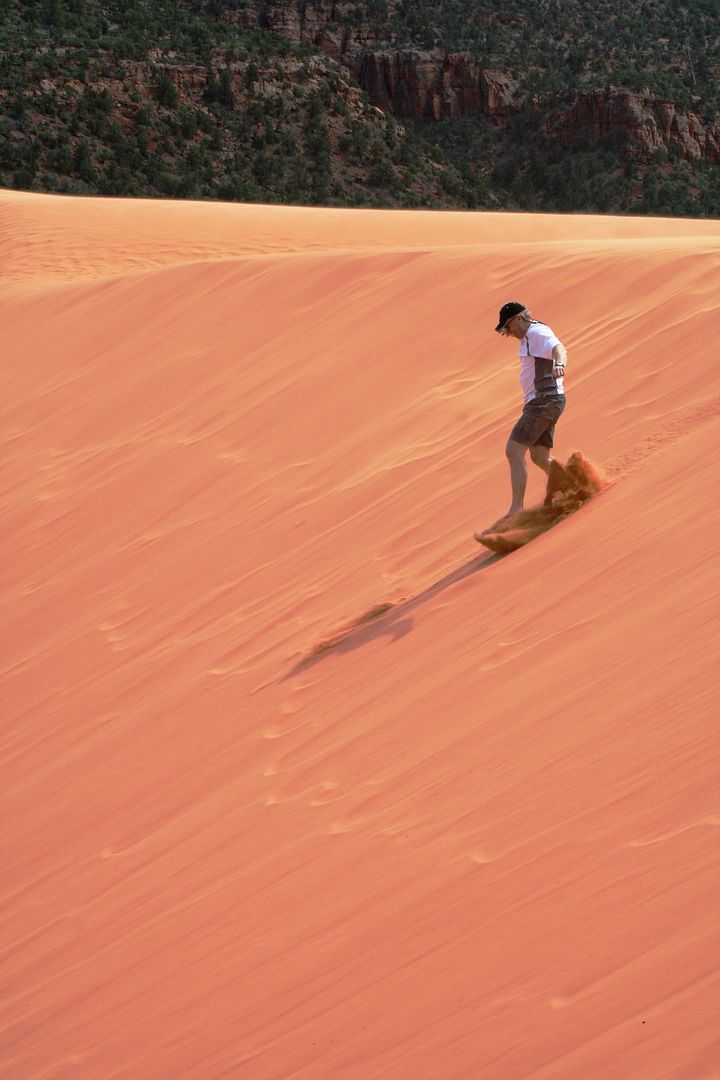 In this one, Ruthie is walking down a small canyon called Cathedral Wash.  This canyon crosses under the highway just south of Lee's Ferry on the way to the Marble Canyon bridge.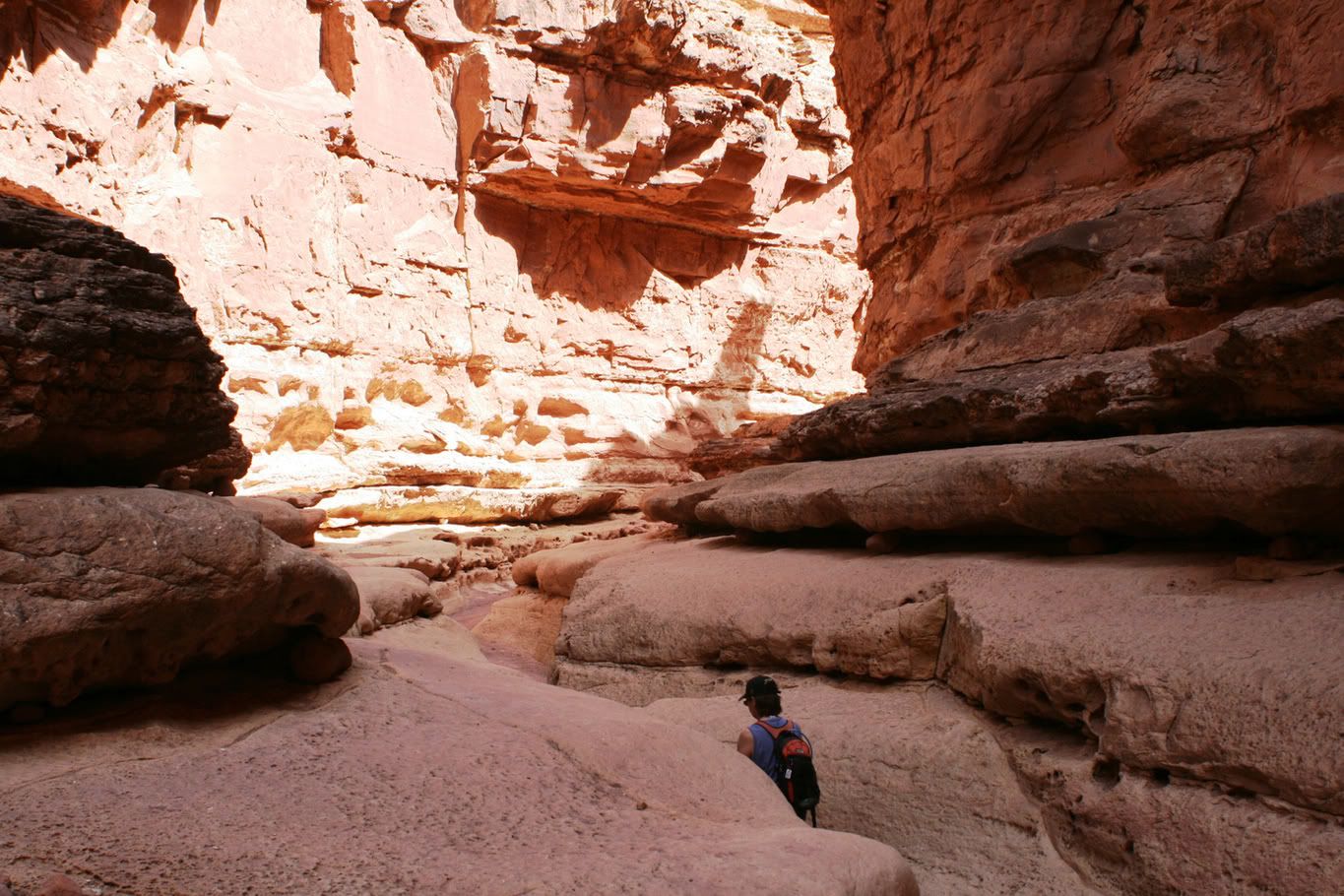 When you hike down this, you eventually come out at the Colorado River a little downstream of Lee's Ferry.  It was a beautiful hike with only a few little minor scrambling spots.  One of the highlights of the 3-hour (round trip) hike was this little guy who was kind enough to identify one of the route cairns:
From there, we went to visit a couple of relatives east of Scottsdale.  We went for a long hike in the desert with them and my most vivid recollection of that hike was this photo of a cholla cactus.  Apparently, the cousin does a lot of mountain biking in the desert and a couple of years ago he got ejected on a turn in the trail and did a full body-slam into one of these: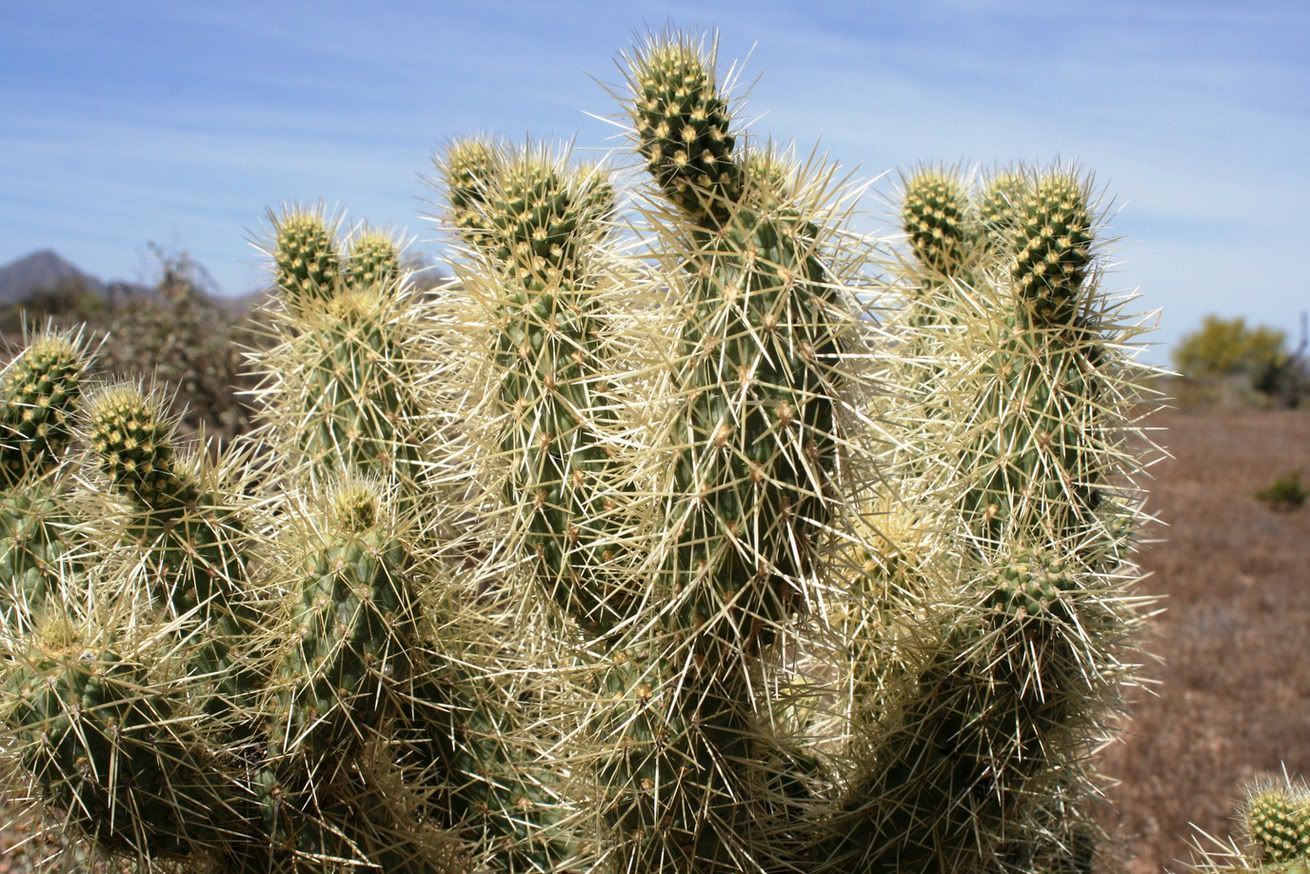 The result was about four trips to the hospital for cactus spine removal, horrendous infections, IV antibiotics, and a whole bunch of spines that are still floating around inside his legs, side, and back.  YUCK.  That's one thing I've noticed about hiking around in the desert - EVERY plant you brush up against bites back in some way or another.  It's not like here in the northern Rockies where you have nice, soft spruce boughs and fields of wildflowers you can just lie down in.
After Scottsdale, we spent a few days hiking near Sedona.  Sedona is a very pretty place but I was amazed at the traffic in what I assumed was kind of a similar small town to Jackson. 
Pretty cactus flowers (NOT meant for rolling around in):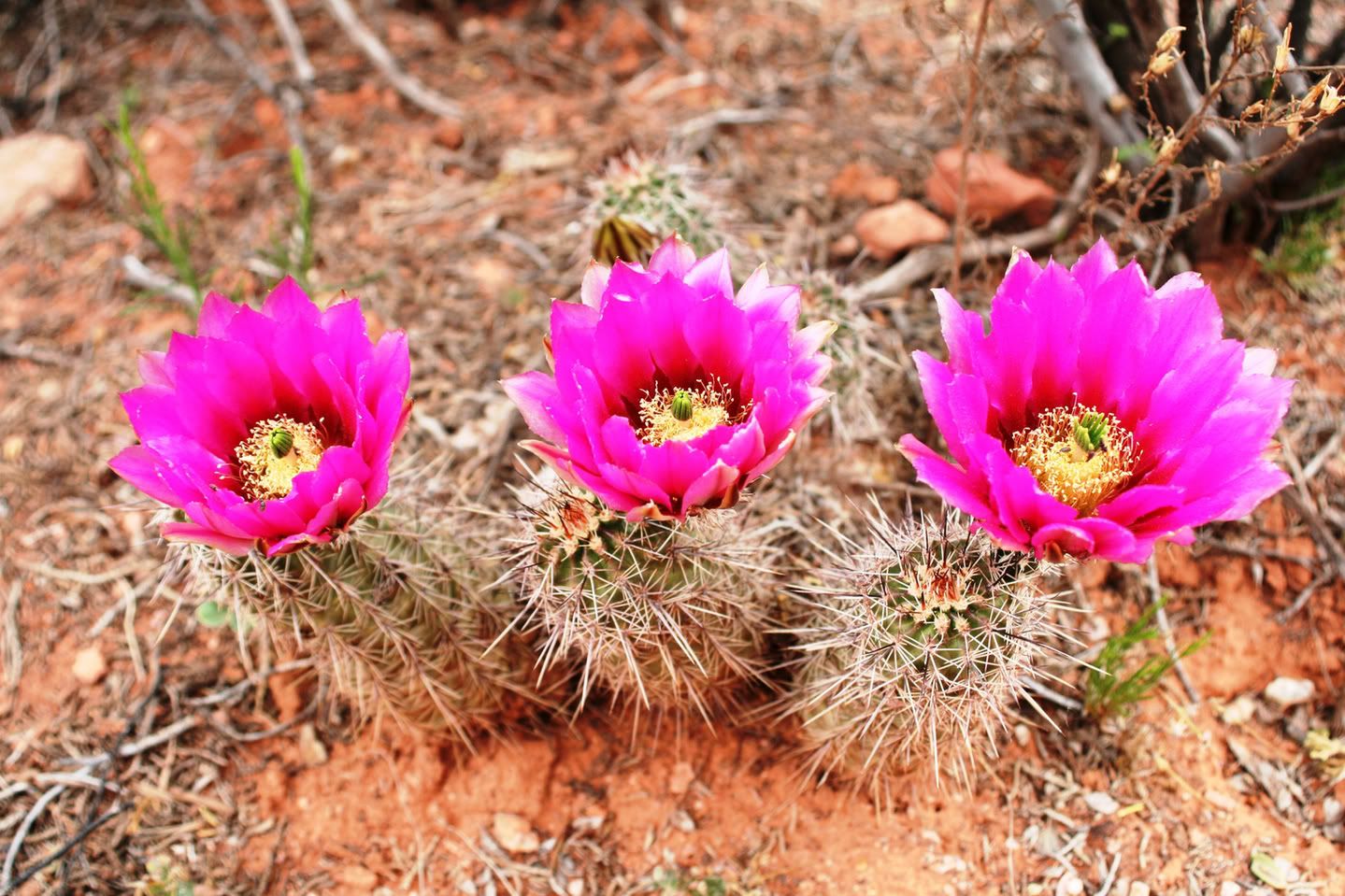 And another kind of cactus:
Some of Sedona's red rocks: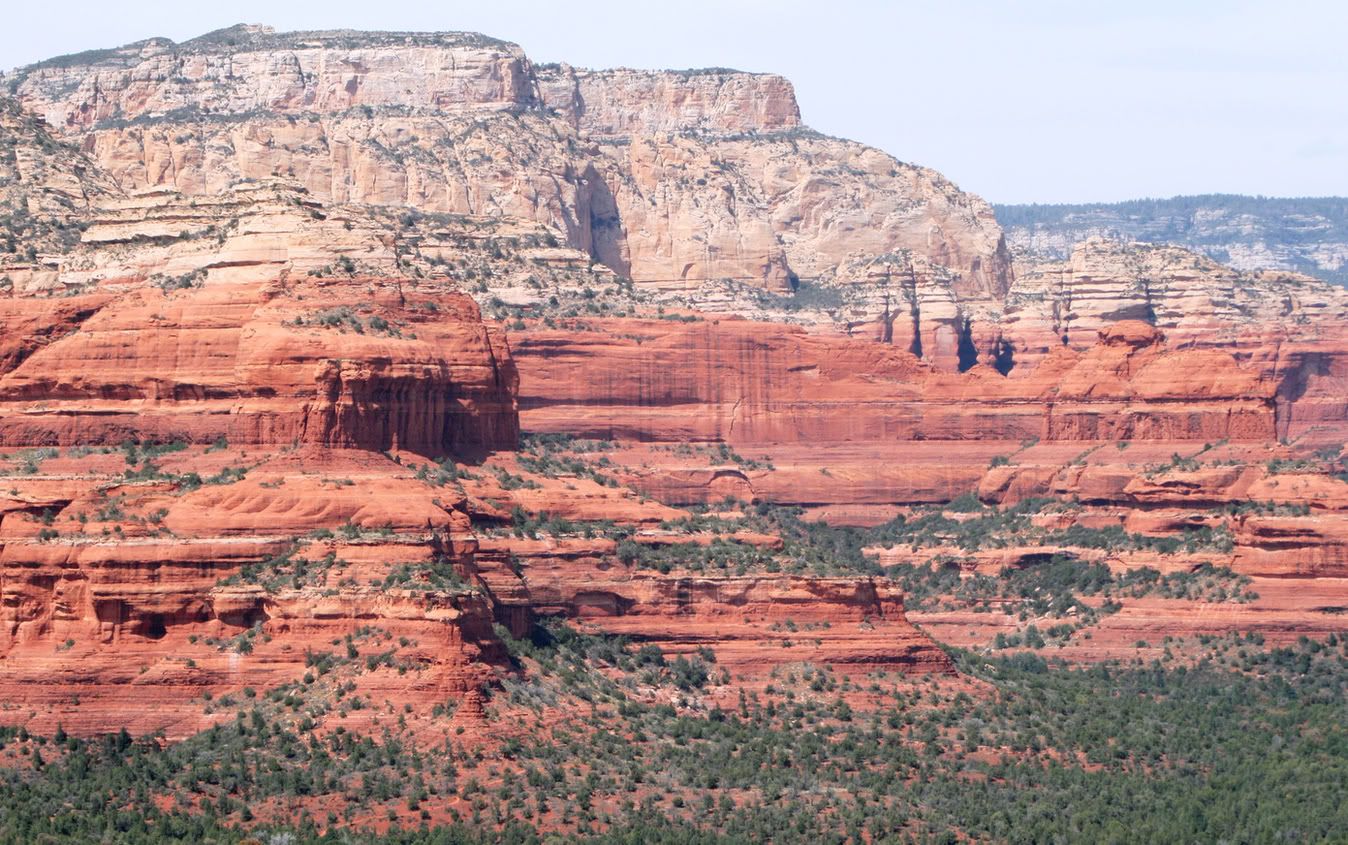 And then this little heartrate-elevator. 
I was hiking in a little canyon by myself one morning, minding my own business.  My excuse about this is that I'm a fly fisherman and I live somewhere that has a lot of grasshoppers (and no poisonous snakes).  When I hear buzzing or rattling in the brush, my brain equates that with grasshoppers, which equate to happy trout, which is a GOOD thing.  So I'm walking along this trail and hear a buzzing which I don't even really pay any attention to because my feeble thought process is just writing it off as a grasshopper in the bushes.
That's when the bushes next to my right foot came alive with movement that even a whole horde of grasshoppers couldn't produce.  It was, OF COURSE, a rattlesnake trying very hard to encourage me to go somewhere else: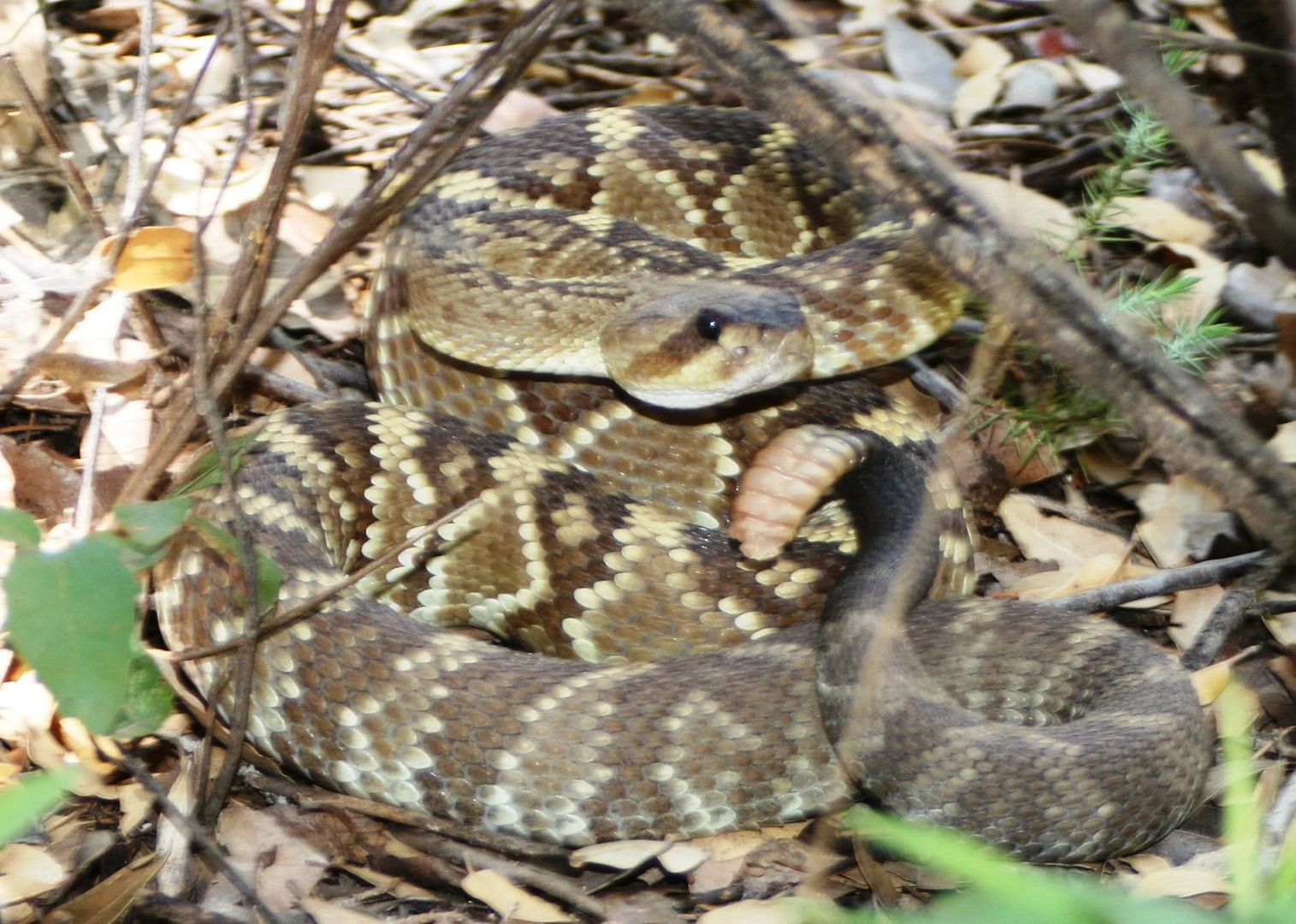 Luckily for me, this guy is a Mojave rattlesnake and apparently they are known for not being aggressive.  He was moving AWAY from me rather than striking at my totally-exposed leg about a foot away from him.  Yikes.
I did learn my lesson, however.  A couple of days later we were hiking in another canyon and I heard that same sound.  We gave that one a very wide berth.
Well, after all the snake excitement in Sedona, we started back north toward Wyoming.  We spent almost a full day hiking around Natural Bridges National Monument, which is a very cool little park way down in south-central Utah.  We learned that there are geological ARCHES and there are geological BRIDGES.  The difference is that an arch has no permanent water running underneath it and a bridge does. 
Here's an arch that no longer has a stream under it:
And here's a bridge with a full-time stream below: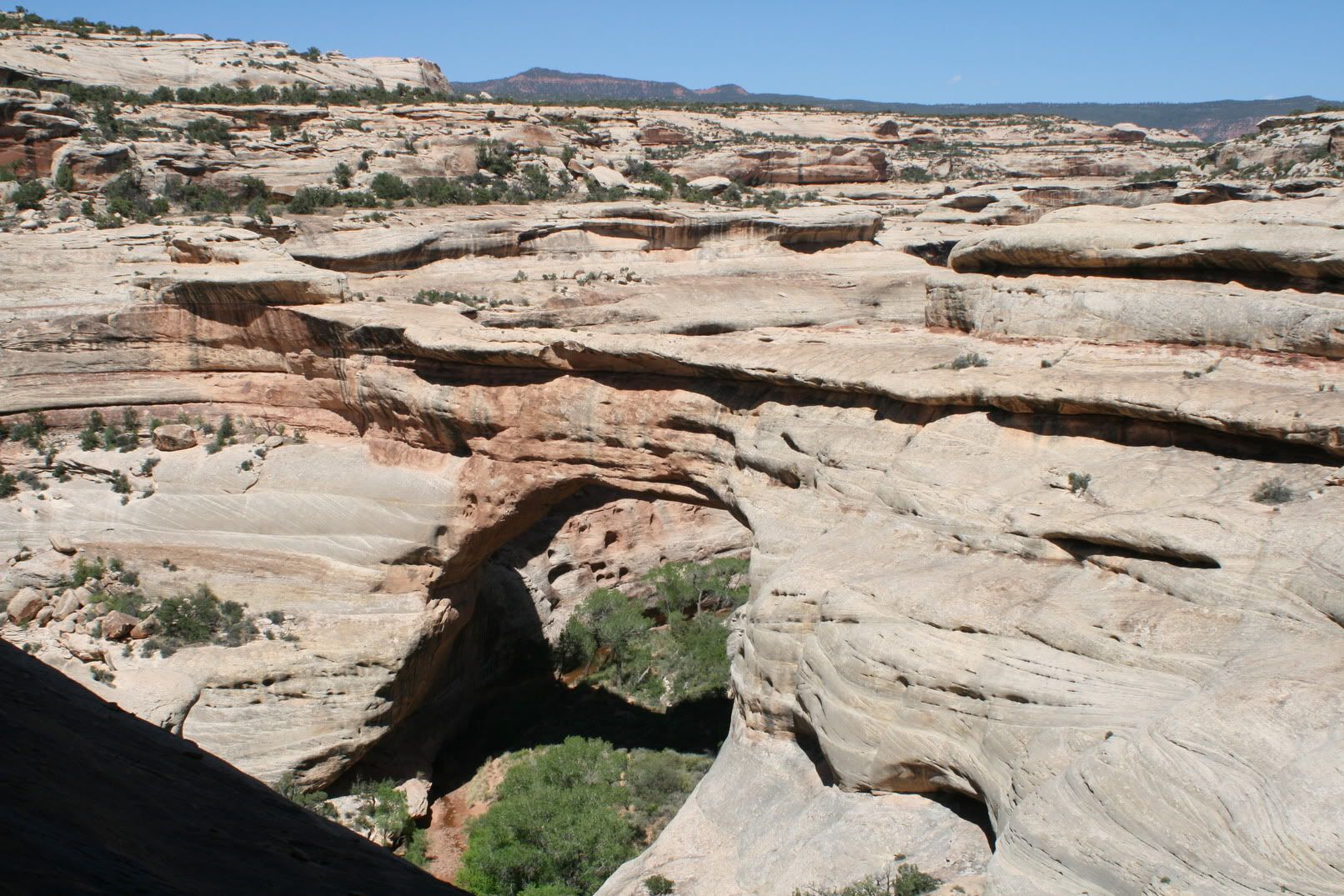 Our last destination was a loop hike in two of Utah's slot canyons.  We spent a night in beautiful downtown
Hanksville
, UT, and then drove up to Goblin Valley State Park.  The park is on the edge of a geological formation known as the San Rafael Swell. The Swell is a raised, tilted formation that runs for something like a hundred miles or more through central Utah.  Over time, water has eroded narrow little canyons through the rock, leaving behind a bunch of beautiful little canyons (or slots) through the rock.
We chose to do a loop hike up one canyon called Little Wildhorse, over a divide to the west, and back down through an adjoining slot named Bell Canyon:
Here's Ruthie at the start of Little Wildhorse: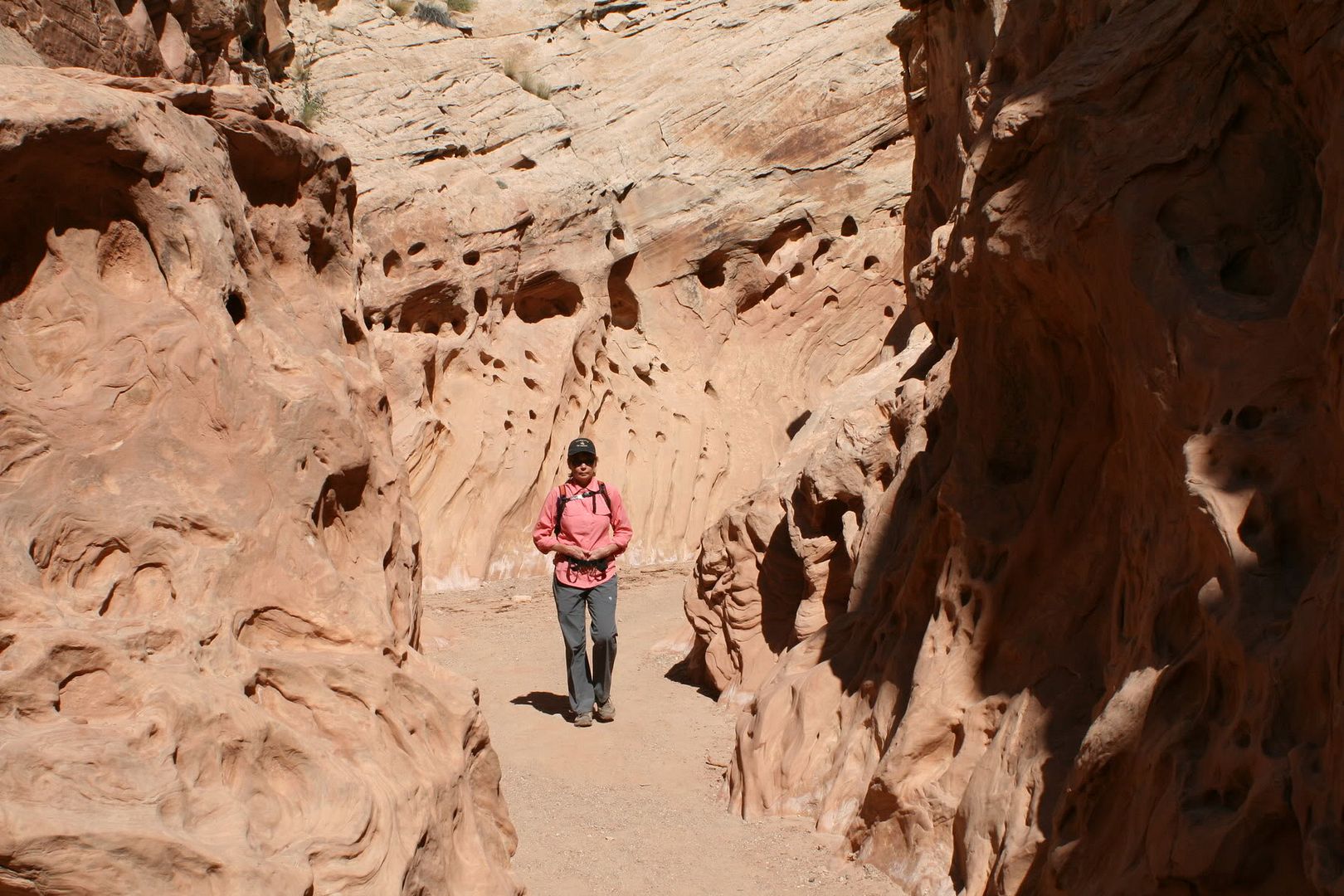 Getting narrower: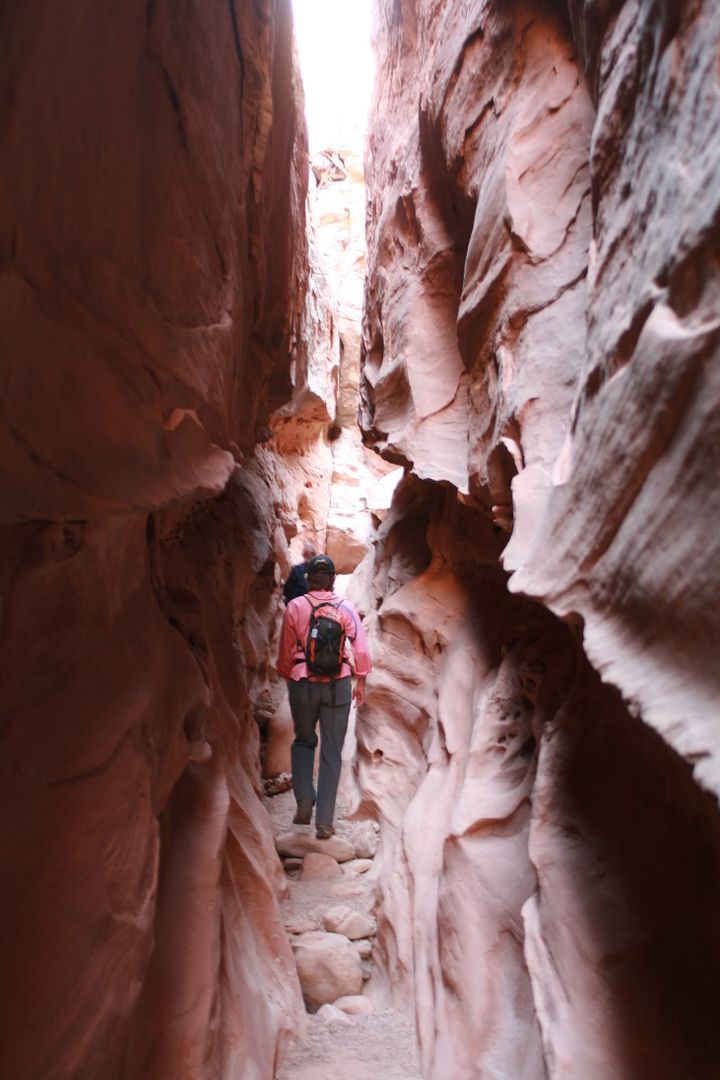 Sunlight filtering down from above:
And me walking through on of the several little puddles on the floor of the canyon:
There are dozens (maybe hundreds) of slot canyons around Utah, Arizona, and New Mexico.  They range from easy hikes like the ones we did all the way through ridiculously-difficult canyoneering expeditions.  These websites will give you all kinds of information about slot canyons: 

www.americansouthwest.net/slot_canyons/index.html
http://www.americaswonderlands.com/slot_canyons.htm
www.canyoneeringusa.com/utah/index.htm
After playing the slots, we left the heat and the desert to return to Jackson Hole.  On the way home, we drove up a pretty valley above Cokesville, WY, to see a little ski area that I've always wanted to visit but never have.  It's called
Pine Creek Ski Resort
and it looks like fun.  Just outside the ski area, we came across this waterfall with ice on the plants from the cold the night before: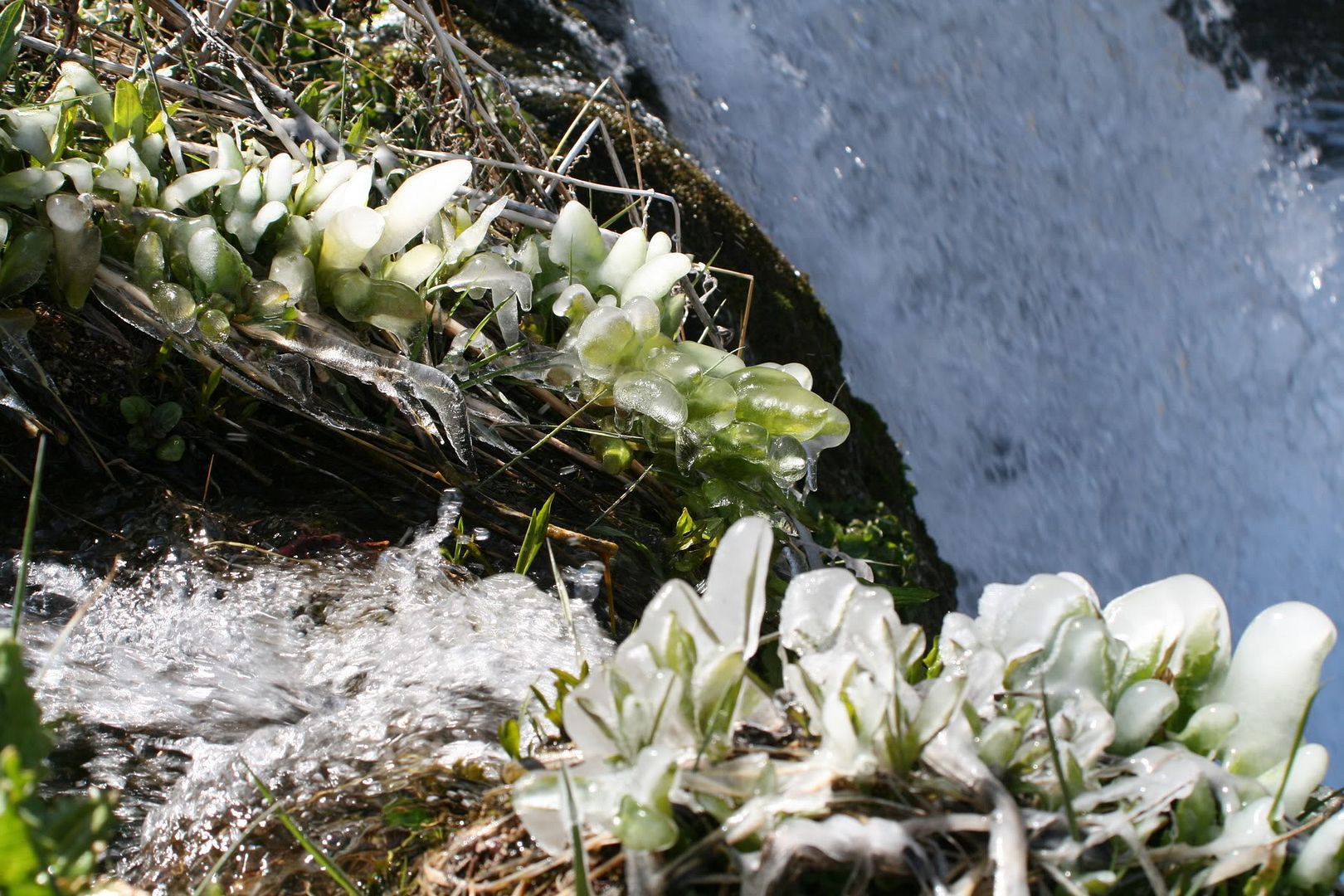 After all the rocks and sand and desert, it was really nice to see clear, running water and green plants again.
It was a fun trip.
Edited by Bob Peters - 6/25/2009 at 10:46 pm GMT