Well, much as I would like to I can't afford to go enjoy Tommy Moe's "Kings and Corn" combination of heli-skiing and heli-fishing in Alaska. 
Yesterday, we did the poor stepchild's version instead:  corn skiing in Grand Teton National Park in the morning and cutthroat trout fishing on Fish Creek outside of Wilson here in Jackson Hole.  The Tetons may not have the vast scope of the Alaskan mountains that Tommy skis but they're not too shabby as far as mountains go in the Lower 48.  And it would take about thirty nice cutthroat trout to weigh as much as a single king salmon that you might catch on one of Tommy's trips.  Despite all that, we had a great time.
We started our day with a 4:45 alarm and arrival at the String Lake parking lot in Teton Park at 6:00am.  As it turned out, 6:00am was kind of late because once the sun rose, it came on with a vengeance. Even though my car themometer registered 17 degrees farenheit on the way to the parking lot, it was probably 50 degrees by 8:30 up on the mountain.  Major heat wave.
Here's a photo of one of the team on the String Lake trail bridge with the sun already on the mountain in the background and rapidly marching toward us.  Our destination is just to the right side of this photo: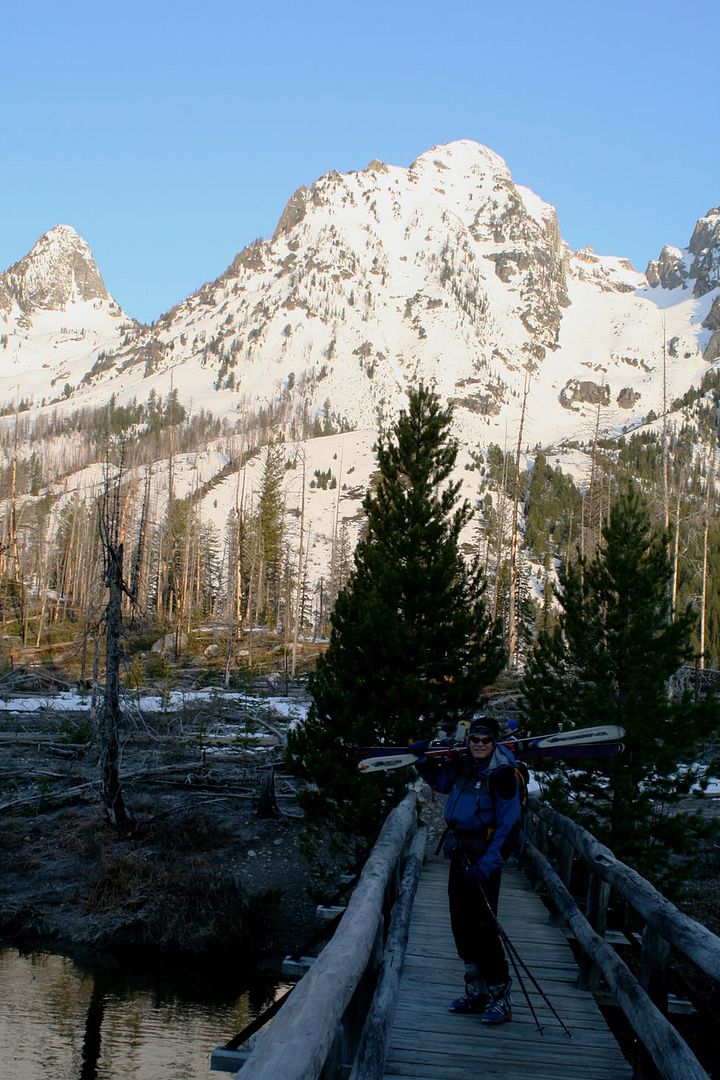 We could tell as soon as we crossed the lake and started up that the sun was going to heat things up really fast.  So rather than take a skinning route that would be relatively slow, we elected to boot up the main gully toward Rockchuck Peak.  Here's one of the group trudging uphill: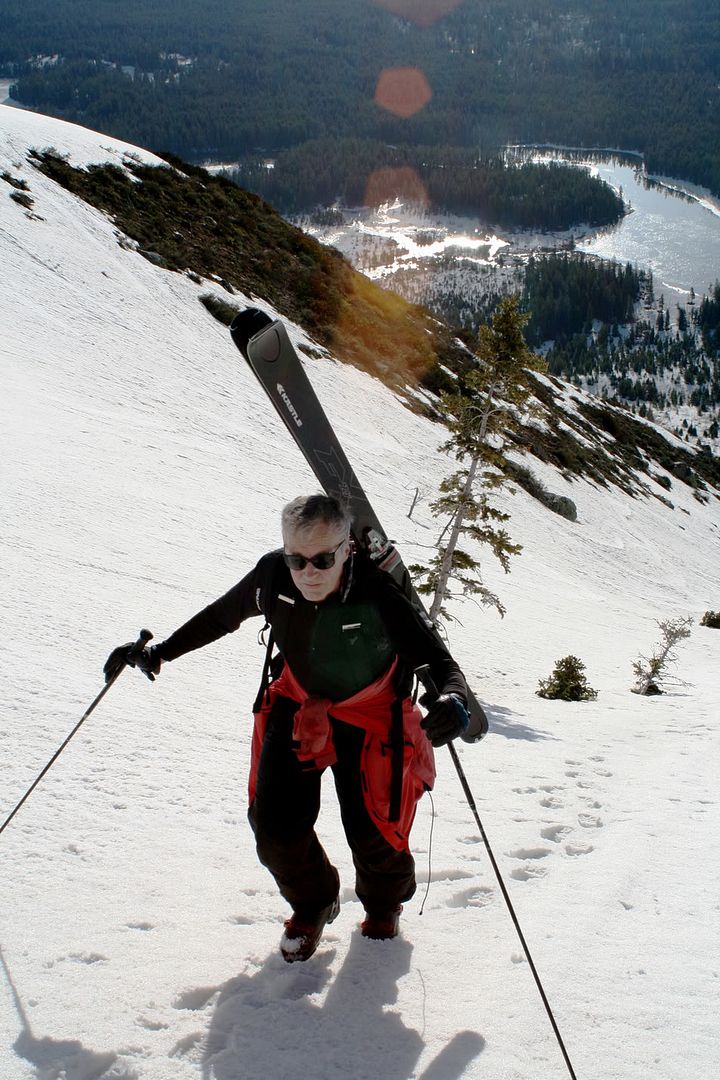 When we started booting at the bottom of this gully (about 7:15am), the snow was frozen so hard you could barely kick steps into it.  By the time of the photo above, no more than thirty minutes later, the snow was already losing its consistency and we were starting to sink in.  Another thirty minutes ad we were postholing.  By 8:15, we were only about halfway to the peak but the snow was getting soft and it was time to turn around and ski down.
What came next was the kind of thing that makes me just love spring backcountry skiing.  We skied a little less than two thousand feet of delightfully smooth corn snow.  The top inch or so had softened and there was still a firm, supportable base under that.  You can make any type of turn you want and it feels like you're just soaring over this baby's-bottom smooth surface.
Here's what it looks like: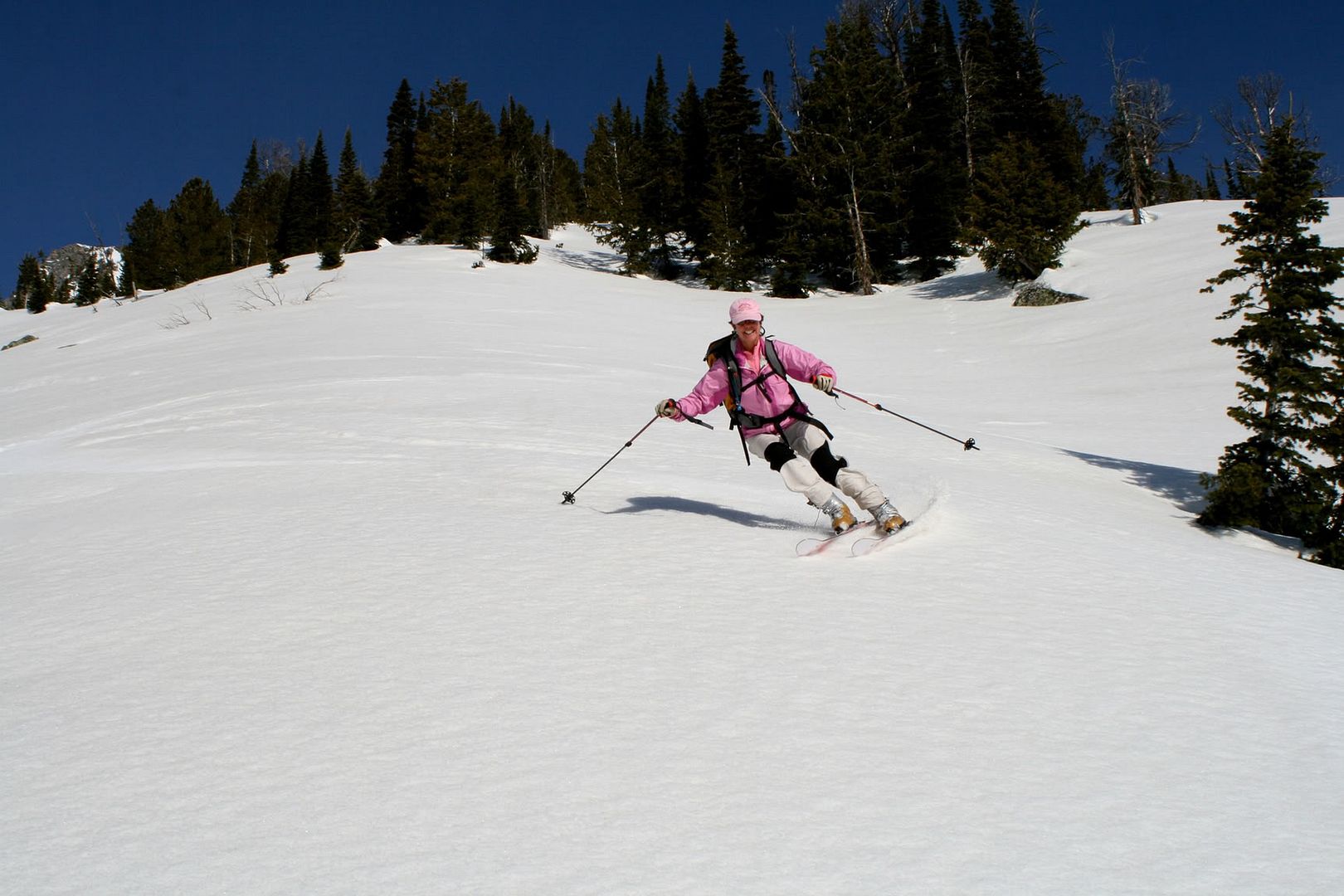 And here's a rare shot of ME - just out enjoying the day: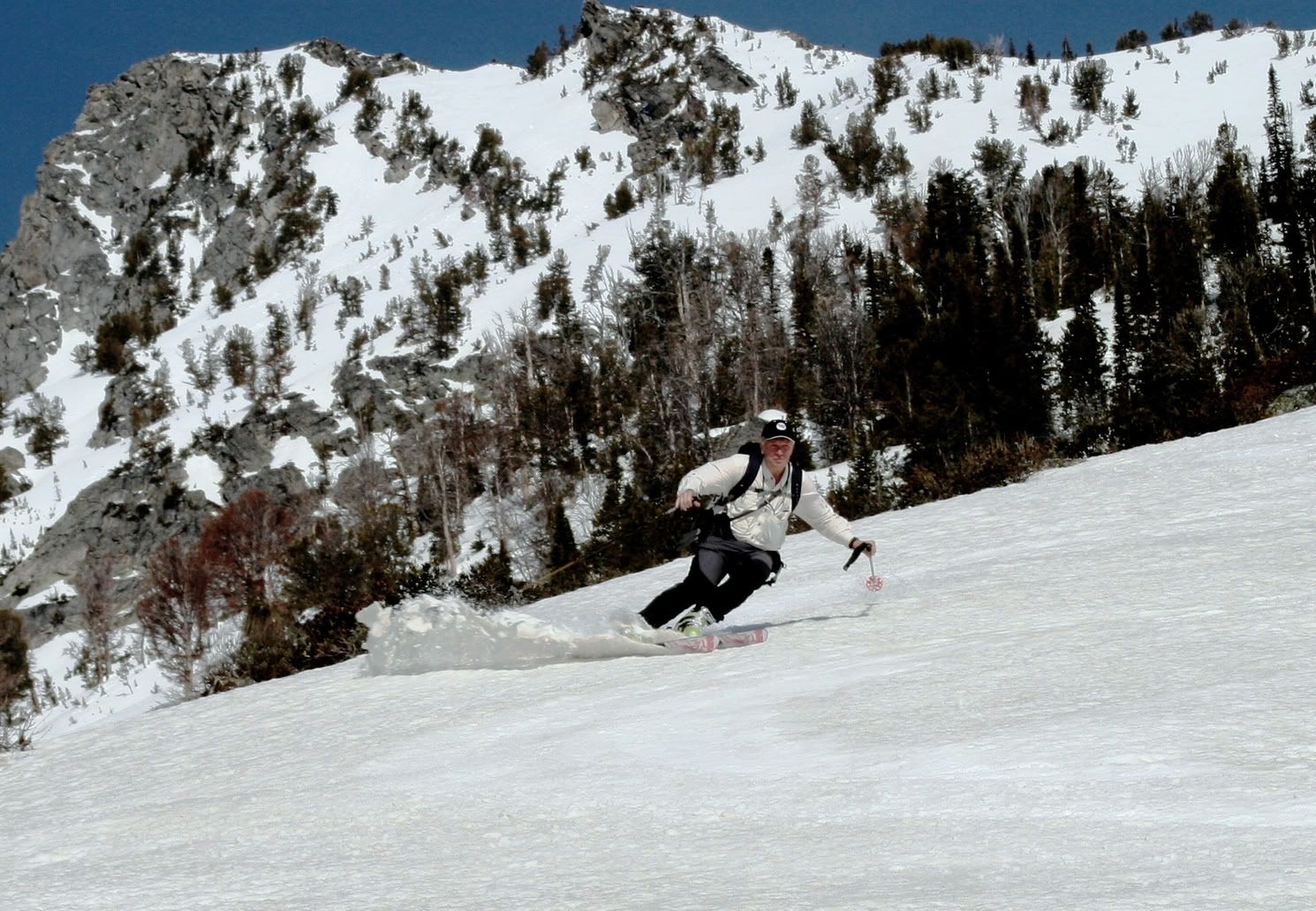 So after we finished up with the skiing, I spent the afternoon helping an old friend fish for cutthroat trout on Fish Creek on her property just outside beautiful downtown Wilson, WY.
Here's the welcoming committee as I drove in the lane: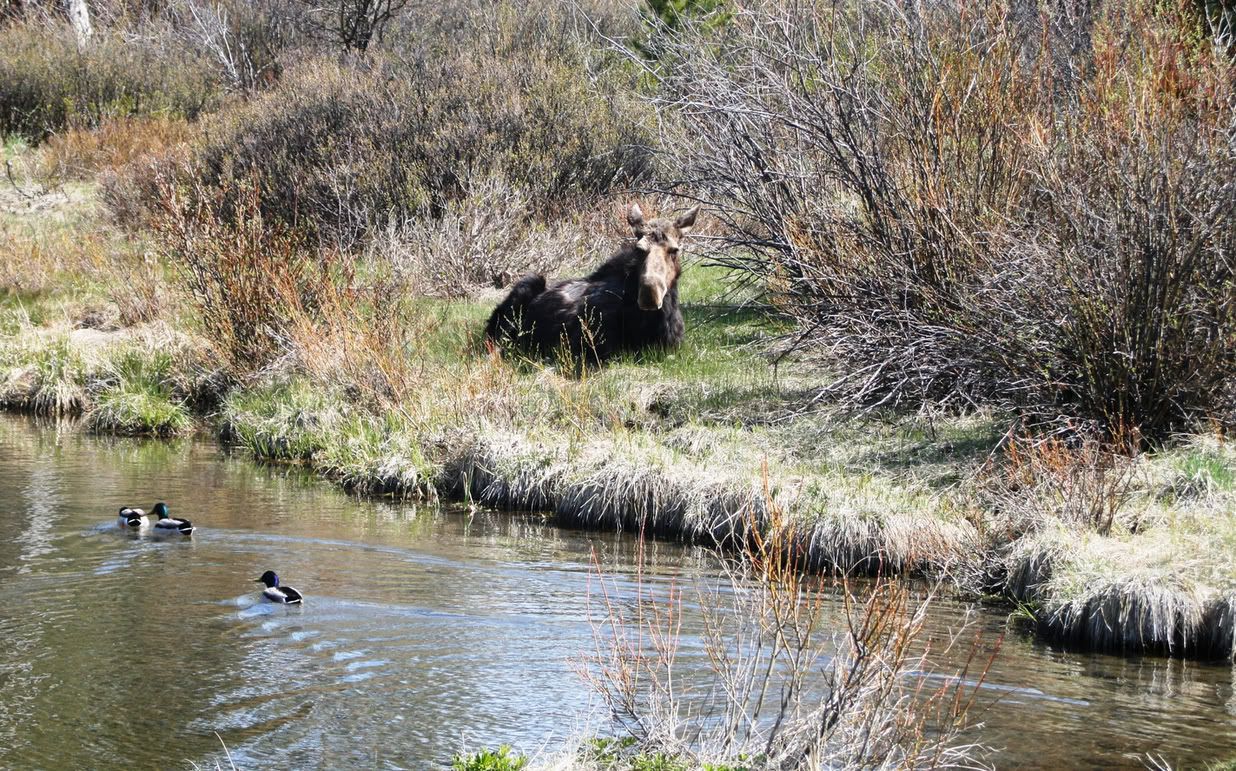 Along with an osprey who had already had some luck with the trout (not very lucky for the trout, unfortunately
):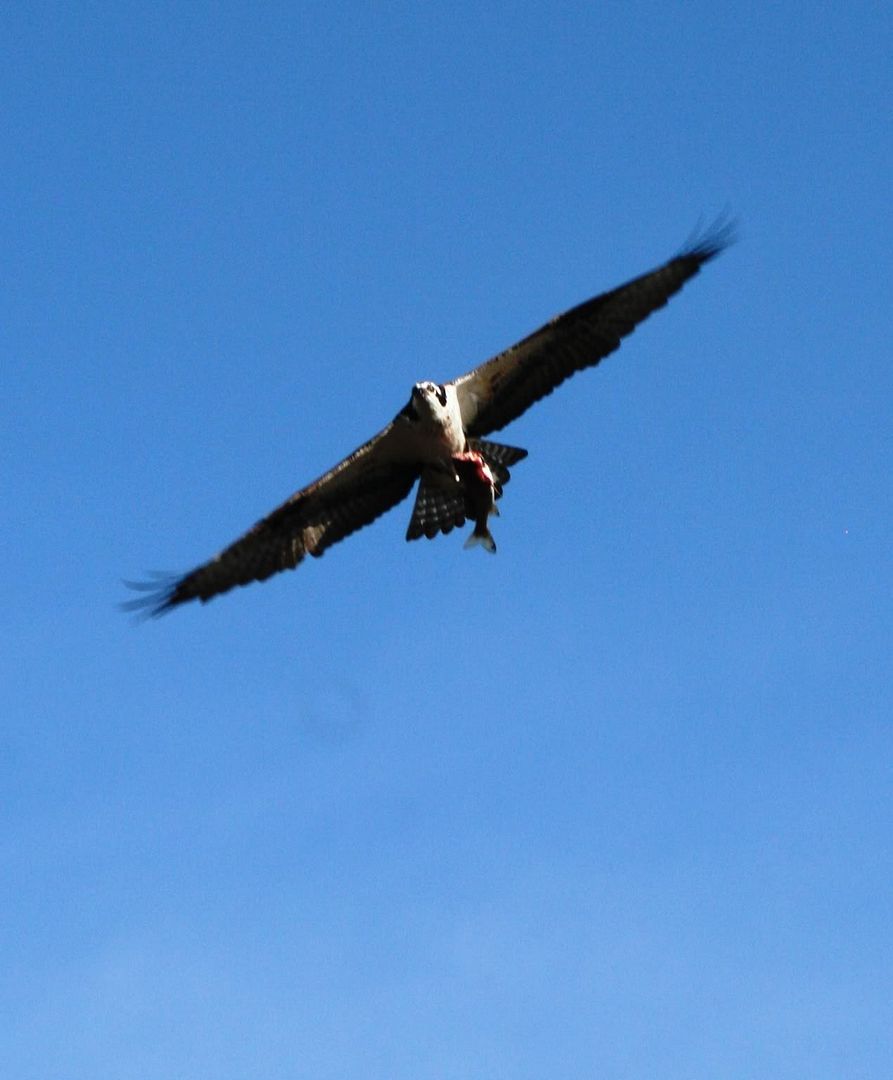 And here's a nice example of our quarry, the native fine-spotted Snake River Cutthroat trout: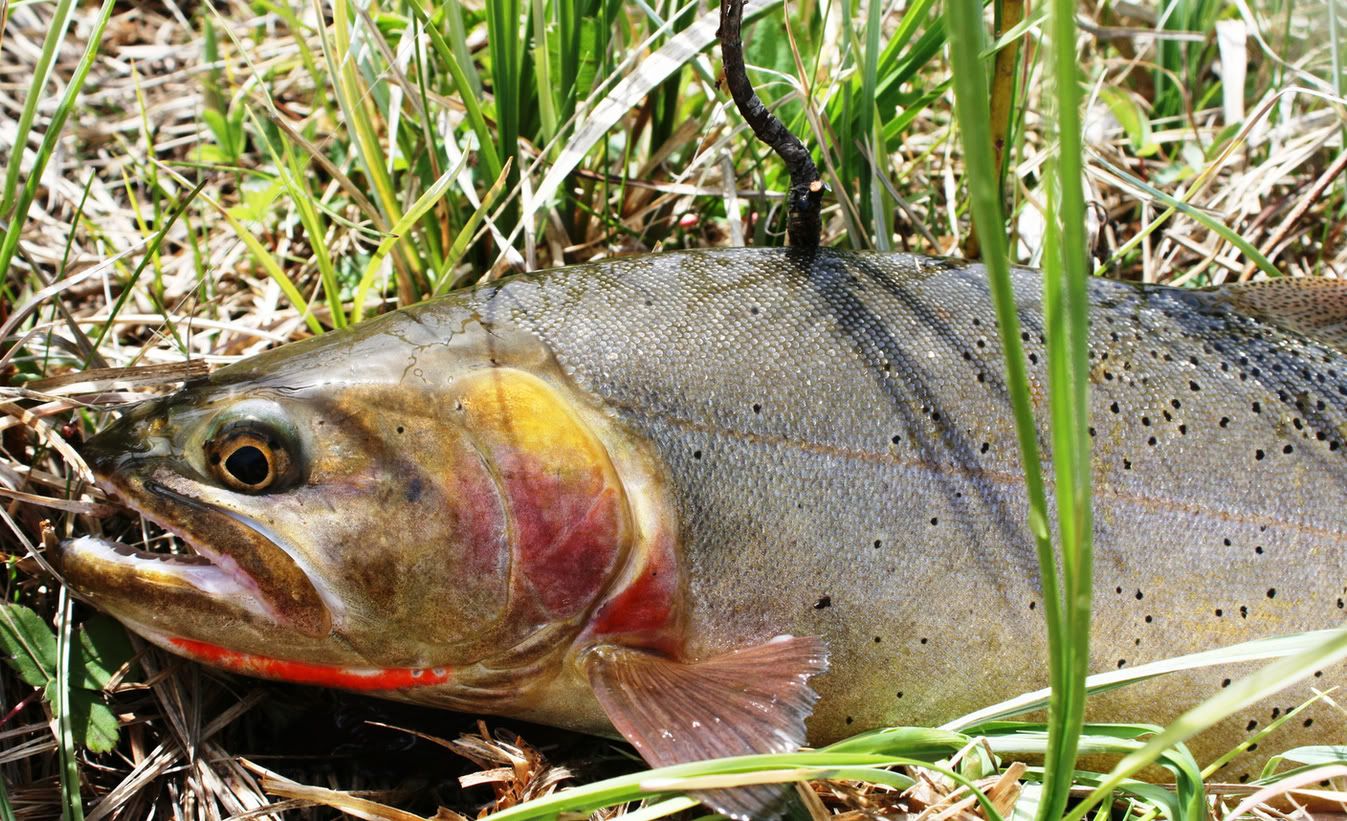 I love spring!
Bob Peters 
Jackson Hole, WY  North40 Realty

Edited by Bob Peters - 5/17/2009 at 10:06 pm GMT

Edited by Bob Peters - 5/17/2009 at 10:07 pm GMT

Edited by Bob Peters - 5/17/2009 at 10:12 pm GMT

Edited by Bob Peters - 5/17/2009 at 10:13 pm GMT
Edited by Bob Peters - 5/17/2009 at 10:14 pm GMT