New snow, a little sun, mild temps and a Goombay made for a fun day at Killington on Sunday.  My friend Chris and I had planned to go to Mt. Snow Sunday morning to use our free lift ticket vouchers but we decided to go to Killington instead after I saw that Killington was reporting 7 inches of new snow on its website.  No snow had been forecast so it was a nice treat to see K's report upon waking up at 6:30 AM.
We arrived at Killington at around 9:15 AM and found a variety of trail and weather conditions - heavy powder, edgeable hard pack, soft pack, corn, crud, slush, fog, wind, sun and dark clouds - sometimes all on the same run.  We spent the morning skiing runs off of the K1 Gondola.  Cascade, Great Northern, Mouse Trap, Bunny Buster and Ovation were all excellent with lots of soft snow to rip.
We found most of the untracked powder in the morning on closed runs.  The lightest and deepest powder was on the upper part of Cascade right below the gondola.  High Line had heavier untracked powder that was fun to skim.
Cascade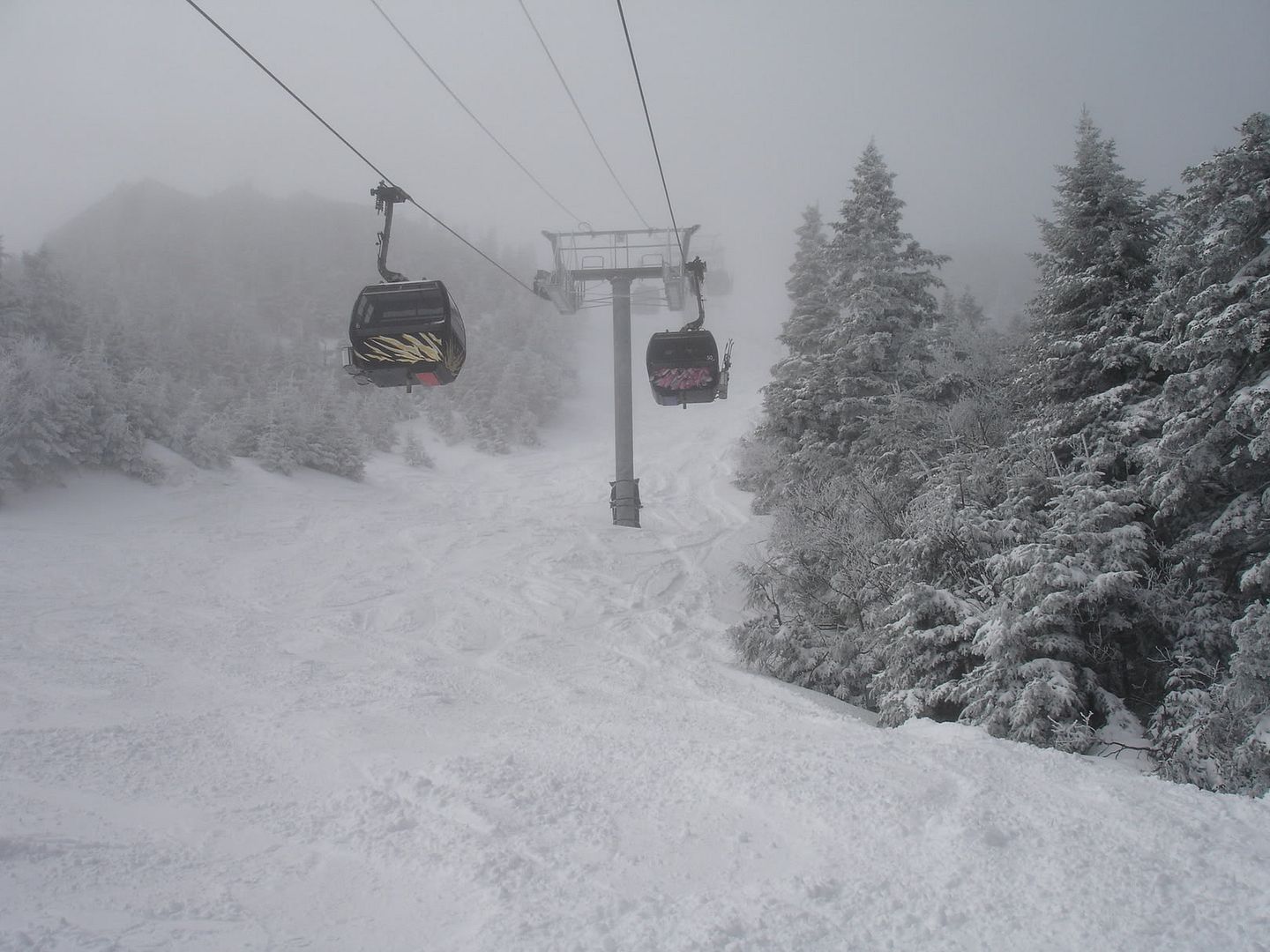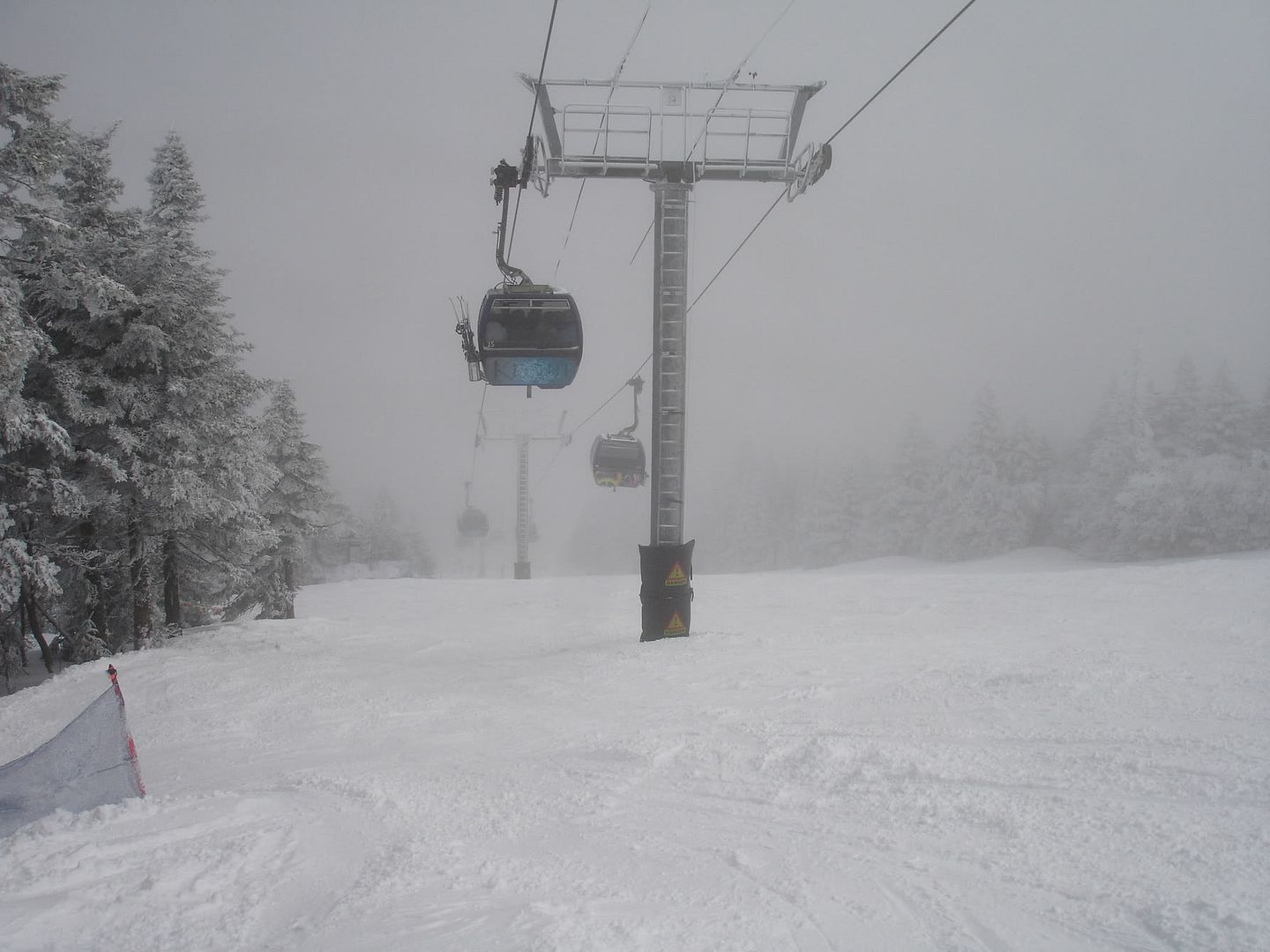 In the afternoon, we skied some runs with Paul Jones at Sky Peak.  We skied Upper Stich Line, which had a 2-3 inch coat of heavy, wet snow hiding some sharp rocks, into lower Vertigo, which had some big, soft bumps.
Vertigo
Buzz on Vertigo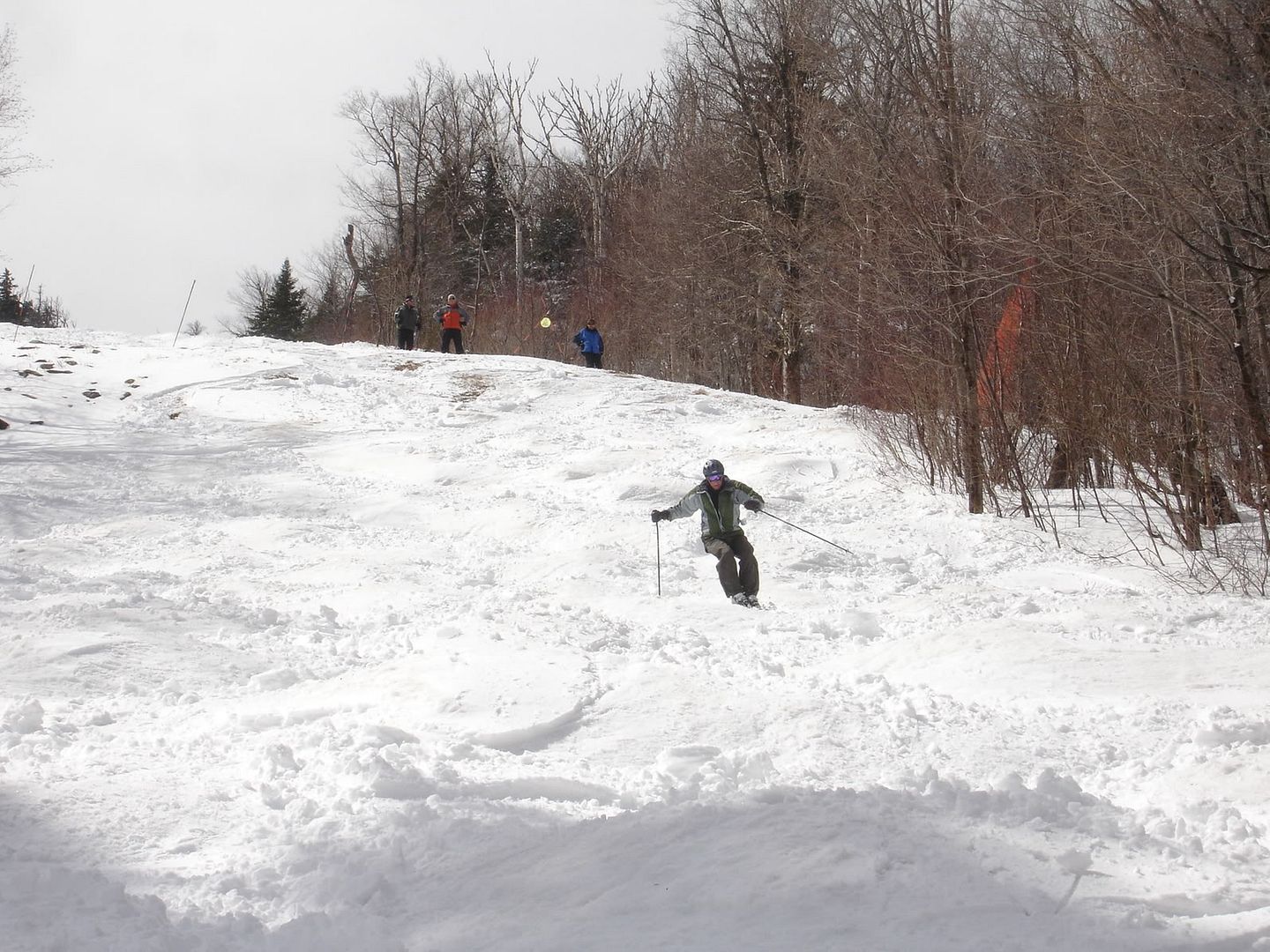 After lunch on the KBL deck, Chris and I headed over to Bear Mountain, where we found a lot of wet, heavy, sticky slush.  It was fun to ski Outer Limits, especially the free style mogul run that was set up on the bottom of OL for the Bear Mountain Mogul Competition.  After slowly working my way through the deep troughs, I had a lot more respect for the skiers I saw ziplining the bumps at high speed. 
Outer Limits
After Bear, Chris and I skied multiple runs on Super Star.  Super Star had soft snow from top to bottom and big round bumps on the lower left side.  I love skiing Super Star in the Spring and am glad Killington has decided to keep this run open, pending weather conditions - of course, until May 2.
Super Star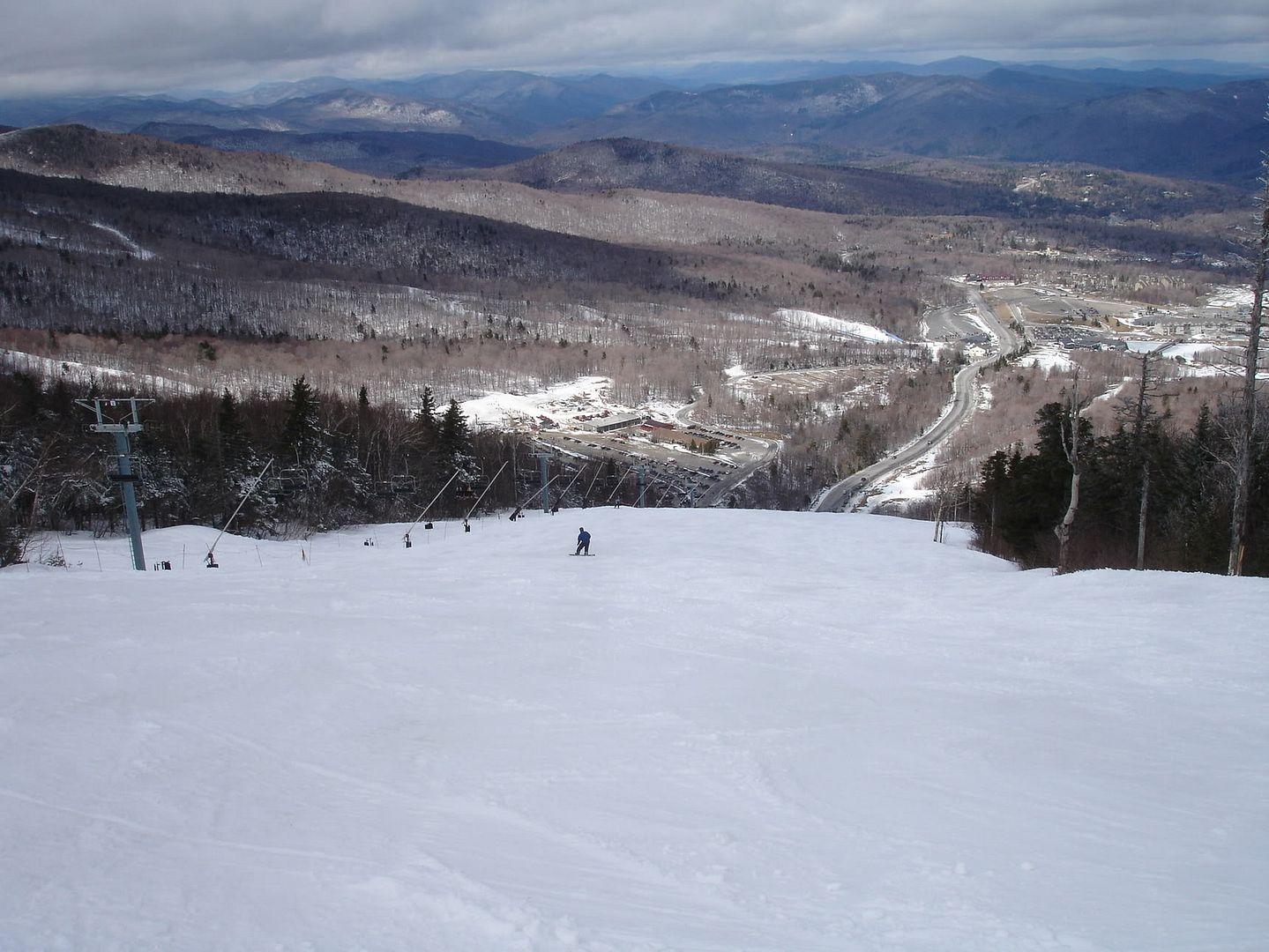 Chris at the top of Super Star
The run of the day for me was Double Dipper, which I skied multipe times from 3:00 - 4:00 PM.  The upper part of Dipper had clumps of powder while the lower part had a nice covering of loose corn over softpacked snow.  Short of untracked powder, it does not get any better than this on Dipper.
Tracks of the day's runs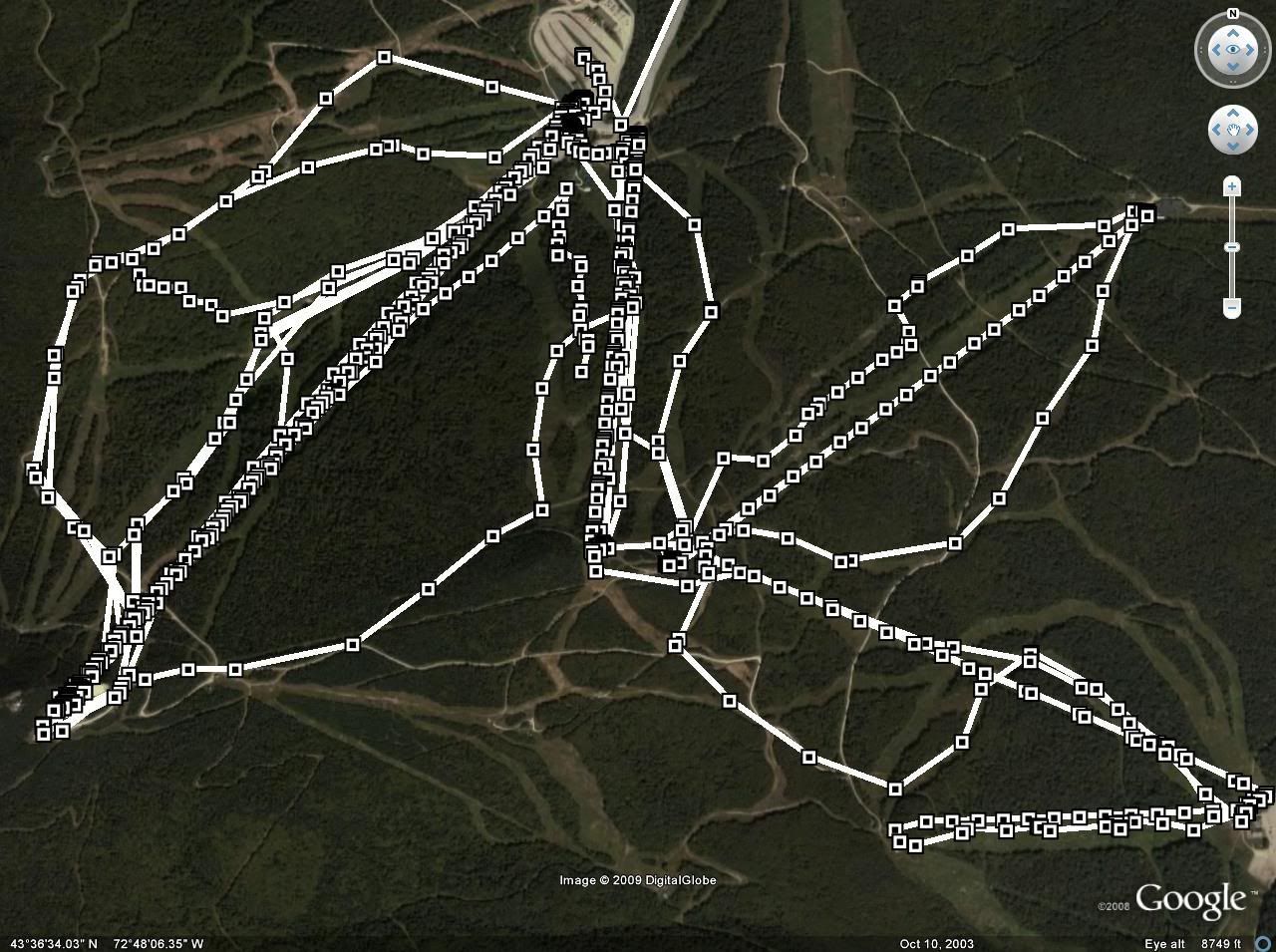 We capped the day off with some drinks at the Baja Burrito.  If you are hungry and are on a budget, they offer half-price apps and burritos for happy hour.  They also make great cocktail concoctions.  The rum of the day was in my Goombay - dark rum, assorted juices, creme de coconut blended in ice with a shot of 151 rum floating on top.
  Thanks for the Tuckerman tips and stoke, bartender!  
Edited by liv4ski - 4/9/2009 at 04:09 am GMT