My snow-boarding buddy, Chris, and I had a lot of fun at Magic on Sunday, especially the second part of the day when the soft powder started piling up.  The forecast called for up to a foot of new snow on Sunday so we were excited to get to the mountain.
I love Magic and tell everyone I meet to ski there on powder days so I feel a little guilty for considering dumping my mistress for Bromley Sunday morning.  Magic's one and only lift, the Red Chair, is scheduled to start at 8:00 AM on weekends but when we arrived at 8:20 AM, it was not running.  A ski patrolman told us it was being repaired and would be fixed in 20 minutes.  When it wasn't running by 9:00 AM, we got nervous, especially in light of the large crowd that was milling around outside waiting for the lift to start running.  We were concerned that even if it did start running soon, the lift lines would be very long.  We decided that if it did not start soon, we would head to Bromley because the 2 for 1 coupon Chris had brought for Magic worked there as well.  Fortunately, the lift started around 9:15 AM and most of the crowd were kids heading up to the race course, so the only line was at the beginning of the day.
Line at 9:15 AM
We waited another 15 minutes before we actually got on the lift, due in part to a poor kid that almost fell off the lift and had to be rescued by the quick thinking ski patrol.
Snowmobile and step ladder - essential tools of the trade.  The crowd in the lift line cheered when the boy was saved.  He got right back in line with his buddies.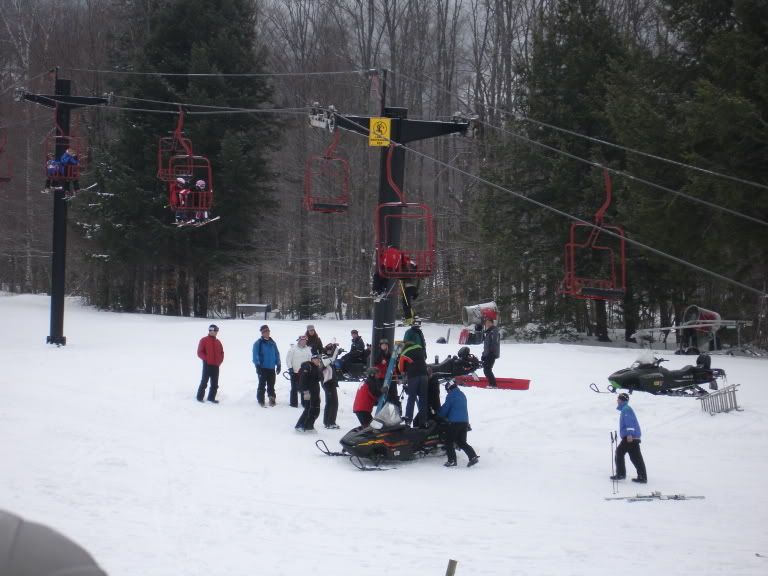 Despite a good snowfall at Magic last week, Red Line looked pretty rocky, so I decided to stay off it during the morning.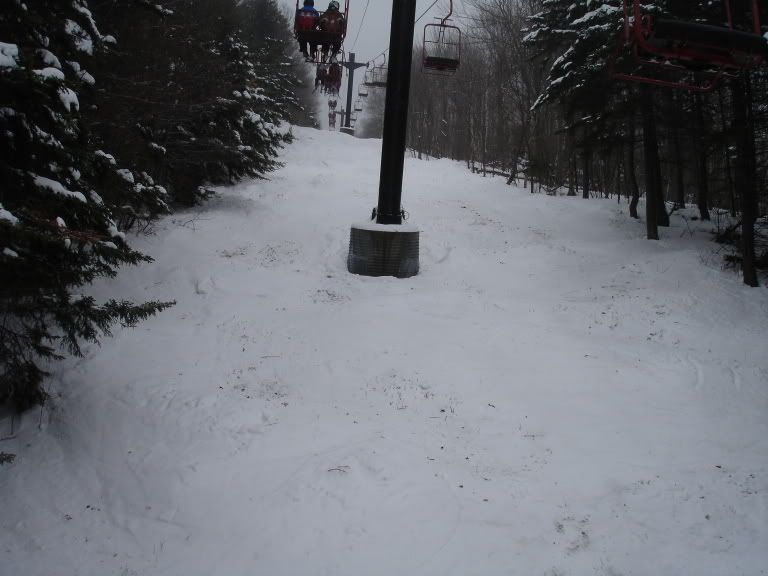 We spent most of the morning on Magic's west side, tackling the bumps and soft snow on Black Line (Chris, sorry for taking you down from the top.  That was gnarly!), Wizard, Heart of Magician and Talisman.  We also took a tree run in The Hollows during the morning.  It was a little bony but that would soon be cured.
Blackline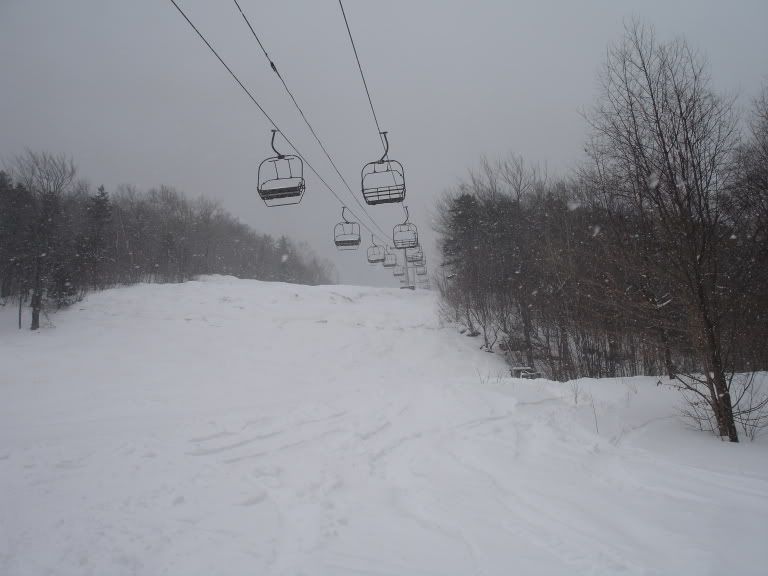 Around Noon, the snow started to accumulate at a rapid pace.  Each run, the conditions got better and better.  
Chris on Talisman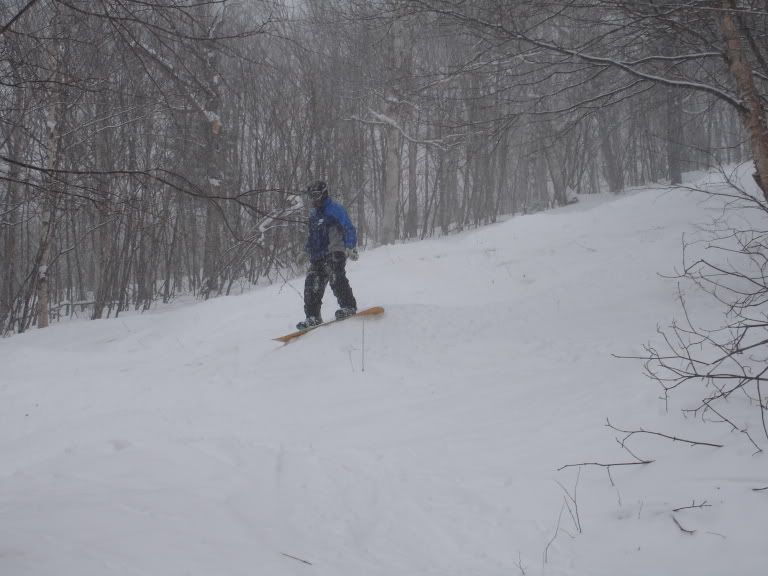 Around 2:00 PM, I was ready to try Red Line.  I knew it was still bony but it looked so inviting with all of the new powder on it. 
Chris did not want to scratch up his board on Red Line but agreed to shoot some video of me.  We tried to time it so he would be on the chair as I was coming down.  After three runs, it was somewhat successful. 
Yes, that is the sound of rocks.  Red Line still needed more snow.  Hopefully by today, it had enough.
Next, we went down Goniff Glade and Twilight Zone, which had a lot of powder and big bumps - with a few rocks and icy spots to keep things interesting.  We also went down Talisman and Black Line again, which were now fantastic with 3 - 5 inches of new snow. 
For my last three runs, I skied in the trees on the left and right sides of Talisman.  The powder was light and deep here.  I missed my ski buddy, Paul Jones, who, but for his crash at Killington last Friday, would very likely have been with me hooting and hollering as we surfed the waves of deep powder through the trees.  It was sad when the lift stopped for the day, just as the conditions were nearing perfection.
Tracks of the day's runs