Friends, family and I loved skiing and boarding at Magic Mountain today. Today was my first time at Magic since I skied Magic and its backside neighbor, Timber Ridge, as a child more than 30 years ago. I had no idea what I had been missing. Magic is awesome!
Magic has a combination of fun green and blue trails on its East side (which were great for my wife and 5yo daughter) and some of the most challenging runs I have ever skied in VT on its West side.
My 8yo son today added a new word to his vocabulary while skiing with me on one of my favorite runs of the day. The word is gnarly, which is an apt description of Red Line, the run under the only chair to the top, called the Red Chair. (This is a two person chair that was likely installed and last painted red well before I first skied at Magic as a child. The only other chair serving the mountain, called the Black Chair, is broken and is anticipated to come back on-line in a few weeks. Fortunately, Magic is a hidden jewel so we never had any wait at the lift.)
Red Chair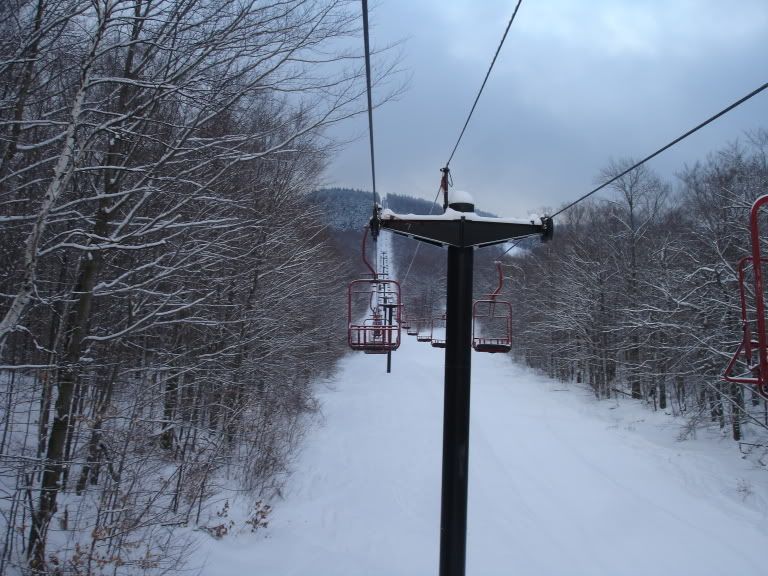 Red Line is like Stowe's Goat and Killington's Vertigo Headwall and Stitch Line all in one. It's narrow, wicked steep in places, loaded with jagged rocks, huge bumps, chutes, 5-10 foot drop-offs and while you're slaying the run (or its slaying you
) you have a captive audience above you cheering you on. Today, Red Line had a good amount of soft powder from yesterday's snowfall but there were also a lot of spots where vegetation, dirt and rocks were poking through to add to the challenge. Paul Jones, this is
the
run for you!
The beauty of Magic is what Magic does not do. Magic does not groom the trails flat as a pancake edge to edge like Stratton and Okemo. Most of the terrain is ungroomed. Even on the green and blue trails that are goomed, one side of the trail is left ungroomed, preserving the soft powder received recently, which, of course, is where my kids wanted to ski. They loved the powder and enjoyed skiing over the many rocks and other hazards on the sides of the trails.
learning2luvskiing & like2ski_once_im_on_the_slope
on Show Off
On the Twighlight Zone
like2ski, Mark and Chris enjoying the powder on Mystery
Black Line - another gnarly run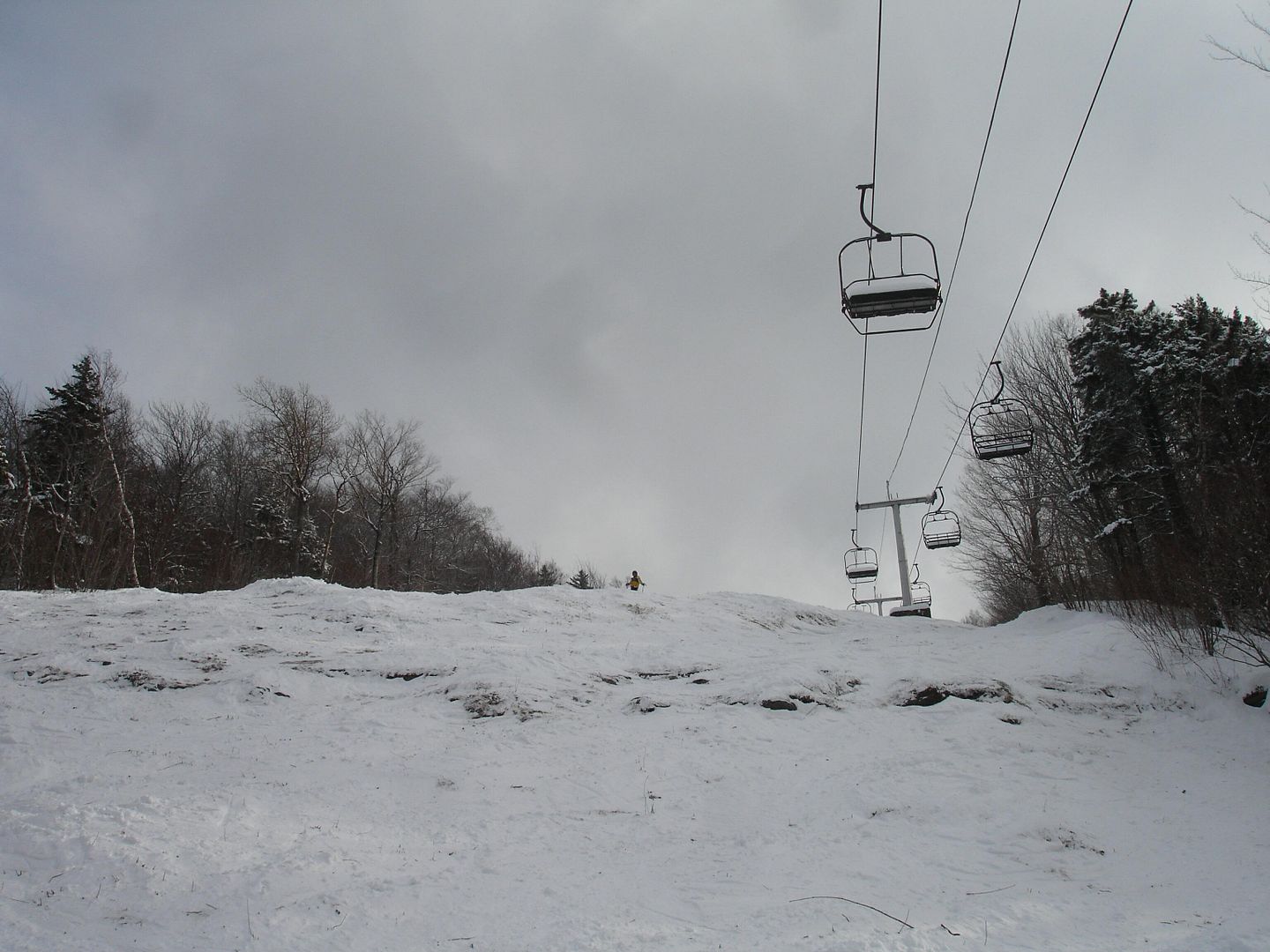 Magic has some very challenging tree runs. I skied in some knee deep, untracked powder and dodged some cliffs in the woods on the skier's left of Talisman. I spent most of the day on marked trails and am very eager to go back to explore more of the woods.
Tracks of today's runs.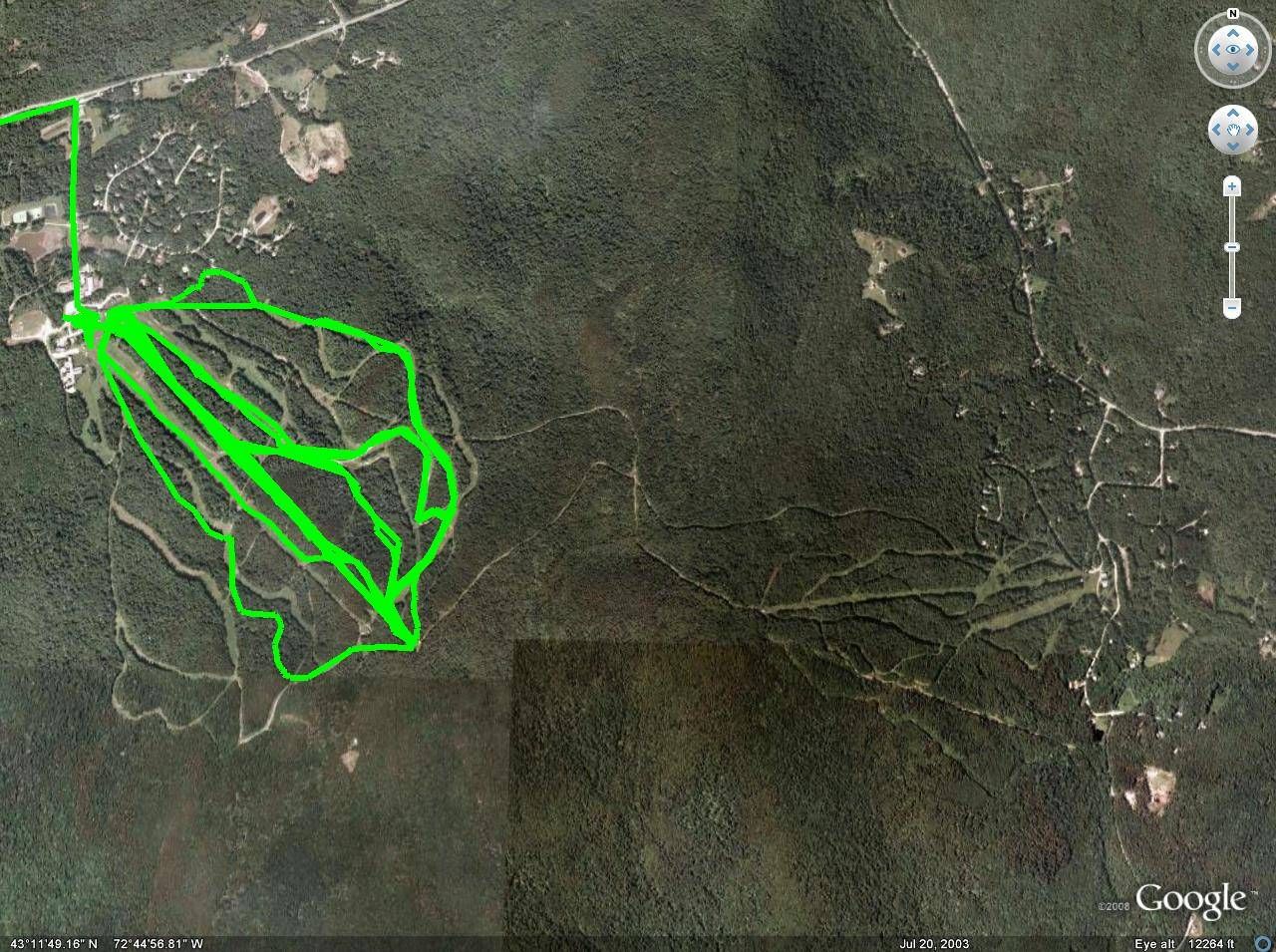 The trails to the right of Magic are Timber Ridge, a ski area that fell on hard times and went out of business many years ago. For a fascinating history of Timber Ridge, see:
http://www.nelsap.org/vt/timber.html