I was able to take a much needed break for a little rest and recreation at Mt. Bachelor this weekend. After business travel to Portland during the week, I drove to Bend Oregon on Thursday evening. I look forward to visiting Bend for the same reasons I enjoy Vermont: A great combination of skiing, people & scenery. The Bend area is one of the cleanest locations in the U.S. with superb year around weather. As usual, I arrived to a clear, star-lit sky and moderate temperatures.
On Friday I met up with Scott, AKA "Slider". Scott is an early and regular contributor at Epic who lives locally and enjoys skiing Mt. Bachelor on a frequent basis. Our skiing pace and preferences were a good match as we did our best to carve up the empty early morning slopes. We also meet Doug "Newfydog" mid-morning as we began to travel a wide range of runs. Doug also lives in Bend.
Conditions were also Vermont like with frozen granular, and I do mean frozen. An ice storm hit the mountain last week leaving a shimmering clear blue ice on every slope, tree and structure. It has taken several days to return to full operation as a thick layer of ice covered everything and the western side of the mountain was totally closed until today. Several inches of rain had drenched the subfreezing mountain, leaving a crystal blanket;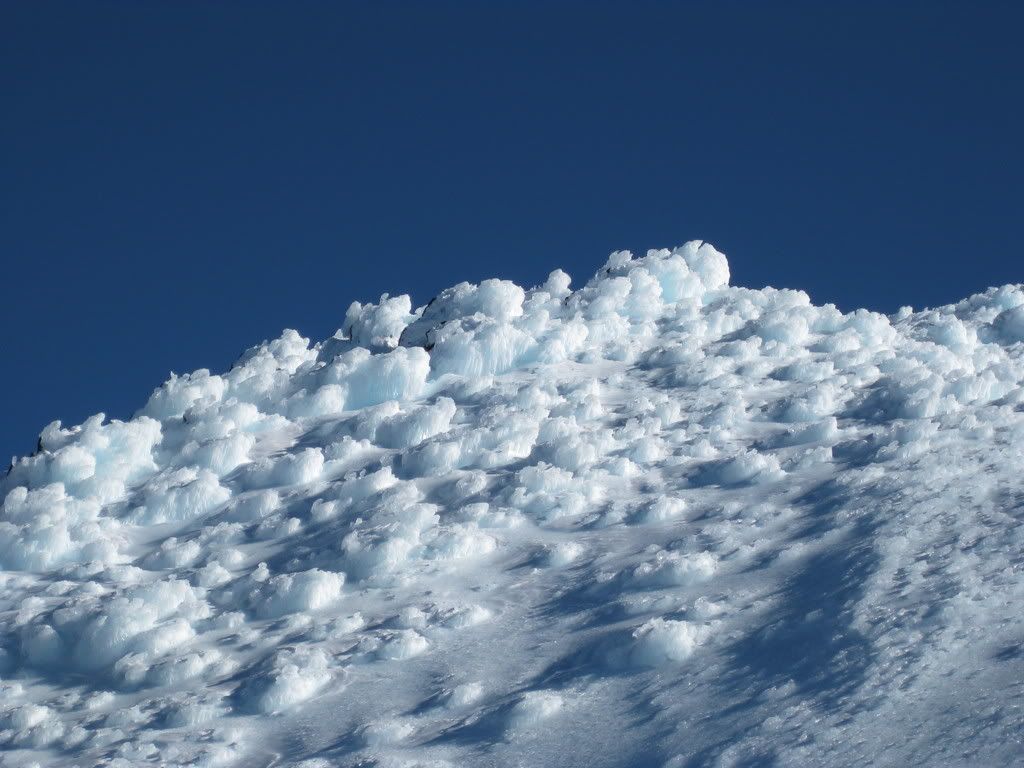 Carving conditions were awesome due to the effective grooming the night before and the sunny warm temperatures in the forties. The snow stayed cold and firm, but maintaining good edge-grip was not difficult. It was a blast to produce high edge agile carves and accelerate out of the turns. The wide runs & moderate slope allow carving from top to bottom. It also helped to have the right gear: lets just say the fatties do have their limits and would not have been as much fun as on a day like today.
We all laughed at the ice and both Doug and I could recall skiing on very slick slopes as racers out-East. To prove the point we made a series of turns on bullet-proof blue ice up near the summit. Scott also found some virgin sun baked butter as we skied the upper mountain. Good-times.
Ahhh... April in January, pass the sunscreen. I'm skiing again tomorrow, I'll try to add more pictures by Monday evening.
Michael