Next comes the steeper skiing guide:
In response to overwhelming demand (or perhaps just whelming demand), I've put together a little guide to some of the steeper skiing at Jackson Hole. Some of this will make no sense at all until you're actually on the hill, but it might help give you some pointers for making your way around the mountain. This is the first half of a two-part report. You can click this link to go to the second half.

Here we go:

Bob's Extremely Unofficial and Completely Unauthorized Guide to Steeper Skiing at Jackson Hole

First off, it goes without saying that "steep" is a relative term. You have objective measurements like degrees of pitch, of course, but you also have variables like snow conditions, width of the line, visibility, consequences of a fall, etc. These variables can transform a relatively benign slope into a real sphincter-tightener.

Having said that, a few of our super-skiers will likely scoff at my definitions of steep, but I'm just describing some of the runs and lines inside the Jackson Hole Ski Resort that have a little more "sport" to them.
I've been asked why I don't include some directions to the out-of-bounds skiing at our resort. I don't add any because skiing outside the boundaries is a completely different undertaking when compared with inbounds skiing. There are avalanches, cliffs, confusing drainages, blind dropoffs, etc. There are no ski patrollers and no snow safety work is done out of bounds. Skiing out of bounds here (or anywhere else for that matter) is something that should not be taken lightly. If you have the training and the gear and the partners to safely go out of bounds, we have some of the best anywhere. If lack those prerequisites, we have an outstanding Alpine Guide program that can introduce you to backcountry skiing.

Finally, much of the joy of skiing Jackson Hole comes from the sense of adventure you get from wandering around our mountain. This is a ski area with an almost endless variety of pitch, exposure, elevation, and wind effects. Most of the mountain is exactly the way God dropped it from the sky – no run cuts, no grading, very little summer grooming, no civilizing. It's just mountain terrain with snow on top of it. You get whatever you get.

My favorite term for exploring a ski area is "clucking around". You occasionally find great skiing lines and good snow, but you also often pay the price in the form of really, really bad skiing. Just because I'll give some suggestions about good places to hit on this mountain, don't rule out clucking around. It can provide you with some of your most memorable skiing ever and Jackson Hole is the perfect place to do it.

So, without further ado, here are some of the places I would suggest off various lifts. First of all, here's the Jackson Home Mountain Resort trail map:
You can click on the map to make a larger image and then click again to enlarge specific spots and trails. And here's a map of the base area at Teton Village.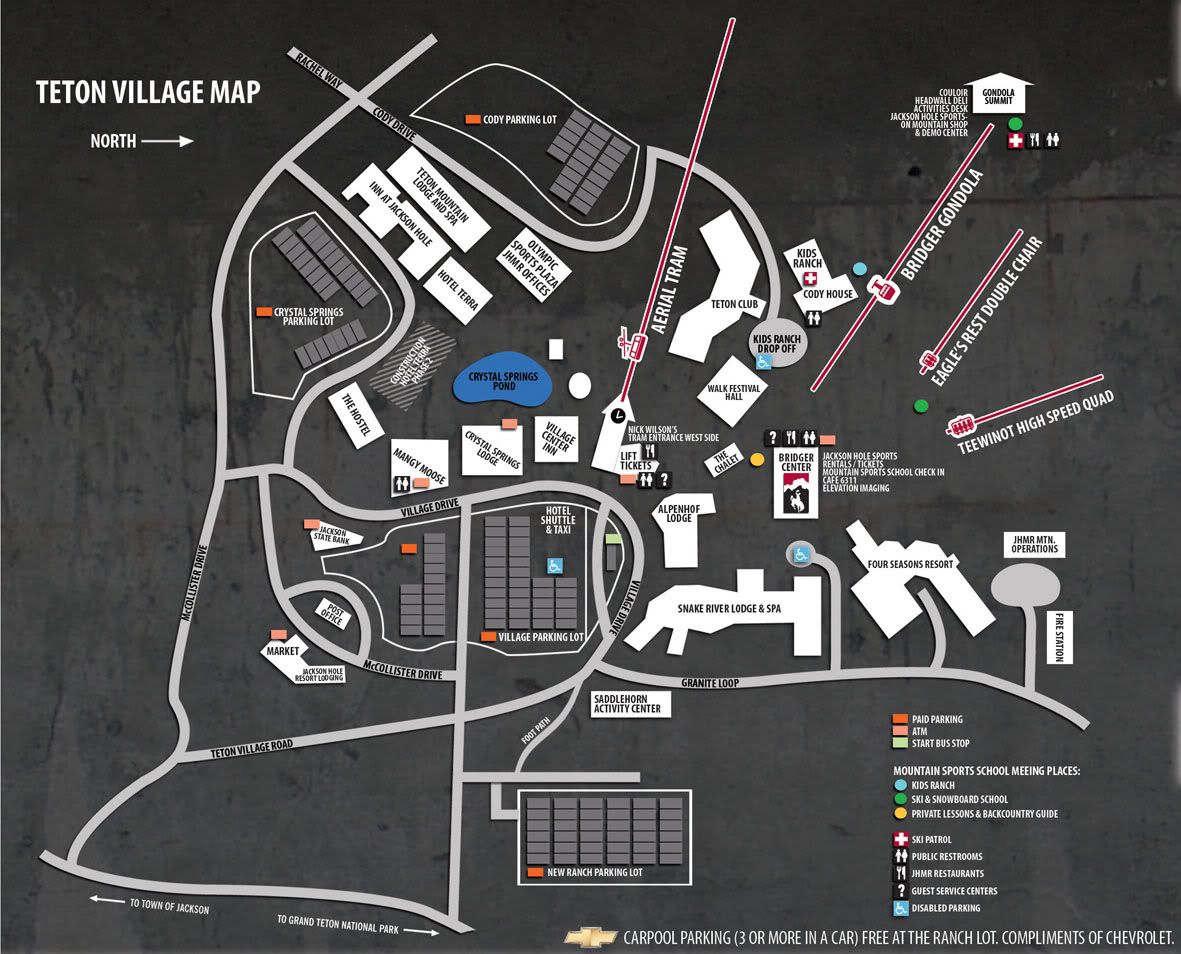 The three most important landmarks for you to look for are the base of the aerial tram (aka the Tram Building or the Clock Tower), the base of the Bridger Gondola, and the base of the Teewinot Chair.
Let's start at the right side of our mountain as you stand at the base looking up. That right-hand boundary is known as Apres Vous mountain.
Apres Vous Chair
You ride up the Teewinot Chair and exit right at the top. Just below you will be the loading station for the Apres Vous chair.
This is a real sleeper. It attracts mostly intermediate skiers, and for good reasons. It's a high-speed chair that accesses great groomed runs. Off to the north of the chair, however, is Saratoga Bowl. "Toga" used to be strictly out of bounds but is now quasi-inbounds skiing.

To ski Saratoga, you'll exit right at the top of the chair. The entrance is to Saratoga is just below and to the skier's left of the patrol shack near the unloading station of the chair. If you watch for the cell phone tree to the right as you're nearing the top of the chair, you'll have a good idea where to go. The main entrance to Saratoga is just below the cell phone "tree".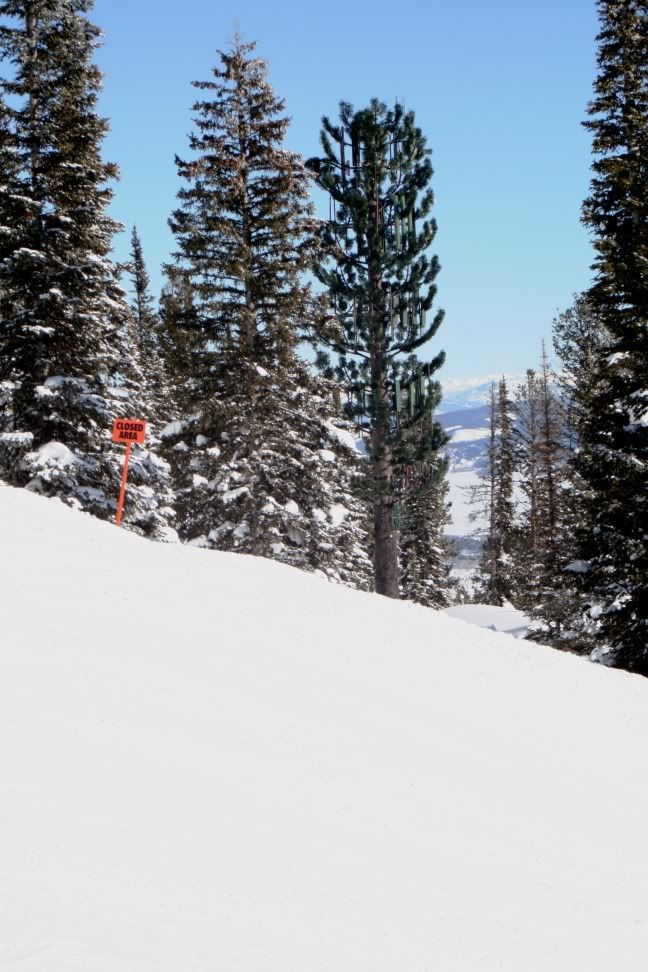 Saratoga is a wild jumble of small cliffs, rock gardens, trees, and little chutelets. There's almost nowhere that will give you a long, sustained fall-line pitch but part of the fun is stringing together little goofball shots. You can traverse a long ways skier's left, but as you do you're giving up vertical and you'll have to start traversing back to the right to make it back to the base of the Apres Vous chair. I prefer to stay kind of along the boundary between St. John's run (just north of the chair) and Saratoga Bowl.

Saratoga will give you lots of varied terrain. Also, you'll be able to make laps quicker than just about anywhere on the mountain. Give it a shot.

Another sort of unnamed area off Apres Vous that's worth checking out is below the Togwotee Pass traverse that leads from Moran Run to the Casper Chair. Just after you leave Moran run, you'll pass an open gladed area below the traverse. It isn't steep, but it's got some fun little terrain features. You'll only make about thirty or forty turns before this area drops down onto another traverse leading back left toward Apres Vous, but I think it's lots of fun.

Casper Chair

Again, this is mostly intermediate terrain, but there are some little testers scattered around. Most of the better stuff is to the rider's right of the chair. You'll pass Sleeping Indian run and then Wide Open.

Look for this sign at the top of the Casper chair, turn right as you exit the chair, and then follow the traverse as it heads into the trees at the far side of the run called Wide Open:
The traverse heads into the trees just on the other side of Wide Open, and then leads to Moran Woods and Moran Face. This is tree skiing with a few little airy boulders mixed in. It's a good place on a powder day because not so many powder hounds ride the Casper Chair. Also, the gully area between Sleeping Indian and Wide Open can be great if you're one of the first skiers in there after a dump.

After skiing Moran Woods or Face, you'll drop down onto a cat track leading skier's right and back to the bottom of the Casper chair. At the top of the chair, you can also exit left (south) as you're riding up. Follow that cat track and after looping around below a big rocky area above you called Upper Casper Bowl, you'll come to a cat track intersection at a spot known as Croaky Point. There's some fun glade skiing straight down the spine and to either side of the little ridge you're standing on. If you ski down that ridgeline, you'll come to another cat track – this one leading to the left and back toward the Casper chair. You can drop off that cat track to the right and ski a more open gentle face down to the South Pass traverse, which is your last chance to go left back to Casper chair.

Another option (instead of riding back up the Casper chair) from the South Pass traverse is to turn right just before you reach the bottom of the chair. This gets you onto a much-ignored run call Nez Perce (pronounced Nay Per-say), which drops down into Sundance Gully. About four or five turns down Nez Perce from the base of the Casper chair is a little track leading left into the woods. This leads to Jackson Face. Lots of little brush and glades, rollers and terrain features in there. Explore.

That will take you down to the base of the Bridger Gondola, which is our next uphill conveyance. Here's a shot of the base of the gondola: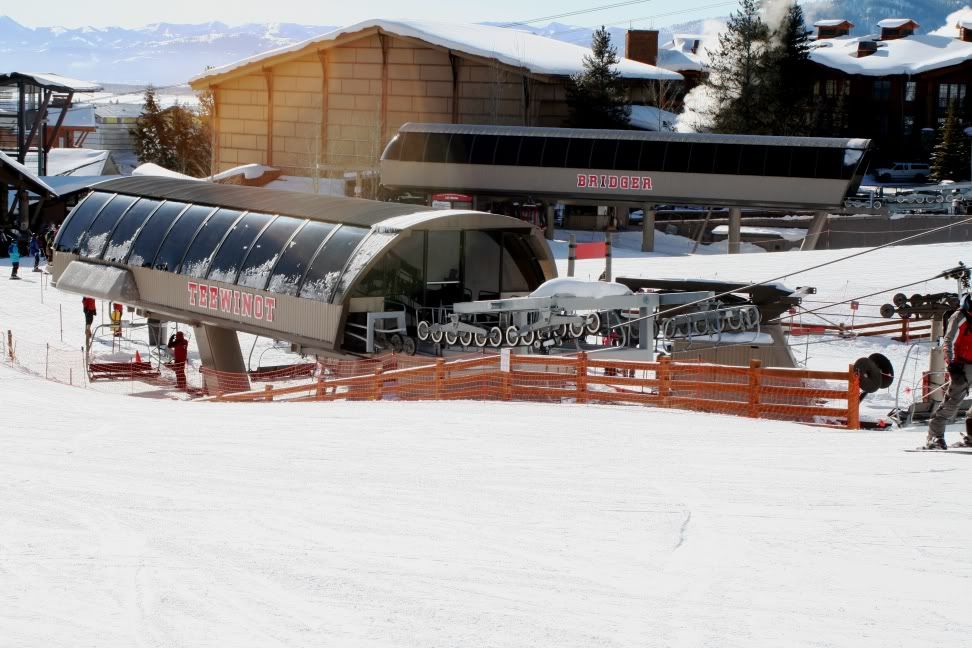 Bridger Gondola

Lots of choices here. First off, if it's around lunchtime, you might want to stop in at the deli on the main floor of the Bridger Gondola top station. There are also restrooms and a ski shop (with lots of demos) in that building.
So, let's ski from the Gondie…

One choice is to start back down directly under the gondola and traverse left almost immediately. I believe the traverse is marked as the Casper Traverse, and it's the little slot through the trees between the second and third towers (from the left) in this photo:

This will lead you (after a rutty, bumpy traverse) into Upper Casper Bowl. This little traverse is known locally as Mr. Toad's Wild Ride, and it can definitely be a wild ride. You'll soon come out into a big open bowl, however. There are lots of terrain features in Casper Bowl, and it may not be open if there's been new snow, but it's a great spot. When you get to the cat track after skiing the Bowl, you can head right toward Croaky Point, or…

If you ski on past Croaky Point and past the obvious run known as Sundance, you can ski the trees between Sundance and Gros Ventre (pronounced Grow Vont). Depending on which way you trend, you'll either end up in the Sundance Gully drainage or the Slalom/Gros Ventre drainage. There are a bunch of little slots and faces in this whole area that can reward those with an expeditionary spirit.

So let's ride back up the gondola and see what happens if you head slightly right and down from the top of the Gondola. You'll have several options here as well. About 100 yards below the top station, you'll come to this sign marking the junction of Lupine Way (which leads off to the right) and Upper Gros Ventre (straight down the mountain). Here's a photo of that sign: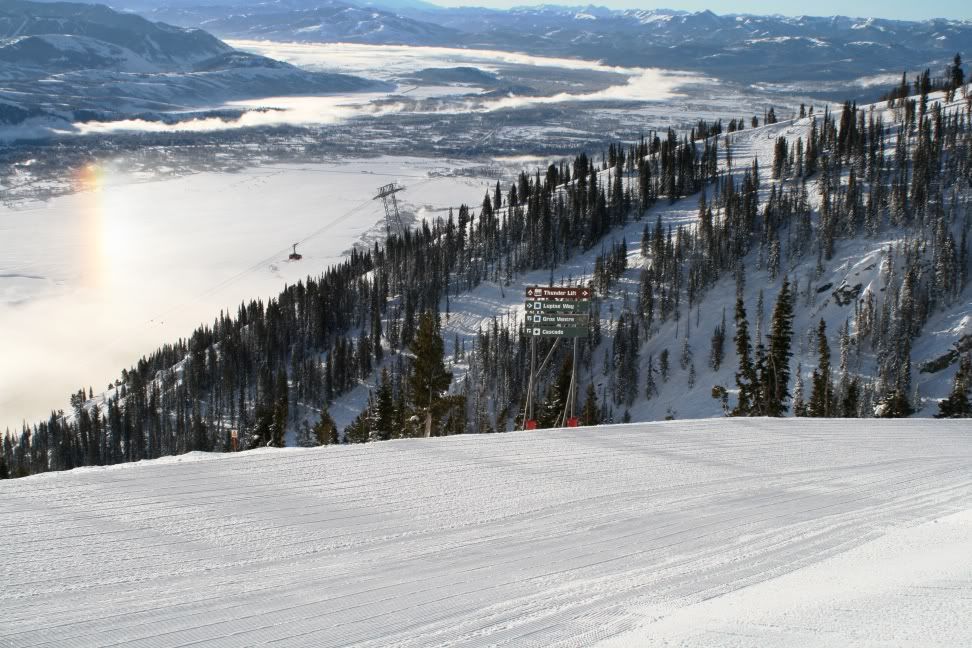 Just as you drop off the road onto Upper Gros Ventre, there is an area to your right that's marked with caution signs. This is a rocky, stunted-tree section called Granny Chutes that's between Upper Gros Ventre and Amphitheater and it offers some pretty challenging stuff. Lots of boulders and dropoffs in here, and *all* of it is avalanche terrain (that's why all the trees are so small). Just head down Lupine Way and trend right as you enter Upper Gros Ventre run.

There's also a main run called Cascade that's JUST to the right as you start down Upper Gros Ventre. Cascade is a well-defined run with a little chokepoint between rock outcroppings shortly after you drop into it. To skier's right of Cascade is an area known as Granny Rocks. There are some very fun lines in here but there are lots of rocks, too, so take it easy (or even skip it) if the visibility is poor.
Here's a shot of the Granny Rocks/Chutes area from over on the Thunder Chair:
Looking at these photos, I want to mention something at this point. Most of these photos were taken with a wide-angle lens in order to show as much of the terrain as possible. That lens "flattens" the perspective of the mountain and makes pitches look much less steep than they'll feel when you ski them. Much of the terrain in this guide is pretty serious stuff, particularly when compared with terrain at other ski resorts in the US. Don't take these runs lightly just because the photo may not make them look intimidating.

The whole Cascade/Granny area also eventually funnels down into a drainage known as Dick's Ditch. Dick's sort of officially starts at the Sunnyside Traverse (which leads left from Amphitheater over to Lower Gros Ventre). You can ski down Dick's through the gully or you can ski along the sides and drop in almost anywhere along either side. Dropping in from the sides provides some of the steepest skiing on the mountain, for a half dozen turns or so. Lower Dick's Ditch is the classic natural half pipe/terrain park and leads all the way to the bottom of the mountain.

Let's say that instead of going down Cascade or Granny's, you followed Lupine Way down to Amphitheater and then just followed Amphitheater run. You would have found yourself at the bottom of the Thunder Chair.

Thunder Chair

This is the "money" chair as far as more challenging skiing at Jackson Hole. Thunder goes up a ridgeline with routes coming down the ridge itself and both flanks.

As you board the chair, check out the rocky, relatively steep bowl area just above you on your left. This is Riverton Bowl and the tram runs directly over it. We'll come back to that one in a minute.

Also as you're riding up Thunder, you'll cross Thunder Run (coming from above you on the left and dropping down to the right). This is Jackson's best-known mogul run. Here's a photo looking down Thunder run from the chair:
As you near the top of the Thunder Chair, you'll start to see a barricade made of orange fencing almost directly under the chair. That fencing is meant to "discourage" skiers from mistakenly dropping down into Tower 3 Chute. There's an entrance gate near the top of the chute, about thirty yards across from the great big tram tower (coincidentally known as, ta da, Tower 3). Keep all of these in mind as you ski back down.

When you unload the chair, you can go straight, which will take you to the dividing saddle between Amphitheater (right at the saddle) and Laramie Bowl (left at the saddle). Both of those are "easier" than what we're about to ski, so I'm just telling you about them so you'll understand the lay of the land a little better.

As you unload, take a little 180-degree left turn around the chair station and you'll be pointed back down toward the valley. The tram cables will be directly above you as well. Start down toward the valley and about a hundred feet above Tower 3, you'll see a very obvious road going left. Following that all the way leads to the easiest way down to Amphitheater and back to the bottom of the Thunder Chair.

Following that road about fifty yards will take you to the top of a run on the right called Paintbrush. This is a great, steep little bump run that faces north and holds good snow long after a snowstorm. After dropping a ways on Paintbrush, you'll come to a kind of flat little chokepoint in some trees. This is where Toilet Bowl starts. The central gully (if you just followed the most obvious fall-line from that chokepoint) leads down some stair-steppy boulders and faces, through Toilet Bowl, and finally down onto Amphitheater. Going right at the chokepoint brings you out onto the more open (but still pretty steep and bumpy) portion of TB near the bottom of Tower 3 Chute. Going left at the chokepoint gets you out onto Toilet Face. This area includes some very steep slabs and ledges and small dropoffs. If it tells you anything, this is where climbing guides teach beginning rock climbing during the summer – it's steep! It's great fun to ski, but be VERY careful if the light is flat - if you don't know the area, you could easily ski into or off of something nasty.
Here's a photo of most of Toilet Bowl, with Tower 3 chute angling down on the left side of the photo, and Paintbrush run (pretty much invisible in because of the trees on the upper right) coming in from the right: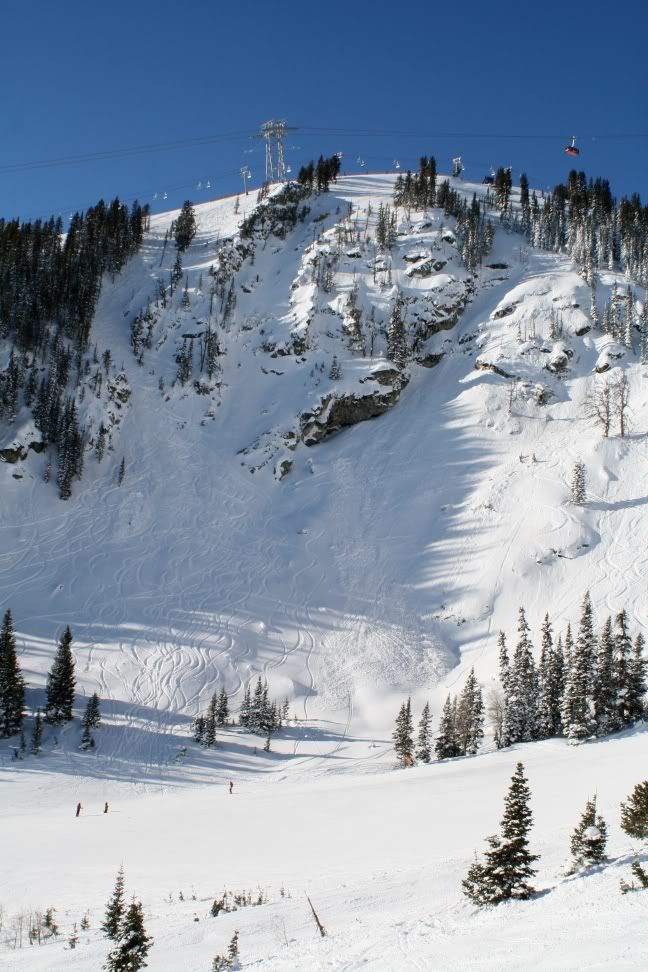 Back up near Tower 3, instead of turning left to go to Paintbrush, go straight down the line of the chairlift. You'll cross a little rollover and then you should be looking for that orange fencing I was talking about. This is the entrance to Tower 3 Chute and you want to find the gate into it. Here's a ski patroller doing a ski-cut for avalanche control almost right under the chair and at the top of Tower 3 Chute: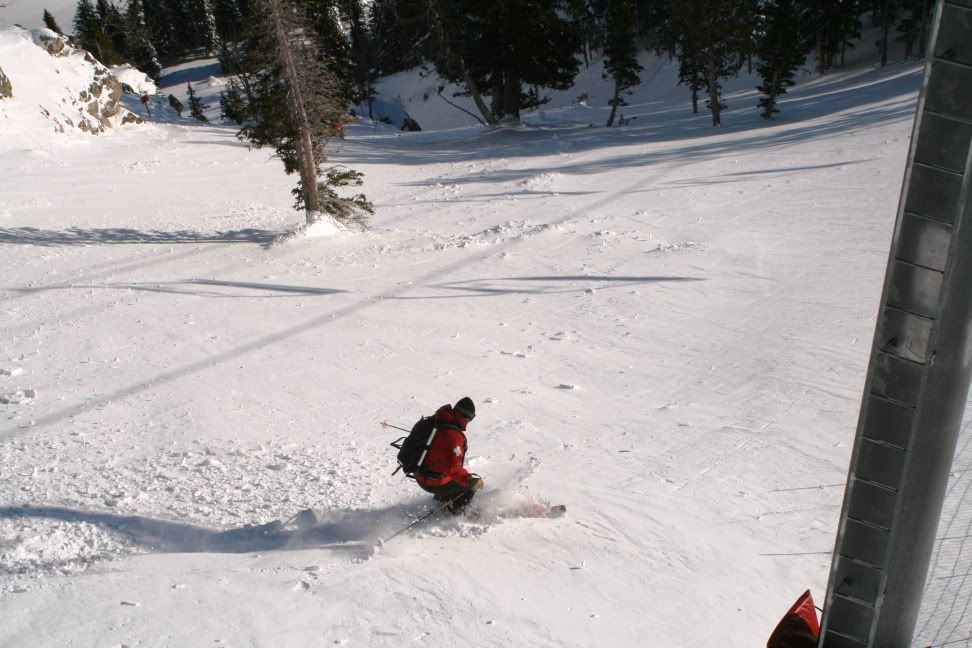 And here's a shot of the chute on a nice, sunny morning with a fresh coat of snow covering up the moguls and rocks:
T3 starts out pretty wide, steeper on skier's left and slightly shallower on skier's right along the bottom side of the fencing. There are several small trees and a couple of rocks in the chute, so a slide can take you into some unpleasant obstacles. For your first time, most people choose the right side (which is where the main part of the gully is) and stay pretty much in the fall-line. The left side is a bit sportier, as it's somewhat steeper and involves a couple of fairly narrow chokepoints. The two sides converge about midway down the chute, and then you just follow the bump line. Before long, it'll open out into the wide section of Toilet Bowl and you've successfully skied T3. One note - if you decide to stop as you're skiing down the chute, it's considered good eitquette to pull as far to one side of the gully as you can so you're out of the traffic zone. Not only does it clear the way for other skiers, it MIGHT keep you from getting clocked by a falling/sliding skier from above.

So let's say T3 wasn't challenging enough for you. Instead of skiing Tower 3, continue on below the T3 entrance gate, following the fencing on your left shoulder. Just past the end of the fencing, pick a likely-looking opening and drop left down into those thick trees in front of you. This is a fairly wide area known as the Mushroom Chutes. There's no single run or line here, just a bunch of narrow slots through trees and giant boulders. The tops of the boulders build up huge pillows of snow that eventually look like - viola! - mushrooms. This is a pretty steep section of the mountain with some very tight quarters, but it can be lots of fun to poke around in here. Just be careful.

A little further down the chair line from the Mushroom Chutes is another little opening in the trees on the left. This leads to Hoop's Gap. This is a short but quite steep sidehill dropping through trees and down onto Amphitheater. If you kept going down the chairlift line past Hoop's, you'll come out onto Thunder Run itself. Lots of bumps and a great pitch make this a classic mogul run.

Let's ride the chair back up and check out some of the other skiing off the Thunder chair. Back up at Tower 3, you still have many other choices. You can ski down under the tram cables and eventually come out at the top of Riverton Bowl. It gradually widens as it drops down to the bottom of the Thunder Chair. To skier's right of Riverton Bowl is Gannett run. This is a little mellower than Riverton but has some very fun glade skiing along the right-hand side of the run, between Gannett and Grand. Grand is a great intermediate-to-advanced run that goes all the way from Tower Three to the bottom of the Sublette Chair. To skier's right of Grand is the area known as Grand Woods, which again is nice glade skiing opening out into some fun little aspen groves.
If you work skier's right from the top of Grand Woods, you'll find yourself in the Gold Mine Chutes. These are kind of ratty little slots through the rocks down onto the main part of Laramie Bowl. Here's a shot of the Gold Mine chutes from the top of Laramie Bowl.

The Gold Mines comprise the area to the right and down from the big cliff face in the left-center of this photo. The Gold Mines are fun, but they almost never get real good snow coverage and they face south. That means that the snow in there is often hard and icy, and if it's powder you won't know where the rocks are until you do core shots on your skis. Sounds great, doesn't it?

So, that's it for the Thunder Chair. There's a lot more, but you'll have to discover it on your own.
With that, I've gotta go for the evening. I'll try to clean things up and post the second half of this summary tomorrow.