I had a very rewarding weekend at Jiminy Peak - skiing for free, skiing with family and friends and making a new ski friend.
On Saturday, December 6, I skied for free. Unlike Stratton's free ticket giveaway where there is some risk, however slight, that you may not win a ticket (see my TR from 11-29-08 for details), the only thing I had to do to get a free ticket at Jiminy was to park my car with my family of four in Jiminy's parking lot. How's that, you ask?
Some background first. Jiminy's claim to fame is that it is the first ski resort, and perhaps the only one at this point, to install a wind turbine on its mountain to generate clean energy. The wind turbine is now its corporate symbol, both literally and figuratively.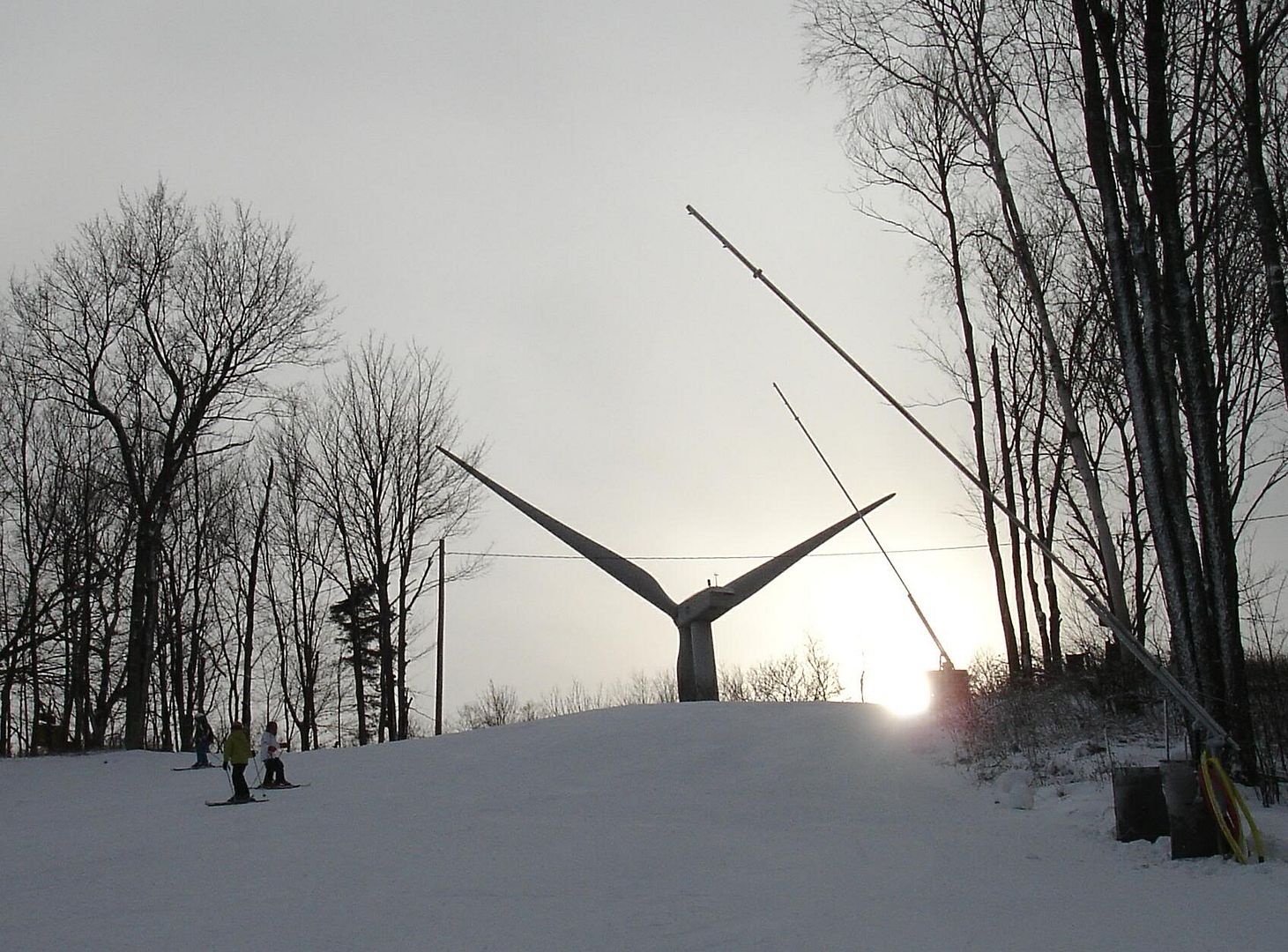 Jiminy is gung-ho about saving the environment for future generations. In that spirit, Jiminy's latest promotion is intended to reduce the carbon footprint of its guests' visits by encouraging car-pooling. On Saturdays and Sundays through December 21, Jiminy is giving away one free ticket per car that contains four or more people.
My free day on Saturday was terrific. The crowds were light, it was sunny and not too cold and the smooth-as-glass trail conditions were great for teaching my kids the importance of turning to stay in control. Click on link below for video of learning2lovskiing (not yet a Barking Bear as she does not know how to read or write, or even spell her last name).
Sunday, December 7, was a great day at Jiminy. Jiminy had its first natural snow fall of the season this morning. While the roads to Jiminy were treacherous with cars sliding into embankments (but not for me after I installed my new Blizzak snow tires this morning, leading me to shout out loud "I am king of the road!" Sorry, Chaos, I beat you to it), the trails were covered in fine, soft powder.
A highlight of the day was skiing with a new friend I met via this forum, veteran Barking Bear Paul Jones, aka Buzz. (Buzz is one of those rare netizens that has a long-standing and well known nickname but joins an anonymous web forum using his real name.) I am very glad to have met Buzz today. He is an excellent skier, lives approximately 15 minutes from me in the right direction, i.e. towards VT, likes the same mountains I do and says he has lots of spare time to ski. I look forward to skiing with Buzz this winter.
Buzz
Buzz can also shoot video. See his video of me trying to ski real snow for the first time this season.
You are probably wondering why I have not posted any video of Buzz. Well, there was only enough battery time for one video of Buzz and that video, as it so happens, captured Buzz crashing and wiping out a pack of ski school tots. Understandably, he did not want me to post it.
Just kidding. Next time I will get some good video of Buzz and post it in my TR.
After Buzz went home, I skied the rest of the day/evening with my ski/snow boarding buddies that I often ski with at Jiminy and in VT. By 4:00 PM, the few inches of snow that had fallen had mostly blown into the woods, although Grand Slam still had some nice powder.
Most people who ski at Jiminy know it can be windy, hence the wind turbine. Yet this was no ordinary wind tonight. The anemometer on my roof - at 645 ft - is showing wind gusts of 41 MPH, so at 2,000 feet elevation at Jiminy, the wind was likely even stronger. The wind was so strong on the top of West Way that it was difficult to push through it. The lower part of Left Bank was similarly bad. Nights like this make you really appreciate those days in April when its warm enough to ski in your shorts.