I did a little more poking around on Togwotee Pass yesterday. I was actually able to get someone to go along, so we explored a little more than I might have on my own. We found some really sweet-looking terrain that isn't outrageously far from the trailhead.
Our destination turned out to be Breccia Peak. I'm not exactly sure if it's part of the Absaroka Range (which around here is usually pronounced ab-SOR-ka), but it's a beautiful mountain just to the northwest of Togwotee Pass. The elevation at the summit of the peak is just over 11,000 feet and we left the car at about 9.400.
The snow coverage was pretty darned good considering how long it's been since we've had any significant snowfall. There were areas that were suncrusted and some that were wind-hammered, but we had some very good turns.
Here are some photos:
A couple of other guys skinning in the meadow below the peak:
Here's Jim skinning along the edge of a very skinny couloir that looked like it "MIGHT" be skiable with a few more feet of snow:
Here's Jim standing along the edge of the summit ridge. The top is in the upper right corner of this photo. We skinned up all along the edge of this cliff wall: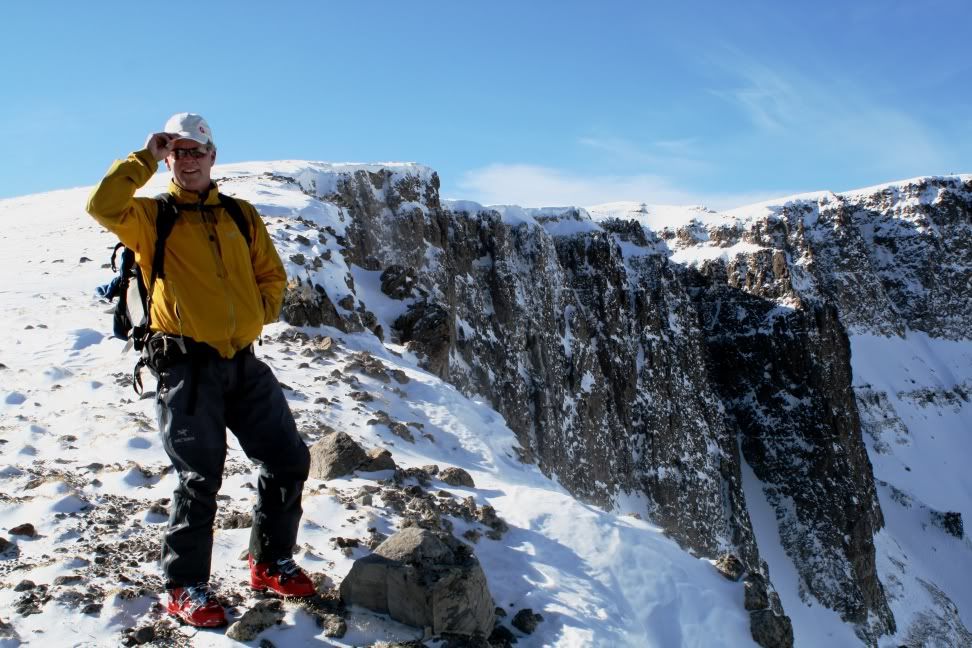 Here's a shot of the summit (on the left) and what I'm calling North Bowl since I don't know if it has a name or not. If you look closely, you'll see some ski tracks in the lower righthand portion of this photo. There was a couloir coming down from the upper left of this photo and leading into where those tracks are. We didn't go that way because the snow looked a little skinny, but it's definitely on the list for another day.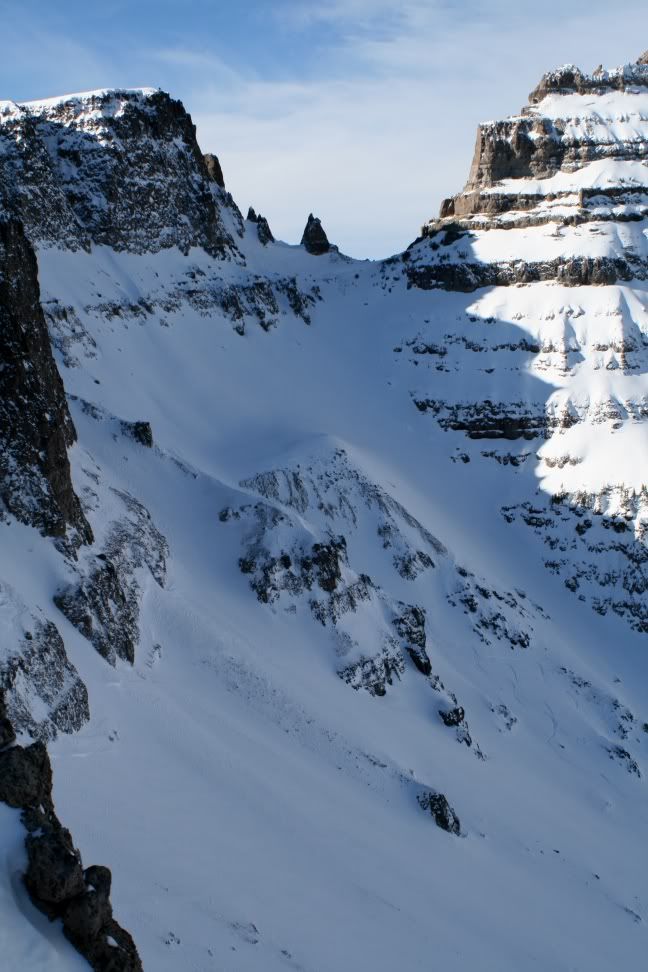 And here's one looking across that same bowl. If you look very closely at the very bottom of this photo, you can see a little group of three skiers standing next to a rectangular rock. Big country.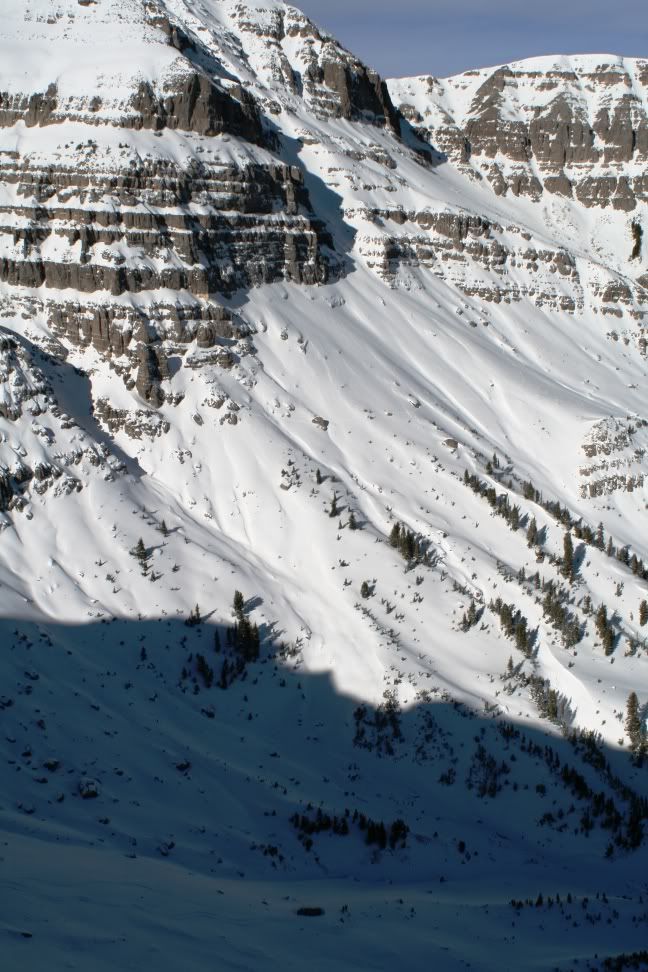 Here's Jim starting down from the summit. This view is looking southeast and those far mountains are the Wind River range.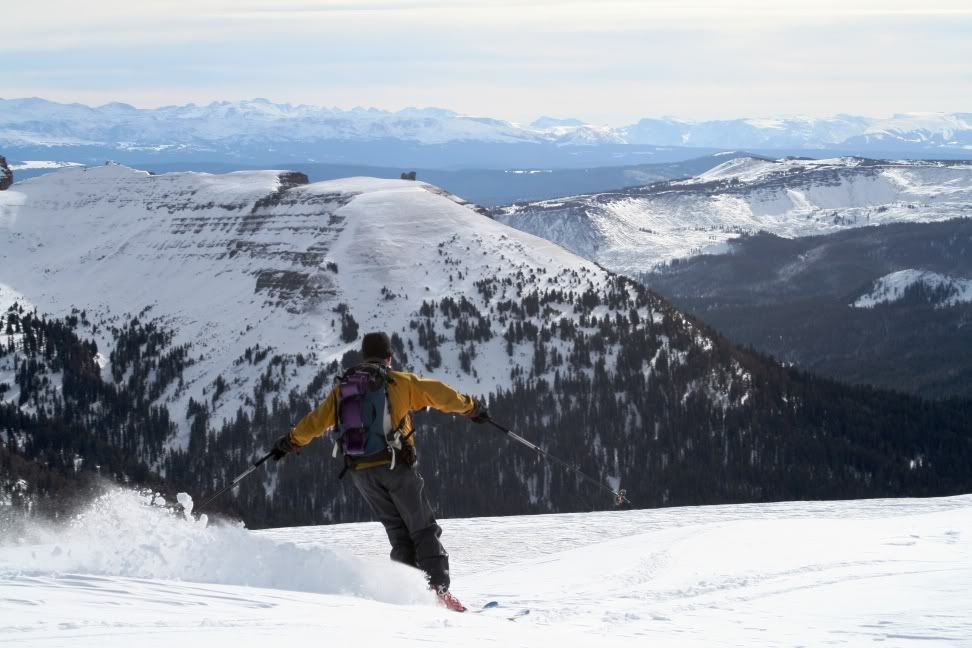 Here's Jim a little lower down enjoying the fruits of the hike: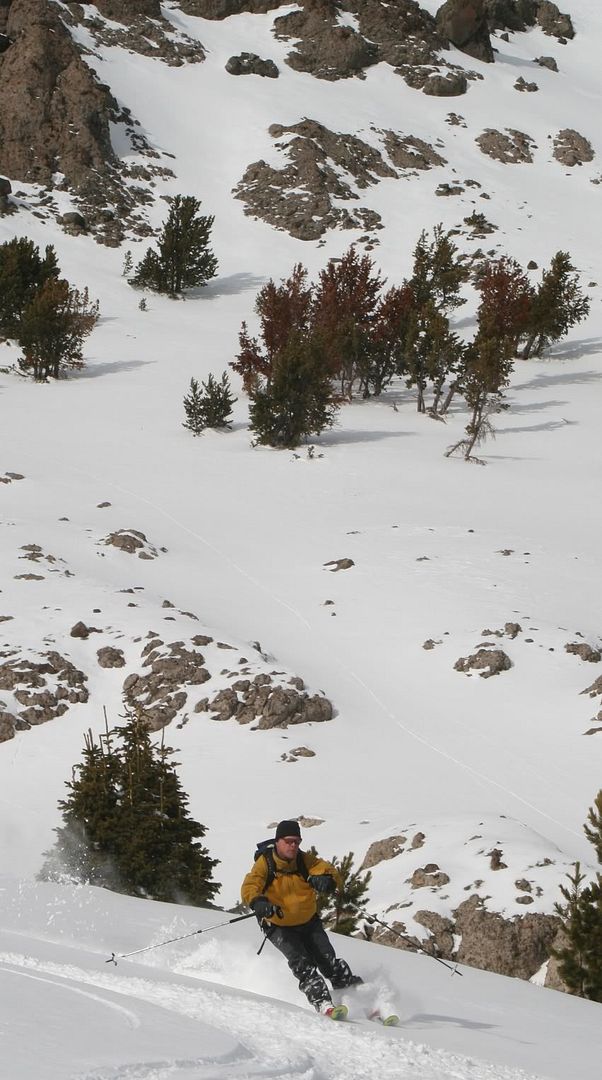 And one last shot from down on the highway. That's Breccia Peak in the background.
Ho hum. Just another ski day.