Word. This thread will not contain much visual stoke, as I was hiking alone, and my skiing self-portraits need some practice. But! It was an epic day for me on a personal level so I just wanted to share.
Today marked the start of a season that will be much different from my last 17 years of skiing. This year, I break free. Up until this year, I have skied almost entirely with my Dad, on rental demo gear, on an average of 10-15 days per season. Not any more.
Having jumped the nest, now living on my own, it's time to get my ski on. Today marked the first time I ever hiked for turns, as well as the first time I've ever skied in November, let alone the first week of November. I had originally intended to go up on Tuesday, but the storm + my 2WD Tacoma and lack of chains = me stuck at home. So I rescheduled for today, after hearing from everyone that conditions were still good.
Got started early, left Sacramento around 5:45AM, got to Kirkwood about 8, scrambled up to the kid's parking lot, after hearing Ottime's warning, booted up, and got to hiking... way too quickly. Sea level to 8000' in two hours straight into physical activity was not a good idea. About halfway up chair 7, needed a break. Was considering turning around. Busted out the camera.
The bootpack had been covered by snowmobile tracks, saw the kids blastin' around, shoulda hit em up for a ride to the top.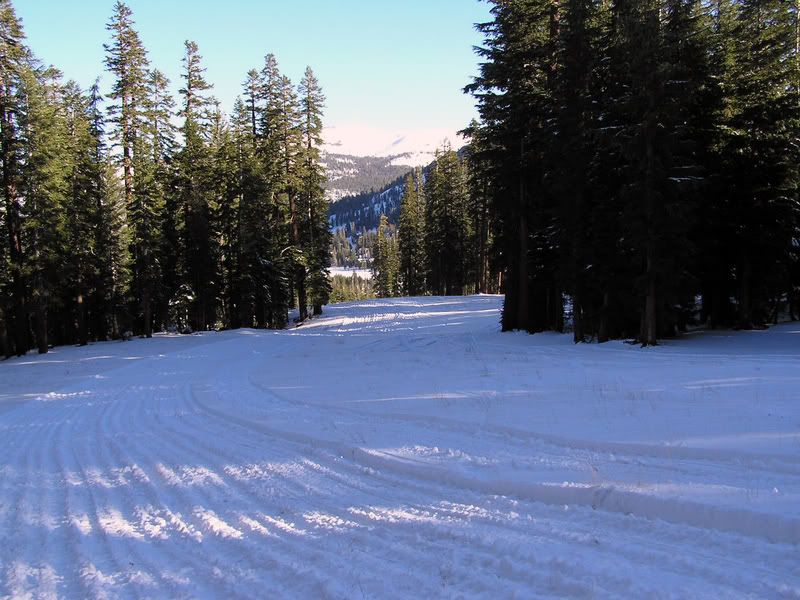 Lookin' up to chair 7:
Decided to just man-up and take it slow, wasn't a race to the top.
I slowed my pace heavily, stopping to take breaks every hundred or so feet. I had plenty of water and Gatorade with me, and also ate a banana on the way up which helped greatly.
After passing the top of chair 7 I found the bootpack trail, MAJOR thanks to whoever laid this down, made the hike much easier. I hope the first tracks were worth it.
Lookin' across the valley, someone needs to SkiBASE those cliffs on the left, behind the tree:
Lookin' up stump run: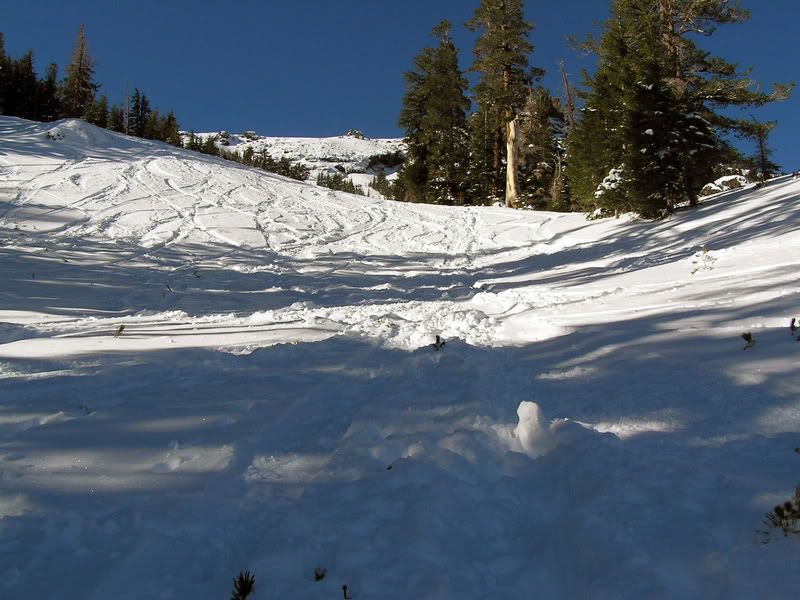 With the pace on my deflowering slowed to a comfortable crawl, I kept trodding up the hill. Looking back down stump run:
Top of Sentinel Bowl came into view, at this point I knew I was home free:
Lookin' over at Glove Rock:
And down to Palisades: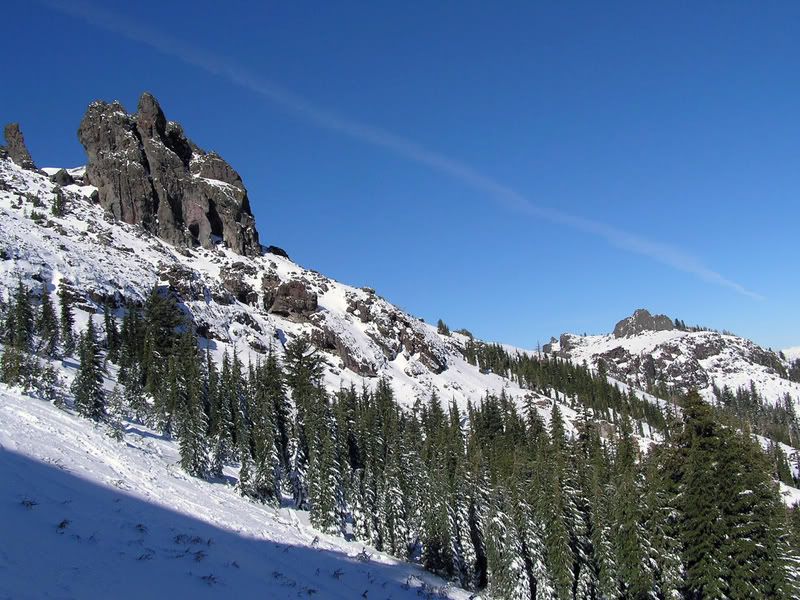 Finally, two hours after leaving the parking lot, made it to the top, not a huge victory by any means in the grand scheme of things, but was stoked to have stuck with it and made it.
I've only been to Kirkwood twice previously, but I've seen all the famous TRs so I decided to check around a bit to see what landmarks I could find.
Big Jim's is... well, a lot bigger in person. More like, Hugenormous Jim's. I'd like to work up to hitting this bad boy some day, but it might be a little longer than I had originally planned. You can also see someone hit Jim's chute with a nice jump turn entry. Badass.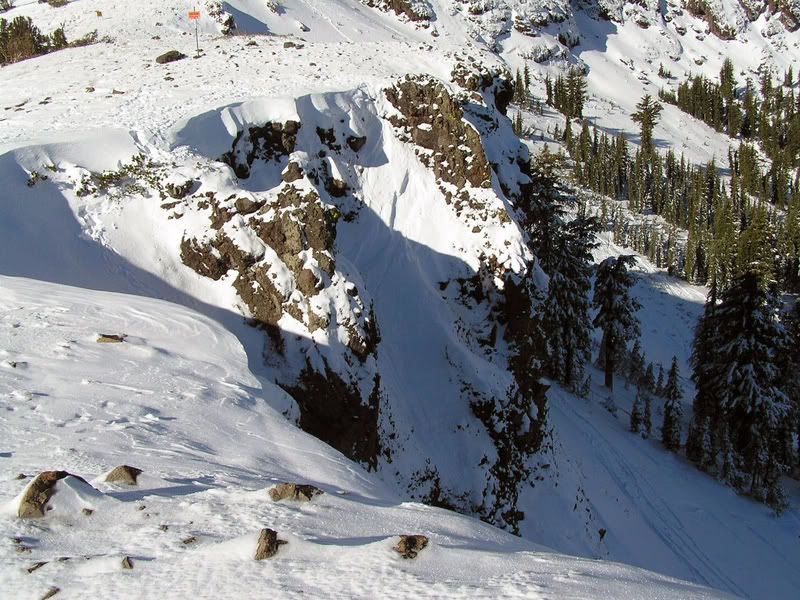 Lookin' down into Chamoix I believe?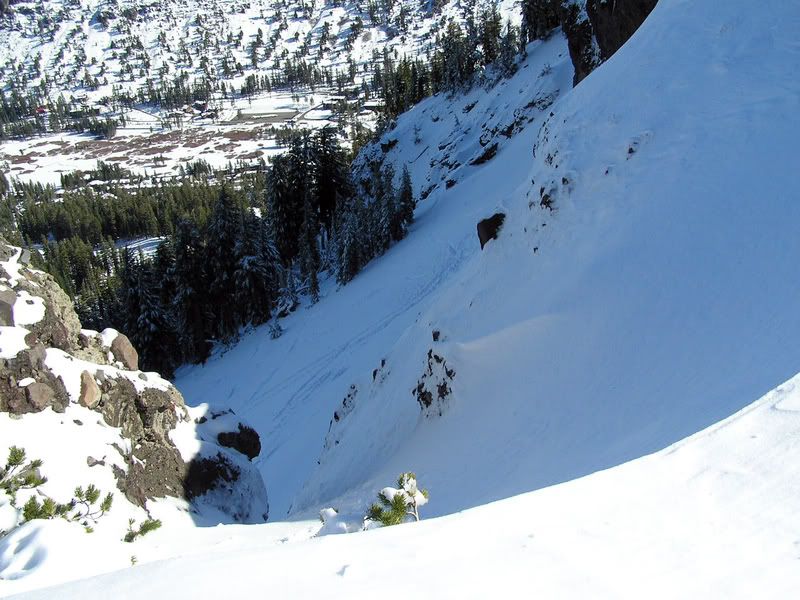 Lookin' up at Chair 6/Wagon Wheel Bowl/Sisters: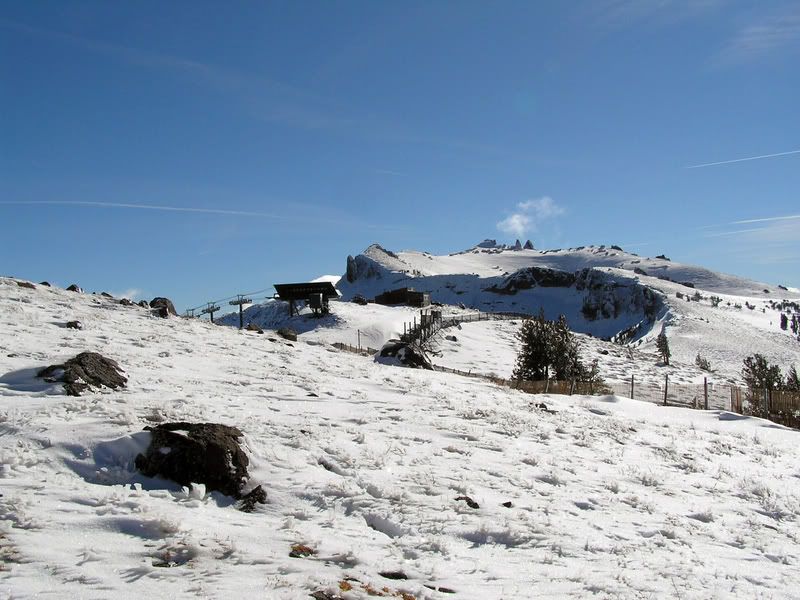 Across the valley again, better view of the cliffs that need SkiBASEing.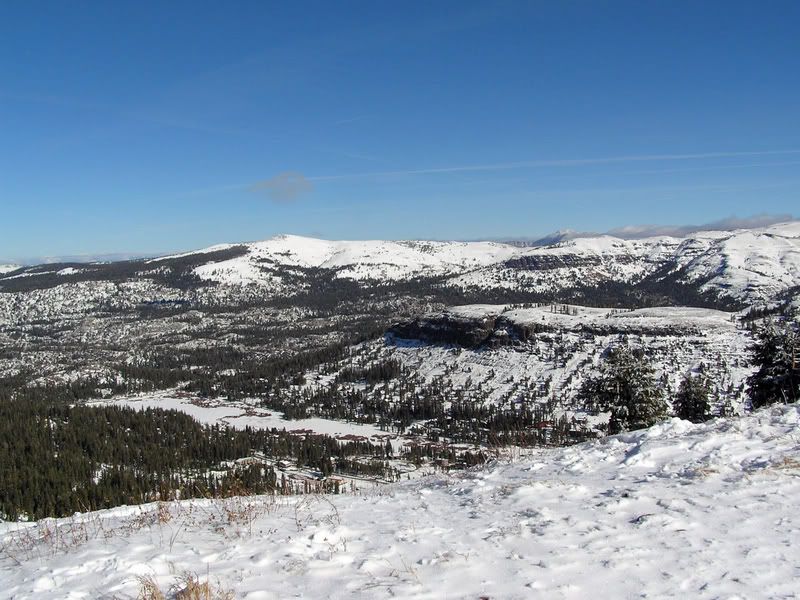 Still the only car in the lot: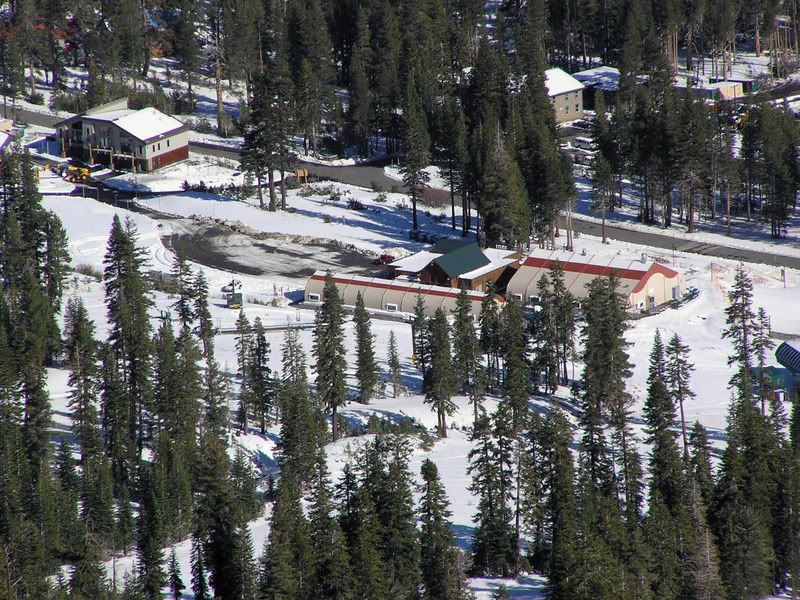 Alright, time to get to the goods. I recognized a couple little hucks that I had seen in a TR that I wanted to hit. After talking to a couple guys that had just summited, a snowboarder and a dude with a cardboard box - no joke - I decided to click in for the first time in 8 months and go for the huck.
Landing was super smooth, and the next 10+ turns were untracked pow and the ride all the way to the bottom was relatively untracked.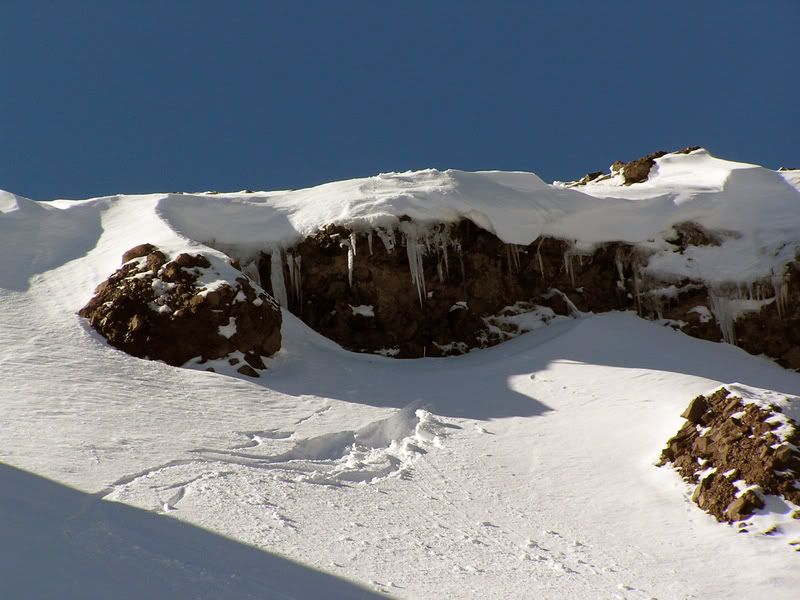 I've definitely been impregnated, with a renewed invigoration for skiing. I look forward to exploring heavily this year and pushing my skiing to a new level. Bring on the season! Stoke on! I promise my future TRs will show actual skiing.