This pair is buried in an older thread. 206cm Rossi DH, with the silver/black World Cup plate. This pair has 2003-4 graphics, but were first raced in 2004-5. Used for about a dozen training runs and race runs over each of the next four seasons, at most. One of 3-4 pairs of DH skis of my daughter's. Skied in last spring's US Alpine Nationals at Sugarloaf. Great shape, run fast, turn very well. These were prepped for Rossi race by Graham Lonetto. Full race prep:sidewalls pulled, topsheets rounded, etc. One degree bevel on bases, three on sides. No base burn, and nice structure. Bases are very greasy, loaded with wax. Flouro's always cleaned out after each race run. These are the real deal. No longer FIS compliant, so she can't use them.
$125, shipped.
I've seen pairs that I know don't run as fast advertised for $250-$350. Would be a GREAT ski for a master, or for a J3 or J2 just starting to race DH. The plates will take any FK series Rossi, or similar Look binding.
Pick up north of Boston for $100.
Thanks.
[IMG]http://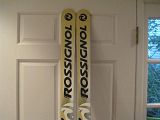 [/IMG]
[IMG]http://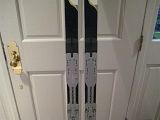 [/IMG]
[IMG]http://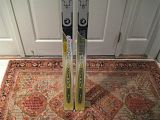 [/IMG]
[IMG]http://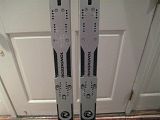 [/IMG]