This year, I've evolved from being a sedentary cycling newbie into a 120 mile/week rider, and I'm enjoying the benefits. I'm primarily a commuter, but will take 40 mile fun rides several times a month. My commute is a 25 to 35 mile RT. Cycling 100 plus miles a week will change your ideas, not only about bikes, but about transportation in general. I've also lost 20 lbs and expect to be down a dozen more before winter. However, I've been considering an upgrade from my low-cost hybrid to improve the quality of my cycling time.
I formed a criterion for selecting a long distance commuter with the following statement: A good long distance commuter should be tough, comfortable, cheap & fast. So my choice came down to a steel framed touring or cyclocross bike. Only a few touring bikes can accept really fat tires larger than 700 x 32, so I focused my search on Steel framed Cyclocross bikes. After looking at a few Surly models, I decided on a Soma Double Cross due to its better steel tubing and slightly lighter weight.
Next issue, fit.
I'm a 6 foot Clydesdale at 230 lbs. Almost every bike model has a size large enough for me, but how do I know what models will be better than average in terms of fit? Bike fitting is a specialty, and most shops don't offer in-depth fitting. In Chicago, Get a Grip Cycles provides a complete fitting for a fee. Considering that I would be spending 10 hours or more on a new bike every week, the cost of the fitting seemed like a good investment.
See here:
http://getagripcycles.com/page.cfm?pageID=93
The goal during the fitting was check the angles of the ankles, knees, hips, shoulders elbows & wrists as I rode upon a test bike. These were measured both while I was stationary and also by camera while pedaling.
After measuring my physical dimensions and range of motion, Adam was confident that fitting me to a bike would not be problematic. It was explained that the rider is positioned on the bike at three points, the pedals, the seat and the handlebars. Position those points correctly and the rider is comfortable, efficient and fast.
The Soma Double Cross in either a 58 or 60 frames size could be made to fit, but the 60 was closer to ideal. The fitting revealed that the 58 size would have required a well extended seatpost with rearward offset, this would have put my hips rearward of the ideal position to drive the crank. The solution was the 60cm frame size. The seatpost selected would have a zero offset to put the hips in the right place over the BB. The handlebars would be positioned by a 120mm stem positioned at a normal height above the tall Soma headtube.
Sourcing;
Since I would not be buying a complete bike, sourcing components would make or break the project. Finding a frame is easy enough, but as a newbie, every other component required detective work and the advice of this forum and multiple other on-line resources.
Fork: I wanted the weight savings and damp feel of a carbon fiber fork. I soon discovered that most economy priced carbon forks are not lighter than the standard steel Soma Double Cross fork. I found a new Ridley 4ZA Zornyc fork that was uncut, a recent take-off from a new bike. Ridley builds some outstanding carbon bikes, so I expect the fork is well made. It is approved for off-road work, including CX racing, and it saves significant weight over most steel forks.
Components: I struck gold, finding a new 2007 Felt F1X Cyclocross bike on eBay to be used as a parts donor. The seller is a bike shop purging NOS. The price was right at $820.00 plus shipping. I sold the frameset on eBay and recovered 2/3 of the initial cost.
Build;
I decided that Get a grip should build the bike. They disassembled the Felt, applied Framesaver the Soma, installed the BB & headset, finished the assembly and installed a computer for $150.
The result;
Below: Ridley 4ZA Zornyc carbon CX fork, Cane Creek headset, Felt 1.3 6061 Butted Alloy Bar, Felt 1.2cm 3D-Forged Stem, Shimano 105 brifters, Tektro Oryx brakes with Tektro RX bar-top levers, Mavic CXP-22 Double-Wall Rims and DT Doubled Butted Champion Spokes, Felt Precision Sealed-Bearing Hubs & 700x28 Continental Gatorback tires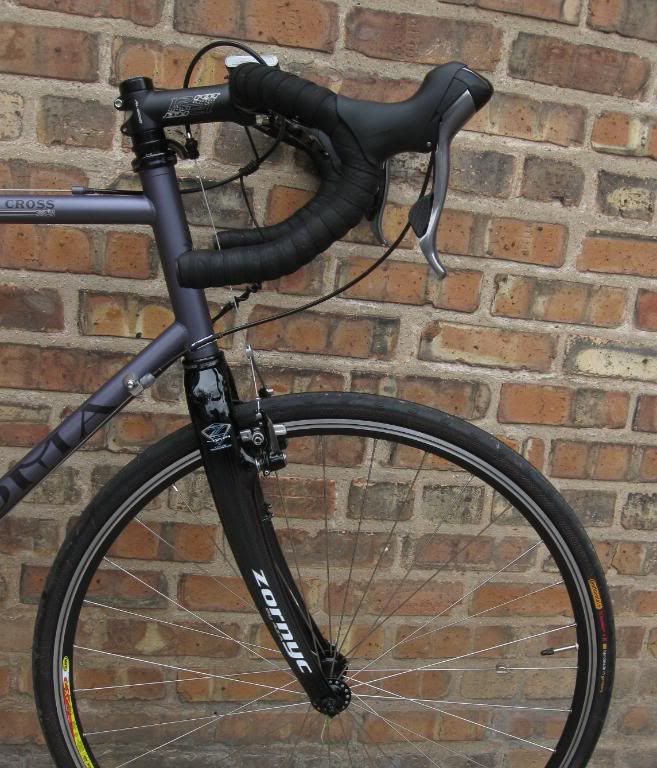 Below: 175mm Sram S300 GXP CX compact double crank with a 46 X 38t ring pair, Shimano CX SPD pedals, Ultegra derailleur
Below: Ultegra derailleur, 105 11-25 cassette
Below: FSA seatpost, Felt 1.1 saddle
A view of the cockpit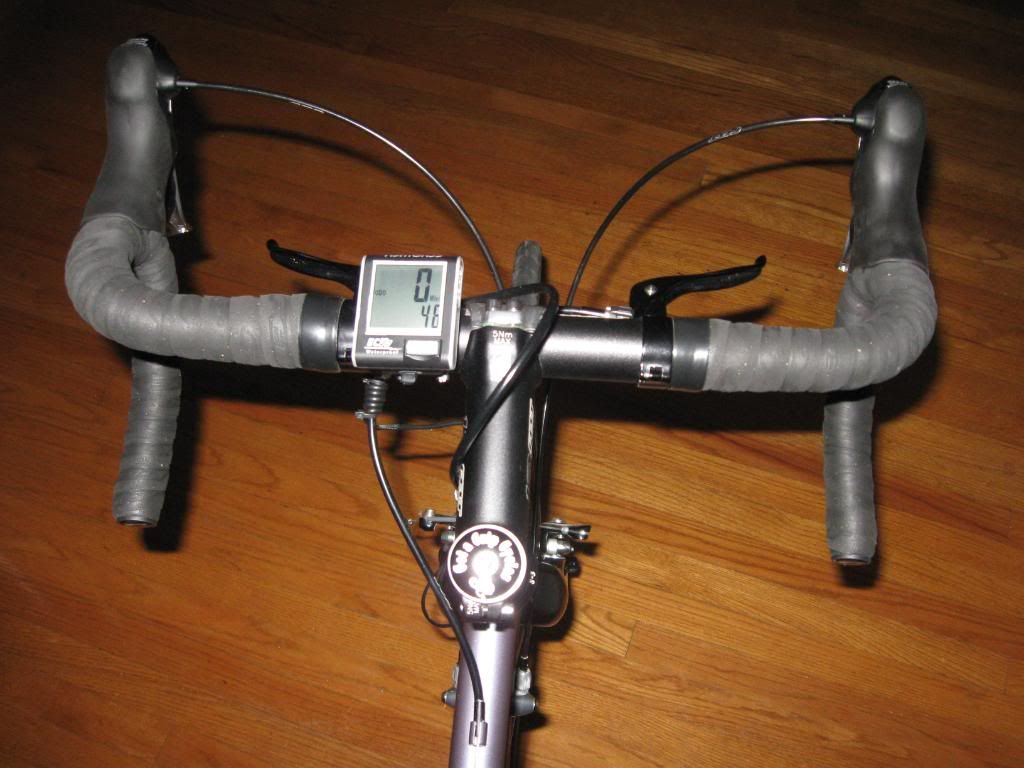 Below, Disc brake bracket