Last year there was a thread on HOW CLOSE TO HOME DO YOU SKI?
Well how about 6 minute walk to the bottom of the run. For the 5 yrs I have lived in St. Maries I sit in my hot tub in the AM and can see this hill and think
Boy if we could get enough snow I could ski that.
Last year the weatherman said
it is going to really snow this winter.
Need a lot to ski this as we are only 2250 in ele. and SW exposure, Here the hill.
So last winter we got the snow and then some. On Feb 2nd my neighbor ran me up to the top on my Quad Runner and I skied down to my road. Lots of fun. I had climbed the hill bottom to top and marked a run with pick tape so I wouldn't hit any stumps etc. Here the same hill in the winter the day I skied.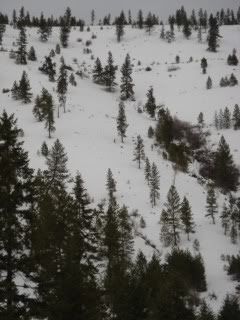 Here I am up top before having the
VERY FIRST RUN on
this hill. Who says you can't daydream in the hot tub while drinking a Corona? I named this Lance's Run after my friend ,fishing and golfing partner who owns the land.