Y'know how sometimes things turn out great even though you suspect the odds are stacked against you?
Today was that day.
When my wife and I arrived at the top of Teton Pass at 6:45 this morning, my car thermometer was reading 44 degrees. That is outrageously warm for that elevation and that time of the day if you're planning on a fairly long ski tour. Especially if you've gone out on a limb and suggested a trip the others are going to join you in undertaking.
Kate Howe is an EpicSkier from Bozeman and she's spending the weekend in Jackson. She's skied the last couple of days with a mutual friend, Jonathan Selkowitz, and I had recommended that we meet at the top of the Pass and go for a tour to the north of the top of Glory Peak. As they (and additional friend Mike) pulled into the parking area, I was more than a little nervous about the fact that ours were the ONLY cars in the parking lot. Did everybody else in Jackson Hole know something that I didn't?
Once we were there, though, we figured we might as well load up and start the hike up Glory. We could always bail out if things looked REALLY crappy once we got to the top, right?
So, we embarked upon the endless Stairmaster that is the boot up Glory Peak. Kate, Jonathan, and Mike were considerate enough to stop and wait several times while senior citizens Ruthie and I gasped our way to the top.
We finally arrived at the top around 8:00am in gorgeous sunny weather and then clicked into our skis for the summit-hopping traverse toward our primary destination, the Great White Hump.
Here's Ruthie and Kate skiing along the top of Little Tuckerman's Bowl as we work our way north from the top of Glory: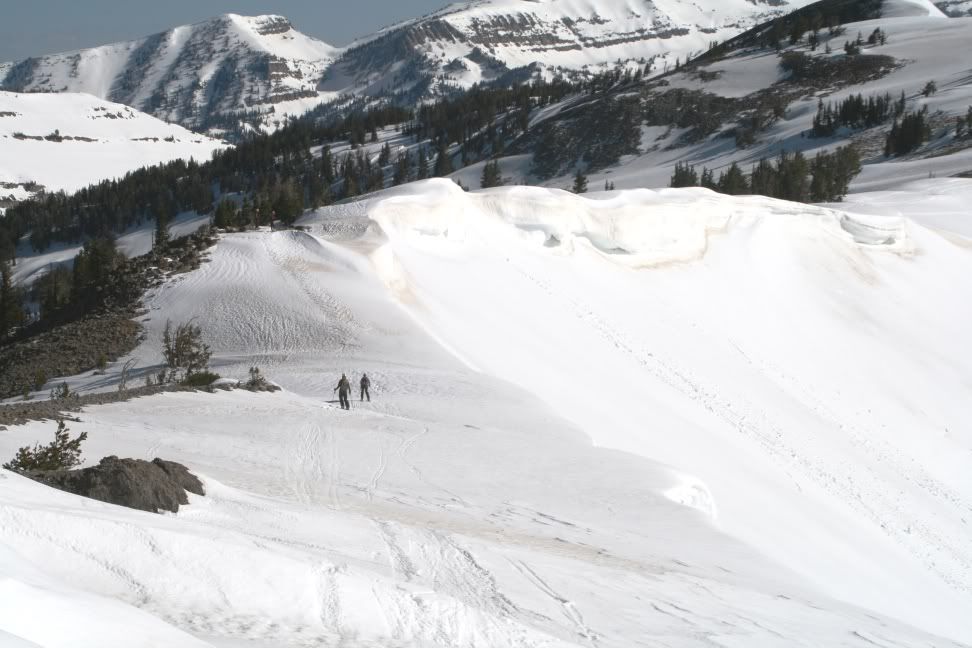 Did I mention that Jonathan Selkowitz is one of the best ski photographers in the world? He is the primary photographer for the U S Ski Team and he spends most of his year traveling all over the world with the team. That's why it's so fun to hook up with him on the rare occasions when he's home here in JH. He's also an ex-racer and ex-racing coach. He's an incredible skier and it was a real joy to ski with him. Here's his website if you're interested in some outstanding images of some of the greatest skiers in the world:
http://www.selkophoto.com/selkophoto.html
So, when a hack skier and a hack photographer like me has a chance to ski with somebody like Jonathan, OF COURSE my strategy is to hand my camera to the pro and have him take my picture. So, this photo was taken by Jonathan Selkowitz (but with my inferior camera):
Here's a shot of Ruthie, Jonathan, and Kate (on the right) as we did a little boot traverse north from the top of Little Tuckerman's Bowl:
And here's one more by Jonathan. This is our group perched on a little cornice just to the south of our primary destination, the Great White Hump. From left to right is Ruthie, Kate, Mike, and me. That's the Grand Teton a little to the right of my ski tips:
Now here's a shot of the Great White Hump. We'll boot to the top of it from the little saddle in the foreground. I love skiing the Hump in spring conditions. It's pretty steep right at the top but there's no real consequences to a mistake. Nevertheless, it takes a little bit of commitment to drop off that top cornice into the main bowl. Here's what it looks like from afar: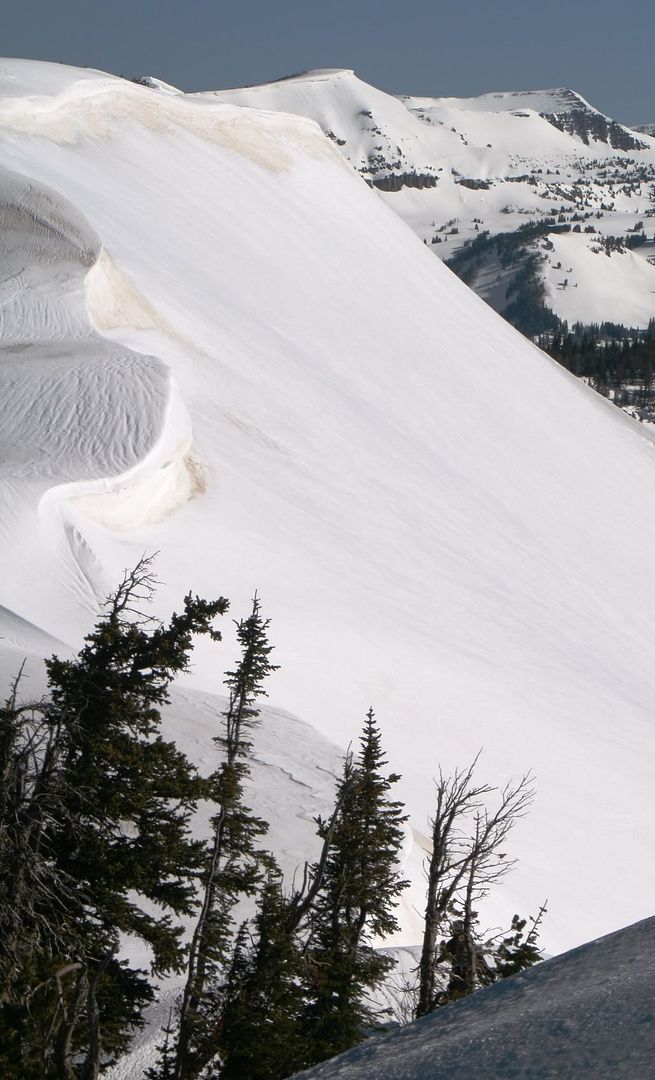 Here's Ruthie standing at the top of the drop off the Great White Hump. The photo doesn't do justice to the feeling of standing there getting ready for the first step: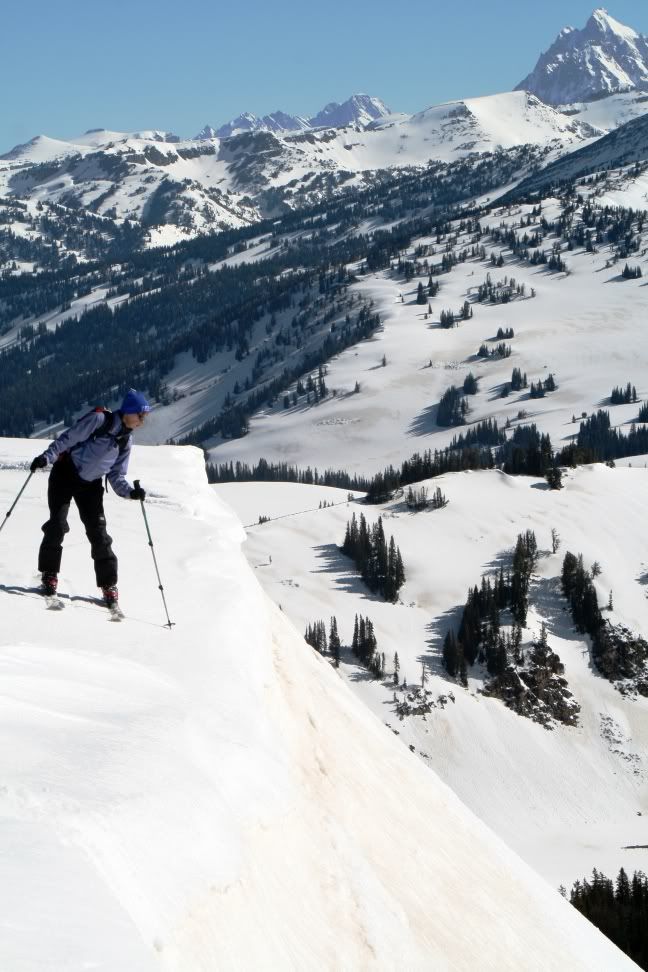 And here's Kate in full commit mode, dropping into the void: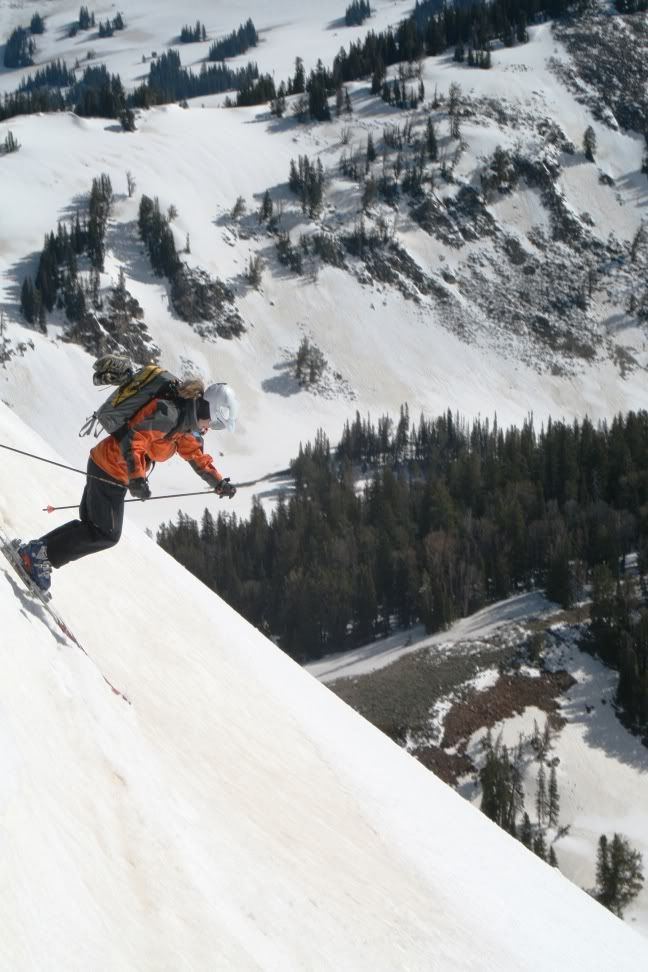 And here's what she looks like enjoying herself in the main part of the bowl:
And here's Jonathan showing that he's had just a LITTLE bit of race training: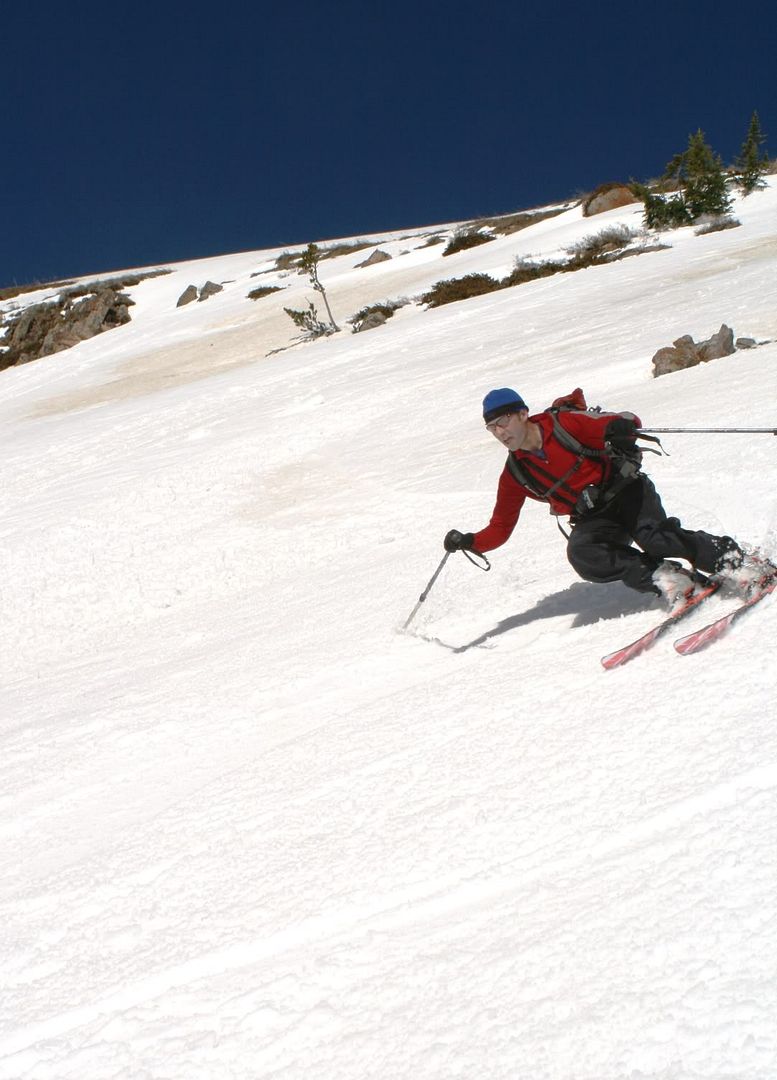 And here: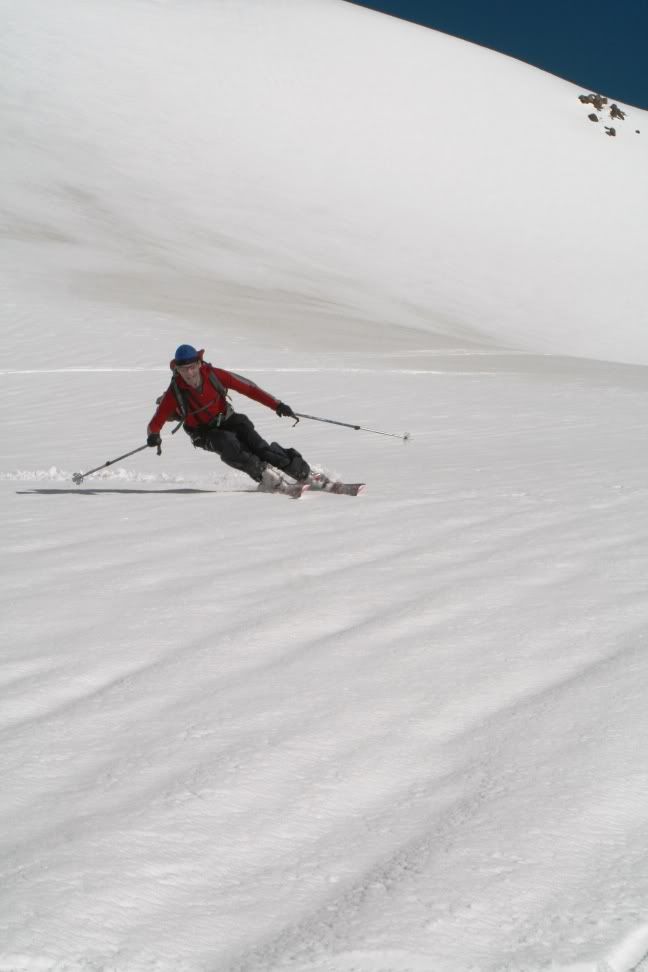 And here's Epic representative Kate Howe showing how little fun she's having: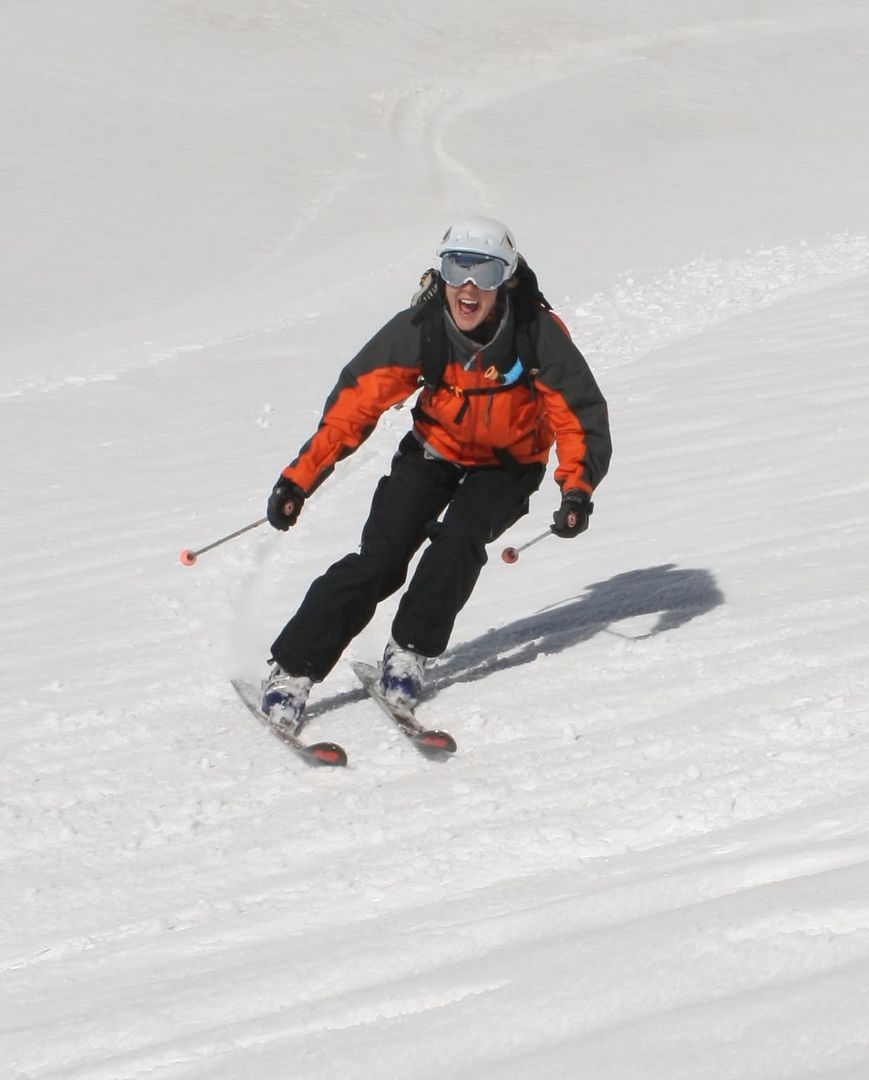 Maybe we were lucky with the weather. By all rights, the temperatures were WAY too warm for the skiing to be as good as it was. The SMART thing to do would have been to pack the cars back up and drive down the Pass without ever having done the hike to the top.
As Jonathan pointed out before we started hiking, though, legendary Jackson Hole Mountain Resort alpine guide Lori Davis always says "You don't know until you go." A day that Jonathan, Mike and I *knew* was probably going to result in crappy skiing turned out to be great fun.
I ascribe much of that outcome to Kate's amazingly upbeat attitude. If you haven't visited her
blog
, I highly recommend that you do. She's fun to be around and she really brightens up an outing. When they reached the top of the Hump, she and my wife were singing "We Are The Champions". And we all felt that way.
It was just a great day. Thanks, Kate, Jonathan, and Mike.