It is snowing in Bend again. I've had midwinter conditions every day but one this spring. I think they may be right about this trend:
NASA: PDO flip to cool phase confirmed - cooler times ahead for the West Coast?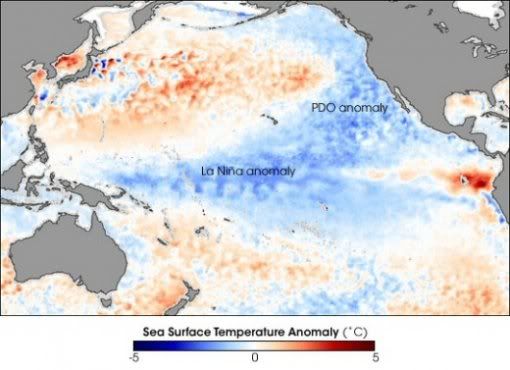 The cool water anomaly in the center of the image shows the lingering effect of the year-old La Niña. However, the much broader area of cooler-than-average water off the coast of North America from Alaska (top center) to the equator is a classic feature of the cool phase of the Pacific Decadal Oscillation (PDO). The cool waters wrap in a horseshoe shape around a core of warmer-than-average water. (In the warm phase, the pattern is reversed).
See the entire story here:


http://earthobservatory.nasa.gov/Newsroom/NewImages/images.php3?img_id=18012


See the PRESS RELEASE from JPL here:


http://www.jpl.nasa.gov/news/news.cfm?release=2008-066


Look out California agriculture. The wine industry, fruits and nut growers will be hit with a shorter growing season and more threats of frost, among other things.
Recently in Nevada County, much of their grape crop was wiped out. From

The Union

in Nevada County (h/t Russ Steele)
Nevada County's agricultural commissioner will seek disaster relief from the state after tens of thousands of dollars worth of crops were ruined from last week's freezing temperatures.Orchard trees, wine grapes and pastures were hardest hit, Pylman said. The commissioner is compiling a report of damages that he will send to the state Office of Emergency Services in coming weeks."Growers don't have anything to harvest. That's a disaster in my mind," Pylman said.
In Paradise, CA, Noble Orchards reports damage to their Apple crop from recent colder weather, as well as reports of issue with vineyards in the Paradise ridge area suffering from frost damage recently.
Here is a short history of PDO phase shifts:
In 1905, PDO switched to a warm phase.
In 1946, PDO switched to a cool phase.
In 1977, PDO switched to a warm phase.
California agriculture has ridden a wave of success on that PDO warm phase since 1977, experiencing unprecedented growth. Now that PDO is shifting to a cooler phase, areas that supported crops during the warm phase may no longer be able to do so.
NASA: PDO flip to cool phase confirmed - cooler times ahead for the West Coast?