It was summer in Tahoe this weekend. Friday, the dogs and I went for a little tour and stopped by the beach to swim after tennis balls. There were even a couple of girls in bikinis on the beach (no photos
, technically girlfriend's camera, and creepy).
So Saturday rolled around and we figured some corn harvesting was in order.
The day started off great. Photographic evidence that it was warm when Sarah's sportin' the tank top skiing and Maddie's nowhere to be found hiding in the shade.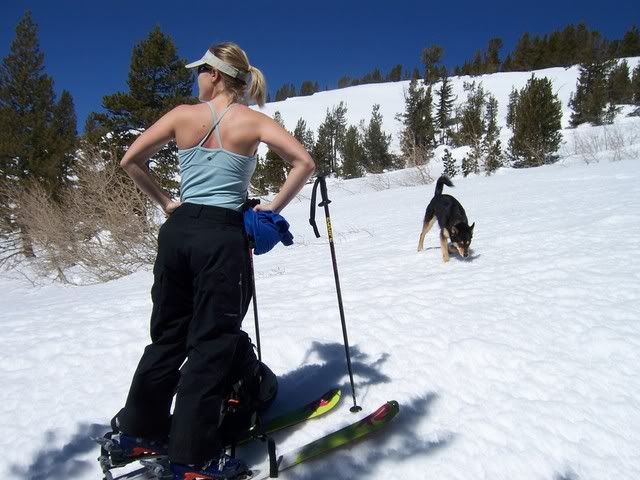 We rode a bowl and figured we'd do the long low angle ride back out to the car. I love this ride in corn. There are tons of little lips and roll-overs to do little airs off of. And it's long. We figured beers at a beach with the dogs would be fun afterwards.
The little man usually does really well skiing and snowboarding. Normally he stays at least 5 feet away in the spring when he's superfast. Even if he starts to get a little closer than you like, all you have to say is 'Go!" and he takes off again.
On a little ollie he got a little close and didn't 'Go!' when told, and he got a decent slice down his leg. Bad enough for even me to take him for stitches.
So the little man's season is over. And he's bummed. He even has a big satellite dish collar to wear so he doesn't chew his bandage when we're not around.
On top of it all, I hit a bird on the way home.
But we got some yard work done on Sunday.