Palmer "P02" Carving Ski
117-68-102 14.9m radius@171cm
2008-2009
[
click here for LARGER version
]
[
click here for LARGER version
]
[
click here for LARGER version
]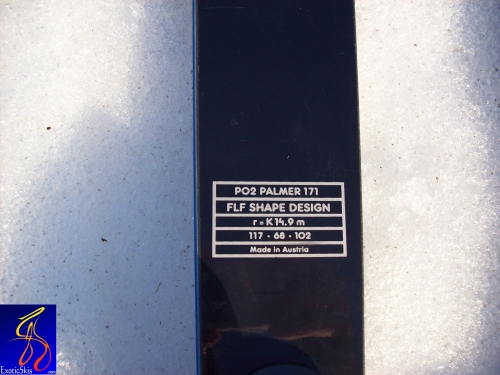 [
click here for LARGER version
]
Manufacturer Info:
Palmer Snowboards Ltd.
1037B Broadway
Denver, CO. 80202
(303) 623-0334
http://www.palmerusa.com
http://www.palmerproject.com
Manufactured in Austria
Suggested Retail Price:
$ ?
€ ?

Usage Class:
Frontside Groomer Carver
Your Rating (with comments):
(1="get me off these things"->10="I have to own a pair")
9-10 for groomed surface carving


Summary:
Last year we tested the 163cm version of this ski (see link here) which had a slightly wider tip and tail (same 68mm waist) and loved it's 12.5m radius turns. This 171cm version has a slightly different geometry resulting in a 14.9m radius, and has a very similar, but slightly different personality. Both skis fall into the "precision instrument" class of carvers rather than the "race-like, muscle carvers". As Peter Keelty's very informative and well-respected RealSkiers.com test summary (well worth the small subsciption fee!) said:
Quote:
"This may be the best high edge angle carving ski to debut in recent years.Palmer's unique design, especially the relationship between complex-curve sidecut and pressure distribution zones, has produced a ski that feels different from any other we have tested and one which seems like it could etch perfect carves into a pane of hardened glass. And—the amazing part—at the same time, the PO2 can be skied at low speeds with progressively soft edges. All this adds up to a superb on-piste ski capable of almost anything at any speed. One caveat; this ski simply does not respond well to weighted-ski steering technique and demands precision, accuracy and confidence."


We totally agree, and the test of the 171cm model confirms this behavior again, but with a racier-feel in 171cm length. The 163cm model would be ideal for demonstrating carving techniques or for lighterweight skiers since it's 12.5m radius can perform its magic at slightly slower speeds than the 171. The 171 nearly approaches a race-like feel, and ups the speed by maybe 20-30% over the short model, while producing an irresistibly addicting turn pattern. I say this because the more you get the Palmer P02 hooked up on a nicely packed surface, the more turns you want to do, and the higher edge angles you want to execute. Perfectly dampened and controlled at any speed under Super-G velocity. Definitely a ski for carving afficianados looking to improve their game with a high-performance tool. Palmer says the 7-radii sidecut and "Feels Like Flying" (FLF) precambered tip and tail design allows the user to engage the ski into high-performance turns with little physical effort. Whatever the design is called, it flat-out works really well. While in the similar category as the Edelwiser Swing (162cm) or Speed (172cm) models we tested catering to precision carving with low-effort, the Palmer geometry sets you into an elegant arc with a bit of weighting just on the toepiece, while the Edelwiser Swing or Speed "pull" you into a turn if you engage the forebody of the ski. Old-school or race-trained carving freaks will instantly feel at home on the Palmer P02, while new-school or "Euro-carving" enthusiasts familiar with the Edelwisers will take about two turns to feel what the Palmers want to do underfoot, but realistically, anyone can jump on the Palmers and instantly feel the sweet spot and the movements encouraged by the ski and begin laying down very nice tracks. Addicting and smooth. Easy to rip on. I want to add these to my quiver.
Ski Designer

:
Palmer and

Hansjürg Kessler (multi-time snowboard worldcup winner and design guru).
Technical Ski Data

:
Prepeg beech/poplar wood core sandwich construction with ZICRAL® (aluminum-zinc-magnesium alloy made by Cegedur-Pechiney) layers. Kessler "Feels Like Flying" (FLF) "pre-cambered tip and tail shortens the contact points" (according to Palmer).

Pre-Skiing Impression:
Very lightweight, very thin vertical profile, seriously "metallic" flex and dampening. Gives the impression of a specialty ski for turning at speed. Excellent fit and finish with great factory tune right out of the wrapper. Simple, clean, understated graphics.
Test Conditions:
First test day: Spring conditions...firm and nearly frozen granular in the very early AM, then turned to dense packed "damp sand" and sinkable corn later on with scraped sections showing some softened ice underneath.
More test days to come later...
Test Results:
The first few turns instantly reminded me of why I liked the 163cm P02 last year, but with a definite "c'mon...faster" feel to its 171cm length. Resisting the urge to let it rip and lay it over, I confirmed that, yes, the P02 still manuvers with amazing ease and silky linked turns at slow speeds. Just apply the ski gradually fore-to-aft gently, feel it hook into its groove and follow up with another turn when you're done. Simple, easy, smooth. Build up a little speed...same result...build up some more speed...same result. Back down to creeper speed...yep, just "wiggle your ears" (as my father used to say) and the ski makes an elegant turn to the left, then to the right. Do this with precision, however. Get lazy at slow speed and it will want to keep its arc and resist a direction change unless you roll the ski over on-time. Not "hooky" by any means, but it likes being "in" its turn and will hold it securely (the squarish-tail shape may help this) until you roll it out to the next one. This ski rewards someone with good technical skills. Not a washy-slider ski, the P02 wants to be ridden and placed precisely on the snow. This is not a ski to fall asleep on. Sure, it's easy to turn, but it is a thoroughbred and will not reward a rider who lets go of the wheel. The slow speed handling makes it very easy to go slow and pick your way through traffic, cruise easily back and forth or avoid obstacles (...keep its metal-ladened body out of the bumps...it is not happy there and you should have them taken away from you if you jam them into a bump field...)...Ok...now to get out of "slow mo" test mode and into a more athletic pace. As soon as you pick up some moderate speed and lay the skis over with a solid movement, they set themselves into the surface and begin a tenacious hold and generate a very elegant arc in a quiet, dampened and really addicting feeling. While the arc in the snow could be generated by a racing ski without any trouble, the feeling of etching tracks with the Palmer P02 is completely different. It's more "refined" or something like it. If you could take the hyper-acceleration out of a racing ski, but retain the ability to sustain intense centrifigal forces in high-angle carving movements at all kinds of speeds, you would have the Palmer P02. Smooth and quiet on the snow. While it can go from an intensely carved left turn immediately into an equally intensive right turn in the blink of an eye, it does not explode at the end of the turn and project you forward like a race ski (often requiring you to "catch up" to the ski if you get in the back seat). It merely waits for your body to catch up laterally. If you muscle this ski too hard, you'll push it out of its sweet spot and it will feel ragged. It rewards strong technical movements, not muscular movements. Really fun and very, very addicting. I think heavier skiers and ex or current racers will like the 171, while lighter or more recreationally oriented skiers will thrive on the 163cm.
Analogies:

(this ski is like...)
Finely honed ninja carving tool - finely crafted, not to be abused.
After Skiing These, I Want To...
Get a pair and hire an American carving pro and European carving pro to refine my variety of carving techniques.


Self-Description of Skiing Style, Ability, Experience, Preferences

:
5' 11", 190 lbs. Expert groomed-surface carver, "old-style" race inspired, "foot steerer" with fairly sensitive edging feel. Loves to hold long arcs with lots of pressure on the downhill ski (you know the type), but also loves the feel of both skis on-edge leaving tiny railroad track edge tracks. Not an instructor, but 10 year coach for youth race team in New England (bulletproof is the norm).