Palmer "P03" Park & Pipe Twintip
117-85-117 171cm
2008-2009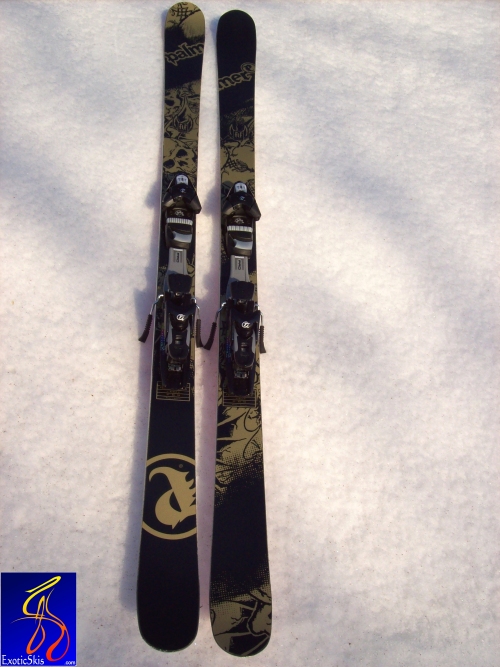 [
click here for LARGER version
]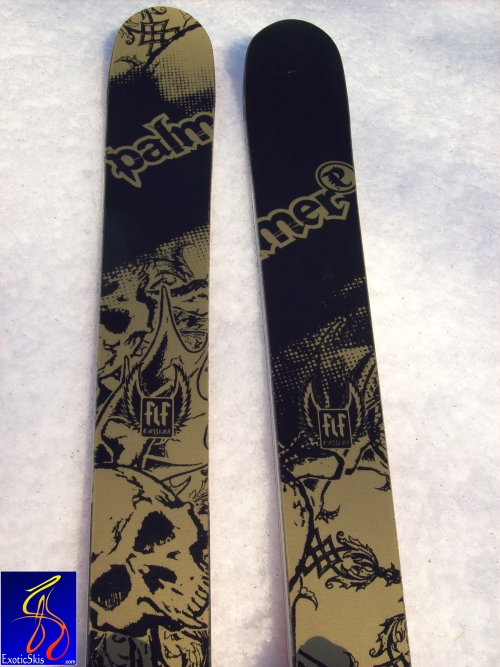 [
click here for LARGER version
]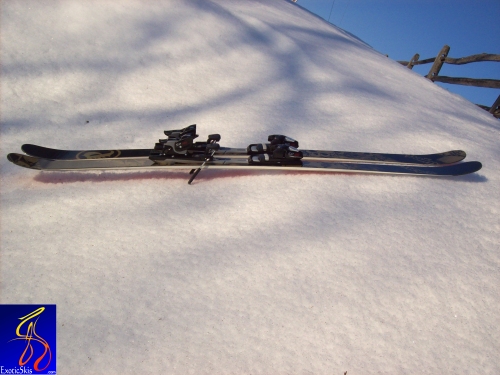 [
click here for LARGER version
]
Manufacturer Info:
Palmer Snowboards Ltd.
1037B Broadway
Denver, CO. 80202
(303) 623-0334
http://www.palmerusa.com
http://www.palmerproject.com
Manufactured in Austria
Suggested Retail Price (MSRP):
$ ?
€ ?

Usage Class:
Park and Pipe / Jib
Your Rating (with comments):

(1="get me off these things"->10="I have to own a pair")
8 for frontside mountain terrain and park


Summary:
Fun and agile twintip with surprising grip underfoot for a soft-flexing park and pipe model. Super easy to ski with a comfy pivot point when mounted at the factory mark. Great choice for all-mountain frontside use as long as you don't want an uber-floater or racing ski. Intermediates could ski this ski easily and probably up their game at the same time. Doesn't have hard-core pop and explosive rebound, but precise and controlled and remarkably quick edge-to-edge or smeared. Definitely soft, but not mushy. Responsive and fun in the bumps. Handsome (rather than circus-like) graphics. Easy to be lazy on, but responds immediately when pumped hard. Pretty stable at speed for a soft twin tip. Nice mix of capabilities.
Ski Designer

:
Palmer and

Hansjürg Kessler (multi-time snowboard worldcup winner and design guru).
Technical Ski Data

:
NCF Prepeg beech/poplar wood core sandwich construction. (more details to come)
This ski has nearly identical dimensions to the Lib-Tech NAS park and pipe ski (P03 is two millimeters wider in the tail).
Pre-Skiing Impression:
Very lightweight, very thin vertical profile, very soft and buttery feeling. Excellent fit and finish with great factory tune right out of the wrapper. Fairly damp feel...no severe snap to its rebound.
Test Conditions:
First test day: Fresh 1-2 inch snow on top of very dense, very packed damp corn snow (barely leaves a footprint when stepped-on) with some hardpack in spots.
More test days to come later...
Test Results:
I jumped on this ski immediately after riding is fatter brother, the P01 Freestyle 179cm and found it was remarkably quick underfoot and had a very impressive grip on harder surfaces, as long as it wasn't bulletproof. Given just centimeter of snow surface to hold onto, the P03 whipped turns left and right with ease. You could smear the ski or lay it on edge to mimick slalom turns; bang-bang-bang. Really easy to pivot as mounted, with pretty much equal balance and response fore and aft (this ski is symmetrical with identical tip and tail widths) making swing weight (which is low) nearly irrelevant to the rider. This ski falls into the "soft twintip" category (not like the stiffer Lib-Tech NAS park and pipe we also tested this year), which makes it easy on the user, but lacks the "kicking rebound" some people crave. This P&P ski is more precise and carve-capable, and is probably easier to ski all day than many other twintips. I could see smooth, technical riders liking this ski, while the brawnier, more muscle-oriented tricksters might want a beefier tool for their style. The famous Palmer sidecut design seems to allow this ski to make great turns at various speeds, extending its range of capabilities outside the park and pipe to all kinds of terrain on the mountain. Really fun, and I think they look cool with their gold-on-black graphics.
Analogies:

(this ski is like...)
Playful tawny cat capable of more moves than you might think, but always lands on its feet with grace, ready to do the next thing, indoors or out.
After Skiing These, I Want To...
Watch some park and pipe pros really put this ski through some gymnastics, then put some teenage freeriders on it and watch them dodge ski patrol all over the mountain as they "improvise" park and pipe equipment out of snowmaking pipes, fences and fallen trees.


Self-Description of Skiing Style, Ability, Experience, Preferences

:
5' 11", 190 lbs. Expert groomed-surface carver, "old-style" race inspired, "foot steerer" with fairly sensitive edging feel. Loves to hold long arcs with lots of pressure on the downhill ski (you know the type), but also loves the feel of both skis on-edge leaving tiny railroad track edge tracks. Not an instructor, but 10 year coach for youth race team in New England (bulletproof is the norm).