Finally made the mecca to Tuck's on Sunday 3/30. I took an AVY Level 1 course with a bunch of patrollers, mostly from NJ. They did a great job with the course BTW!
Unfortunately (or maybe not for my weary legs
) the headwall was virtually unskiable due to avalanche danger on the high end of Considerable. Nobody attempted to scale the headwall except for several people who did climb the right gully area.
On Saturday a few of us skinned up to the Gulf of Slides area. It was my first ever attempt at skinning so it took me quite a while to get used to it but by the following day I was loving it. Saturday the wind was howling 80+ mph as we got near the first big slide path. Visibility was bad and it was risky up there so we turned back. There had been ~6" of pow the night before so the ride back down the narrow GOS trail was sweet even though I can't tele for sh1t!
My legs were pretty sore on Sunday but I had to get out and head up to Tuck's since it was a beautiful day with 100% full sun all day and Zero wind!!
: After I loosened up, skinning up the trail up to HoJo's was sweet but loong. From there up to the base of the ravine we had to walk and dig a few snow pits along the way for part of our AVY training.
The Ravine was spectacular. But under all that fresh snow there was some nasty rain crust. You could really see it on the North facing aspects. Scary! Hillman's Highway had just slid recently and you could see a river of ice at the lower end of it. Our instructors decided to hold their simulated rescue scenario down there on the debris field. It was a long day but one of the most memorable experiences I've had in a long time.
The Sherburne Trail was in great shape with not a single rock to be found skiing down. Again though, a brutal ride for a newbie tele skier with a big pack on his back but I got down without an explosion. Should be in good shape up there in Tuck's after some of that ice layer melts off though.
Boy, did I take a long nap after I got home from work today though! Here are a few photos:
Steve heading up for Gulf of Slides trail with a pretty big load. Snowshoes for him - no skins.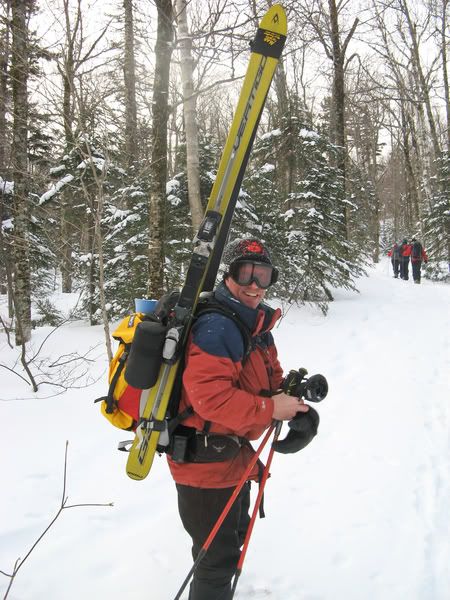 Saturday on Lower GOS trail
About 1,800' further up the GOS trail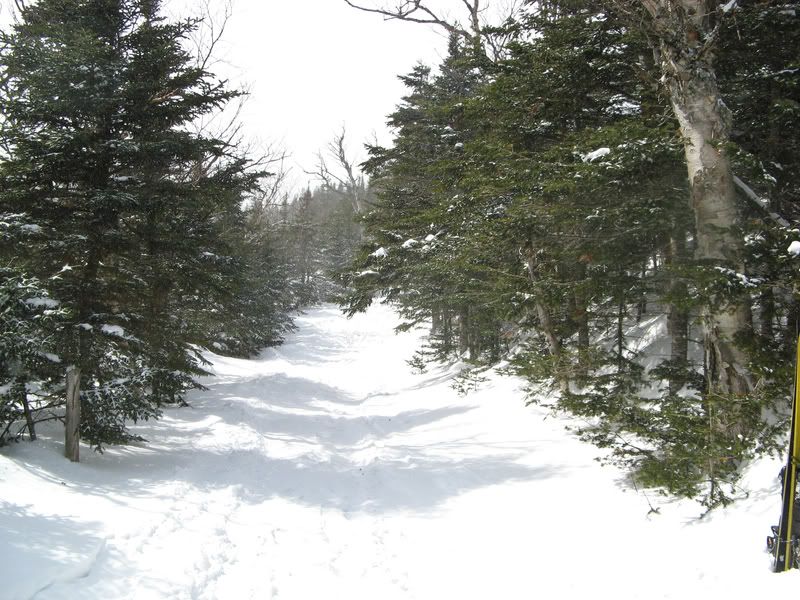 Steve and Chuck checking the snow off GOS trail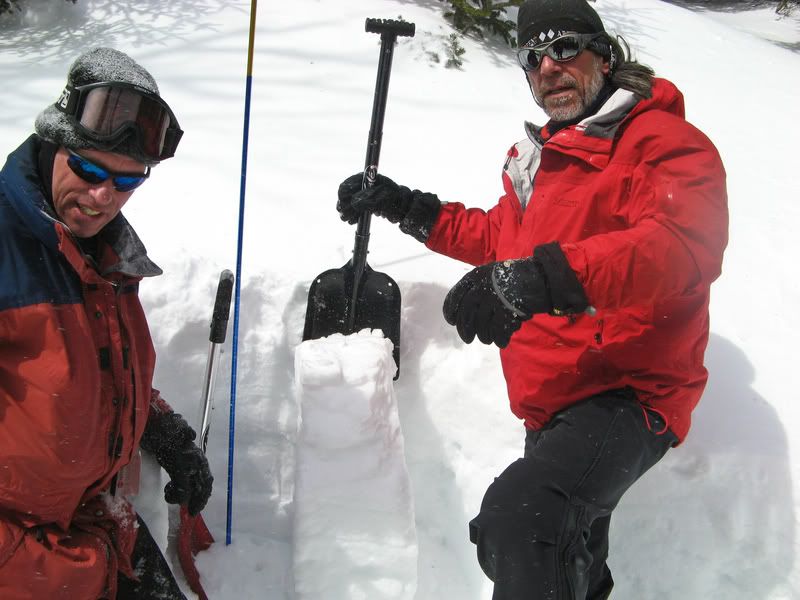 Our AVY class ready to head up to Tuck's


Tuckerman Ravine trail (a brief flat spot)

HoJo's on a fine day (a really welcome sight)

The day's report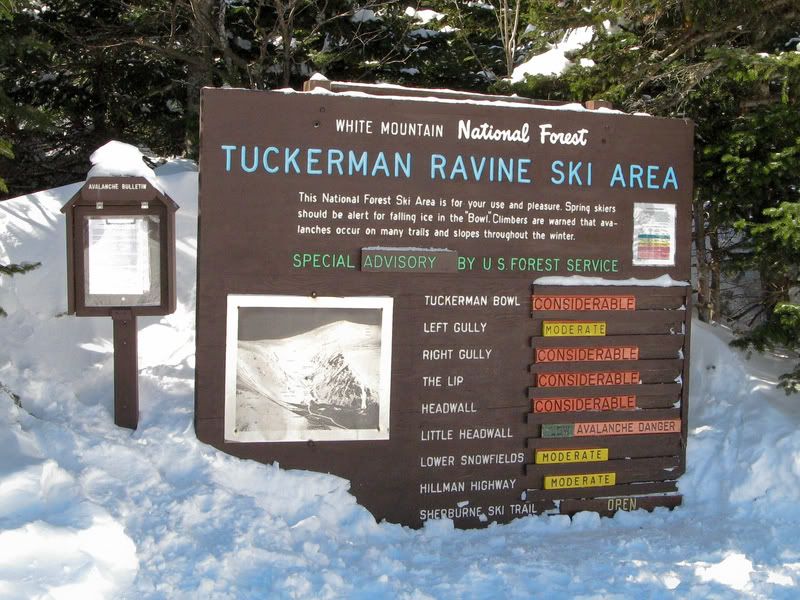 Ravine view from HoJo's. Still a long steep hike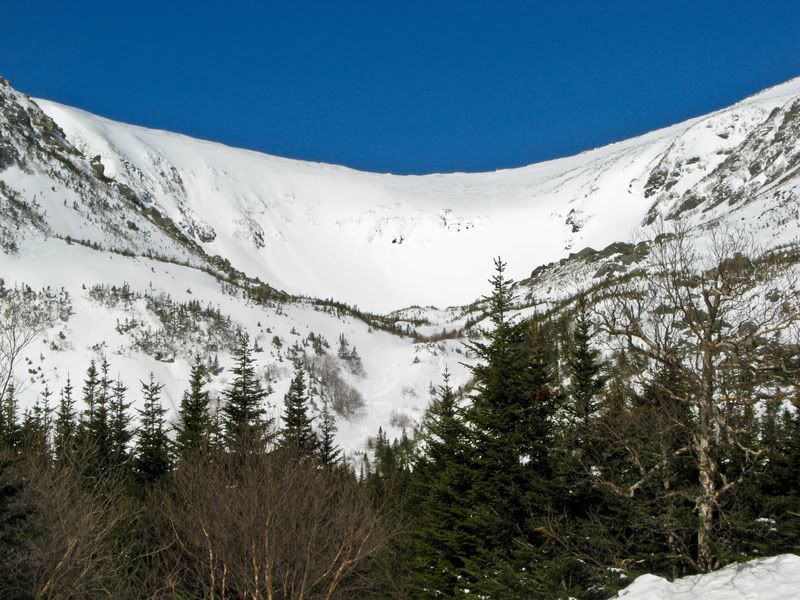 About 1/2 way up from HoJo's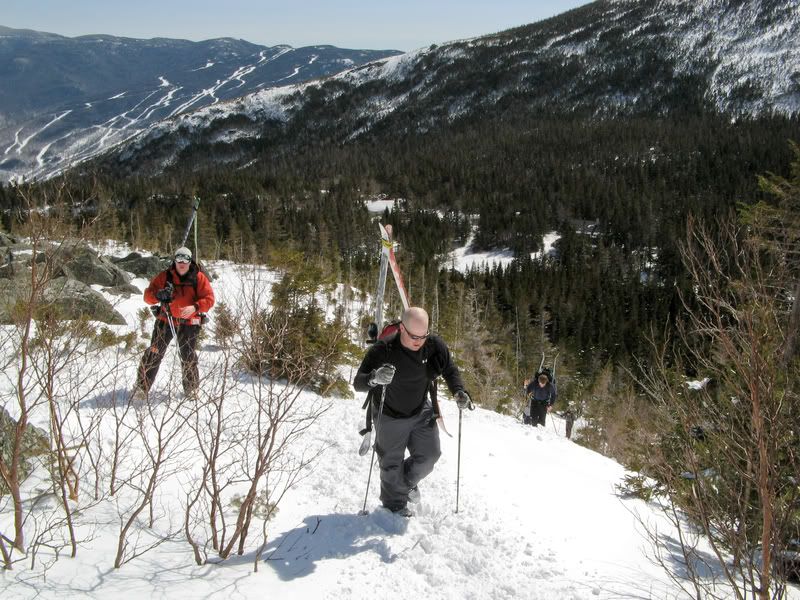 My newly skinned K2's with a backdrop of really really shiny snow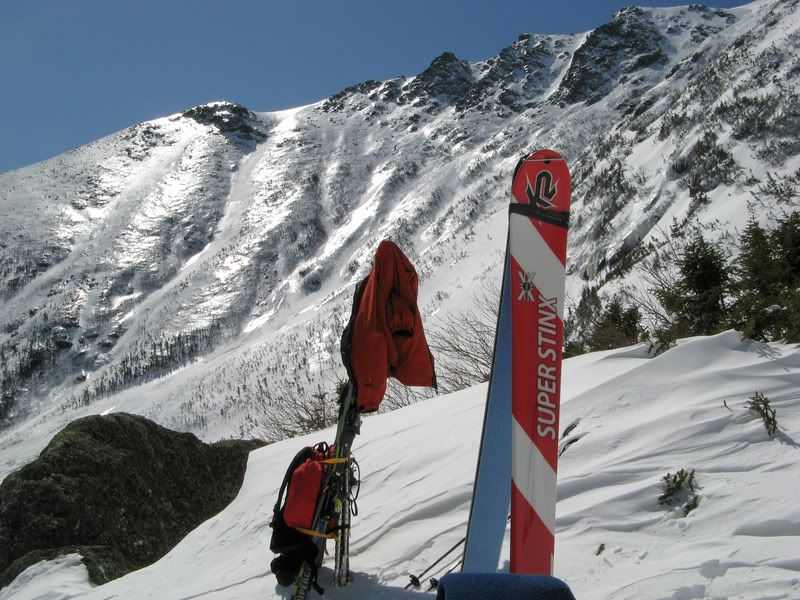 Some
pit analysis along the way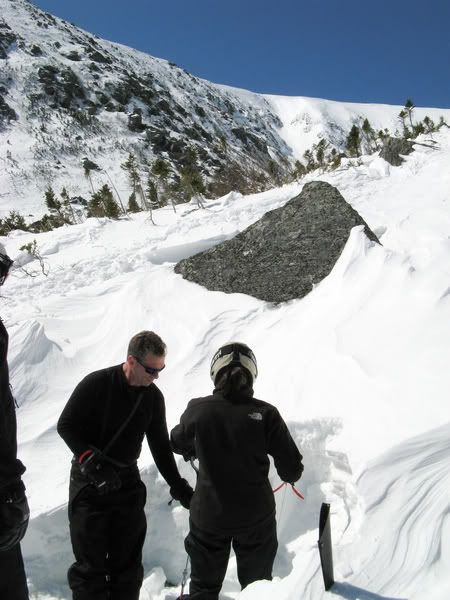 Gettin' closer

Near the ravine base with Wildcat in background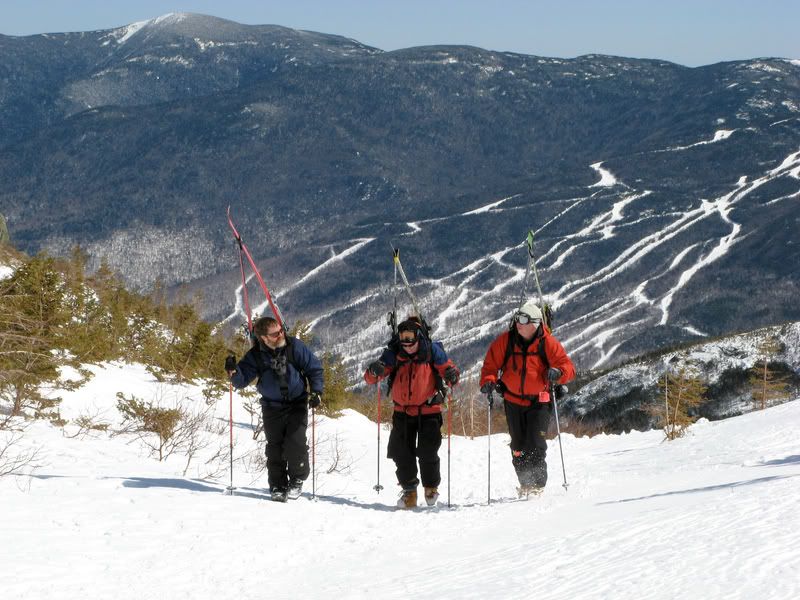 One of the always friendly Rangers advising on conditions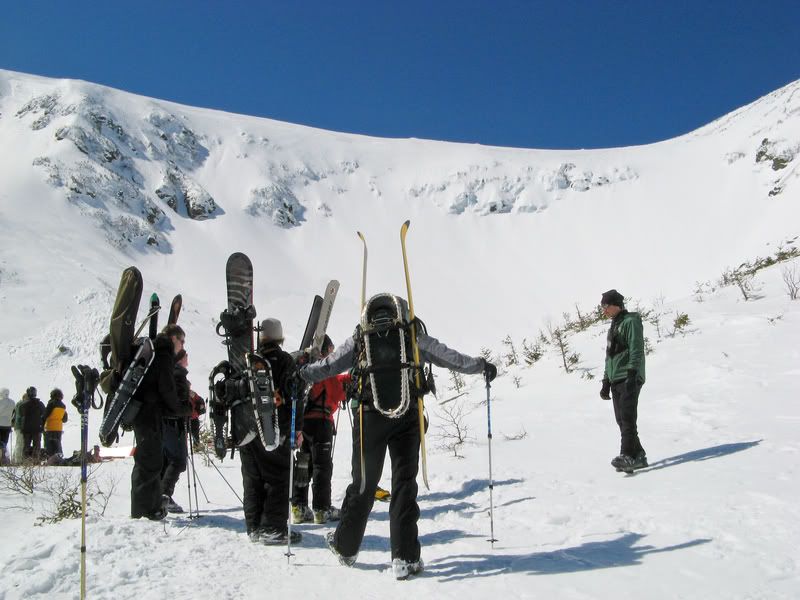 Yeah - hooray for me
:. Now I need to learn to ski those tele-things.

A very smallish little man way out there somewhere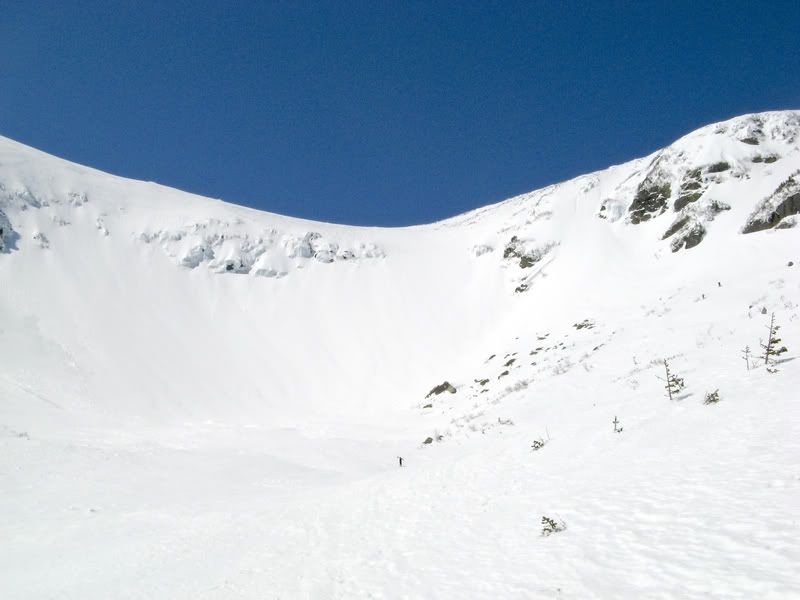 A bit of a slide below or near the left gully
Several skiers did hike up the Right Gully area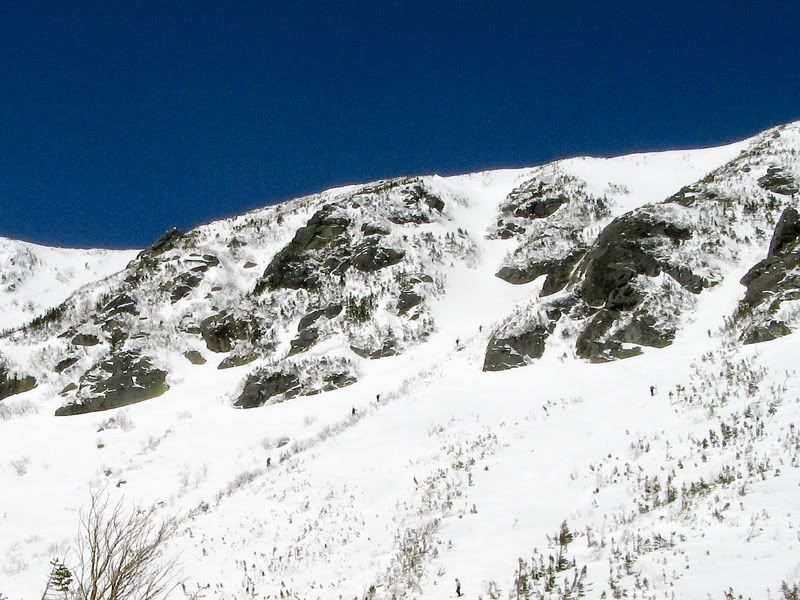 Just left of center Headwall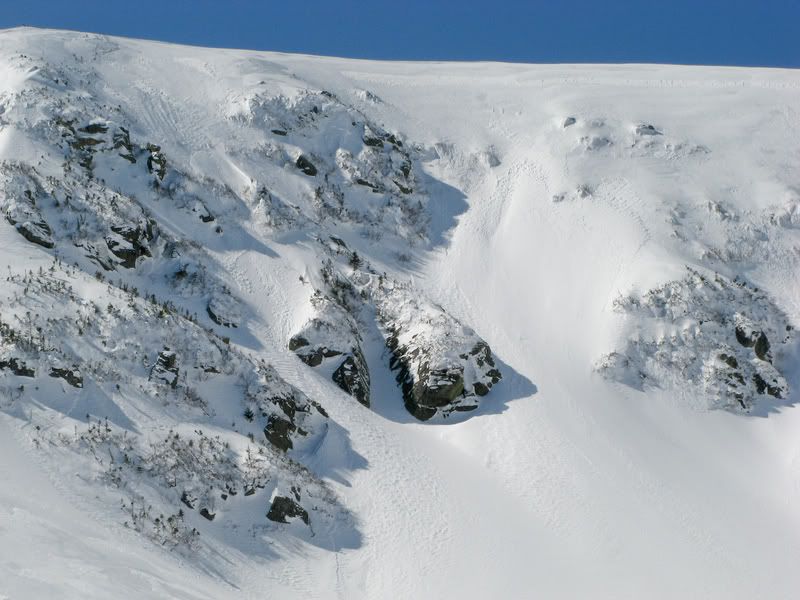 Slogging through some chunks heading back down toward HoJo's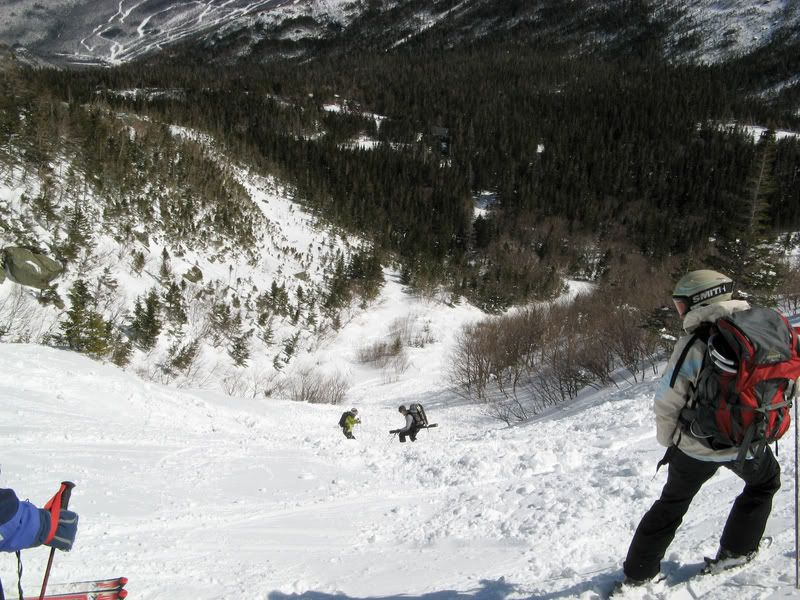 A river of ice below Hillman's Highway with avy debris

More of the ice with tree flagging in slide path

Doing our homework in the debris field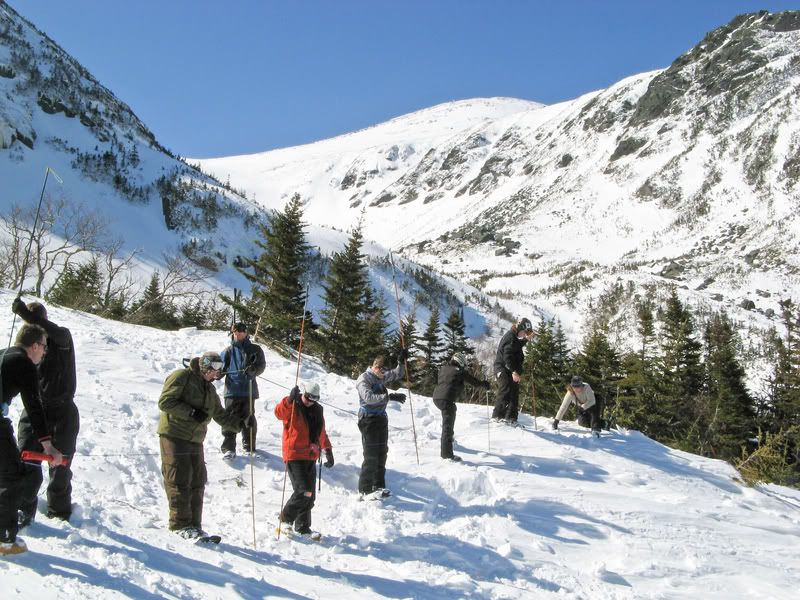 A darn good trip - even without getting to slay the Headwall!