Preface
I planned this trip back in October for my wife and I to get back into skiing. Until this season, I had only skied twice in college (a total of 4 days) which was 14 years ago. My wife has only skied 2 days, my second trip in college, the same 14 years ago. Our plan was to take this trip just the two of us, and then start our 3 year old next season when she is 4 years old. We both loved skiing when we did it in college, but we just didn't prioritize getting back to the slopes. Our plan going forward is to take two week long trips each year - New Year's and Spring Break. My wife and I both work in schools, so those are the only times we can go.
About a month after planning the trip, we found out my wife is pregnant. We had been trying for our second child for over 2 years, so this was a blessing and huge surprise. Before finding out she was pregnant, I had joked with a buddy about him going in place of my wife if she got pregnant. Well, the joke became reality and the trip became a guys trip.
Before taking this trip, I skied 3 days at Windham Mountain in New York. I had a conference in New York City, so I went up early to get back in to the swing of things. I spent about 7 hours over the 3 days with Epic Instructor Ron White. His teaching was excellent, and I improved each day and got more and more comfortable. We even got a powder day as 10" of new snow fell overnight before my 3rd day out. Didn't expect to get a powder lesson on the East Coast. (If anyone is looking for an instructor in the NY area, I highly recommend Ron.)
Getting There and Bonus Ski Time

The first day,
3/14/2008
, starts with a dang early get-up at 3:30 a.m. in order to catch a 6:00 a.m. flight out of Jackson, MS. We change planes in Atlanta flying into the Eagle-Vail Airport with a scheduled arrival of 11:40 a.m. We chose to go into Eagle because the earliest flight we could get into Aspen arrived at 10:30 p.m. I've never seen so many children on a flight before, most of them going to Beaver Creek. Because of the early Easter, a disproportionately large number of schools had the same Spring Break this year.
We had heard that I-70 and the Roaring Fork Valley were in the process of getting dumped on. Before leaving Atlanta, I asked a flight attendant if she had heard any current weather reports for Eagle-Vail. She called the captain, and he confirmed that there was a possibility of having to divert to Denver.
Needless to say, I'm worried about this the whole flight, but we are able to get in on time into Eagle-Vail
. We catch a CME shuttle that gets us in to Snowmass by 1:30 p.m. The shuttle driver said she was on the road earlier that morning and the conditions were horrible. We felt extremely fortunate to make it in to Snowmass on time!
We had not planned to ski this first day, but we couldn't wait. Snowmass has an after 2:30 p.m. lift ticket for $39. That 2:30 time gave us just enough time to put our bags down, allow my buddy to pick up his rental equipment (I invested in my own - Atomic Hawx boots, Atomic Nomad Whiteout 171 skis), change into our gear, and ski down to the lift.
We were on the tail end of 24" of new snow. From the perspective of an intermediate skier unfamiliar with the mountain, that made for difficult, albiet fun, skiing. The snow was still coming down pretty good, so visibility was poor. So much snow had fallen throughout the day, that every trail had mini moguls of skied off snow. The snow was quite wet - the locals referred to it as Sierra Cement compared to the drier mid-winter powder.
We skied until almost 5:00 as they ran the Village Express well past the normal 4:30 closing time. We were pretty whipped considering the 3:30 a.m. wake-up, the 7 hours of travel time, the rush to altitude, and the 2 1/2 hours of hard skiing.
Notable Ski Experiences

On our first full day of skiing,
3/15/2008
, we started with an Early Bird Private Lesson which started at 8:30 a.m. and ran until 10:00 a.m. Craig Aaker was our instructor, and the lesson was a good one.
The groomed snow was awesome early as it was very soft from the 24" of new snow the day before. As this was only my 9th day on snow in my life, I wasn't ready for the full runs through the powder. I did enjoy immensely going off the groomed trails in spots and hitting the 2 - 3 feet of fresh in short bits.
I had my best wipeout of the trip when I went in a little too fast one time, got spooked, and made too big of a movement to try to turn. I was in at least 3 feet of snow and I had the forward launch, face plant kind of fall. My buddy was behind me and got to witness the whole thing.
: He couldn't stop laughing.
Here's a shot from the top of Big Burn. Sneaky's is to skier's left. What a gorgeous, blue bird day:
On
3/16/2008
, our second full day of skiing, we had a lot of fun doing laps at Elk Camp. We found that the snow was consistently better at Elk Camp than anywhere else on the mountain throughout our time at Snowmass. Some locals confirmed our observations.
Top of Elk Camp:
The views from Elk Camp were gorgeous. Here is shot of Maroon Bells, obscured by a cloud. (Most of the time it was totally clear, but of course, not when I had the camera up there.):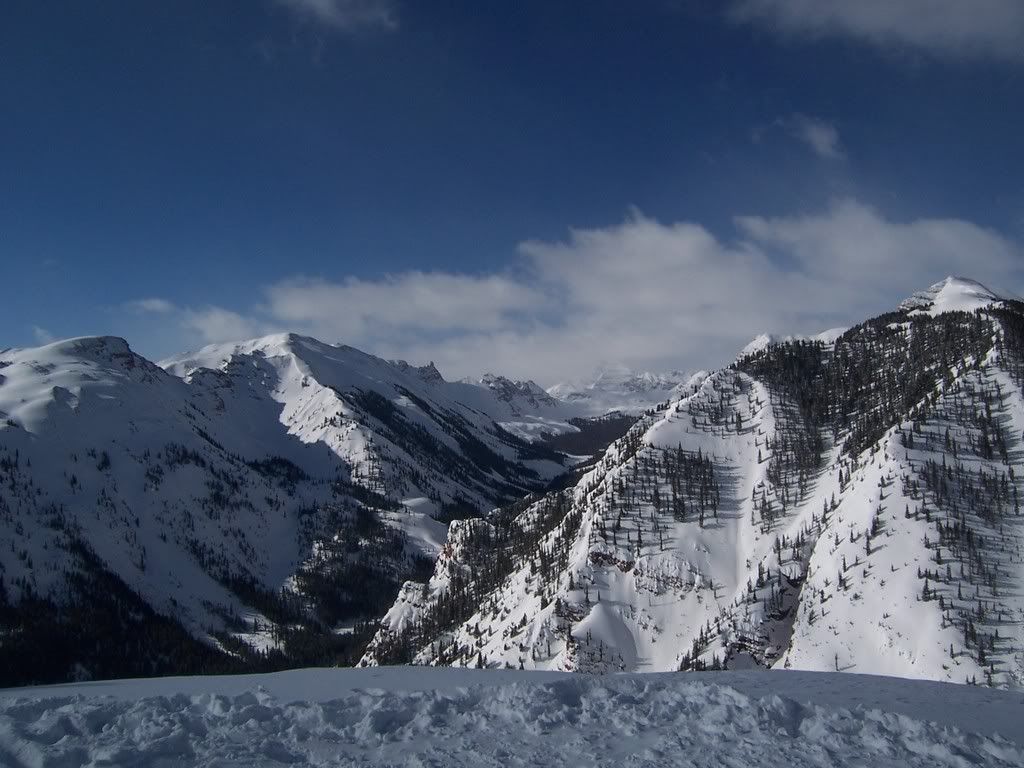 On
3/17/2008
, we had our second Early Bird Private with Craig. We had another good lesson, but the bummer of the timing was that 6" of fresh fell overnight. So we lost an opportunity to make first tracks, but we discovered Naked Lady in the Alpine Springs area as soon as the lesson was over at 10:00 a.m. It held a lot of the fresh snow and still had untracked lines mid-morning. 6" was perfect for us at our ability level -- lots of fun and gave a little bit of the feeling of the float in powder without being too much.
On
3/18/2008
, the day started out great with me making first tracks on Sandy Park at Elk Camp. The trail had been groomed early in the night and then about 2" of unreported snow fell and filled in the corduroy. It was like butter. I was the first and only one on the trial that morning (my buddy even took a wrong turn and was not there). I really can't put into words the feeling this experience gave me. If you've been there (and I know most everyone reading this has and then some), then you know what I'm talking about.
Another highlight of our day was surviving Long Shot. It is a hike to, never groomed blue trail that features natural glades and some pretty significant moguls. Combined with East Branch in the Two Creeks area, it is about a 5 mile long trail. There are signs that tell you when you're 1/4 the way down, 1/2 way down, etc.
Here's a pic of the trail marker and hike from the Elk Camp lift: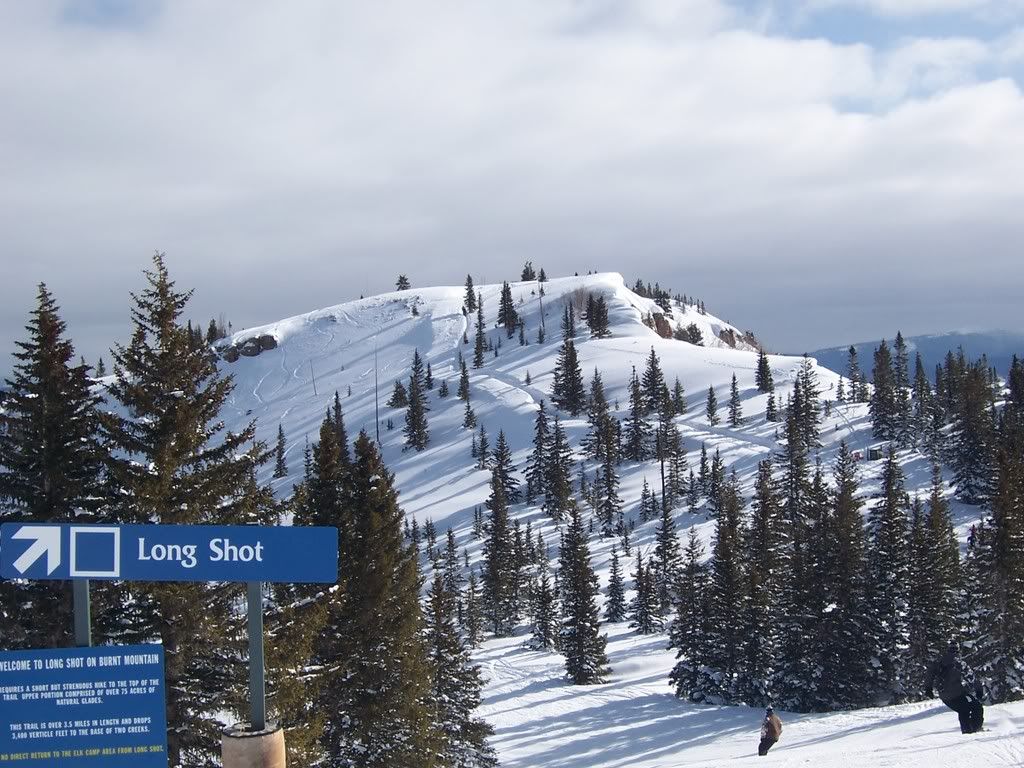 On our last day of skiing,
3/19/2008
, we skied our first black trail, The Edge. It was a groomed black, so it was really no trouble at all. By comparison, Long Shot was much more difficult to me. To get to The Edge, we had to ride an old double chair, High Alpine. It was quite a bit different from the HSQ's we had grown accustomed to.
We also took the time to ride the Cirque lift, a poma lift, to the highest elevation at Snowmass.
Here's my buddy on the Cirque lift:
Me at the top (well the marked top anyway):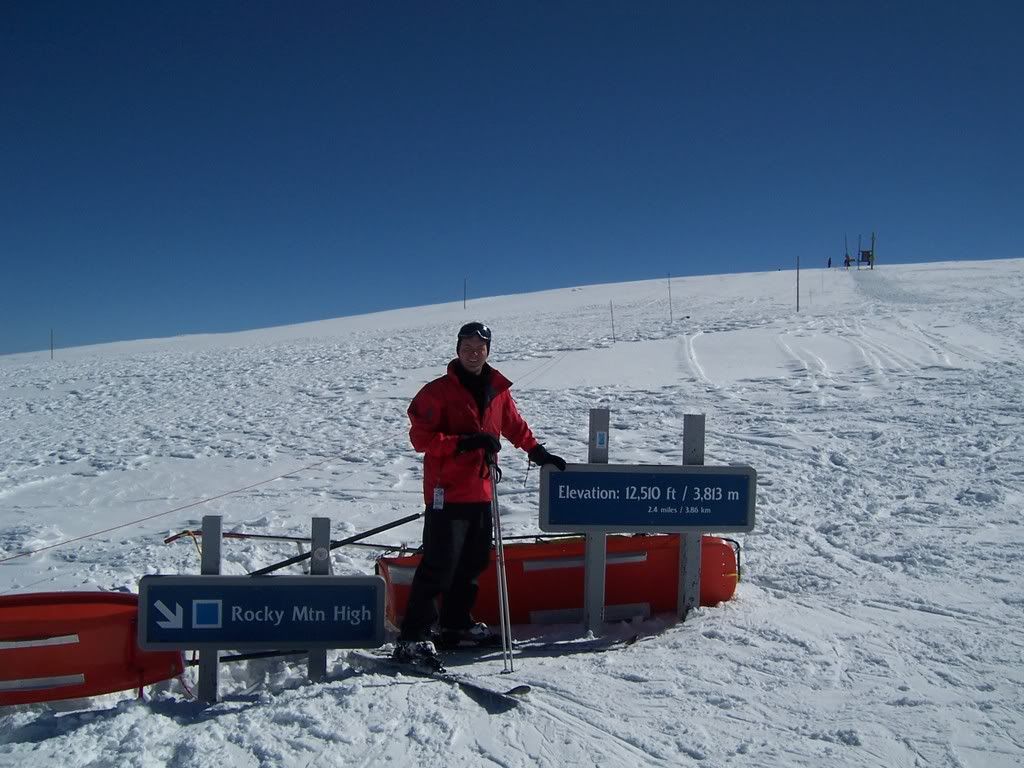 We then hike up and through the gate you can see in the upper right hand corner of the above picture. The views from up there were stunning. Rocky Mountain High is an easy blue trail above tree line down from the Cirque. It was a lot of fun to ski.
I wish I was good enough to have made these tracks: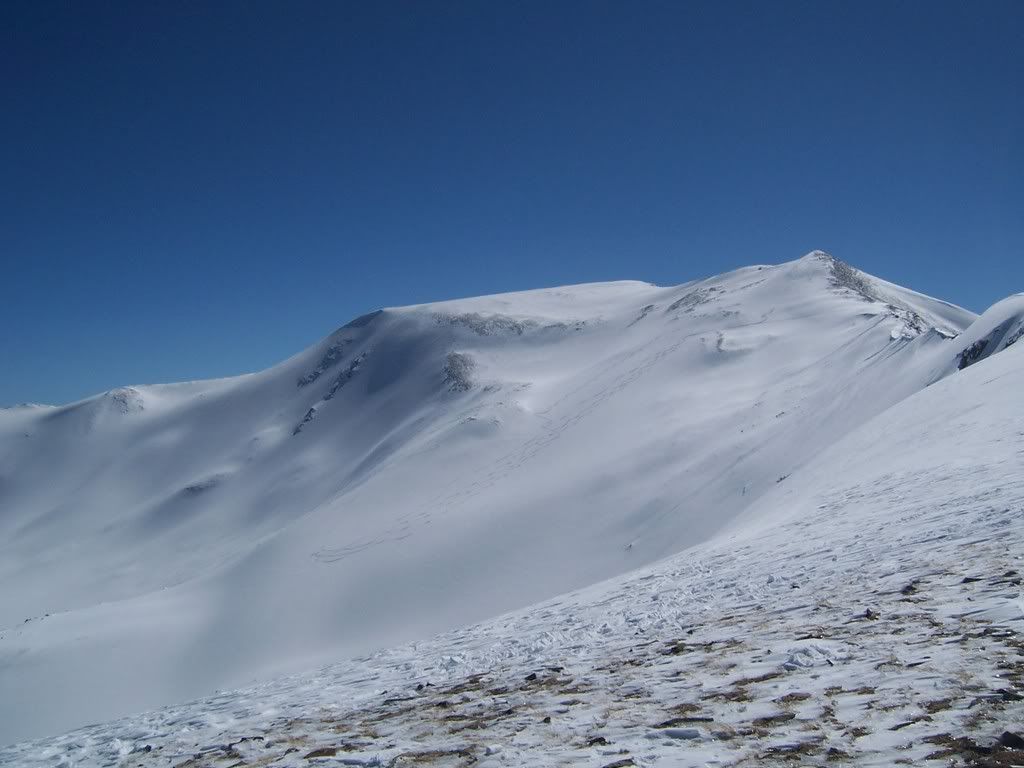 The reality of my ability level:
(shots taken on Bull Run at Elk Camp - remember, this is only day 13 ever for me on snow)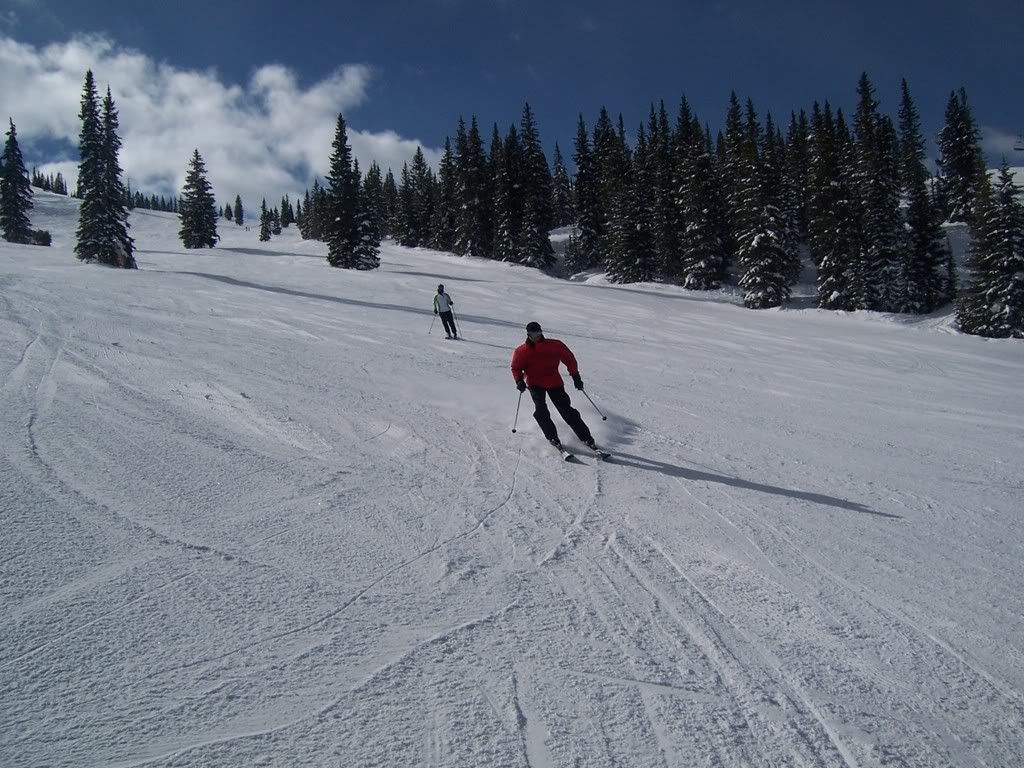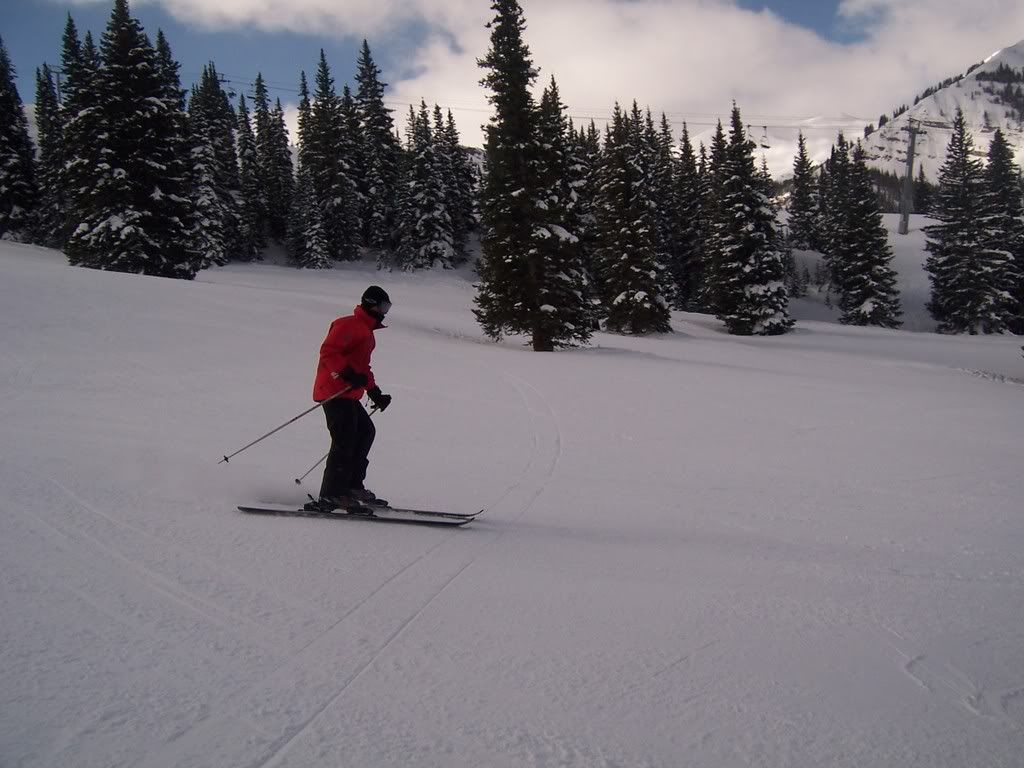 Lodging

We stayed at the Snowmass Mountain Chalet. Man was it awesome - ski-in/out, right next to the Village Mall with a hot breakfast and soup lunch included in the $289 nightly rate. I can't recommend this place highly enough. We heard while we were there that they plan to tear it down in the next year or so to build newer, more expensive condos. So, 2008-09 may be its last season.
Shot of the Mountain Chalet from the Village Express lift: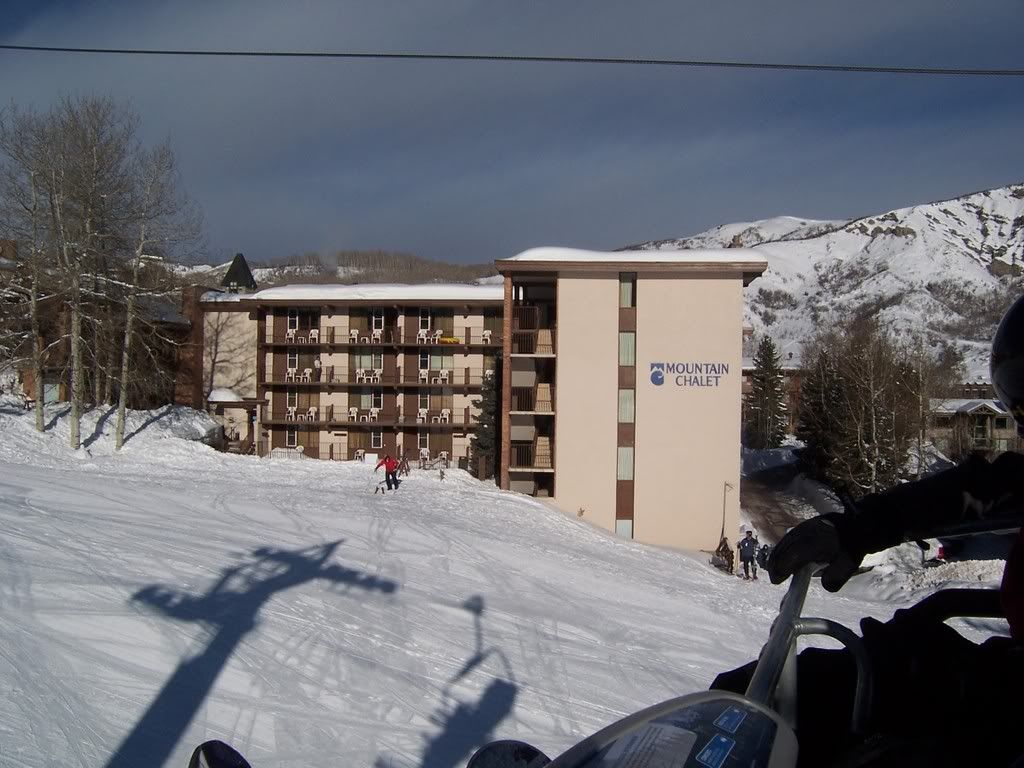 We accessed the slopes where these skiers are:
Shot of the Village Mall early in the morning - instructors gearing up to hit the slopes: (You can see the Mountain Chalet in the upper right corner of the picture.)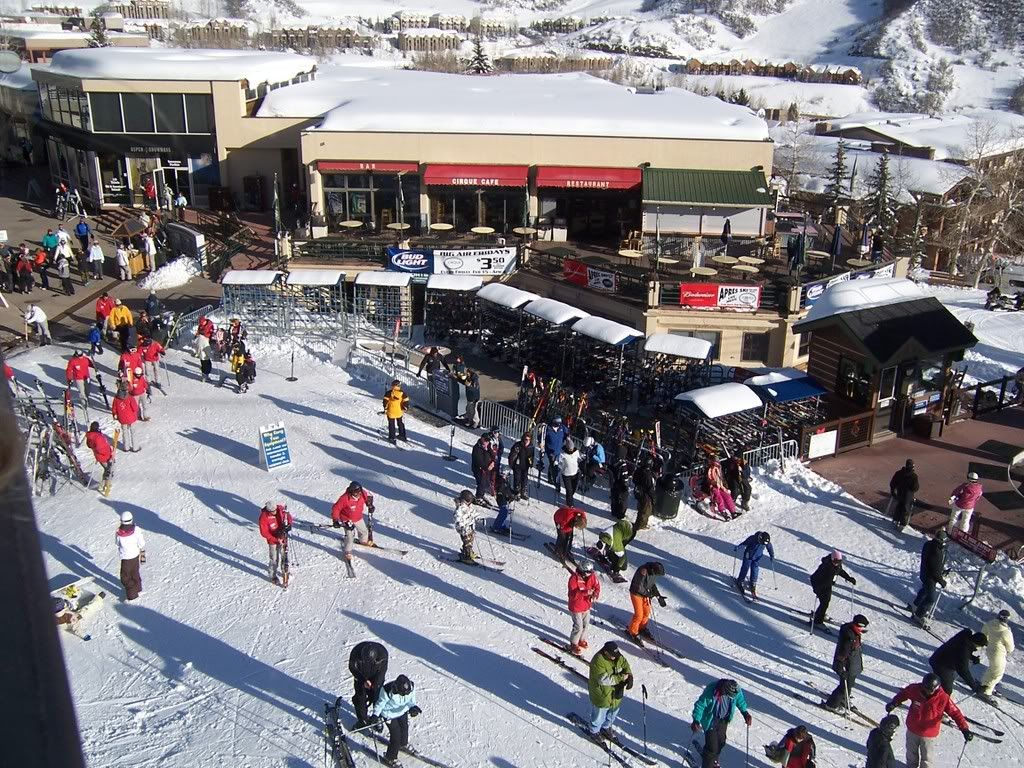 View from our room (we had a non-deluxe view room):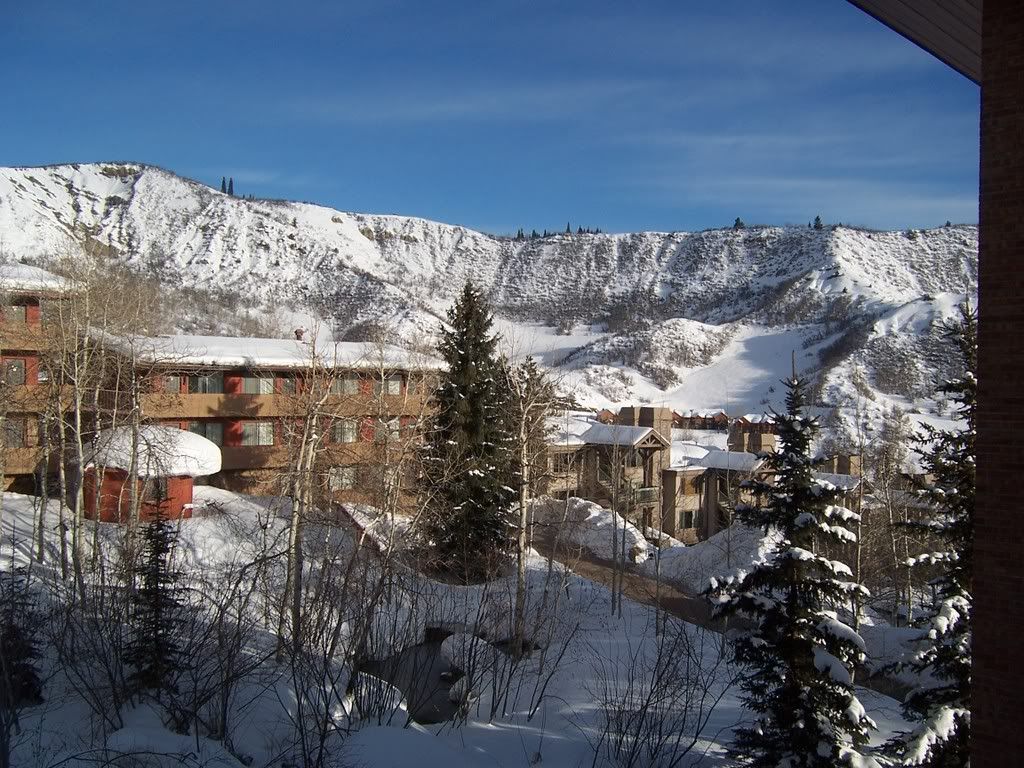 Dining

We ate breakfast everyday at the Chalet. Each day was a different combination, but they had pancakes, french toast, eggs, sausage, bacon, etc.
We ate lunch everyday at the Chalet except our first full day on the slopes, Saturday 3/15/08. Our thinking was we didn't want to come down to the base and face the longer lift lines. We quickly changed our thinking after the $21 per person Cafe Suzanne hamburger, fries, and a drink lunch. Thereafter, we came down to a free and great lunch which featured a choice of two soups, fresh rolls, cookies, and fruit. The lines were not that bad going back up after lunch at either the Village Express chair or Elk Camp Gondola.
For dinner, we stayed in Snowmass every night except one. We skied so hard each day, we didn't have the energy to go into Aspen. The one night we did go into Aspen, we ate at
Ruth's Chris Steakhouse
. My buddy is a big Ruth's Chris fan, so we went that route over a local Aspen establishment. I have to say, as usual, it was one of the best if not the best steak I've ever had. We did not rent a car, so we used the Rolling Fork Transit Authority shuttle. $3 per person each way at night. It was about a 30 minute ride with stops.
Our first night in Snowmass, we ate at
Spencer's
which is in the Village Center. It was a short and free shuttle bus ride away. We coordinated this with a stop after dinner at the grocery store which is located in the Village Center. We were really impressed with the food at Spencer's. In fact we liked it so much, we returned for a second dinner there later in the week.
We ate at 3 places in the Village Mall right by the Mountain Chalet. The first place was at the
Big Hoss Grill
. It was just okay. We ate at
Il Poggio
, a fine dining Italian restaurant. The food was very good here. The last place was the
Village Steakhouse
(actually just above the Mall in the Wildwood Lodge). It had a good soup and salad bar. The steak was decent, nothing great. We did get there before 6:00 p.m., so we got a 20% discount which was nice.
Final Thoughts

We had a great time at Snowmass. Most of the people we talked to there have been to lots of other places, but consider Snowmass the best and only place to go now. I'm not ready to draw that conclusion yet as this was my first trip out West. We've already planned our family Spring Break 09 trip to Beaver Creek. That will be my wife's first time to ski in 15 years and my daughter's first time. I know Snowmass has a great reputation as family/kid friendly resort. But it has very few green trails. So the kids' groups I saw were either on pretty steep blue trails or on the very busy Fanny Hill or the new Elk Camp Meadows (which is a pretty small area). I couldn't envision many trails there that I could ski with my daughter when she is brand new. Once she has skied a couple of times, I don't think the lack of green trails would be that big of a deal.
I will say that after skiing 9 days this season, I'm hooked. I want to ski as much as possible going forward. I hope my family shares the same love of skiing that I do because I think skiing will make for a great family activity for us for many years to come.
Take care,
Cliff