Edelwiser "Speed"
(127-80-117) 13m radius @ 172cm
2008-2009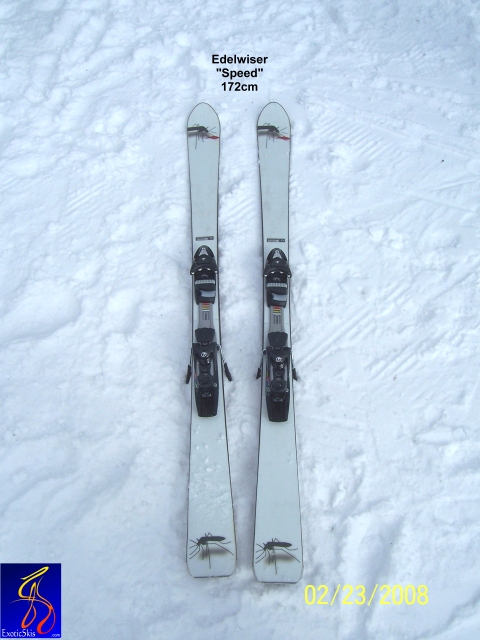 [click here for

larger

picture]
Manufacturer Info:
Edelwiser Sporthandel GmbH
Julius Tandler Platz 6/4
1090 Vienna/Austria
http://www.Edelwiser.com
Edelwiser USA
P.O. Box 4261
Aspen, CO. 81611
Contact: Max Werdenigg
(970) 987-8555
http://www.Edelwiser.com
$800 usd (Greenhorn)
$750 usd (Newbie)
$700 usd (Member)

Custom grahics services @ $110 /hour
OR
Upload your own graphics !
(Illustrator or EPS template downloads you can modify)
See custom graphics examples
(corporate branding)
Usage Class:
Groomer and all-mountain carving
Your Rating (with comments):


(1="get me off these things"->10="I have to own a pair")
9+ (anything other than deep powder)

Summary:
Superb all-terrain, low-effort carver (with emphasis on packed conditions) with the ability to lay down serious race-like arcs at slow or high speeds at high or low edge angles when asked. "Athletic" stretched version of the "Swing" model to reach the heart of advanced and expert skiers who like the speed and performance of a GS ski, but want more all-terrain handling and ability to float respectably in the soft snow when available. Perhaps one of the only "all-mountain" carvers that actually performs at high levels in both hardpack on-piste and softer snow conditions. Most skis in this category either work OK in the soft snow, and get slippery on the hardpack, or grip the hardpack acceptably, but sink like a stone and refuse to surface in the powdery conditions. This design is the reason why the SnowRider / VR "classic" ski geometries of Reinhard Fischer (no relation to Fischer skis) are hugely popular on the wide open carving slopes of Austria and Germany. This is an example of the "technique and touch" carving ski...not a "racer-power" carving ski. Needs more speed to get into its groove than the "Swing" model, and behaves more like a race ski, but muscling it like a race ski produces an over-turned, over-edged smear. Applying it to the snow precisely with a sensitive feel produces wonderfully etched arcs in the snow of nearly any radius you could want, and at very high speeds with remarkable stability for a 172cm ski. It lacks the vice-grip on ice of a race ski, but then again, it is not a race ski, it is a carving ski. Very interesting.
Technical Ski Data

:
Wood core, fiberglass, Titanal sandwich.
Pre-Skiing Impression:
Slightly elongated shovel design toward the waist, soft flex with a supple, yet respectable forebody pressure and excellent dampening with a stronger tail than you might think. Interesting flare from the waist back to the tail. Somewhat hard to categorize compared to most other brands' geometries. Interesting. Custom graphic on our pair was a mosquito on a white background. You can get any design you can think of on your own Edelwisers...very cool.
Test Conditions:
Cold, dry packed powder conditions, perfect combination of packed groomers and some cut-up fresh stuff (ranging from a few inches to some boot-deep stuff) on the side of some trails. We tested on several days and several ski resorts in Vermont.
Test Results:
The Edelwiser "Speed" is aptly named. This is not simply a longer version of the Swing model, even though you might think the same basic construction in a longer version would behave the same...just produce longer turns. This ski can lay down some really deep carving turns with astonishingly little effort, but remain completely stable and composed at speed. If I tried to muscle the ski with a race-like power and pressure to hold a desired line, it would sometimes over-turn or be pushed laterally out of its groove, drifting nicely until you let up your excessive pressure...then regain its hold and await your next move. Try the exact same line, but this time using a subtle roll onto edge and mere body weight and centrifigal force to set the ski, and it set itself into the snow, hugged the desired radius and took me on a great ride with more security than using an overbearing technique. Want to switch direction? Just roll it onto the other pair of edges, move your hips forward toward the shovels and feel it pull you into your next turn. No wasted effort, no muscle needed.
This is a ski that responds to application and transfer of weight and edge angle along its length, not downward force into the snow. My first impression: very cool feeling. Different than most other skis I have tried. Almost eerie, but very satisfying. If you find yourself going too fast and need to tighten your line to scrub speed, you don't increase downward pressure to tighten your radius to slow down. You merely apply a little more edge angle and the ski tightens up its radius. I watched some more muscle-type skiers ride the Speed and found they were slightly confused when it did not behave like a hard-nosed race ski. It wants to run in GS-sized turns, but requires a rider, not a driver.
The Speed is more of a surgical higher-speed carving instrument instead of a power tool (similar to the Austrian-made Palmer P02 carving ski design and behavior). All the arcs, none of the effort. Would it be a race ski? No. Would it be a ski a racer would change over to after a race? Yes. Great tool to refine your carving skills without burning all your calories after 10 runs. No similarity to the Swing in behavior (other than low user-input requirements). Racy behavior and seductively easy to go very fast on. If you like the way GS skis make great arcs, get a demo of the Speed and try your technique with half the effort to get perhaps better results. Fun stuff.
Analogies:

(this ski is like...)
An ex-olympic GS skier who can slice a slope at any radius with terrific precision at any speed while never breathing hard. Beautiful to watch and makes you wonder why the racers training on the other hill seem to be working so hard to make turns of half the quality.
After Skiing These, I Want To...
Get my own pair with cool graphics.

Self-Description of Skiing Style, Ability, Experience, Preferences

:
Expert groomed-surface carver, "old-style" race inspired, "foot steerer" with fairly sensitive edging feel. Loves to hold long arcs with lots of pressure on the downhill ski (you know the type), but also loves the feel of both skis on-edge leaving tiny railroad track edge tracks. Not an instructor, but 10 year coach for youth race team in New England (bulletproof is the norm).
Videos:
No "Speed" specific videos, but the Interview vid has a female instructor at the end describing what she thought of them (she is a GS style skier). Check out her expression when she talks about the Speed model....)
EDELWISER INTERVIEWS:
EDELWISER SKI ACTION:
More reviews will be posted at:
http://www.exoticskis.com/forum/defa...x?g=posts&t=51