Quote:
Originally Posted by
Lonnie
Max,
Obviously there is a moment at transition where things are "neutral". Not to belittle this, becuase I think everyone agrees that it's on of the most critical parts of the turn, but our time spent there is very small compared to the rest of the turn (microseconds). I also think most folks intrinsically understand that to go from one turn to the other things much "switch". EDIT: At the transition there isn't a great deal of centrifical force, so our feet can be more under us.
Look at the below pic of ligety from lemasters. From the frames (4/5 & 9/10) that capture the transistion, in the time between the frames the new outside foot is already outside the hip.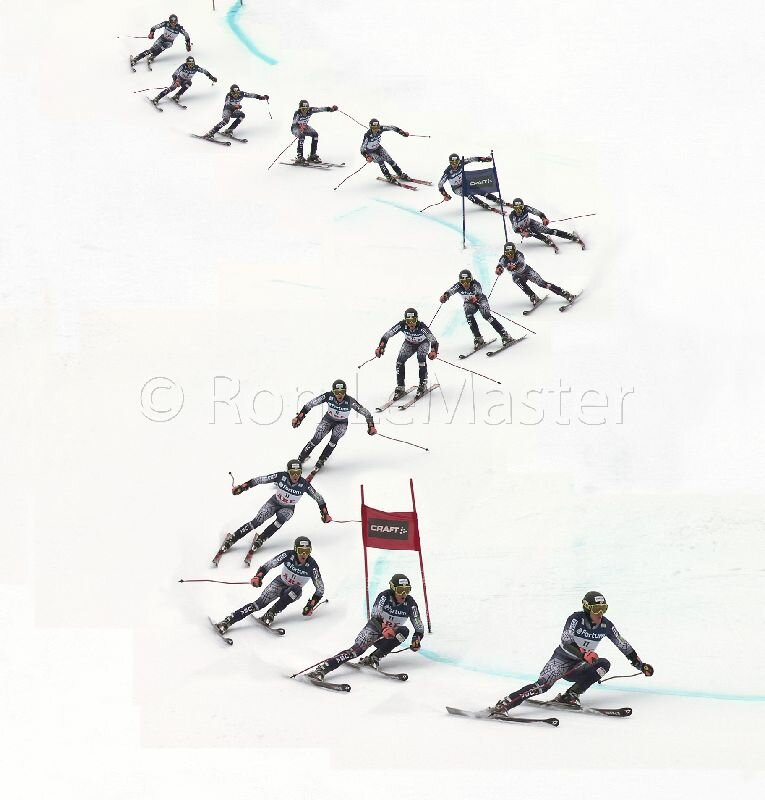 LeMaster photos are awesome and this one is no different. Anyone ever think of stance width in terms of vertical separation of the feet vs. just moving them apart? I think the stance width in a lateral sense relates directly to stance width in a vertical sense. Basically, the width you end up with is based on how much vertical separation between your feet you create.

Look at Ligety at the red gate; the space between his boot and his knee is pretty narrow but if you look at his skis there a long way apart. Not in a lateral sense but in a vertical sense. Then in the last frame that vertical separation translates into lateral width as the edges begin to release to neutral. I think that's pretty cool and it's something that I've been working on in my skiing.

If you don't believe this here's a little self check that you can do. Find a steep pitch and sit down on your on your hip. Suck your inside foot up so that it's even with your outside knee. Stand up but keep your feet in the same spot on the snow as they were when you were sitting. You'll be left with a wide stance.

Lateral width is a result of vertical separation and that's one to grow on
p.s. this may also be an answer to tdk6's question above