Hart Attack
(110-63-95) 16.8m radius @ 152cm

(
110-63-95)
17.0m radius @ 158cm

(
110-63-95
) 19.6m radius @ 166cm

(
110-63-95)
20.4m radius @ 173cm

(
110-63-95)
21.7m radius @ 178cm
2008-2009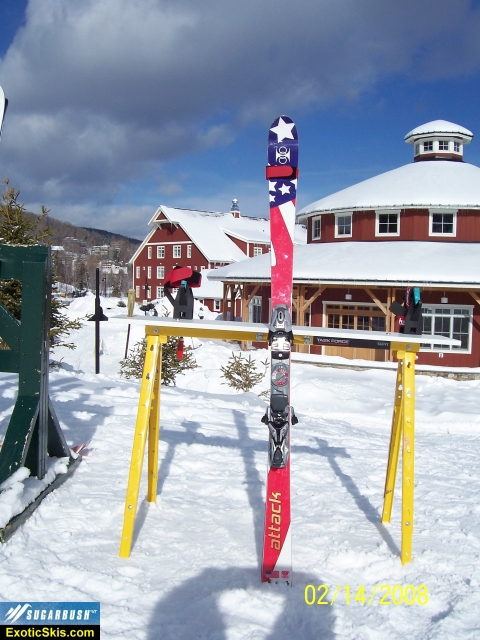 [click here for

larger

picture]
Manufacturer Info:
Hart Ski Corporation
641 E. Lake Street, Suite 225
Wayzata, MN 55391
Tel.
(952) 476-7849

Fax (952) 476-7845
http://www.hartskis.com
Suggested Retail Price (MSRP):
$1,049
Usage Class:
Groomer Carving - Slalom "cheater"
Your Rating (with comments):

(1="get me off these things"->10="I have to own a pair")
8+ to 9


Summary:
Classic "slalom cheater" frontside carving ski that craves groomed slopes and cuts a race-ski line without race-ski user input. Think of the Javelin SL detuned for more fun than work, and you've got the Hart Attack. Narrow and quick with more forgiving manners than the pure SL race ski. Wicked fun for hardpack antics. Impressively stable for a short-turn, narrow waisted ski, but watch yourself at high speeds on the short lengths. This could be a great ski for the hardpack when you don't want a racing ski but want the jack-rabbit turns.
Technical Ski Data

:
Wood core, fiberglass, Titanal and rolled steel metal sandwich construction with rubber dampening layer. Melamine sidewalls, graphite bases, aluminum tip and tail components. Hand made in small batches.
Pre-Skiing Impression:
Very nice quality, excellent finish, glossy topsheet. Snappy, mischevious flex with good dampening to keep it calm. Very nostalgic stars & stripes graphics that really kinda grow on you when you have the skis on your feet.
Test Conditions:
Cold, dry packed powder conditions, perfect combination of packed groomers and some cut-up fresh stuff (only a few inches) on the side of some trails. Some broken-up crust plate garbage and granular junk and hardpack on some trails.
Test Results:
While the Javelin SL is business...the Hart Attack is really about fun and games on the hardpack. Not tiring to ski, but as rowdy and zippy as you want it to be. Quick as a flash when changing directions, but only to the degree you want...no unwanted "detours" when you jump on them or merely hold them a little too long in an arc. Definitely the slice-and-dice slalom cheater so many people like on the groomers and squeeky-clean hardpack. A pair of these in the right size (and they do have a few sizes) could be just the ticket to teach yourself that "Eurocarve" extreme carving technique, but be perfectly happy in the bumps and tight, firm terrain. Spunky and fun, and you could rip through a recreational race course and lay waste to a bunch of more balky race skis, if the course was soft or tricky. I was impressed with the Hart Attack. Not for warp 9, high speed arcs unless you enjoy living dangerously.
Hart may not bring this ski into full production next year, but get your hands on the ones in early stock this season if you want a really fast and quick jackrabbit ski with retro graphics. Probably a collector's item in the future.
Analogies:

(this ski is like...)
One of those tricked-out, urban Honda street racer coupes with the special ignition system, high-tech fuel injection, lowered suspension, flourescent light accents, 21 inch wheels with race slicks, killer stereo and "braap-braap" exhausts. Fast, quick and really fun. Just don't drive more than 100 or you'll find it wasn't meant to do that safely.
After Skiing These, I Want To...
Give a pair to my friends for their birthdays.


Self-Description of Skiing Style, Ability, Experience, Preferences

:
Expert groomed-surface carver, "old-style" race inspired, "foot steerer" with fairly sensitive edging feel. Loves to hold long arcs with lots of pressure on the downhill ski (you know the type), but also loves the feel of both skis on-edge leaving tiny railroad track edge tracks. Not an instructor, but 10 year coach for youth race team in New England (bulletproof is the norm).

More reviews will be posted at:
http://www.exoticskis.com/forum/defa...x?g=posts&t=59