Hart Blue Phoenix
(116-66-101) 15.7m radius @ 158cm

(116-66-101) 16.2m radius @ 166cm

(116-66-101) 16.8m radius @ 174cm

(116-66-101) 17.3m radius @ 180cm
2008-2009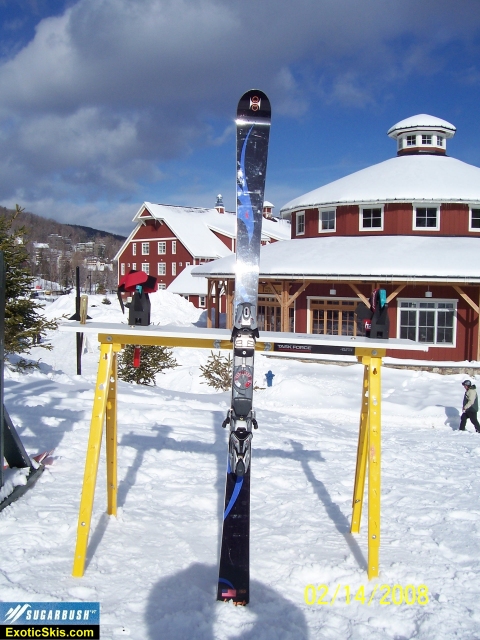 [click here for

larger

picture]
Manufacturer Info:
Hart Ski Corporation
641 E. Lake Street, Suite 225
Wayzata, MN 55391
Tel.
(952) 476-7849

Fax (952) 476-7845
http://www.hartskis.com
Suggested Retail Price (MSRP):
$1,049
Usage Class:
All Mountain Carving
Your Rating (with comments):
(1="get me off these things"->10="I have to own a pair")
8+ to 9


Summary:
Fantastic frontside carving ski. More racy and oriented toward hardpack groomers than the Fuelie Stage1 (Phoenix has a 10mm narrower waist), with more dampening and great grippy ride. Near race-ski grip but with much less effort required. Strangely identical in construction and feel as the Spoilt RaceCarve from Italy (which I really love). Me thinks these are made by the same hands in the same factory. Smooth operator capable of running gates if you wanted, but happy to cruise easily or lay down serious carving trenches on demand.
Technical Ski Data

:
Wood core, fiberglass, Titanal and rolled steel metal sandwich construction with rubber dampening layer. Melamine sidewalls, Graphite bases, aluminum tip and tail components. Hand made in small batches.
Pre-Skiing Impression:
Very nice quality, excellent finish, glossy topsheet (to be textured in production next year?). Damp, "it has metal" flex and rebound with smooth feeling pattern. Cool color scheme.
Test Conditions:
Cold, dry packed powder conditions, perfect combination of packed groomers and some cut-up fresh stuff (only a few inches) on the side of some trails. Some broken-up crust plate garbage and granular junk and hardpack on some trails.
Test Results:
The Phoenix has that feel at slow speeds in your first runs that says "just wait until you get me moving." The grip becomes stronger and deeper as you roll this ski up onto its edge and retains a really fun, smooth feel as you increase speed. The more you put in, the more it gives back. Really well controlled at any speeds, with an urge to put it into a high edge angle and lay down some tracks under any pressure you want. If you like race-like grip without race-like effort, the Phoenix is a great choice. The dampening of this ski (probably due to the metal) makes it super quiet on the snow with great torsional strength. The soft longitudinal flex makes it easy to start your turns and actually go off-piste without any protest. The narrow waist will sink, for sure, but the forebody comes up nicely and behaves just fine off the beaten path. Very versatile, but it really comes alive on the groomers. Great round turns of different radii are easy to make with this ski (just like its Spoilt racecarve sibling). More damp and racy-feeling than the Fuelie Stage 1, and not as good off-piste. If you haunt the groomers, the Phoenix is the "cheater GS" ski you might be hunting for.
Analogies:

(this ski is like...)
Alfa Romeo - stylish, high-performance turns putting most other vehicles to shame. Not a pure racer, but has the heart of a thoroughbred and elegance in the way it handles.
After Skiing These, I Want To...
Try the other sizes and keep them all for a season.


Self-Description of Skiing Style, Ability, Experience, Preferences

:
Expert groomed-surface carver, "old-style" race inspired, "foot steerer" with fairly sensitive edging feel. Loves to hold long arcs with lots of pressure on the downhill ski (you know the type), but also loves the feel of both skis on-edge leaving tiny railroad track edge tracks. Not an instructor, but 10 year coach for youth race team in New England (bulletproof is the norm).

More reviews will be posted here:
http://www.exoticskis.com/forum/defa...x?g=posts&t=59