Hart Javelin GS
(106-67-88) >27m radius @ 185cm

(
106-67-88
) >27m radius @ 191cm
2008-2009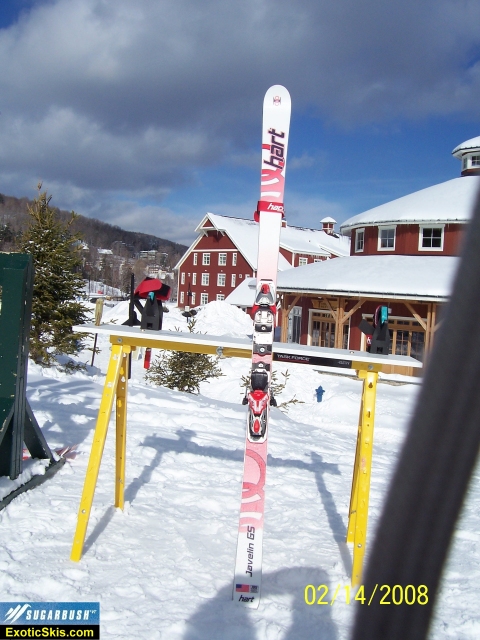 [click here for

larger

picture]
Manufacturer Info:
Hart Ski Corporation
641 E. Lake Street, Suite 225
Wayzata, MN 55391
Tel.
(952) 476-7849

Fax (952) 476-7845
http://www.hartskis.com
Suggested Retail Price (MSRP):
$1,049
Usage Class:
Giant Slalom
Your Rating (with comments):
(1="get me off these things"->10="I have to own a pair")
9 - GS and big open riding


Summary:
Real-deal GS racing ski. Masterful grip at speed with superb dampening and control. The faster you run it, the better it handles. A little sluggish at slow speeds and lacks the "explosive" response of some other GS skis, but maintains excellent security and directional obedience at speed as you want in a GS ski. Real confidence builder across variable surface changes at tight or wide radius turns. Great feel underfoot. Has no real speed limitation for mortals. Want an FIS-legal GS ski? Try the Javelin GS. I was impressed. Some might want more hard-core accelleration in the tail, but most probably won't. Probably more suited to stronger, heavier skiers than lighter skiers or those with a "touch" technique. Race ready as-is. Complements the Hart Javelin SL nicely.
Technical Ski Data

:
Wood core, fiberglass, Titanal and rolled steel metal sandwich construction. Melamine sidewalls, PTEX4000 bases, aluminum tip and tail components. Hand made in small batches.
Pre-Skiing Impression:
Very nice quality, excellent finish, textured "no scuff" matte topsheet. Beefy, business-like flex and weight with substantial dampening of vibrations. Nice rounded flex pattern. This ski had a VIST raceplate/binding setup and it just looked "right" for a slalom weapon. Good choice of binding/plate combo for this ski.
Test Conditions:
Cold, dry packed powder conditions, perfect combination of packed groomers and some cut-up fresh stuff (only a few inches) on the side of some trails. Some broken-up crust plate garbage and granular junk and hardpack on some trails.
Test Results:
The Hart Javelin GS feels like a GS ski....a little dulled until you it about 20 mph, and then it "wakes up" and sucks itself into the snow and pulls you into the turns with just a little effort. As you pressure it through the turn (it likes to be pressured through its turn once initiated...it is not an auto-pilot ski), you get the feeling it will have the same grip at any speed you can muster. It does not finish the turn with a boost of speed...it just finishes the turn. A bunch of skiers like this behavior in a GS ski. Others want a finishing "whoosh" from their skis at the end of their GS turns. The Javelin GS stays quiet, ends the turn sequence and awaits your instructions. This is not a Kick-in-the-Pants type GS racer. She holds the line and nothing upsets its trajectory until you tell it to change. This ski can tighten its initial radius nicely during the turn, or release it to a wider finishing radius...no problem. Very well behaved. You need to make sure you have your pressure applied to get the most out of it. Release your pressure and it will straighten is curve predictably...not sit in its groove like it's being pulled by your momentum. Probably a great ski for those "consistent" racers rather than the "flash-in-the-pan" racers.
I also thought this ski would be a great expert-level groomer cruiser for those who have a stong technique and the conditioning to ride it all day. Remarkably comfortable and secure high-speed cruising ability...very easy to start your turns (no hulk-like turn initiation ritual required). This could be a superb cordouroy carver for the early mornings when you want the wind in your face. A good example of how "skiable" the new GS race skis can be for non-racing applications.
The more you put in, the more you get out. Race ready as-is.
Analogies:

(this ski is like...)
BMW 5 or 7 series automobile with track-ready suspension upgrade and engine work (smooth and powerful...race-quality but civilized).
After Skiing These, I Want To...
Ride this ski in a huge Austrian hardpack snowfield at warp 9.


Self-Description of Skiing Style, Ability, Experience, Preferences

:
Expert groomed-surface carver, "old-style" race inspired, "foot steerer" with fairly sensitive edging feel. Loves to hold long arcs with lots of pressure on the downhill ski (you know the type), but also loves the feel of both skis on-edge leaving tiny railroad track edge tracks. Not an instructor, but 10 year coach for youth race team in New England (bulletproof is the norm).
More reviews will be available at:
http://www.exoticskis.com/forum/defa...x?g=posts&t=46