Hart SL
(112-65-97) 12m radius @ 157cm

(117-65-101) 12m radius @ 165cm
(112-65-97) 14m radius @ 166cm
2008-2009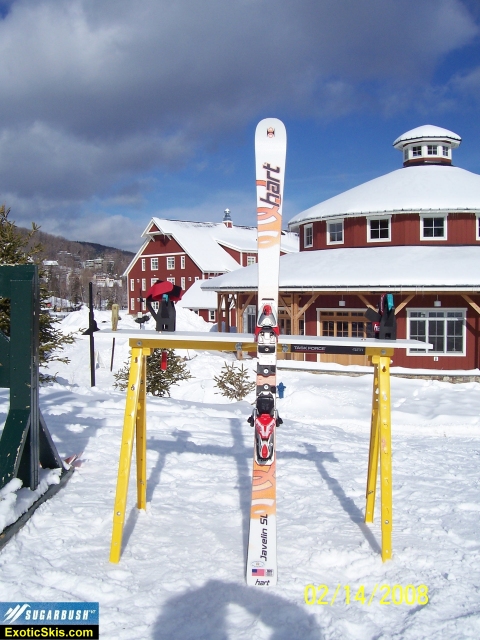 [click here for

larger

picture]
Manufacturer Info:
Hart Ski Corporation
641 E. Lake Street, Suite 225
Wayzata, MN 55391
Tel.
(952) 476-7849

Fax (952) 476-7845
http://www.hartskis.com
Suggested Retail Price (MSRP):
$1,049
Usage Class:
Slalom
Your Rating (with comments):
(1="get me off these things"->10="I have to own a pair")
9 - Slalom


Summary:
Real-deal slalom race ski with superb vice-grip underfoot, excellent agility and instant response to commands. The Hart SL is geared more to those who want a snappy and responsive slalom rather than the "deadened rut gripper" style of SL racing ski. This ski likes to be "driven" rather than "ridden", and rewards the pilot with lots of directional change power and precision. While perfectly managable at slower speeds and advanced-to-expert techniques, this ski requires attention to turn initiation and finish to get it fired up and into its "zone". If you ski it lazy, it's just fine...it just demands a little attention to finishing the turn. Race it and it rips. Excellent choice for SL racing and expert "turn ripping sessions" early in the morning on your favorite steep and hardened runs.

Technical Ski Data

:
Wood core, fiberglass and metal sandwich construction. Rubber dampening layer, melamine sidewalls, graphite bases, aluminum tip and tail components. Hand made in small batches.
Pre-Skiing Impression:
Very nice quality, excellent finish, textured "no scuff" matte topsheet. Classic slalom flex with a nice curved zone underfoot and a strong tail. Very interesting that Hart chose to offer 165cm and a 166cm models with different geometries and radii. That shows they know how picky slalom racers can be when picking the right ski for the course that day. This ski had a VIST raceplate/binding setup and it just looked "right" for a slalom weapon. Good choice of binding/plate combo for this ski.
Test Conditions:
Cold, dry packed powder conditions, perfect combination of packed groomers and some cut-up fresh stuff (only a few inches) on the side of some trails. Some broken-up crust plate garbage and granular junk and hardpack on some trails.
Test Results:
The Hart SL grips like you'd expect underfoot. Precise and accurate edgehold with good feedback and ability to adjust the gripping zone under your feet as you change pressure inside your boots. Fast and spunky rebound when you load it up and release into the next turn, but never requires a high degree of user input. Remarkably easy to start the turns. You get the feeling you could recreationally ski this racer if you wanted to. Never uncontrolled, always obedient and ready to change direction the moment you make the command. Transitions across firm snow to icy patches and back are well controlled, but I got the feeling this ski would dance a bit in a really noisy, iced-up, cross-rutted course where some skiers want the "dead and heavy" slalom skis that just lay into the surface with lots of dampening, but often lack the responsiveness of the quicker skis. Some slalom racers like a quick and light ski, others like the heavily damped ski...it's a matter of preference. The Hart feels like it belongs in the quick and responsive camp. If you ski this ski at its optimal performance level for more than a few runs...you might need a little time off to recouperate. This ski rewards an athletic technique and attention to detail and stance, but you could use it as your expert hardpack weapon if you no longer run gates. The more you put in, the more you get out. Race ready as-is.
Analogies:

(this ski is like...)
Specialized Japanese road racing motorcycle ready for the track, but outfitted with lights so you can sell it for highway use.
After Skiing These, I Want To...
Take a fleet of them to Burke Mt. Academy and see what the kids can do with them in training.


Self-Description of Skiing Style, Ability, Experience, Preferences

:
Expert groomed-surface carver, "old-style" race inspired, "foot steerer" with fairly sensitive edging feel. Loves to hold long arcs with lots of pressure on the downhill ski (you know the type), but also loves the feel of both skis on-edge leaving tiny railroad track edge tracks. Not an instructor, but 10 year coach for youth race team in New England (bulletproof is the norm).