Hart F17 Mogul Ski
(103.8-66.6-89.2)
23m radius @ 173cm

23m radius @ 180cm
27m radius @ 185cm
27m radius @ 188cm

2008-2009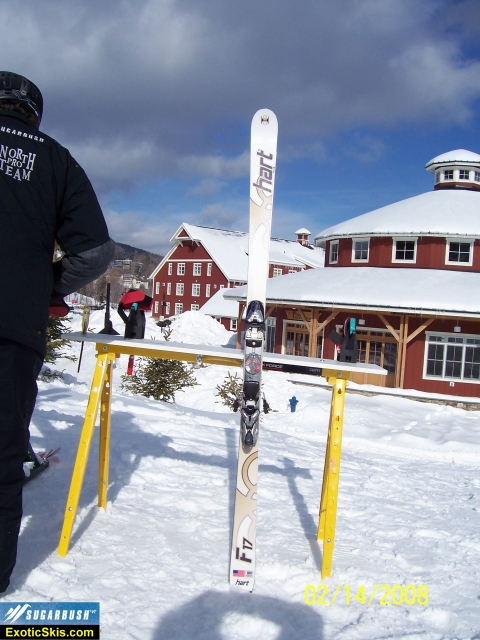 [click here for

larger

picture]
Manufacturer Info:
Hart Ski Corporation
641 E. Lake Street, Suite 225
Wayzata, MN 55391
Tel.
(952) 476-7849

Fax (952) 476-7845
http://www.hartskis.com
Suggested Retail Price (MSRP):
$1,049
Usage Class:
Moguls
Your Rating (with comments):
(1="get me off these things"->10="I have to own a pair")
9 (not just for bumps...excellent frontside hardpack ski)
Summary:
One of the rare "real" mogul skis designed to compete in the modern bump contests. Already winning competitions in 2008. Serious pivoting agility with as much pop off bumps and stability when slammed back down as you might want. Excellent grip underfoot and confident dampening control. Balanced swing weight and looks like a very durable construction. Excellent hard-snow performer outside the bumps with quick turns on-demand and lots of spunk without any "race ski" feel. Got bumps? Get the F17.

Technical Ski Data

:
Dual layer wood core, titanal & fiberglass sandwich construction. Melamine sidewalls, PTEX4000 bases, aluminum tip and tail components. Hand made in small batches.
Pre-Skiing Impression:
Very nice quality, excellent finish. "No-scuff" textured topsheet layer. Snappy hand flex with a strong tail and compliant shovel with good torsional strength. Narrow compared to today's typical recreational skis. Specialized for its job.
Test Conditions:
Cold, dry packed powder conditions, perfect combination of packed groomers and some cut-up fresh stuff (only a few inches) on the side of some trails. Some broken-up crust plate garbage and granular junk and hardpack on some trails.
Test Results:
The F17 is a quick, narrow cutting tool with tons of spunk and response to commands, yet has very good dampening qualities to eliminate any trace of squirrely feel. This ski can take a load and deliver it where you want it along its length. Excellent agility and ability to change direction in pivot or quick-chop turns. Lots of pop if you want to load its flex and launch off anything. Always lands back down with a confident whump and grip, never rebounds off the surface unless you want it to. I am not a hard-core bump addict, so I will let the bump experts show you how good this ski is by posting results on the podiums. As I understand it, the ski used by the sponsored competitors is the same as you can buy...Hart does not make any special "race room" bump skis. The F17 is the real deal you can buy from their dealers. The F17 makes a great frontside groomed surface weapon as well. Great grip and zip out of nearly any turns you can make. Easy to ski slowly, and only a trace of "narrow waisted" instability at warp 9 GS speeds and pressures. Not so hot in the soft snow...but then again, it's a narrow, quick-pivoting model. Impressive ski model not attempted by the majority of other manufacturers.
Analogies:
(this ski is like...)
One of those specialized Top-Chef ginsu knive tools for slaying specific jobs quickly and effectively.
After Skiing These, I Want To...
Watch some pros really use it to its potential. I also want to try the longest 188cm model on some hardpack at speed...I bet the ride is fast and exciting.


Self-Description of Skiing Style, Ability, Experience, Preferences

:

Expert groomed-surface carver, "old-style" race inspired, "foot steerer" with fairly sensitive edging feel. Loves to hold long arcs with lots of pressure on the downhill ski (you know the type), but also loves the feel of both skis on-edge leaving tiny railroad track edge tracks. Not an instructor, but 10 year coach for youth race team in New England (bulletproof is the norm).
More reviews will be posted at:
http://www.exoticskis.com/forum/defa...x?g=posts&t=47