Hart Fuelie Stage 1
(124-77-110)
11.7m radius @ 162cm

13m radius @ 170cm
14.5m radius @ 180cm

2008-2009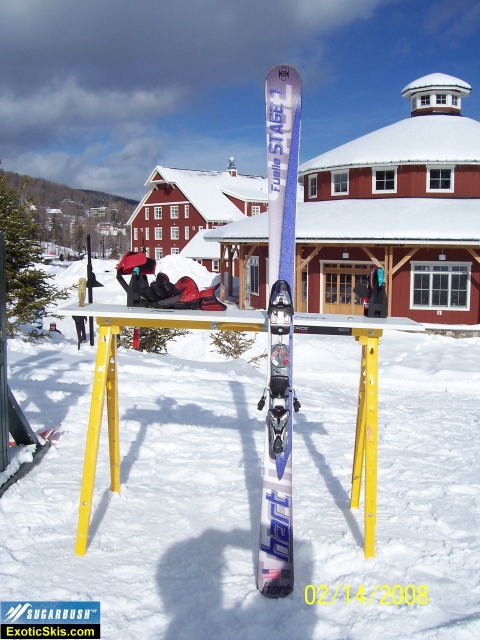 [click HERE for

larger

picture]
Manufacturer Info:
Hart Ski Corporation
641 E. Lake Street, Suite 225
Wayzata, MN 55391
Tel.
(952) 476-7849

Fax (952) 476-7845
http://www.hartskis.com
Suggested Retail Price (MSRP):
$1,049
Usage Class:
All mountain
Your Rating (with comments):
(1="get me off these things"->10="I have to own a pair")
9 - Frontside groomers
8 - Softer surfaces


Summary:
Really fun and easy-to-handle frontside groomer sportster with pretty darn good manners in softer stuff considering its 77mm waist. Great variety of turns, both short and long, with quick handling tempered by nice dampening and never, every squirrely. Excellent eastern frontside ski. Not a racer, but a high-performing ski easily handled by intermediates looking to improve their game, or advanced-to-expert skiers looking for a groomer cutter.
Technical Ski Data

:
Wood core, sandwich construction. Rubber dampening layer, melamine sidewalls, graphite bases, aluminum tip and tail components. Hand made in small batches.
Pre-Skiing Impression:
Very nice quality, excellent finish, textured "no scuff" matte topsheet. Nicely shaped flex pattern from tip through the tail, with definite spunk underneath...but not much vibration if you "gong" the ski and feel its reverb between your fingers...feels like it just might be quick and fun. Pretty good shade of blue too.
Test Conditions:
Cold, dry packed powder conditions, perfect combination of packed groomers and some cut-up fresh stuff (only a few inches) on the side of some trails. Some broken-up crust plate garbage and granular junk and hardpack on some trails.
Test Results:
This ski immediately told me it was easy to turn, but willing to hold an arc with a little or a bunch of pressure. Perfectly quick and fast underfoot if told to do so, but quiet and obediently grippy on the faster turns. Loved the hardpack and moderately softer surfaces...sank a bit (77mm waist) in the soft stuff...but ripped off all kinds of turns of different radii. Easy to take off the side of the trails...just didn't float like a fatter ski...but never dived...just kinda "sank" a bit underfoot. Very responsive and compliant in the bumps and junk. Not a slalom ski or race-bred ski...more like a narrow-waisted all mountain ski with great grip. Excellent Eastern U.S. ski I think. Never tiring. Definitely a good choice and one of my favorites of the new Hart lineup.
Analogies:

(this ski is like...)
A semi-retired Frisbee dog....ready to do the quick turns and rowdy fun on demand, and keep up with the younger dogs without effort, but happy to cruise along easily with its head out the window enjoying the sights when you are.
After Skiing These, I Want To...
Borrow a pair for....uhm...ahh....a season...please?


Self-Description of Skiing Style, Ability, Experience, Preferences

:
Expert groomed-surface carver, "old-style" race inspired, "foot steerer" with fairly sensitive edging feel. Loves to hold long arcs with lots of pressure on the downhill ski (you know the type), but also loves the feel of both skis on-edge leaving tiny railroad track edge tracks. Not an instructor, but 10 year coach for youth race team in New England (bulletproof is the norm).

More reviews will be posted at:
http://www.exoticskis.com/forum/defa...x?g=posts&t=44