Hart Fuelie Boss
(121-91-111) 24.5m radius @ 195cm
2008-2009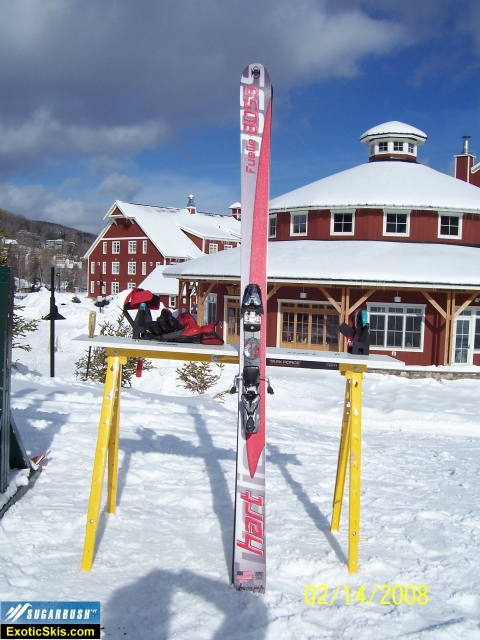 [click here for larger picture]
Manufacturer Info:
Hart Ski Corporation
641 E. Lake Street, Suite 225
Wayzata, MN 55391
Fax (952) 476-7845
http://www.hartskis.com
Suggested Retail Price (MSRP):
$1,000 (estimated +-)
Usage Class:
Big mountain
Your Rating (with comments):

(1="get me off these things"->10="I have to own a pair")
8+ (advanced skiers only) - NOTE: the bindings were mounted too far back, so an exact score was hard to come up with....but I got a good feel for this ski in a bunch of different surfaces....except deep powder.
Summary:
Big ski (any size you want as long as it's 195cm) with great manners and performance for lots of snow conditions. Mounted too far back (everyone's opinion at the Sugarbush test day), so I got "Bossed-around" on them in the New England terrain (especially in the bumps under the liftline - duh), but it made really good turn shapes without requiring a he-man effort to get it hooked-up. Really smooth ride in the wide-open terrain with just a hint of slipperyness on the really hard boilerplate sections (could have been due to the bad mount position). Excellent crud-buster in the chopped up crust plates and mixed pow-granular junk (sorry Philpug, I took them onto some "lesser travelled" trails when no one was looking). The faster you went, the better and easier they rode. Don't get in the back seat. Not for the faint-of-heart skiers, but definitely has a refined flex and vibration control to inspire confidence ast speed. This ski could be really nice in the cut up shin-to-thigh deep powder and junk without overpowering the skier.

Technical Ski Data

:
Wood core, sandwich construction. Rubber dampening layer, melamine sidewalls, graphite bases, aluminum tip and tail components. Hand made in small batches.
Pre-Skiing Impression:
Very nice quality, excellent finish, textured "no scuff" matte topsheet. Nicely shaped flex pattern from tip through the tail, with a hint of "oomph" in the tail as you flexed past a few cm.
Big ski without a radical sidecut...makes you want to find some fresh snow. I liked the graphics. "BOSS" is the perfect name for it.
Test Conditions:
Cold, dry packed powder conditions, perfect combination of packed groomers and some cut-up fresh stuff (only a few inches) on the side of some trails. Some broken-up crust plate garbage and granular junk and hardpack on some trails.
Test Results:
Skating to the lift made it immediately apparent there was WAY too much ski out front of my boots and WAY too little behind me with the bindings mounted as they were. Swing weight was instantly skewed like a teeter-totter with 5 feet on one side of the pivot and 3 feet on the other...but....maybe an little stance adjustment could fix that....Anyway...The first impression was that I had some long smoothies under me. This is an easy fix.
Excellent response to pressure once you got up to about 20-30mph. Kinda balky in the tight New England bumpy trails, but that's not what these skis are for. Surprisingly turnable at moderate speeds, and quickly responsive at higher speeds. Very controlled ride across transitions over multiple surfaces, with a nice blend of power and dampening in the big turns with maintained pressure. Not really a GS-type feel...more like a semi-fat big mountain ski with some GS genes lying under the surface to give it the abilty to lay down serious arcs. Very well behaved and predictable and stable as a BMW 7 series. Nothing deflects this ski very much. This could be an excellent western US ski for all kinds of terrain except the bumps and race courses. I wish they had more sizes. Speedy bases. Overall, a sweet ride with the potential to please many skiers if they move the mount point up a bit. Fun bruiser cruiser with great manners. This could be my big ski and do the job really well I think.
Analogies:

(this ski is like...)
BMW 7 series car. Not so great at weaving in and out of traffic in Manhattan, but when you get it out into the countryside...Get out of the way...the Boss is coming!
After Skiing These, I Want To...
Try them remounted at Whistler-Blackcomb for a week.


Self-Description of Skiing Style, Ability, Experience, Preferences
Expert groomed-surface carver, "old-style" race inspired, "foot steerer" with fairly sensitive edging feel. Loves to hold long arcs with lots of pressure on the downhill ski (you know the type), but also loves the feel of both skis on-edge leaving tiny railroad track edge tracks. Not an instructor, but 10 year coach for youth race team in New England (bulletproof is the norm).

More reviews can be seen here:
http://www.exoticskis.com/forum/defa...x?g=posts&t=44