What a great place!
I managed to tack a couple of days of skiing onto a business meeting (4th time in 26 years -- I'm on a roll!). I was at Wolf Creek in 2002 and decided to go back. Little has changed.
Now the usual complaints (long flat runouts, slow chairs) are true, but I still love Wolf Creek. The trees are just the right spacing, come in a variety of steepnesses, and still have powder several days after a storm.
:
The ridgeline at the top and the waterfall area are very steep in places(albeit short). There are no crowds -- I usually skied right onto the chair. A majority of the skiers seemed to be intermediates, and even their trails were not crowded -- it looks like a good learning mountain too.
I was by myself, so no pics of me skiing. In fact, there were so few skiers that by the end anytime I was on the lift and saw someone actually skiing I took a picture.
Here is an overview to skiers right of the Alberta Chair. All the trees you see are all skiable.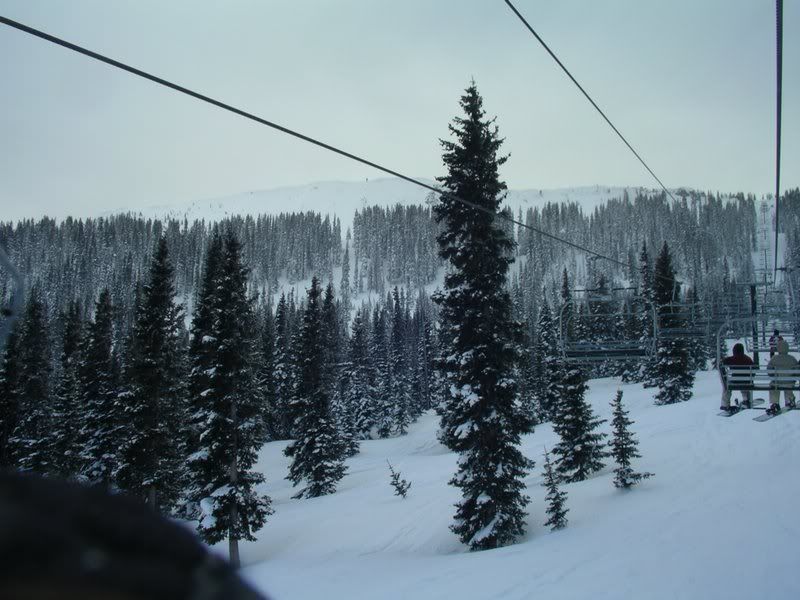 And a couple of closeups.
Can you find the skier who wishes he'd chosen a different route in the second closeup? This is the waterfall area. I chatted with three guys at the entrance gate who thought "sort of steep" sounded cool, at least till they got into it. I stood at the bottom of the steep part and called "Ollie ollie in come free." Kind of mean, but they thought it was funny...
Friday I spent mostly in the trees beyond the Alberta lift. The powder was mostly mid-shin, though I found one run where the snow was mid-thigh and steep enough for it to work.
Saturday was mostly for the ridge above the top of the Bonanza and Treasure chairs (a short hike, with only a tiny climb) with a payoff of steep powder.
In the afternoon I worked the cornice to skiers right of the Treasure chair. The vertical part was probably only 3 feet, but it looked like a lot more from the top. It was the biggest thing I've done. It had a perfect gradual change in pitch and soft snow, making it a perfect learning area. We had a sort of impromptu self-guided clinic up there...
The first time I went off the cornice I was pretty scared, and as soon as I touched down I said (out loud, even) "That was easy!" So I went back and did it again. I did not expect to be scared the second time, but I was. So I did it a third time. Yep, still scared. A fourth time -- starting to get tired (about 3:45 pm by now) and a little less scared, but I biffed the landing (got back and sat down on the first turn). Should have quit at three times.
There were two other things that scared me enough I backed away. One was the run named "52 degree trees" (accurately, I think). Looking from the side, though, I think the steepest part is only about three trees long.
The other was the Knife Ridge traverse. Here is the staircase going up there (unfortunately, I did not know I had snow on the lens).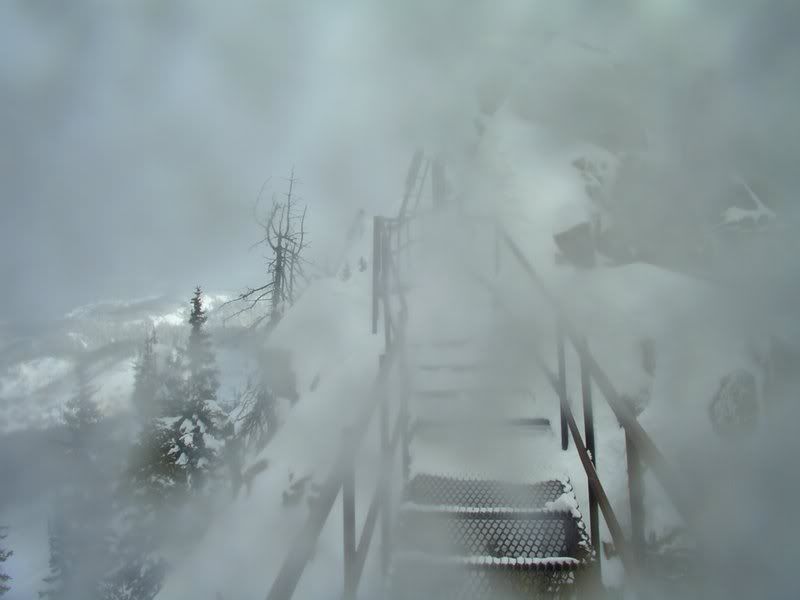 I had scouted the ridge from the bottom and knew there were are couple of easier routes I could ski down. What I did not count on was the traverse itself.
There is a narrow section 50 or 100 feet long with a drop on both sides.
: I got about half way across, got gripped, and couldn't go any further. I (carefully) turned around and went back.
Here is an overview from Google Earth of my Saturday track. There is part missing in the middle when I didn't realize my batteries had died.
A great little ski area. I recommend it highly.
Edit - This is my first time using photobucket. It appears the embedded pics are clicakble for a (slightly) larger version.