Quote:
Originally Posted by
vail snopro

Despite all the technology, despite all the equipment advances, I still see as much lame skiing on the hill as there ever was. They just suck at a higher level!
While I agree completely with your underlying premise, I am going to disagree with this part of your post. Yes, there's still plenty of lame skiing around, but I have to say that at my hill I'm seeing one heckuva lot more really GOOD skiing than I did five or ten years ago.
I truly believe that instruction (even really good instruction) can only take a skier so far. After that, it's miles. And more miles. And learning from trial and error and feel and comparison what works and what doesn't.
And that's where I think the new skis have helped a lot of people become really good skiers. The skinnier carvers help developing skiers experience the feeling of laying the ski over on edge and actually *feeling* what that ski is designed to do. The fatter skis allow more skiers to get out there off piste so they can ski more miles more easily, more quickly, and with less effort than before. Those additional miles will translate into better skills if the skier has the time and means to spend a lot of days on skis.
So, I think there are WAY more good skiers than there used to be. I see it every day.
Quote:
Originally Posted by
vail snopro

So, I ask you, if today's technology is so absolutely critical to becoming a decent skier, then how did the advanced/expert skiers of yesteryear achieve such proficiency?

We actually talk about this quite a bit. I still ski with a bunch of the same people I skied with 20+ years ago and basically ALL of them are now on big skis. We sometimes ask ourselves how we got around the mountain on the skis we used in the 80's.
Strange thing was, though, we *did* get around. We skied all the same terrain in all the same conditions that we ski now, but we did it on skis that MIGHT have been as wide as 63mm underfoot.
Somehow, we skied inbounds and out of bounds, powder, groomers and crud, and we had fun - but none of us want to go back to the days of those long, skinny skis. It was way too much work.
I still like to look at this photo of me from February of 1985 (that's 23 years ago):
I'm skiing on 204cm K2 712's. That was a detuned slalom race ski in its day and I had two pairs. One pair (the ones with more days on them) were the powder/crud/mogul skis and the other pair were the groomer/race skis. I pretty much skied everything at Jackson Hole on those skis, and I'm pretty sure they were barely over 60mm underfoot.
Contrast that with this photo taken a week ago (23 years later):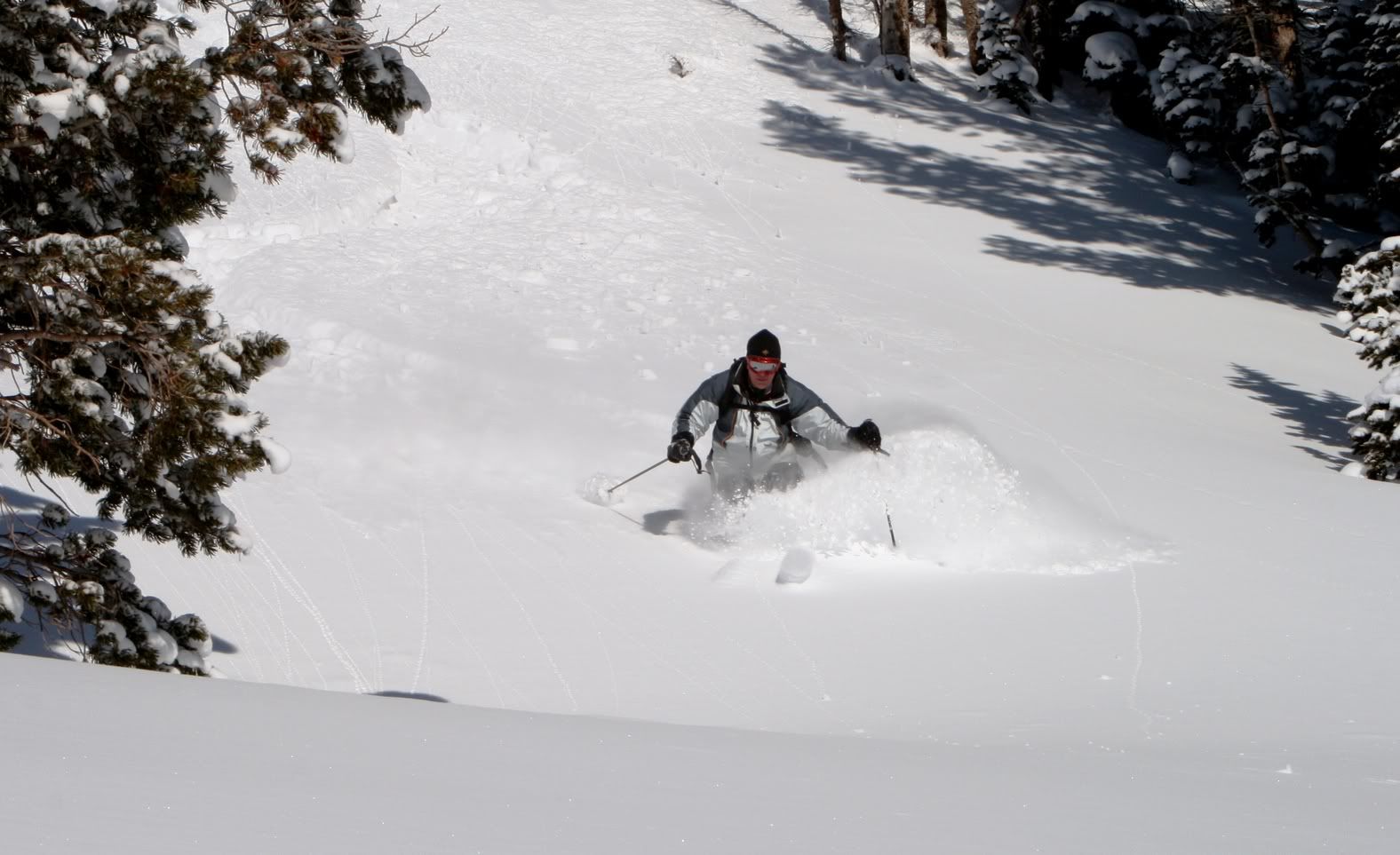 In this photo, I'm skiing on 191cm Head Mojo 105's, which are 105mm underfoot. It's pretty much the same turn, just different skis.
What's interesting to speculate on is whether I could even LEARN to make that same turn *today* if I had to learn on the old K2's. I was younger, stronger, quicker, and better conditioned back then and I had the time (and the job) to ski all day every day in every condition. I don't think there's any doubt at all that my progress in learning to ski would have been much faster if I'd had today's skis available twenty-five years ago.
So, I would argue that the modern equipment gives you the MEANS to become a better skier in a much shorter time. Whether a skier properly utilizes that advantage is another matter entirely.