So, after waiting until the last minute to decide if we were going and waffling about the health and fitness of various family members, we sacked up and hopped in the car at 6:00am on Sunday and zipped up to Vail to meet up with an old friend, ski a little, hang out at her place in Minturn. . . and really, it was all about ski school for the 4yo!
So proud-mommy kid stoke (of the very beginner kid stoke kind) follows.
Snow was nice, but as has been our pattern lately, we were a day or two late to really enjoy all of the best, freshest stuff that's been falling in the CO Rockies. (And too last minute to hook up with any of the Bears who have been lingering in these parts.)
Very good conditions, nonetheless, if not pristinely fresh and untracked, and a gorgeous day. Snow was particularly good north-facing-- the soft bumps on Prima (as empty as I have ever seen it, and it was a weekend) were a delight, even to my tired, end-of-day legs. Honestly, it felt more like early March than January! And we actually remembered (well,
I
remembered) to get out the camera a couple of times.
The husband on Red Square: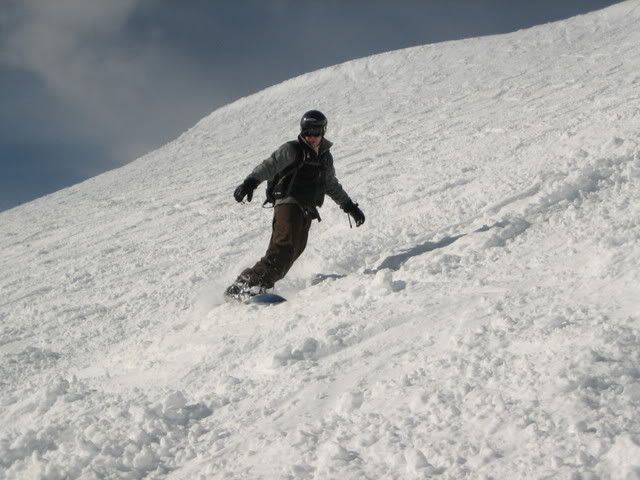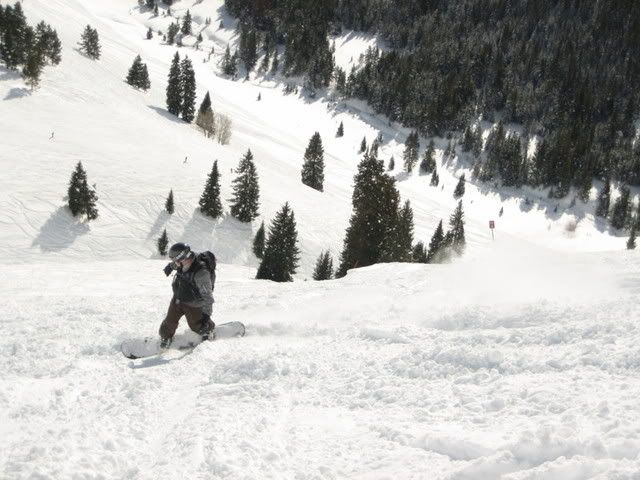 The husband, er, attempted to photograph me, but was concurrently busy chatting on the phone, trying to arrange at meet-up with a friend at the same time. Thus, proof I was there, but not demonstrating anything very worthy. Or anything at all.
: Someday we will get the husband to take an action shot.
Thus, a photo of me waiting for him to get off the damn phone, looking at the blue skies and the soft snow: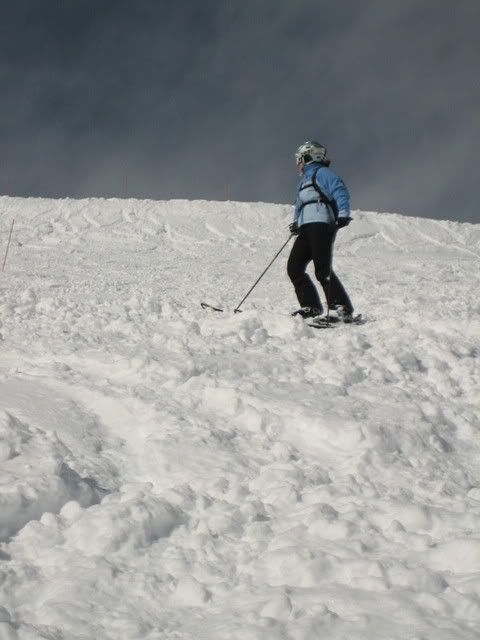 But what was truly important about this day was the 4yo. This was his second *real* day of ski school, and he did AWESOME! There is nothing more exciting for a mom who loves skiing than to see her little man looking confident, coordinated, and excited on skis. (And to have him tell her, "Mommy, I LOVE skiing" as she is taking his boots off.)
Walking over to the ski school and spying him on the *hill*: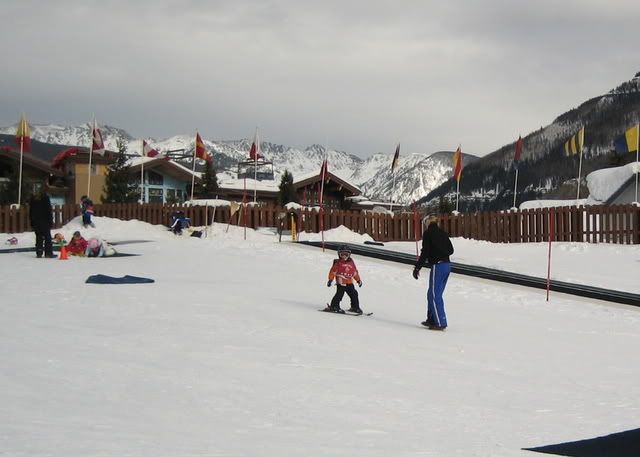 Showing me how he can walk on his skis: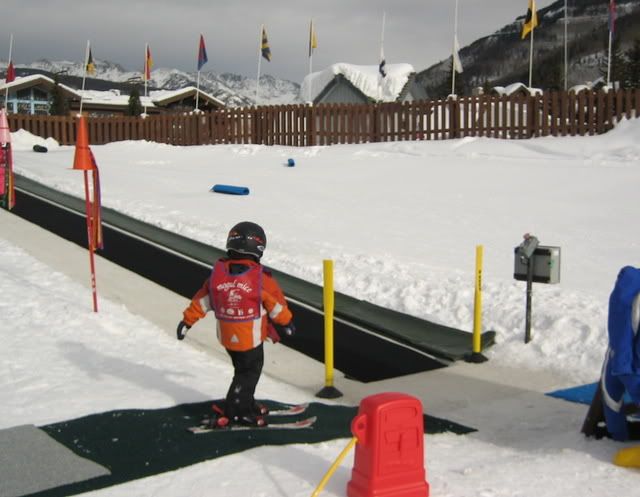 And ride the magic carpet ALL by himself: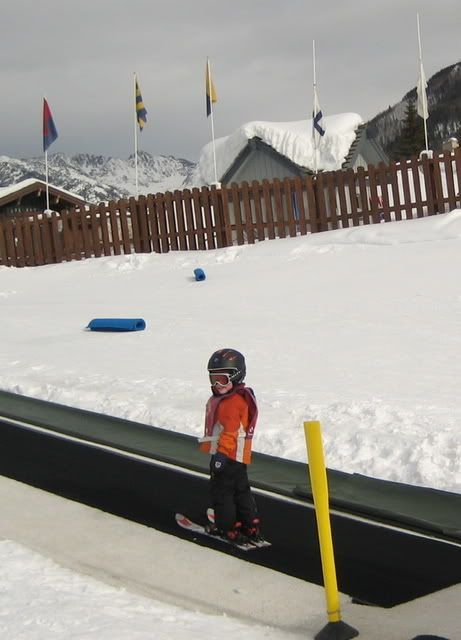 Mommy and baby brother watching and being proud. The baby was frantically waving at the magic carpet, so I may have another skier on my hands. Yay!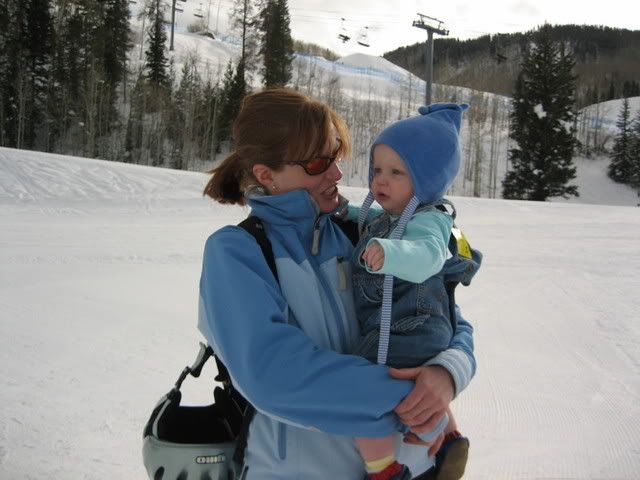 He shows us how he can go ("French fries mommy, French fries!"):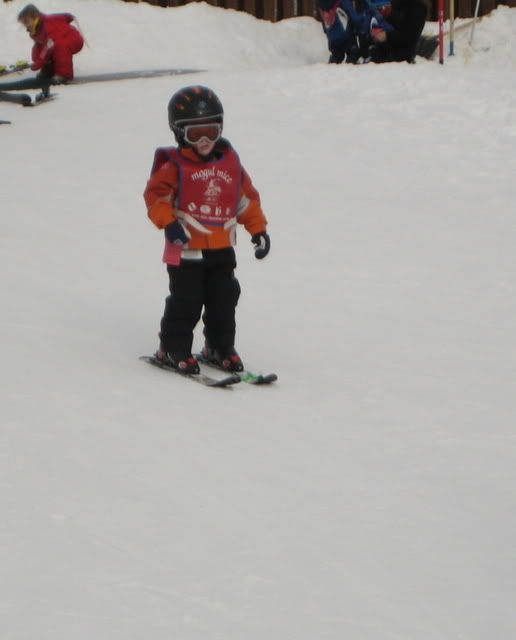 And stop. (If you look closely, you can see his non-stop grin.):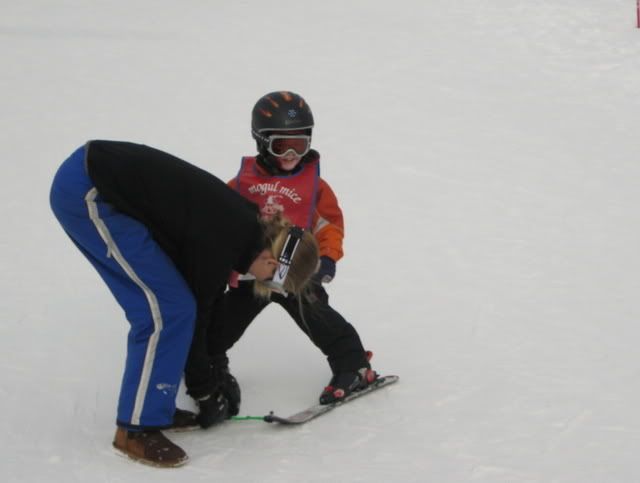 I am beside myself with happiness over my little munchkin's excitement and enthusiasm. (And also slightly gripped by fear, as this promises to be an expensive love. . . we have already made some plans for later this winter involving kids and skiing. . . and they ain't cheap.) Yay for kid stoke, even if it's just the magic-carpet-riding, pizza-and-fries kind. I can't wait until he skis better than I do. At this rate, it could be next week!