About me:
- Age 38
- Level 8-ish skier
- Height: 6'1" Weight: 195lb
- Ski 25+ days per year
- 28.0 Salomon Xwave 9 boots, 325mm sole length
The skis:
- 186cm Fischer Watea 94 skis with Tyrolia/Head LD12 bindings mounted on ski's center mark
Snow conditions included:
- Untracked powder
- Cut powder and crud
- Groomed packed powder
- Fresh (still snowing) powder accumulating on all of the above
After booking an Alta trip, I decided it was a good excuse to add something wider to my quiver. Unfortunately, I have not demoed wide skis recently, so I did some research and consulted dawgcatching (Scott) with a short list. Between my gut feel and Scott's recommendations, the Watea 94 emerged as a good candidate that would later be confirmed as a great choice.
Day one at Alta, I started skiing on the groomers in an attempt to take it easy while recovering from travel, acclimating to the elevation, and getting used to the new skis. The first thing I noticed was that the Wateas, despite the longish 186cm length and 94mm waist, were absolutely wonderful groomer skis. This observation would be confirmed many times over in the next couple days. On that first day, I did notice that the tips were a little skittish and I was having to pressure them more, in combination with less tip lead, to make smooth turns. That issue was remedied the following day after I dulled the tips and tails with a diamond stone. Just a couple easy passes with the stone was all that was needed to take the shimmy out of the tip when carving turns on groomed snow. After this adjustment, I was able to ski the Wateas with my normal balance and tip lead, and they did just fine. Yet another case where it makes sense to dull the tips and tails after some initial skiing (I have done this on about 80% of the skis I have owned).
My plan to take it easy on day one got ditched at lunchtime, when I headed into some untracked powder (15" or so), cut up powder, crud, and soft bumps. In the powder, the Wateas floated like I would expect a 94mm waist ski to float, especially compared to my narrower skis. The binding mount position resulted in just the right amount of tip float and I was able to maintain a very comfortable and balanced position over the skis. When I got into the cut up powder, I was impressed how these skis floated over everything, whether it was fresh snow or a track. Same goes for crud and bumps. While I am not a great bump skier, and not nearly good enough to pilot 186cm skis through bumps, I found that the Wateas would totally slay the bumps by skiing *over* them, only making turns every second or third bump. The moguls I encountered at Alta were very soft and forgiving, which went along well with this bomber approach. Same went for the crud; the skis sliced through it just fine, but what I didn't slice or plow through, I was able to ski over with little fuss. The Wateas are simply big enough and strong enough to bomb over stuff that I might otherwise try to turn through. Day one ended with about 4" fresh snowfall, which was absolute gold on top of the morning's groomed trails. I love that kind of snow on almost any ski, and the Wateas did not disappoint.
On day two, I ventured over to Snowbird for what turned out to be an amazing bluebird day. I spent most of the day in Mineral basin, where the snow was quite good even though it got full sun much of the time. Here, I experienced all the various snow conditions you're likely to run into after a recent snowfall, and the Wateas handled the full range with aplomb. Again, I was impressed with the groomer performance; these skis can hustle remarkably well for a long/wide ski. I think the 22m turn radius is a big contributor to this; these skis definitely feel a lot more nimble than I expected. Here are a couple shots of me carving turns on the runout to the lift: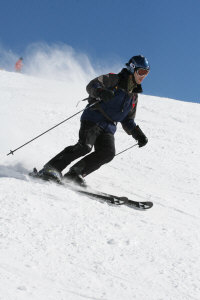 I hit my stride on day three, and it happened to snow all day long, hard at times. This meant conditions got better and better with every run. There were still pockets of untracked snow from the previous weekend's 15" dump, which combined with smaller snowfalls over the past couple days meant anywhere from 4" to about 22" of powder could be encountered on a given run. I skied most of the day off the Supreme lift at Alta, which offers some wonderful terrain. Some of the terrain is quite technical, and I immediately realized I'd prefer shorter and narrower skis in such conditions; I am simply not good enough or gutsy enough to take 186cm skis through steep and narrow moguled chutes between trees and rocks. In wider spaces, however, the Wateas rocked. I eventually discovered a line down to the lift that started with about 12" of powder on the edge of a trail, a hop off a cat track into some very deep (20" +) powder that later got cut up and cruddy, a stint through a blue-ish 15 ft wide bumped chute that demanded 8-10 quick turns, and then some very pleasant 4-6" of powder over a groomer.
I skied this over and over many times, and it became one of the best runs of my life in terms of variety and fun. This is the run where I discovered how nicely the Wateas reward powerful, aggressive skiing. I was launching myself off that cat track into the cut-up powder below with absolutely no concern about the landing; I stood on it every time whether I landed in powder, or the deep crud that eventually evolved. The Wateas simply blew through, over, and into it all and maintained composure every time. In the chute, I was amazed how quickly the tails were able to whip around in fast skid turns; in this respect, the Wateas spin almost as fast as my shorter twin-tip skis. The harder I pushed the Wateas, the more they rewarded me. These are very confident skis.
Overall, I give the Wateas my highest recommendation. The Watea does everything a 94mm waist ski should do, it can tackle almost any loose snow condition you throw at it, and it skis extremely well on groomers. There were certainly conditions at Alta and Snowbird where I would have wanted a shorter narrower ski, but I am convinced a better/stronger skier would probably be able to ski the Wateas just fine in the same cases. Anyone looking for a ski in the 90-100mm waist range should definitely consider the Watea 94.