First quick review (more to come):
Edelwiser:
Swing
2007-2008
125-80-114 12.1m radius @ 162cm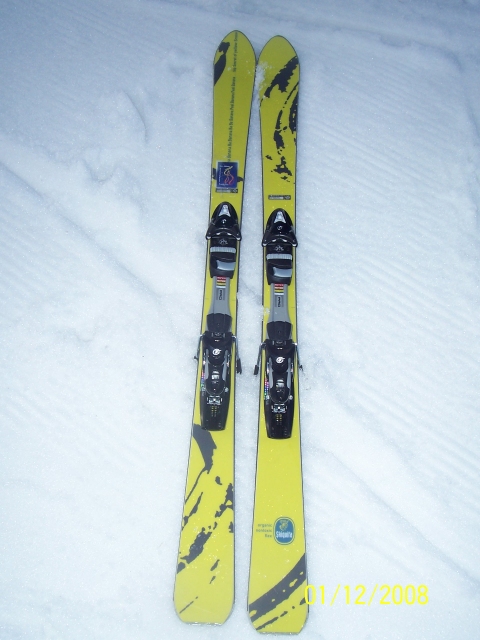 [click here for large pic]
Manufacturer Info:
Edelwiser Sporthandel GmbH
Julius Tandler Platz 6/4
1090 Vienna/Austria
http://edelwiser.com
Edelwiser USA
P.O. Box 4261
Aspen, CO. 81611
Contact: Max Werdenigg


(970) 987-8555

http://edelwiser.com
Suggested Retail Price

(MSRP):
$750 usd (Greenhorn)
$700 usd (Newbie)
$650 usd (Member)

Custom grahics services @ $110 /hour
OR
Upload your own graphics !
(Illustrator or EPS template downloads you can modify)
See custom graphics examples
(corporate branding)
Usage Class:
Intermediate to advanced predominantly on-piste
Your Rating (with comments):

(1="get me off these things"->10="I have to own a pair")


9 - A really, really easy-to-carve, versatile frontside ski that hooks up nicely along its extremely large sweet-spot and can give any level skier great feedback underfoot. Surprising grip on hard surfaces for such an easy-skiing ski. Highly recommended for its intended audience. Not a race ski or suitable for muscle-skiers who will overpower it.


Summary:
This model is consistently a top-ranked carving ski by the folks over at
http://www.carving-ski.de
, and I now I can see why. I would hesitate to put a 250 lb person on this ski since their sheer weight may overpower the ski. They may be better suited to the "Speed" model (to be tested soon!). The large shovel may be a hindrence in tight bumps, but then again, this is not a bump ski. Excellent all-mountain ski. I got feedback from two people (one Instructor and one twin-tip teenager) who both said "Hey...these skis are FUN." They both felt immediately at home on the ski. That says something about the design. This ski is not an "extreme carver", but more of a recreational carver capable of great turns with very little effort in many kinds of snow. Probably an excellent "everyone" ski due to its very low footpressure requirement, and very responsive nature. It reminded me a little of the Palmer P02 carving ski, but more forgiving in deeper or more variable snow conditions, and less "race turn" oriented...more "happy cruising" than "crank-it over" (if that makes any sense to you). Despite what I just said, this ski can lay down serious trenches in the groomed surfaces if you want. Far more agile and capable of extreme angles than you would imagine. Very interesting. I can't wait to try the "Speed" model.



Special note about Edelwiser and Custom Graphics Services:
Edelwiser is one of the more innovative marketing companies in the ski industry. They have developed an "on-demand" ski manufacturing process where you can submit your graphic files via Internet to create your own "brand" of ski. You can get your own single pair customized with your own design or several pairs with your corporate, shop or group branding (special pricing for 3+ pairs) to look like no other skis out there. The Edelwiser brand name is nearly hidden in a tiny little logo box no one will really see. Your ski school, company, association, hotel, ski shop, ski club or poker buddies could get their own fleet of custom-topsheet Edelwiser skis. Edelwiser pushes Business-To-Business marketing via branding of skis and offers a reward program for people who get their friends to buy skis...


T

hree price levels: greenhorn, newbie and member.
Greenhorns are persons who buy a Edelwiser without any connection to a previous customer.
Newbies do not have a Edelwiser ski yet but they know somebody who does - so if they buy the ski using the promotional code of the person they know, they get 50 dollars off the greenhorn price, while the member whose code has been used recieves a bonus of 30 snowflakes (1 snowflake equals one euro) which he can use on his next purchase of an Edelwiser product. Members already have a ski and get 100 dollars off the greenhorn price.


Ski Designer

:

Original design: Reinhard Fischer (SnowRiders), refined by Nicola Werdenigg (former worldcup and olympic downhill racer) and Erwin Werdenigg at Edelwiser (company started in 2004)
Core ski design is licensed and manufactured by Edelwiser using its "on-demand" customization factory technology and material specifications.


Technical Ski Data

:
Ash wood core (riverbank species stored for 1 year, then vacuum dried to 6-8% moisture content), fiberglass & titanal sandwich with "racing base".


Pre-Skiing Impression:
A soft-flexing ski with "extended shovel" sidecut geometry having a broad and gradual forebody, narrow waist and wide heel. Nicely damp, not much snap to it but definitely responsive. More "civilized control" than "rowdy rebound." Nice finish work on the base, edges and laminations. Topsheet graphic layer is matte (non glossy) and appears durable and easy to keep in good condition. Good base grind pattern and tuning (this pair was virgin out of the box). Definitely different geometry than most mid-level carvers out there. Not your typical "Austrian" race-bred design or flex pattern.
Note: This demo pair had "Skiquita" graphics (see pics) designed by the Edelwiser people for their introduction into North America. Let's just say they are "playful" and a color you normally don't see on skis (anymore) ! Cool thing is....it gets you thinking about what you would do for your own graphics.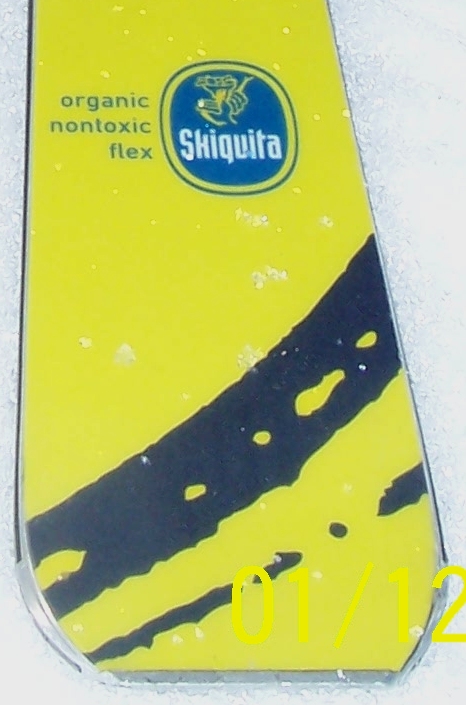 Test Conditions:
First test day: Re-groomed, reprocessed old ice storm junk ground into a few centimeters of "Frozen Granular" (loose and packed) on top of yellow hardpan with sections of some death cookies and death cookie crumbs mixed in. Some really nice dense corn in the sun, deadly pock-marked rotten snow ice fields off piste (you could bounce a bowling ball across it). Not bad, but not packed-powder either....good test for a ski's "friendly behavior" tendencies and carving prowess across different materials.


Analogies:

(this ski is like...)
This ski is like an old freind you are always comfortable to be with who makes instant new friends on first impression. Easy to handle no matter what the situation, reliable and requires no effort to coax into having lots of fun...sometimes more extremely than you had planned. Playful and always smiling, but not willing to go into bar fights with race-pace muscle heads. Despite giving the impression as a "softie", this ski can lay down some serious angular gymnastics on the groomed slopes that will surprise you....kind of like seeing your old friend do a back flip, or drive a sports car really, really well through some tight corners....("I didn't know you could do THAT!...let's do it again...")


After Skiing These, I Want To...
Get some intermediates skiers off their older-model skis and watch them ride these and quickly discover smooth carving with half the effort. Then tell them they can have their dog's photos on the topsheets if they want.


Self-Description of Skiing Style, Ability, Experience, Preferences

(be honest):

5' 11", 190 lbs. Expert groomed-surface carver, "old-style" race inspired, "foot steerer" with fairly sensitive edging feel. Loves to hold long arcs with lots of pressure on the downhill ski (you know the type), but also loves the feel of both skis on-edge leaving tiny railroad track edge tracks. Not an instructor, but 10 year coach for youth race team in New England (bulletproof is the norm).
More reviews by other folks will be getting posted over at:
http://www.exoticskis.com/forum/defa...x?g=posts&t=39