I desire to have epic photos of the steep and deep. I do not.
The family tagged along on a work trip with my husband last weekend (1/11-1/14). Didn't get much skiing in, unfortunately, due to the general nuttiness and cost associated with one-year-olds and four-year-olds on ski trips, but a good time was had by all. For the most part. Except when we discovered that the portable DVD player given to the 4yo by his grandparents for Christmas makes him carsick. Sad . . . on
oh so many
levels.
And the other bit of sadness is the incredible and glaring derth of photos. My husband usually carries the camera in his backpack or around his neck while skiing, and no matter how many times I remind him that I want pictures of us skiing, and that he should stop, ahead or behind, and pull out the camera. . . he forgets to stop and snap some shots. (Anyone have any hints re: encouraging this behavior? Other than me starting to carry the camera again, and only getting pictures of the husband?)
Also, no kid stoke pictures.
The 4yo LOVED ski school, and mastered starting and stopping, but we didn't even get to see him ski.
Every time we swung by, they'd just had to rush in for a potty break or snack. . . and after class he wasn't feeling very well (too much hot chocolate + too many cookies, me thinks) and didn't want to go back out. . . although he couldn't stop talking about his *COOL!* day. He can't wait to get back out!
As for a picture-lacking trip report. . . .
The snow was really, really good and deep and pretty. See?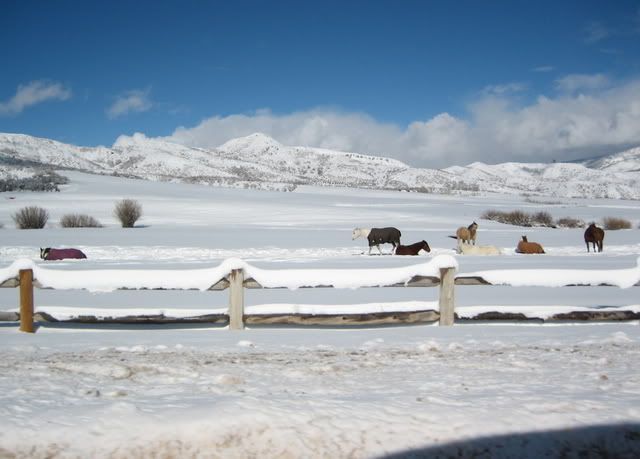 Here are my boys, from the back, baby hidden by his Daddy.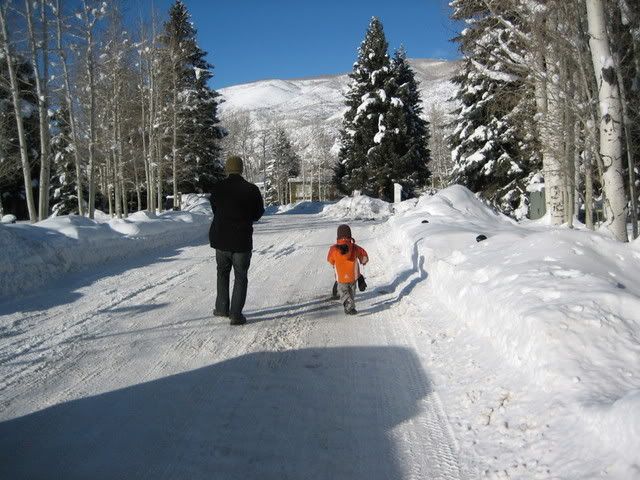 The only-- ONLY, I say! DRAT!-- picture taken anywhere near a ski slope. (Angry muttering in my head.) And hey, it's all squinty and posed, too!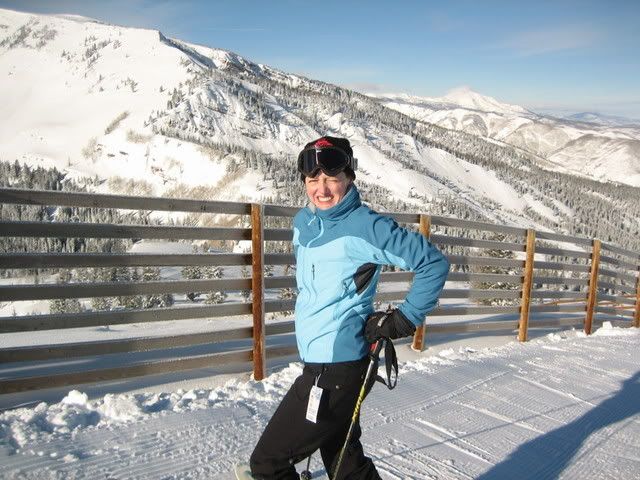 We only skied the one day, Sunday, but conditions were, as evidenced by the limited photography, spectacular, even if we were a couple of days late to the true powder party.
Warmed up on some groomers off of Elk Camp and bumps near High Alpine, and then the husband snapped a binding on his snowboard, so we had to pop back down to the mall for a fix he didn't have in the backpack. Met up with some work friends of the husband who have been locals for quite some time, and were schooled by them in the chutes off of The Edge. Bailed on the first one (Possible, I think it was?), but ended up skiing Baby Ruth later. Very nice snow down there, a *little* off the beaten track. I definitely need to get my legs (and my courage) back, this being only the second day out this season, and last year being an *off* year, due to new baby and toddler.
Here's to LOTS more skiing from here on out. It's been slow getting started, with a wee Typhoid Mary in the house, and constant waves of whatever sickness has been going around at preschool. We have many plans, however, starting next week, that involve work trips, poaching friends' ski houses, grandparent child-watching assistance and the like! But this wasn't a bad start. . .