Group: Faisasy, dawnhill, and non-bear M.
Agenda: Whoop it up in powder
Mission: Accomplished
After some trepidation, Faisasy makes it out into the first pow since the annihilation, and subsequent resurrection, of a little insignificant knee part known as the ACL. Faisasy, looking good in Shangri La Glade! (below)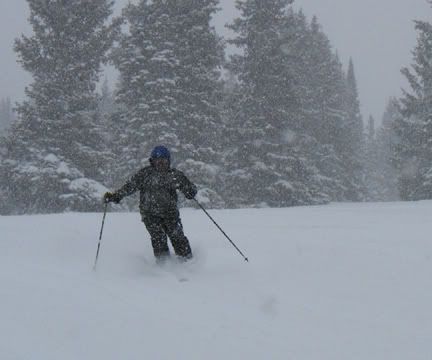 Non bear M, aka powder-paparazzi, steals freshies while simultaneously filming a video. Subsequent video chase of dawnhill screaming through trees set to LCD Soundsystem "Daft punk is playing at my house" not posted due to size constraints. It was good though. Whoop!
Apparently, all I do is stand around hamming for the cameras!
This is down in Pete's... still lots of goodies at 1pm.
It was an awesome day! Glad we possed up, F, see you out there again soon!