I am finally free enough that I can go out and earn some turns these days. Yesterday I made the long assed journey down to Monarch Pass to go ride some of the sweetiest backcountry around. Snowblind (on other sites at least), had called me up to say that the snow was super deep on the pass. He also said that it had been dumping there on Saturday and should be good. So wtf, I made the 3 hour drive down to go hit the pass.
The coverage was definitely good at the parking area. It looked like it was going to be windy. I70 had been closed for 24hrs stranding lot's of Holiday Travelers due to the wind and avalanche danger. At least the sun was out. There was plenty of snow at the parking area, so I put skins on my splitboard and headed out. Peck's Peak was looking like a good destination for the day.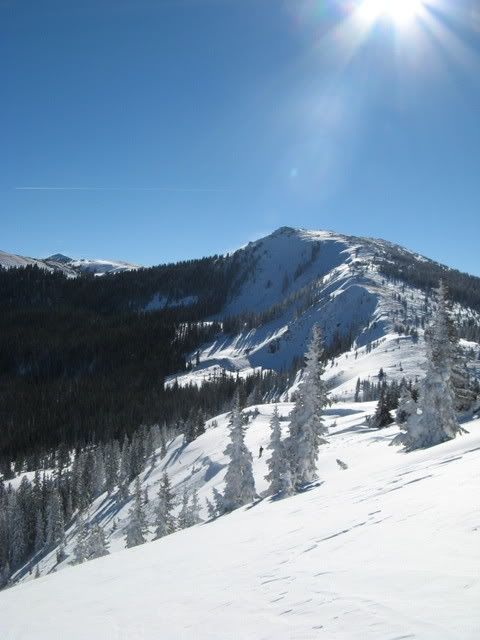 If not a little cold. To start things off we dropped the ridge down into Foose's Creek. Two tele skiers had also made their way back there. They kicked off a cornice to test a slope below them.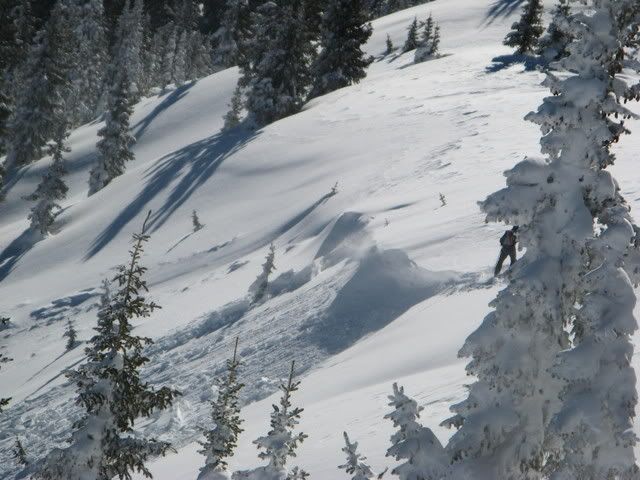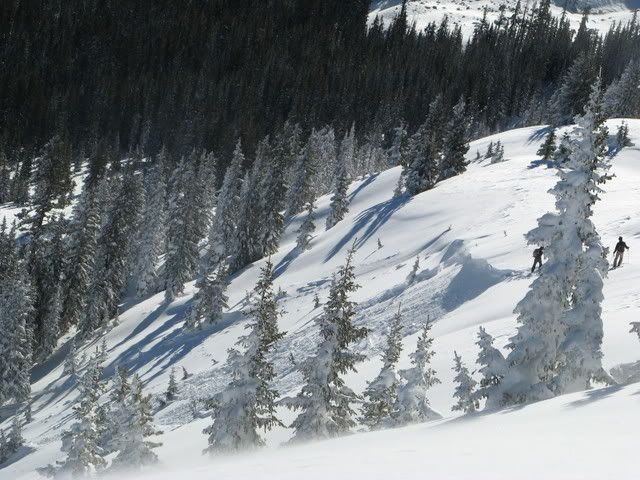 Yikes! Things were definitely tender out. We quickly re-evaluated our line and dropped a less loaded slope with good escape routes in the trees. Snowblind nailed some good turns on his AT rig.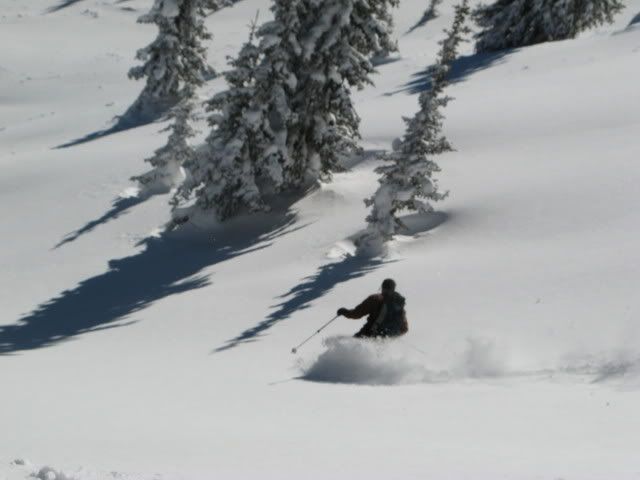 Of course Cody was there too.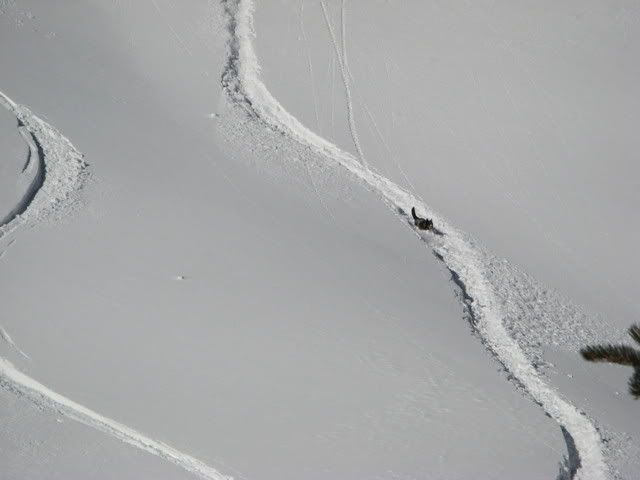 Another look at the slide the tele dudes kicked off. Not huge, but I wouldn't want to be a part of any of that either.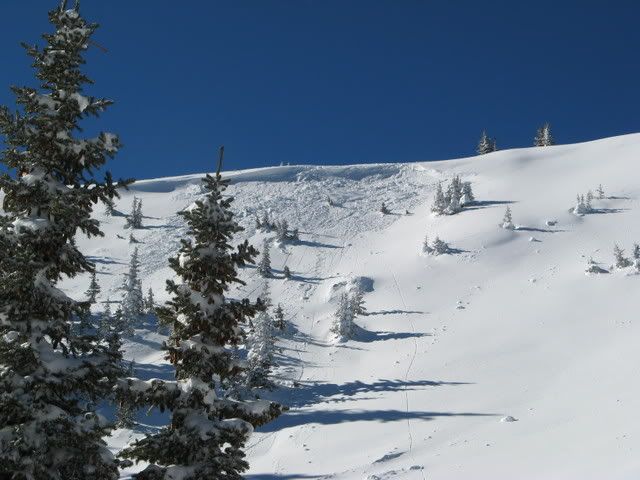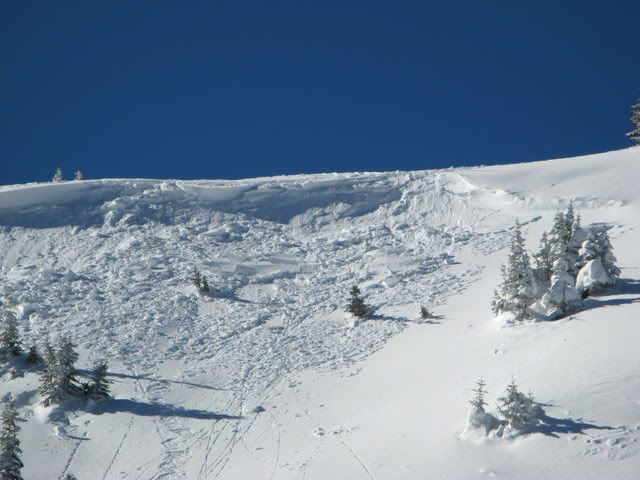 Further down there is a nice ridge with a bunch of mini golf course lines. I took one, couldn't keep my weight back and went over the handle bars. 16-20" of fluff back there made it nothing but a fun ride. Snowblind launch off one of the bigger rocks. Coming in for a landing...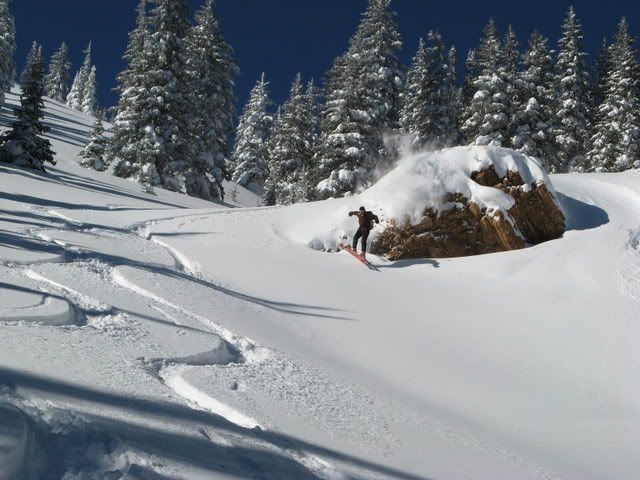 and nicely done!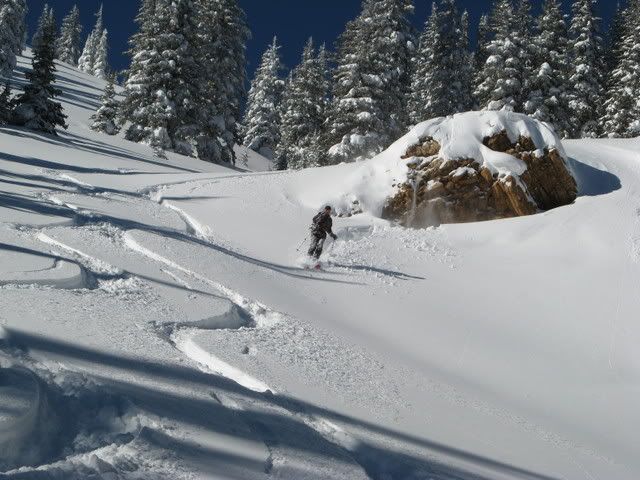 Tele dudes were down in the valley and were the first to break a trail back up to the ridge. Thanks guys.
Skinning back up it was obvious there was close to a 100" base back there. It is also obvious that the winds had been high in the area this season. Weird things like this had formed.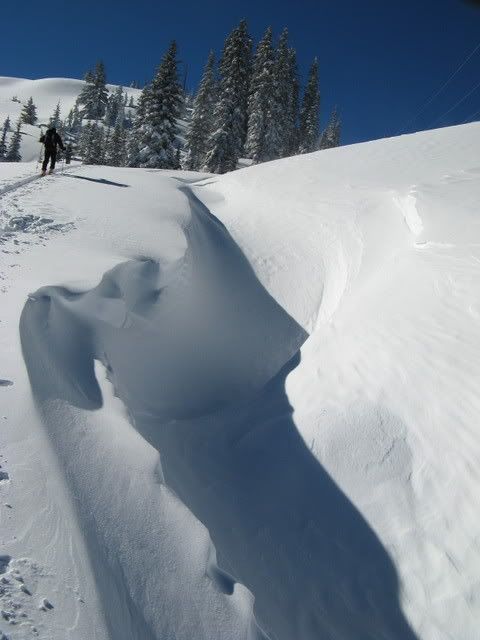 The skin out to Peck's Peak is a wind hammered desolate ridge.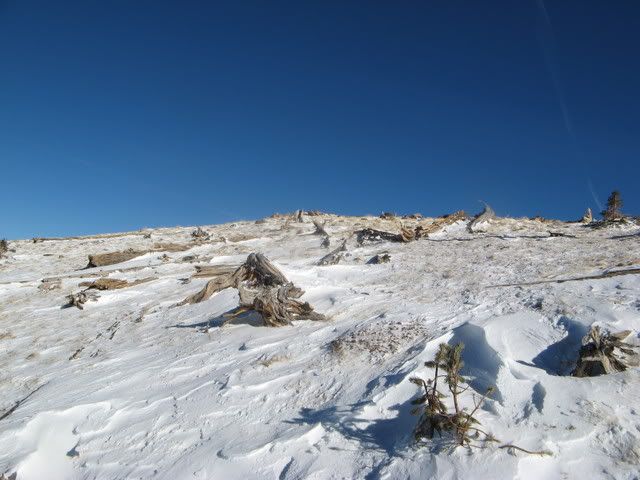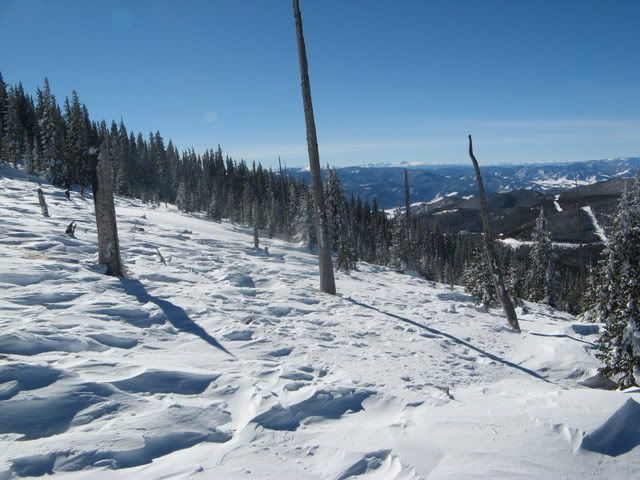 This is what passes for a tree up there. The wind had just gnarled it and I think the wood peckers had fun with it too.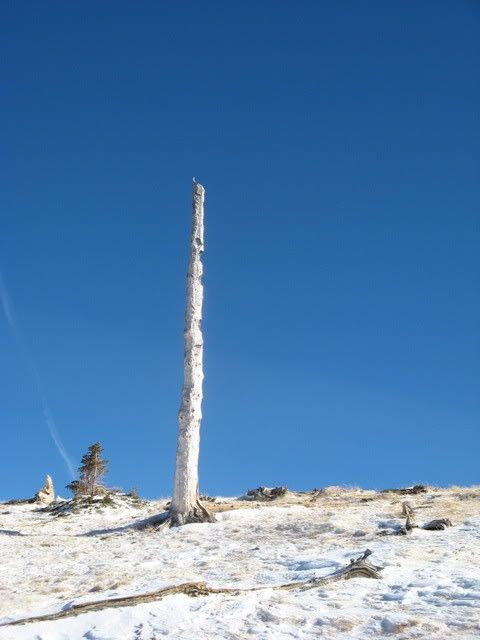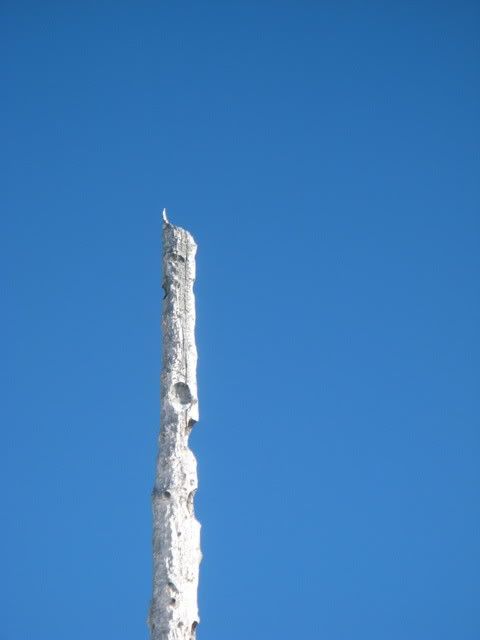 A look back at what we had climbed. We had hiked in from the road below left of the radio tower that angles upward right in the trees.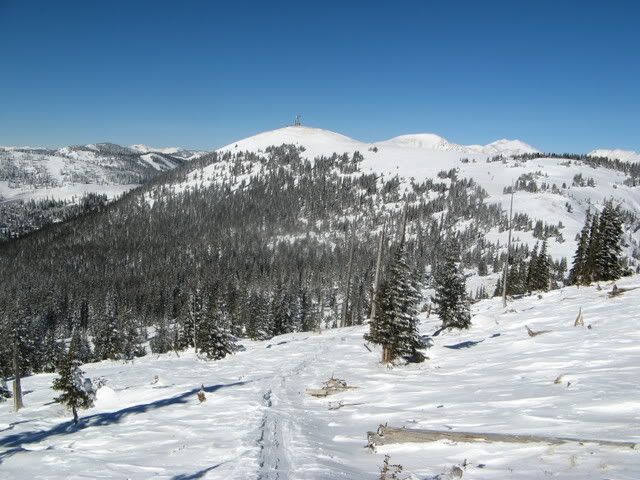 The wind turned out to not be bad, well at least until we reached the top of Peck's Peak. Then it was about as cold and inhospitable of a place as can be. My thermometer read about 5 degrees FH. The wind is what really made it suck. The ridge was just hammered.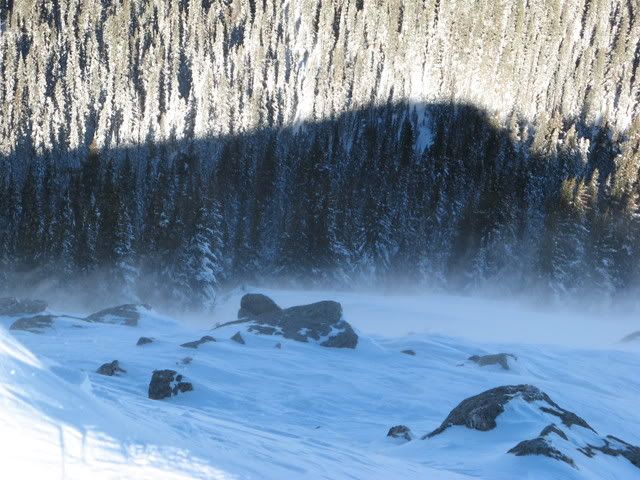 Down lower in the trees the snow got soft and ridiculously deep.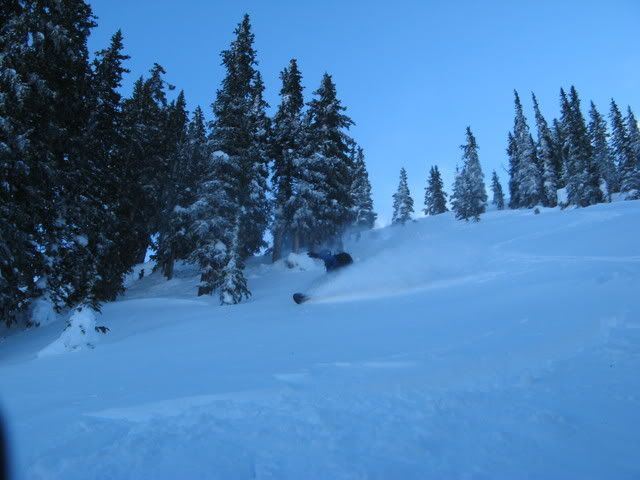 Down lower I found a nice little wind pillow to drop off of.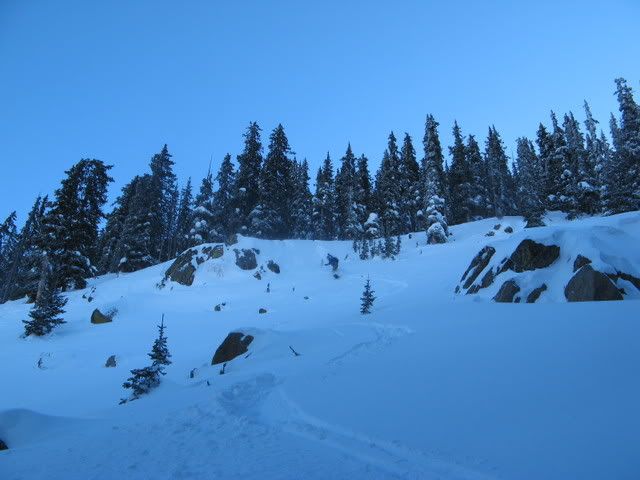 The snow was good here too.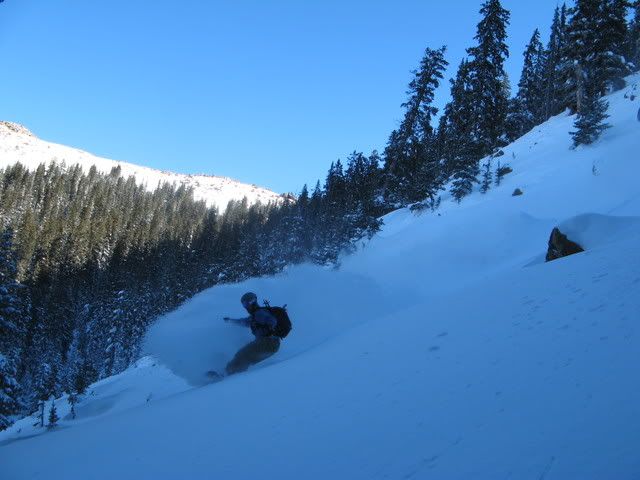 A look back at Peck's from the out trail. Just nasty up there.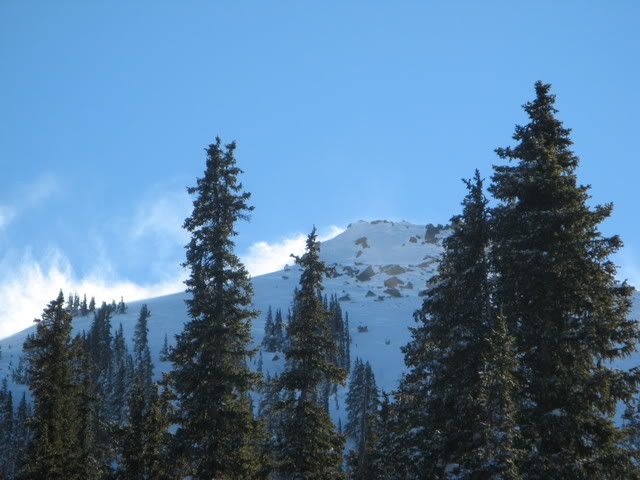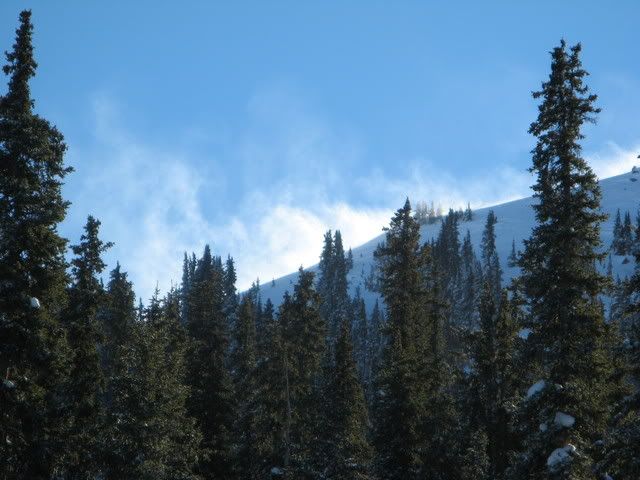 We made one more lap in the Foose's creek bowl.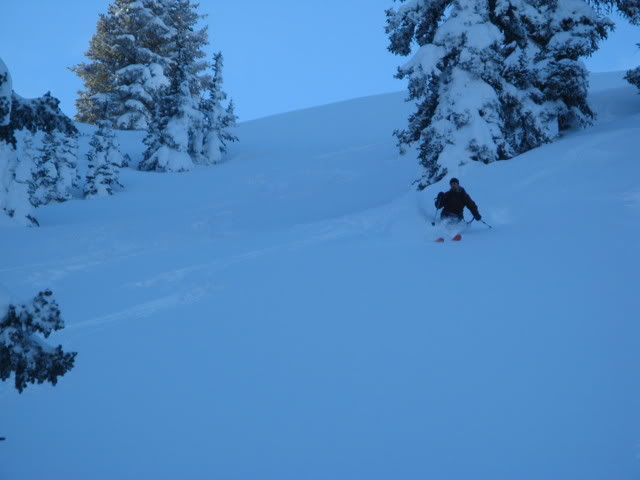 Then it was out to the radio towers...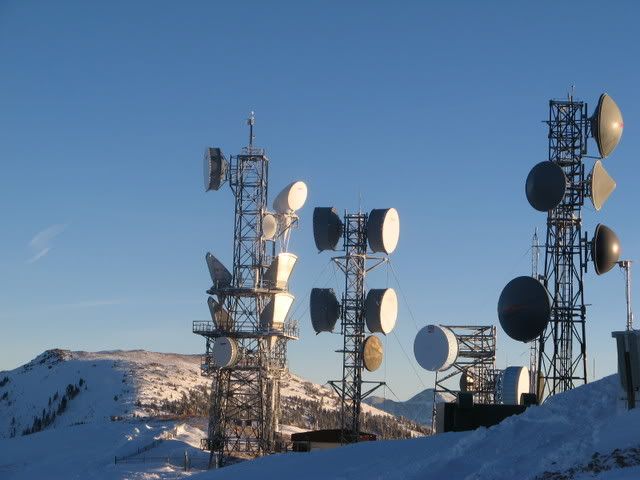 And down the ridge straight back to the car.
3300 vertical ft climbed and descended, 4 laps made, and we were out for 6.5 hours. Not bad for my third day out and only my second in the backcountry...