I got a chance to ski the Sterling Matterhorn today here at Jackson Hole. The owner, John Mansell, and his wife were here putting a few prospective buyers on pairs and they were kind enough to let me make some turns on a pair of 184's.
First off, the photo in
the other review thread
really doesn't do justice to how beautiful these skis are.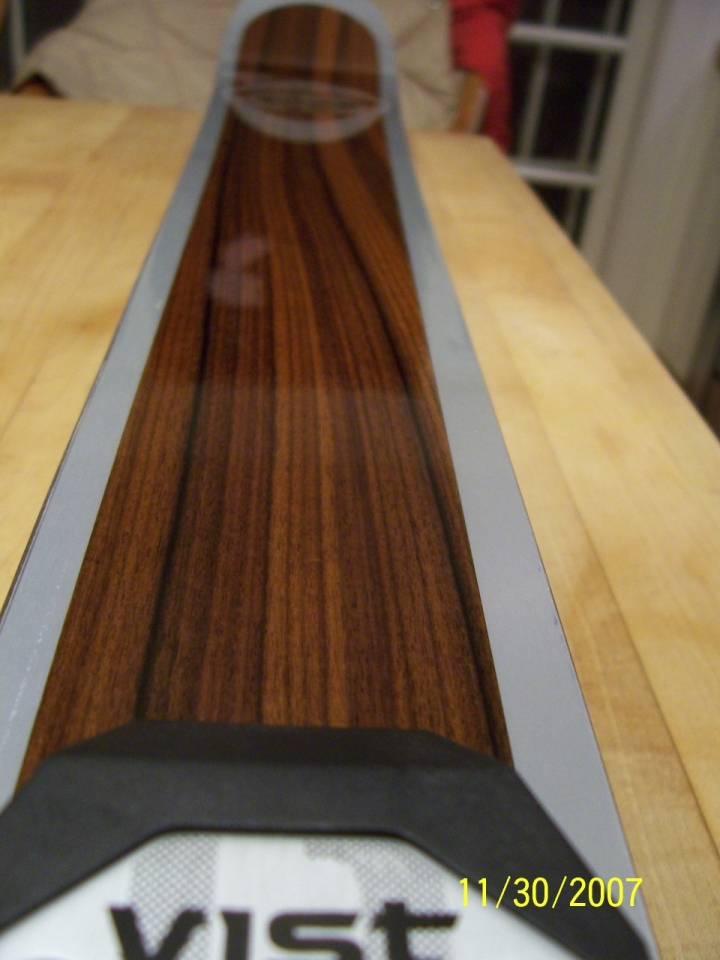 They are absolutely a work of art, with beautiful wood topsheets inlaid within a surrounding layer of titanal. The topsheet Sterling logo is (fittingly enough) genuine silver, and these skis just "feel" good to carry around.
Okay, so they look great but how do they ski?
I'm 6'1", 195#, have been skiing a long time, teach all levels of adult private lessons at Jackson Hole and spent a bunch of winters as a backcountry guide here. The skis I prefer tend to be smooth, powerful, damp, and capable of blowing through crud snow while not being SO demanding than I can't relax and teach on them. The two skis I like the most right now are the Head SuperShape Magnum (177cm) and the Head iM88 in the 186cm.
The Sterlings have a similar feel to the Head iM82. I think the 184 Sterling has a turn radius of around 19 or 20m and are pretty similar in feel to the Head iM82's, which are an outstanding all-around ski. The Sterlings are not so turny as to get deflected in crud but definitely turny enough that if you tip them over and put some weight on them they'll come around plenty quick.
I skied them on a new-snow day with about 8" of fresh snow over several days of cut-up snow and soft moguls. The only groomer I tried them on had 8" of fresh untracked fluff on it and those skis were like heaven on that.
What I liked about these skis was that they were very predictable and didn't want to lock me into any one kind of turn or radius of turn. They could be skied low and fast in long-radius GS turns or they could be easily swung around in tighter, steeper trees and bumps. I felt very confident on them and didn't hesitate to take them through some pretty skinny holes in the trees (no worries, John, I didn't whack anything
).
So, I would call this a really, really fun ski that could take on most anything a big mountain has to offer. I know that you wide-ski afficionados out there will want a bigger platform, but this ski will do it all very nicely if you give it a try.
Enough has been said in the other review threads about the cost of these skis that I'm not going to dwell too much on it. These are handmade skis and it's very obvious that John and Rhonda (I hope I remembered her name correctly) are very passionate about making a great ski. There are a zillion comparisons to cite where a finely crafted product performs essentially the same function as something more mass produced. Homes, cars, wines, whiskeys, fly rods, shotguns, watches, etc. The list goes on and on.
Are there skis out there that ski as "well" as the Sterlings? I'm sure there are. Are there skis out there that LOOK as good? Not that I've seen lately. Are there skis out there that are as lovingly and meticulously made? Maybe, but I don't know that I'm aware of them.
So, I'll leave it up to you readers to decide if the price differential is worth it to you. What I can tell you is that they ski really darn well.