I thought it would be fun to mix this blur of travel into one little TR.
Dates:
December 15th - 21st
Location:
Casa Vellas, Puerto Vallarta, Mexico
With absolutely no snow worth mentioning in Tahoe in November and early December we figured it would be a great time to head on down to Puerto Vallarta for a little R&R. Most people were off washing their cars to appease Ullr, but I thought these snow god appeasing rituals needed to be kicked up a notch. So off we went....and here are some pics:
ahhh.....many hours spent by this pool. keep the drinks comin!
our hotel, Casa Velas, in the background
the pool was as quiet as the pics suggest for nearly our entire stay. looks like we got in and out just before a Christmas and New Years rush so it amazingly relaxing and the service was unmatchable. You would just have to pick up the drink menu and a waiter would be rushing over to whip up your drink of choice. Depsite the lack of crowds, we did have some company at least....
We were also lucky enough to time our trip with the beginning of whale watching season. These guys were making their annual pilgrimage from up North to chill out for awhile and mate:
me on the whale watching boat:
myself and my better half:
the hotel also had a private beach club with infinity pool looking out over Banderas Bay and the town of PV to the South. hmm...looks promising...
man I really hope this sacrifice is paying off back in Kirkwood
view from our dinner table:
hola senorita
what is this?
ARRGHGHH!!! I took this pirate ship sighting as a hint that our sacrifice had paid off and Ullr was appeased, so the next day we boarded the next flight back to NorCal
************************************************** **
Dates:
December 22nd and 23rd
Location:
Kirkwood, CA
While away, Kirkwood did in face recieve several feet of snow. Surpisingly it was enough to convince the management the entire mountain should now open up, but in reality, we still need some signficant snow fall to make one want to put away the rock skis. The snow is good off-piste...but there are rocks EVERYWHERE. Still very fun though and great to be back on snow.
all these pics courtesy of lph
playing around in the rocks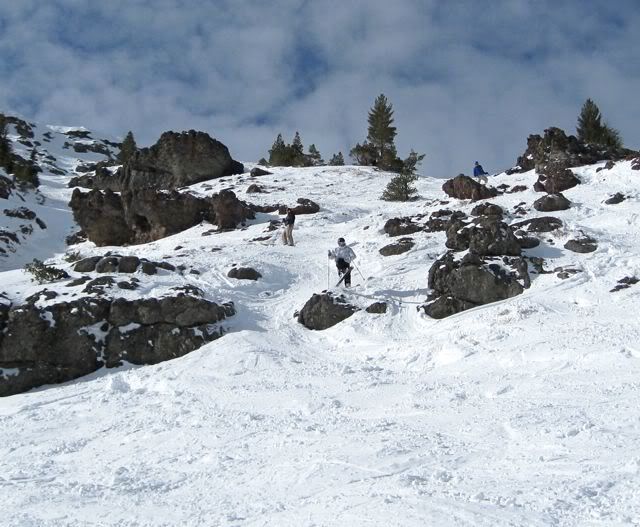 Chair 10 was finally open, but with the most minimal coverage I have every seen. That entire rock face at the top is usually skiable.
Lookout Vista. There was actually good snow here. Really gave this small aspect a 'big mountain' feel cause you really had to know your line and where you were going from the top as many of the usual lines were to rocky or they closed out in unhuckable airs.
me finding a small stash: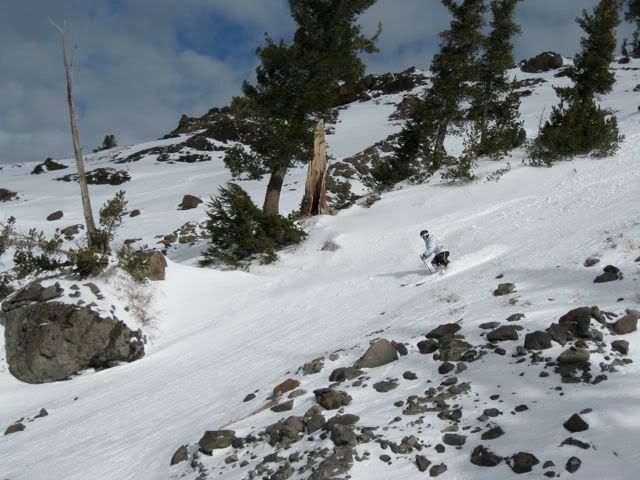 I was having major boot pain issues. So I took off for the lodge to kick off my shoes while my friends continued to find some stashes: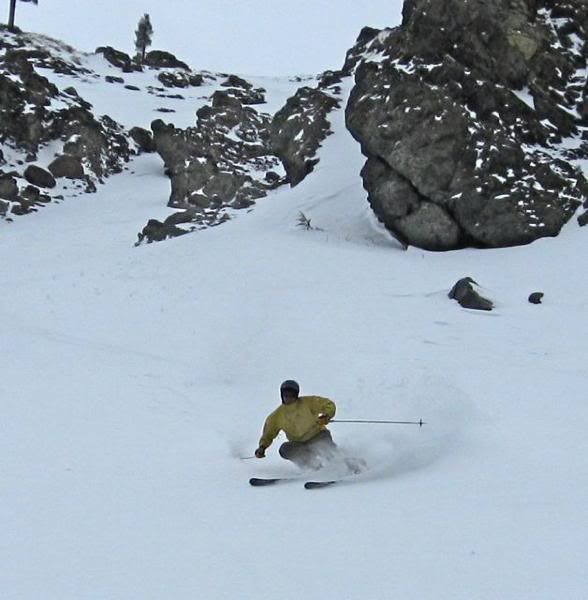 so coverage is very thin, but Kirkwood is now 100% open. suppossed to get a little bit of snow this week I think so hopefully things will start improving fast. Now I just hope these new Intuition liners break in *fast* so I can start enjoying it....
fin.