Not a destination that would be generally worthy of a trip report, but...
1. It was my first day out for the season,
2. It was skiing in November in Pennsylvania, and not bad skiing at that,
3. It gives me a chance to show off my kid
So, I made a last minute decision to make a 2 hour trip (one way) up to Big Boulder with my daughter. I had actually never been there before, but I figured at $20 early season for me and free for Natalie, it would be a good chance for her to get into the season. Plus, I probably felt guilty that the next few ski weekends I had planned probably would not be with her.
I had low expectations - it was November, this was Pennsylvania and I was going to a hill with a 475-600 (depending on where you look) foot vertical. But I wanted to see how quickly Natalie would pick it up and what the impact would be of somewhat longer skis this season.
We left the house around noon-ish and got in the parking lot just after 2. Figuring some early skiers would have left by this point, I took a chance and looked for a good spot and promptly found probably the best (legal) parking spot in the lot open. A short walk across the parking lot is always a key to a successful ski trip with a 5 year old. So, things were already going well.
We started out on the green (Little Boulder) for a few runs. She picked it up as if she had not missed a step. I was also pretty impressed with the snow.
When she saw another chair through the woods running, she wanted to try that one. So off to some more challenging terrain (Merry Widow Park minus any terrain features, at this point in the season) we went. A few runs down that also went pretty well. One of the biggest accomplishments of last season was learning to get up by herself. After a few falls today and my reminders of how to get back up, she told me "Don't teach me that anymore, I already know how to get up!"
: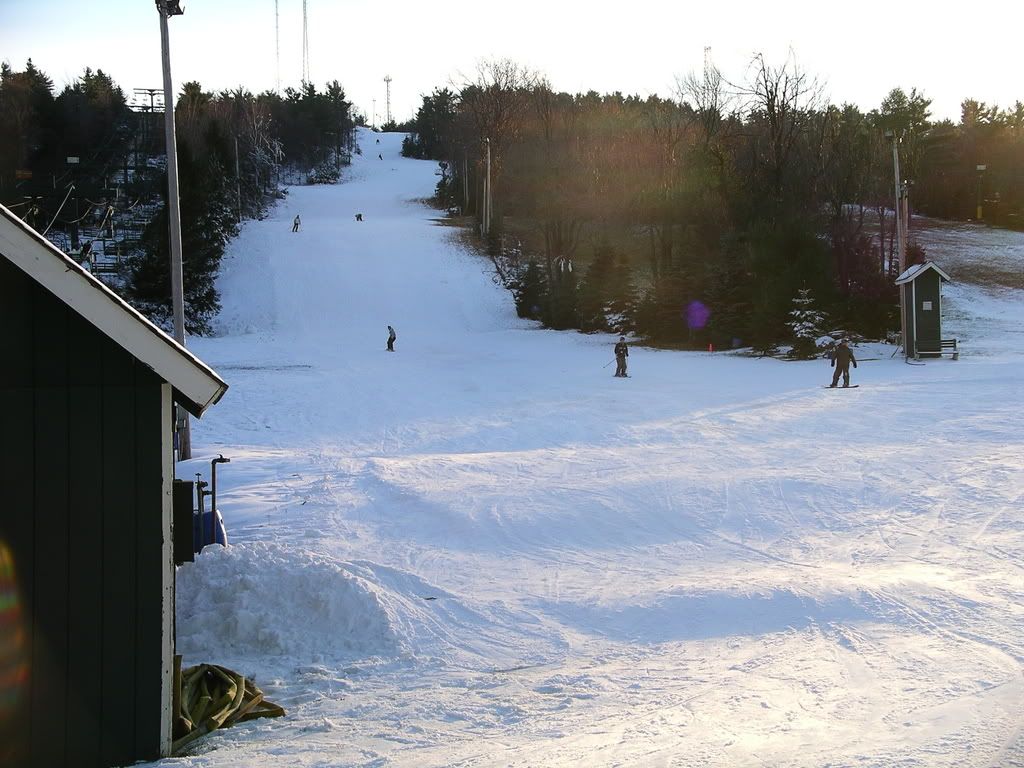 By that point she had noticed yet another chair running further skiers right - a triple. We always need to try out as many ways up the hill as possible. This was the most difficult trail open (Big Boulder Park, again minus any terrain features, at this point in the season). The snow on skiers right of the trail was surprisingly good and soft. She was a little intimidated by the steep part at the top of this trail, so we only did it that once. But she actually did a pretty good job on it.
We went back and forth between Merry Widow Park and Little Boulder after that. She liked listening to the many people who made comments about how good she was given her size and age. She's already a little diva!
: We stayed past dark when they turned the lights on for the night. I think it was her first time skiing under the lights and she thought that was pretty cool. It got a bit icier in the center of the trails as it got dark, but there was still good snow to be had on the sides. Every time I told her it was time to go, she continued on insisting we do one more run. So it looks like the brain washing is going well.
We left around 6, so we got at least 3 and 1/2 hours of good skiing in. The trip home was uneventful - always a plus on the busiest travel day of the year. If the rest of the season goes as well as today, it's going to be a good one.