Invite them over for a turkey dinner with all the fixins then serve this up to 'em!
bumpfreaq's lemon sage turkey galantine
1.Remove skin from turkey, being careful to keep it in one piece with no holes.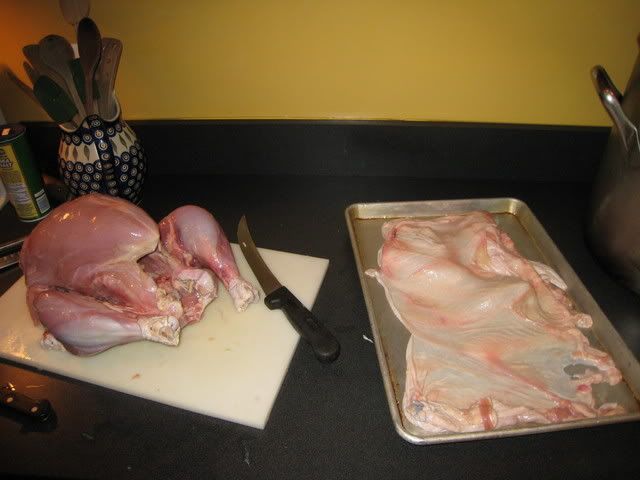 2.Remove breasts and legs.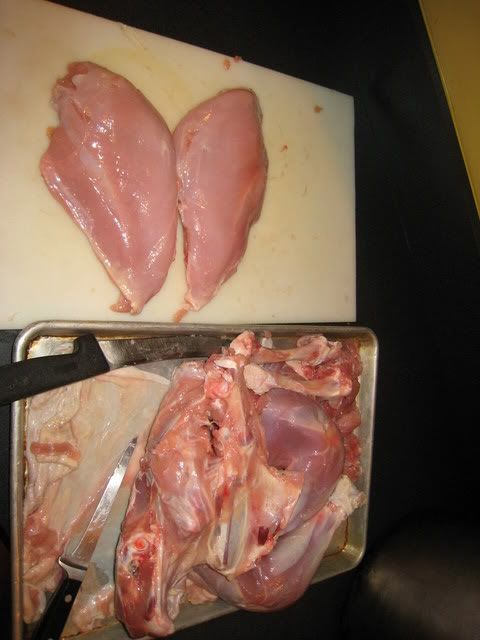 3. Remove bones from legs.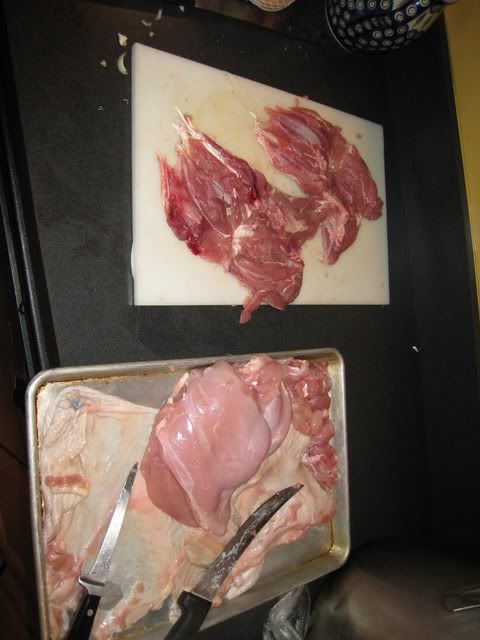 4.Slice tenderloins thin, between 1/8" and 1/4" and lay them out on the skin. Cut a few slices of the breasts too, enough to cover the skin.
5. Dice up the rest of the meat, keeping the dark meat and the white meat separate.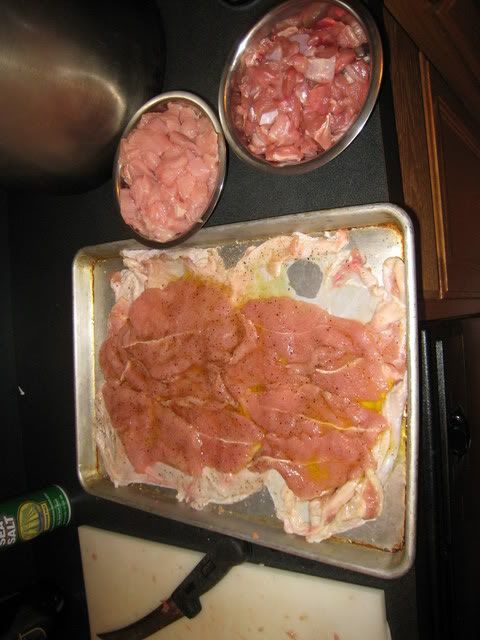 6. Dice up some onions, mince some sage and garlic and sweat them 'til tender in a good amount of butter. (Sorry, didn't take a pic of this part
).
7. Make a binding agent of diced white bread, eggs, cream, salt and pepper.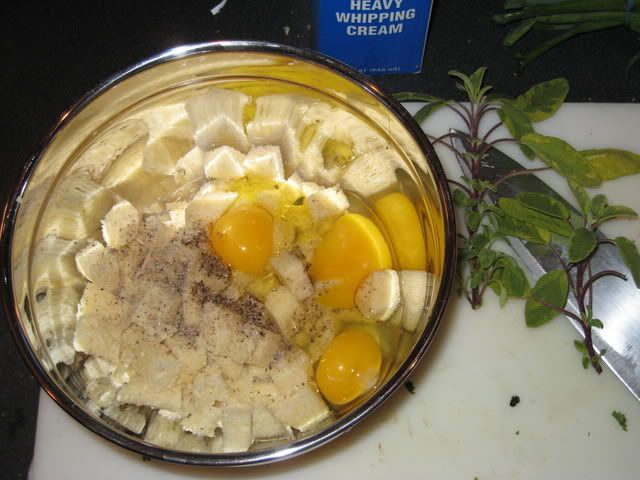 8. In a food processor combine the diced white meat, the binding agent and the onions and process them 'til they're incorporated into one another.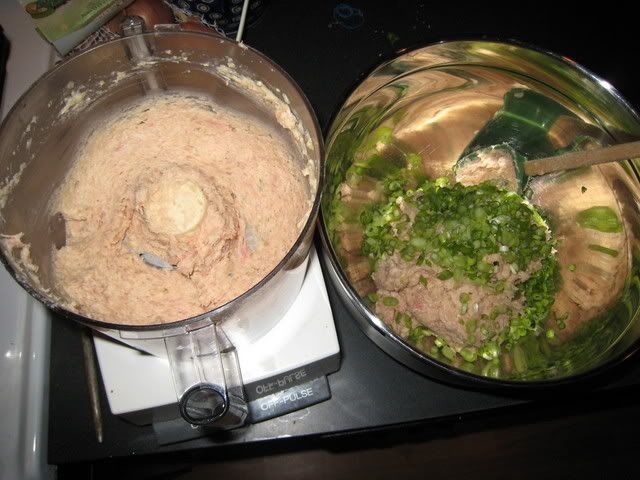 9. Take 3/4 of the mixture and combine it with a bunch of thinly sliced scallions.
10. Zest three lemons, mince the zest and fold it into the mixture.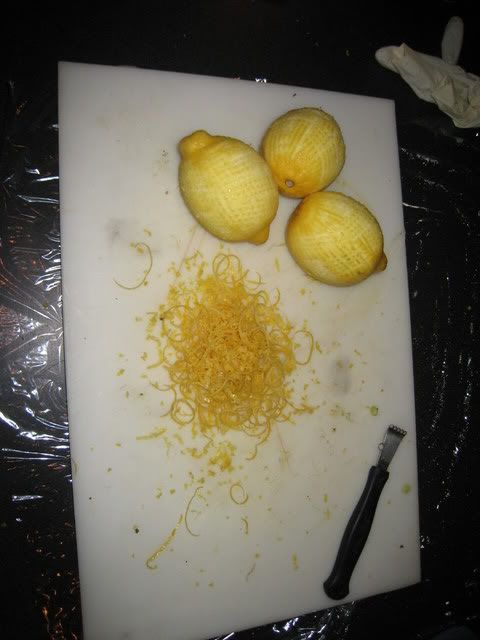 11. At this point, take a bit of the mix and plop it into the stock you've been making... you've got a turkey carcass and stuff so of course you're making a stock, right? So yeah, the point is to poach off a bit and taste it to make sure it's seasoned to perfection.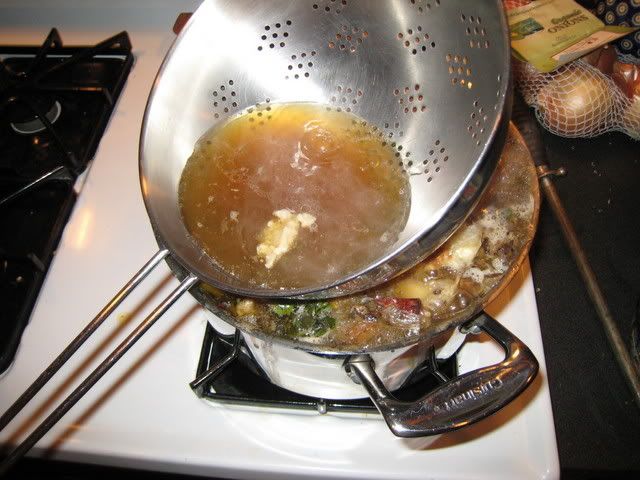 12. Combine the remaining 1/4 of the turkey mixture with the diced dark meat.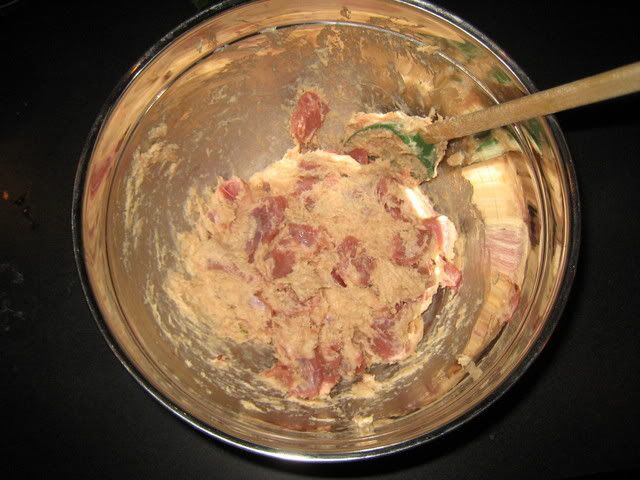 13. Spread out a couple of pieces of plastic wrap on a clean counter top. It helps greatly to wipe the counter first with a clean damp sponge.
14.Lay the skin and thin sliced meat on the plastic wrap.
15. Spread the turkey, sage and lemon mix on top of the thin sliced meat.
16. Using another layer of plastic wrap and a rolling pin (or a large dowel if you've misplaced your rolling pin) smooth out the layer of turkey mix.
17. Now take some of the mix with the dark meat pieces in it and spread it on top of the whole thing.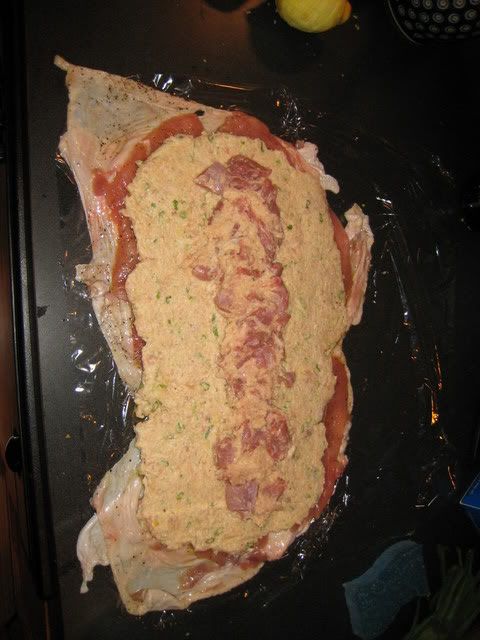 18. Roll the whole thing up then wrap it tightly in the plastic wrap.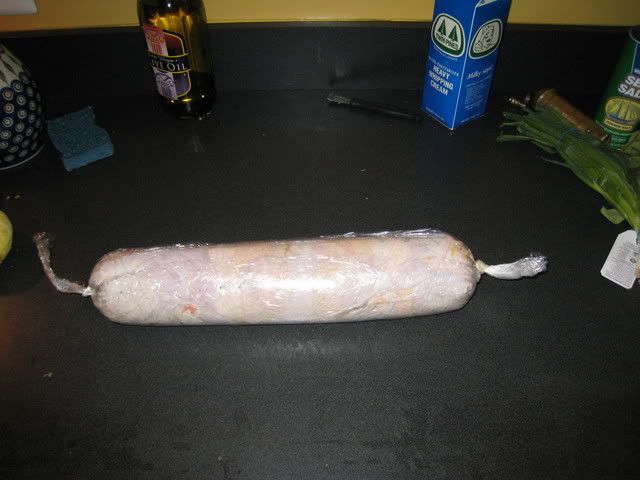 19. Poach it in salted water at 180 degrees 'til the center reaches 165 degrees. You may very well have extra mix. Just roll 'em up in the same fashion as before and poach 'em off.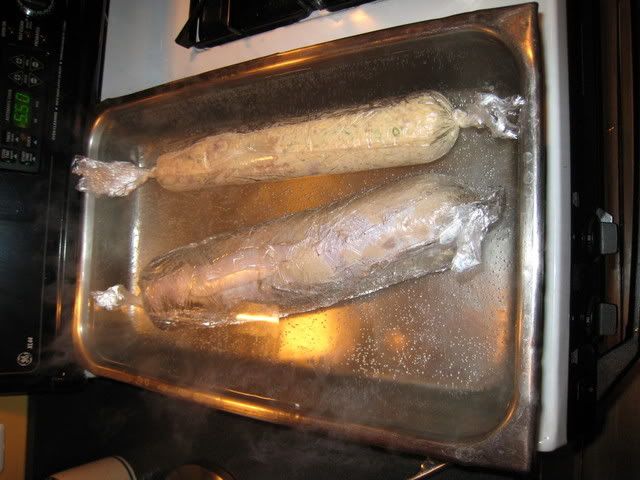 20. Now it's all cooked but it still looks raw from the outside so you want to brown the skin a bit. A propane torch works really well for this but my torch is in some dark corner with my rolling pin I guess. A grill will work ok too.
20. Slice, serve and relish the reaction.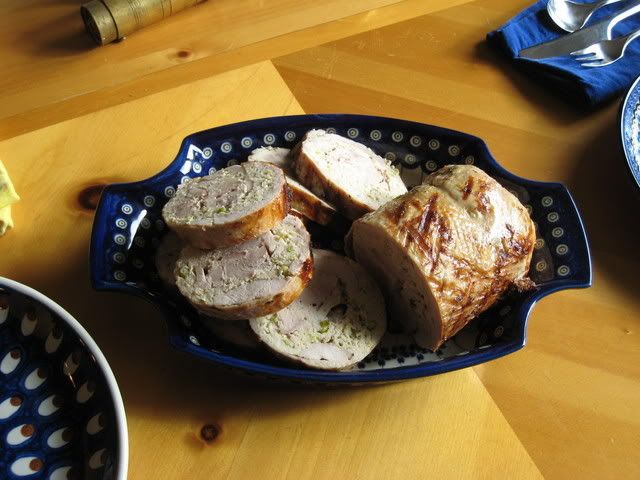 So yeah, peeps were a bit freaqed out at my holiday table. The old folks and the little kids declined to try my master piece but the rest of us thought it was the best of the best
Edited by bumpfreaq - 11/29/09 at 12:00pm